Like never before, hotel brands are competing to keep you—and your meetings—healthy
There I was, on the battle's front line. My coordinates: room 1664, Parc 55 Hotel, San Francisco. Outside, all seemed calm. In fact, the view was lovely. But inside, I shuddered involuntarily and began to check my gear. Medicine balls, 4 to 6 pounds. Sandbells, 8 to 20 pounds. TRX suspension system. Bosu ball. Powerbands. Yoga mat. More stuff I couldn't readily identify. And there, dominating and powerful-looking, was the mighty Wattbike, a stationary bicycle used by Olympic athletes.
This was a Five Feet to Fitness room, one of three in Parc 55. It had everything you would expect of a very nice guest room in a Hilton hotel—and so much more.
I needed my orders. So, I touched the screen in the fitness kiosk. It came alive with my choices: yoga, mobility, boxing, cycling, Tabata cycling, strength and stamina. Tentatively, I touched yoga, which gave me choices such as "cat & crow" and "cobra." Boxing offered "bob & weave." Hmmm. How about HIIT, which I knew stood for "high intensity interval training"?
For the next several minutes, I followed the example of the well-toned trainer who appeared on my screen and imitated him on the "side slam"—raising a Sandbell, a sand-filled neoprene disk, high above my head and slamming it down on the floor. It felt satisfying, and oddly familiar. I realized why. It was a memory from my childhood—chucking down my baseball glove in disgust, when an easy grounder scooted between my legs.
Afterward, as I slugged down a high-protein shake (other choices included coconut and vitamin waters), I felt victorious. I had experienced and survived—nay, enjoyed—one of the latest entries in the ever-expanding competition among big-box hotels to keep you—and your group—healthy.
Healthy Expectations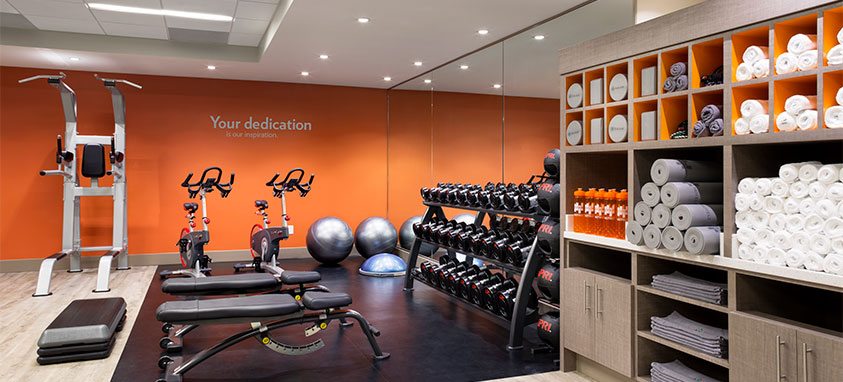 Like never before, well-being is having its global moment. To begin citing a few examples, Four Seasons Resort Maldives at Landaa Giraavaru is offering a Visiting Masters program wherein some of the world's leading wellness gurus lead private or group sessions in balancing chakras, practicing Qigong and aligning energy pathways. Hotel Irvine, a lifestyle property in Orange County, California, has launched Commit to Fitness, which incorporates exercise into business and leisure visits.
The Ritz-Carlton, St. Louis, has introduced a New Room, New You package, which includes a spa-inspired guest room and one-on-one session with a personal trainer. And each of Caesars Entertainment's 40 properties is promoting activities such as boot camps, group yoga and guided walks to make wellness integral to meetings and events.
Your attendees care about well-being as never before. Surveys say 60 percent of millennials list their health as the most important thing in their lives. "Corporations around the country are bringing wellness into their offices," says Mike Dominguez, senior vice president and chief sales officer for MGM Resorts International. "Now, business travelers are expecting the same type of experience when they go on the road."
Globally, wellness travel is now nearly a $600 billion marketplace. It grew 14 percent over the past two years, and forecasts are for global wellness revenues to jump another 17 percent by 2023.
"Wellness is not just about the spa or fitness center anymore, but instead about how a traveler's personal well-being is impacted throughout a stay. As a result, everything from food to mood, sleep to movement, should be considered," says Mia Kyricos, president and CEO of Kyricos & Associates, an advisor to health and wellness brands.
"Daily doses of wellness and slowing down will become even more integrated into daily lives of travelers," says Christy Donato, vice president of global brand management for JW Marriott Hotels & Resorts.
Of course, full-service, and most lifestyle hotels, have had fitness centers for years. They can cost more than $125,000 to equip, but are competitive differentiators no longer. Worse, they are underutilized. A recent study by Cornell's School of Hotel Administration found only about 22 percent of hotel guests actually use them.
An in-room wellness experience, on the other hand, can be an upgrade—and hotels can charge the equivalent of, say, a junior suite.
No wonder so many brands have jumped into the well-being race. Here's our surveillance of the rapidly evolving well-being landscape.
Westin Hotels & Resorts: Well-Being DNA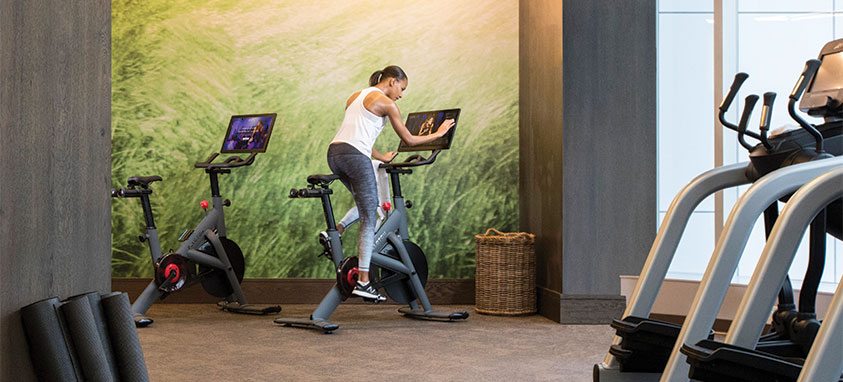 "Wellness has always been at the core of Westin's DNA," says Sarah Lipton, senior director of brand marketing and management at this Marriott International brand. "Now the brand positioning has evolved to well-being."
It began in the last century for Westin—in 1999, with the introduction of the Westin Heavenly Bed. It may have been the first time, ironically, a major hotel brand actually put a primary reason we check in—a good night's sleep on the road—at the center of its image. Today, you can buy a Westin pillow-top mattress at Pottery Barn and an online Westin store. To date, Westin has sold $150 million worth of Heavenly Bed-related goods, including 100,000 mattresses and 175,000 pillows.
What started with sleep has become a veritable laundry list for fitness, wellness and well-being: selected guest rooms with Peloton workout bikes, fitness studios with Pelotons and TRX suspension training systems, "run concierges"—200 of them globally—who may work at the front desk, but also lead guests on 3- to 5-mile routes that showcase local attractions, workout gear loans, in-room workout videos, partnerships with SuperFoodsRx for energy-boosting meals and with The Juicery for healthy juices and smoothies.
Within Westin, they call all this the six pillars. Used internally at first, they became central to the outward-facing brand four years ago: Sleep Well. Eat Well. Move Well. Feel Well. Work Well. Play Well.
"Consumer insights tell us our guests are always on, always connected, and there's a sense of loss of control," Lipton says. "Our wellness programs restore the right balance. They help people be their best." Last year Westin conducted a global survey of 8,000 of its business guests. The results will surprise no one who travels for business. Seventy-one percent said they have trouble being as productive on the road. Sixty-four percent said they sleep less. Sixty-five percent said they exercise less.
"We want to be the partner who helps them be better at all that," she says.
Is it working? Lipton references the 50 Westins in the pipeline, in addition to the 220 hotels and resorts currently operating. "It speaks to how the brand is resonating," she says. "The ROI is additive. We get an ADR [Average Daily Rate] premium, and we're seeing brand growth."
Individual properties are encouraged to put their own spin on well-being. The Westin Kaanapali Ocean Resort Villas on Maui, for instance, offers a Polynesian fitness and functional movement class that combines functional training with Polynesian methodologies rooted in ancient Hawaiian culture.
"We see ourselves as the premium wellness brand," she adds. "We will continue to evolve."
In the meeting space, Lipton promises new offerings based on "an uptick in demand for alternative meeting activities," such as meditation and group runs. "We will roll out globally some of the initiatives already being done locally at our properties."
Other Marriott International brands have picked up their wellness games recently, as well. In December, JW Marriott Hotels & Resorts, for instance, named celebrity trainer and lifestyle coach Nora Tobin as the brand's Wellness Ambassador, and a variety of her well-being offerings will be rolling out throughout 2018. One is FitnessOnDemand, guided fitness videos ranging up to 30 minutes in length that feature everything from HIIT to yoga, to mindfulness. They will be available in-room on demand and to all JW Marriott guests on its website. Tobin will also lead a series of well-being retreats throughout the year.
"We've also worked with Nora to create a collection of recommended healthy and delicious menu items as part of our meeting and events programming this year," Donato says. "A series of active meeting breaks and well-being group activities, digitally led by Nora, will also be available."
MGM Resorts International: Thought Leader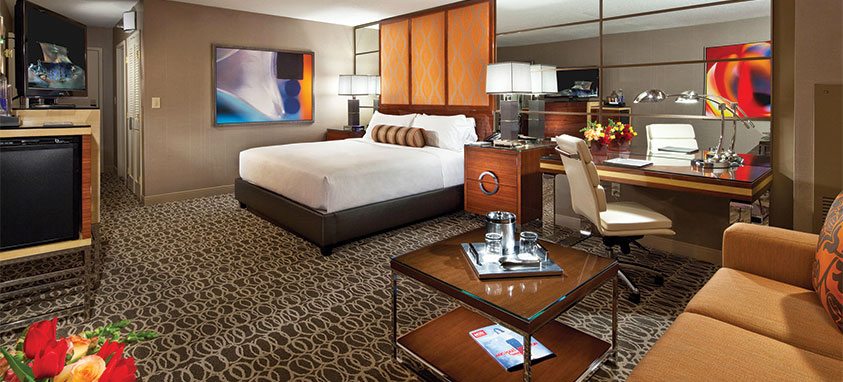 In 2012, MGM Resorts partnered with Delos, a company known for creating environments that promote health and well-being. Forty-two guest rooms at MGM Grand Hotel & Casino in Las Vegas were transformed into Stay Well Rooms, each containing a host of features to enhance the quality of air, light and water, and to promote better sleep, comfort, mental acuity, nutrition and overall health. Delos collaborated with doctors, scientists, architects, designers and thought leaders to identify and integrate the features, which were also vetted by Cleveland Clinic.
Dr. Deepak Chopra, the world-renowned wellness expert, is an advisory board member of Delos (as is sustainability activist and actor Leonardo DiCaprio). "Well-being, in general, is the No. 1 trend in the world," he said at the time of the launch, while admitting that the contrast between the "little oasis" of the Stay Well room and what was going on at the gaming tables was, to say the least, dramatic. "There are people who want to destroy themselves, and they should have an opportunity, as well," he commented drily.
Yet health seems to be winning at MGM. Dominguez says with pride that, due to ever-increasing demand, MGM Grand now offers more than 300 Stay Well rooms. That's a sevenfold increase in six years. The program has also expanded to two other MGM properties in Las Vegas—The Mirage and Park MGM Las Vegas, which opens this spring.
In 2014, Stay Well Meetings were introduced. This program incorporates some of the same robust features as Stay Well Rooms, including the following.
Air purification: the most advanced HEPA-standard system for better air quality and breathing
Well Shield: a self-cleaning, photo-catalytic coating applied to high-touch areas that keeps surfaces cleaner and destroys odors
Cleaning protocol: the use of hypoallergenic products and a wand cleaning tool to neutralize bacteria, viruses and other microbes
Circadian lighting: a system that emulates the properties of natural light, enhancing productivity and energy
Chromotherapy: the use of dynamic color designs to allow for themes in meeting rooms
Biophilia: incorporation of elements such as greenery and art that are evocative of nature, to produce a calming atmosphere
Virtual biophilia: virtual window lights that bring an element of nature into meeting rooms
Aromatherapy: optional use of scents to create a relaxing, mood-enhancing environment
Stay Well Meetings app: a tool to help attendees overcome jet lag, generate sufficient Vitamin D, and track hydration and overall wellness
Healthy menu options: a curated menu of food, including nutritional and dietary content
"In addition, we've taken a look at programming," Dominguez says. "Meeting planners are moving a lot of payroll across the country to be with us. We owe it to them to do everything we can to foster maximum mental acuity." Wellness Moment Programming consists of short activities designed to engage body and mind, including brain teasers, guided video meditations led by Chopra, opportunities to disconnect from technology and physical activity breaks.
Instead of the traditional 1 1/2-hour session followed by a 25-minute break, MGM suggests a short activity after each 25 minutes of programming, then a 10-to-15-minute break every 90 minutes, Dominguez says.
Hilton Worldwide: No Excuses Wellness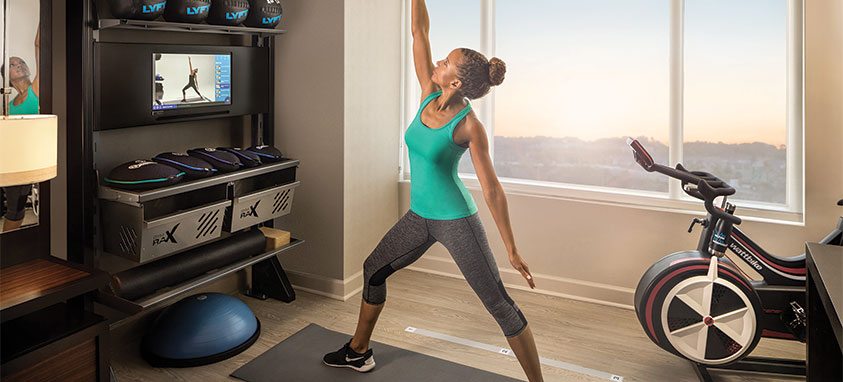 A little over a year ago, Hilton announced a partnership with British cycling innovator Wattbike, and began offering the indoor bike used by 29 of 30 cycling medalists in the London 2012 Olympics, at fitness centers in Waldorf Astoria Hotels & Resorts and Conrad Hotels & Resorts. Then, last May, Hilton unveiled Five Feet to Fitness, which is now offered at 10 properties—in addition to Parc 55 in San Francisco, it's at three Hiltons and six DoubleTrees in Texas, Virginia, New York, Florida and Illinois.
"What surprised us," says Melissa Walker, senior director of global brand wellness for Hilton, "is it's often not the very fit who want them." Older people and fitness novices who may not be comfortable in a fitness center crowded with the buff and sinewy find these rooms worth paying extra for, as do women who may not want to be seen by work colleagues without makeup and dress-for-success garb. "Overall," she says, "we're ecstatic with the response."
Hilton had tried health and wellness guest rooms before, but they didn't take off. Walker says they realized they were too narrowly focused—a yoga space, for example. "We asked ourselves, 'Why not offer an option that does everything?' You might want to do downward dogs on Monday, but cardio work on Tuesday and then weight training the next day," Walker says. In customer research, they found one in four favored an inclusive in-room fitness concept. "For convenience, privacy and time saving," she adds.
They were costly to retrofit and equip, but Five Feet to Fitness rooms have a life span of up to seven years, Walker says. "And after a few years, they are pure profit."
What's ahead? "We will be constantly evolving the kiosk, and incorporating new trends and equipment," Walker predicts. What won't change is the concept of choice. "In food and beverage, guests today have a menu—is it room service, the restaurant, the grab-and-go or the rooftop lounge?" she says. "Fitness is the same. We want options. Is it the fitness center, a walking or running route, an in-room session or just doing the stairs?"
Walker recalls that several names were tested for Hilton's fitness rooms, but Five Feet to Fitness "really resonated with people. None of us has enough time these days. But with this concept, you have no excuses."
On the meetings front, Hilton has innovated Meet with Purpose, introduced in 2015 as a way for meeting professionals to incorporate health and wellness, and reduce waste at their meetings and events. Offered at 275 hotels and resorts—and at least six Hilton brands—across the Americas, it has evolved into a program designed to "leave your attendees in a 'wow' state of mind," as promotional materials put it. That means catering and breaks designed to promote alertness, and combat the dreaded afternoon slump.
Specific offerings bundle a catering menu and activity. Yoga & Yogurt, for instance, is an instructor-led yoga class followed by a healthy yogurt parfait bar. The hotel events manager helps planners find a certified instructor—for $100–$200 an hour, which is not marked up by Hilton—who leads the class early enough for attendees to have time to change and be ready for the rest of their day.
"No other hotel company is doing this at the scale we do," says Toni Zoblotsky, director of B2B marketing and sales valet for Hilton. The goal for 2018, she continues, is to add activities that are more experiential and team building, such as volunteerism in local communities.
InterContinental Hotels Group: Well, Well, Well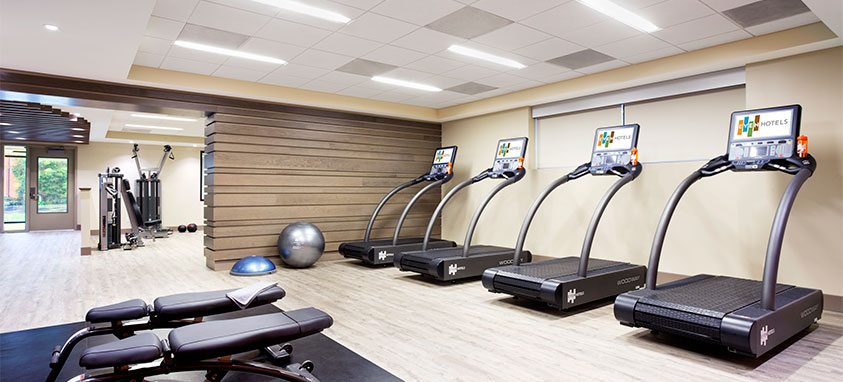 InterContinental Hotels Group (IHG) owns Kimpton Hotels, which pioneered tucking yoga mats next to ironing boards in guest room closets and hosting guest jogging. Individual Kimptons partner to do even more—Kimpton Glover Park Hotel in Washington, D.C., facilitates guest visits to nearby Urban Athletic Club.
But IHG has gone much further. In fact, it has gone where no other major hotel company has gone before. With the first ribbon cutting in mid-2014 in Norwalk, Connecticut, it launched Even Hotels, a lifestyle brand that's all about wellness. The eighth hotel just opened in Eugene, Oregon, with more grand openings scheduled this year, in Seattle, Miami and Pittsburgh (in a former downtown Macy's).
A Wellness Advisory Board ("affectionately known as the Well," according to the Even website) helped IHG devise a mix of wellness offerings to deliver a "truly holistic wellness environment," says Jason Moskal, IHG vice president of lifestyle brands for the Americas. Members include experts such as psychiatrist Drew Ramsey, a leading proponent of using dietary change to help balance moods, sharpen brain function and improve mental health; Emmy Award-winning natural and whole foods authority Christina Pirello; Jim Kaese, editor in chief of Athletic-Minded Traveler; and Darria Long Gillespie, chief doctor at Sharecare, the online health and wellness platform founded by Dr. Oz.
And what does the name Even signify? "Wellness, at the end of the day, means balance," Moskal says. Wellness plus balance keeps you… even.
The sweet spot for the brand is a male in his 30s to 40s. "But we start with the belief that it's about a mindset. These are active people. It doesn't mean they are fitness fanatics, just that they want to perform at their best."
A Trip Advisor review of Even Hotel Norwalk (No. 1 of 11 hotels) enthused, "Wow. I felt like I was in a hotel from the future—Blade Runner, but with better weather…This room offers fitness options that you just don't find in any hotel…I did none of them. But it was cool to have the option."
Twenty workout videos can be streamed to in-room "training zones," and the Athletic Studio is first-rate. But sleep and disconnecting are part of the value proposition, too, with calming tea served at the front desk, mellow LED room lighting and eucalyptus-based bed linens said to breathe for nighttime comfort.
The chief lesson learned to date will sound familiar. "One size does not fit all," Moskal says. Even today's health-minded traveler wants different activities and varying levels of commitment from day to day. At Even's Cork & Kale Market & Bar, heart-healthy or gluten-free noshes can be washed down with more than an organic signature cocktail. "Sometimes, our guests just want something more familiar, like a Manhattan," Moskal says.
For groups, Even promises custom activities (such as "a unique fun run around our neighborhood"), healthy breaks and bespoke experiences tailored by their wellness-savvy staff.
Hyatt Hotels Corporation: Welcome to Our World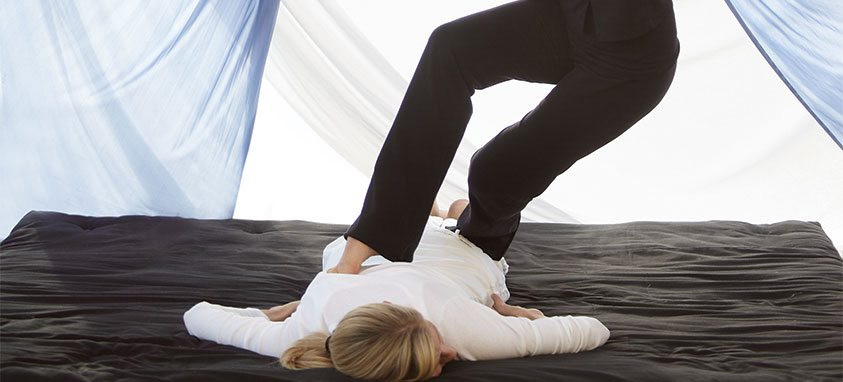 "Our core purpose is to help people be their best. At Hyatt, you can hear this from our CEO on down," says Asad Ahmed, senior vice president for Hyatt Sales Force. "There is always a tendency to look at trends and cultural shifts, but our interest in health and well-being at Hyatt is an extension of who we are as a company."
Hyatt's big move into wellness came last year, when for $215 million it purchased Miraval Group, which includes acclaimed Miraval Arizona Resort & Spa in Tucson, Arizona. Shape magazine put it at the top of its 2017 Healthy Travel Awards list, with this acclamation: "Miraval has a single goal: to help guests learn how to achieve equilibrium in their lives so they find more meaning and joy in every day.
"As part of that mission, the resort partners with some of the biggest hitters in health, wellness and beauty…You'll spend your time unwinding with traditional, Ayurvedic and other Eastern-inspired spa treatments; attending workshops on everything from honey tasting to horse painting; dining on delicious, seasonally sourced meals; and taking fitness classes like yoga, rock climbing, mountain biking and cardio drumming."
Miraval also has properties in Austin, Texas; Dana Point, California; and Lenox, Massachusetts.
"This takes us to a different level," Ahmed enthuses. "We don't want it to end there. We want it to translate to our other brands, like Andaz and Hyatt Regency, as well."
At first blush, the other Hyatt wellness-related acquisition last year, Exhale spa company, seems surprising. Exhale has 25 locations in the United States and Caribbean, both free-standing and in hotels—including competitors such as Fairmont Miramar Hotel & Bungalows in Santa Monica, California, and Gansevoort Park Avenue Hotel in New York City.
Apart from wellness being on fire, why this move? Ahmed's answer should resonate with meeting planners: "We're trying to deepen our relationship with guests—through hotel stays, yes, but also experiences." World of Hyatt, the company's loyalty program, was relaunched last year, as "an entry point into a culture." In other words, look for the program to be linked to Exhale and perhaps even Miraval.
Ahmed shared this from Hyatt Regency Chicago, where he was about to check on a ballroom set up for a meeting with soft seating draped with pashminas in a semicircular pattern. "We take a holistic approach to the meeting experience, and learned that the physical environment makes a big difference. You could say we've dramatically reimagined and redefined what well-being means at meetings."
A Very Brief History of Group Well-Being
The Greeks loved their thermal baths for rest and recuperation. The Romans imitated the Greeks, and introduced spas to England, Switzerland and the Middle East.
In 1847, the first public gymnasium opened, in Paris.
The world's first fitness club was created in 1936—in Oakland, California, by fitness, exercise and nutrition expert Jack LaLanne (pictured).
Hilton takes credit for being the first major hotel company to standardize the hotel fitness center—remember when it was called the hotel gym?—in the late 1990s.