Preparing for adjustments in uncertain economic conditions
The ongoing saga of the U.S. economy and its recovery from the pandemic is a narrative that's continually shifting, with certain sectors hit harder than others. Massive tech layoffs have made headlines in recent months with other industries including housing, manufacturing and finance also showing signs of reduction. These "rolling recessions," as they're commonly referred to cause certain sectors to retract while the nation's economy as a whole remains stable. As a result, companies in the financial services sector have scaled back the overall number of events hosted, while making adjustments to the type of content and activities offered to attendees to reduce costs.
These adjustments have caused many planners who are producing events for financial services companies to reshape their strategies as clients reconsider the focus of large meetings. "That's a big struggle right now," says Amy Manzanares, senior vice president, account management at Leo Events. "Clients' budgets have not changed since prior to Covid and in some cases are getting cut," she says. "We're trying to work with clients to figure out the best way to provide the same product at a lower budget so that the attendees have the same elevated experience." And in many instances, financial and insurance companies in 2022 opted to cancel events altogether.
However, Manzanares says that many companies have made adjustments to their events, as opposed to canceling them outright. "In some cases, they are trying to combine recognition programs for shows that perhaps they would have separated out," citing the move of one of her clients to reduce the number of their lower tier recognition program from five different host cities and consolidate the events into just one, noting that the strategy was in part due to budget efficiency and an overall reduction in resources. "We're seeing both internally with clients and budgets, and externally trying to navigate these budget challenges."
"Clients' budgets have not changed since prior to Covid and in some cases are getting cut," she says. "We're trying to work with clients to figure out the best way to provide the same product at a lower budget so that the attendees have the same elevated experience."
–  Amy Manzanares, senior vice president, account management at Leo Events
But the current economic turbulence lacks the vigor to stifle the philanthropic and socially responsible nature of F&I industries during events. The momentum of providing attendees with CSR-driven activities remains high on the list of priorities held by companies, along with promoting Diversity, Equity and Inclusion (DEI) while pushing for sustainable practices in all corners of business and related events.
Sights Set on Recovery
Despite the current scaling back of events in this industry, a recent report from the 2022 Incentive Travel Index (ITI), made possible through a collaboration with Incentive Research Foundation (IRF), Society for Incentive Travel Excellence (SITE) and Financial & Insurance Conference Professionals (FICP), indicated that incentive travel and the amount spent per person will significantly surpass 2019 levels by 2024.
"Planners should try to scale down on budget where they can," says Rachel Russell, assistant director, field marketing at EY. "I think part of that is considering whether you want to host events less often but are more memorable, or have smaller, more intimate events more often," she says noting that it's important that planners be cognizant of the economy and the trends followed by other companies in the industry.
However, the recent ITI survey showed that the majority of respondents (63%) were interested in new destinations, while 56% of respondents indicated that they are interested in destinations that require a shorter distance of travel. In addition, 50% said they would prefer incentive travel to resorts and 47% said they'd like events to be held at all-inclusive resorts—all options that would allow companies to reduce spending for events while not compromising attendee experience.
"There's definitely more of an emphasis on educational events," Russell says. "Obviously, the networking component is important in the sense that following an educational event, there should be an hour set aside for networking and client entertainment, but maybe less of just the entertainment-focused events," she says, adding that by doing this, companies can better track and reduce spending."
"For the financial and insurance industries, they're heavy on incentives and they tend to be larger budget events," says Jennifer Squeglia, owner, RLC Events and past chair, FICP Board of Directors. "Some of the challenges include regulations and compliance measures that you need to be mindful of," she says noting that incentive trips may involve taxing attendees and other financial considerations.
While many financial and insurance companies are tightening their fiscal belts, the recent FICP survey shows that meetings within these industries have strategic importance including helping to facilitate employee retention and rebuilding relationships across teams and functions. The report showed 81% of the finance and insurance industry professionals who participated in the ITI survey believed that incentive travel adds strategic value while 90% believe that incentive travel is vital in building relationships and company culture as many employees have transitioned to working remotely. Another 71% of respondents said that they believe meetings help to facilitate the feeling that employees and associates have a "seat at the table," according to the survey.
Hospitality as Partners
"In order to really achieve success," Squeglia says, "you have to partner with all of your hotels, destination management companies, and speaker bureaus to get things done—and it really came through during Covid because we really stuck together."
And as many companies brace for the economic undulations triggered by rolling recessions, the category of hospitality and leisure was one sector in the U.S. currently showing an uptick in fiscal gains. A report published by the U.S. Bureau of Labor Statistics in October 2022 projected the addition of 8.3 million jobs from 2021 to 2031 in the U.S., with 1.9 million, or 21.3% of those jobs expected to be added will be in leisure and hospitality. The sector accounted for 8.9% of all jobs in 2021. The annual growth of the leisure and hospitality sector is 1.3% putting it in seventh place out of the 20 fastest-growing industries in the country.
Squeglia says that maintaining healthy relationships with hospitality partners, including transparency in what can be expected in terms of staffing levels and other services is crucial. "It's important to show grace and make sure you work very closely with the hotels," she says adding, "FICP places such emphasis on the Importance of relationships between the meetings professionals and hospitality partners in our One Community"
However, it's not strictly business between the two industries—sustainability and DEI has become a focal point for such organizations and has influenced a change in their approach to meetings and events. According to the 2022 FICP Pulse Survey, 84% of F&I organizations are focusing on DEI, with 72.7% of hospitality organizations sharing that same focus. The survey also revealed that 4 out of 10 organizations in either industry now have a chief diversity officer and or a dedicated DEI committee to help steer the organizational focus.
And this increased effort is apparent in the content featured at meetings and events. The survey also indicated a 52.3% increase in organizations selecting diverse speakers and a 45.5% change in the content presented to better represent DEI considerations. The survey also measured the various areas of DEI for both meeting planners and hospitality partners including unconscious bias training, incorporating DEI into mission statements, actively recruiting for a more diverse workforce and making a true sense of belonging part of a company's mission statement.
Sustainability has also taken center stage within both industries with 62.5% of F&I organizations placing an emphasis on sustainable practices and 72.2% of hospitality organizations sharing that same focus. In addition, roughly 1 out of 4 organizations have a dedicated either a dedicated chief sustainability officer or committee. But while 37.1% of organizations have made sustainable practices a top driver, the survey also reported that sustainable practices have a longer pathway to adoption. According to the survey, over half of the respondents said that they don't anticipate an increased focus on sustainability with 36.8% saying that they believe the focus will increase over the next five years. Organizations that have embraced sustainable practices reported the elimination of single-use plastics at 51.4% and a 40% reduction in food waste.
F&I Partners Give Back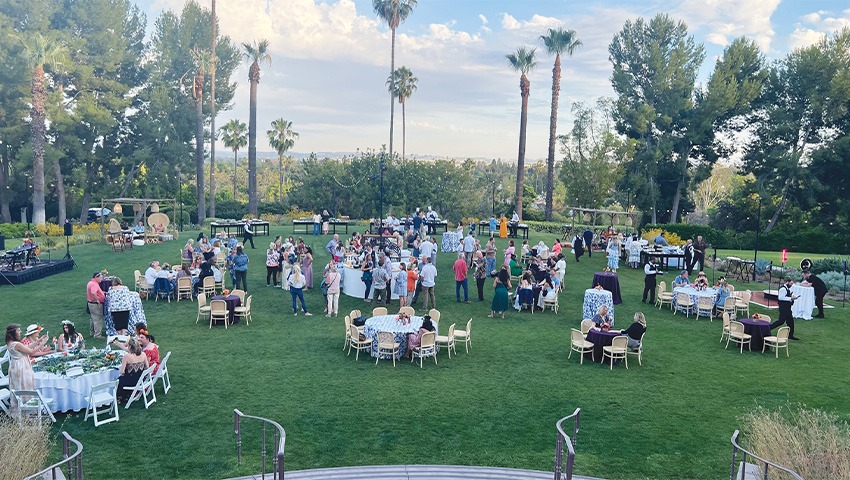 The 2022 FICP Education Forum, which took place in Pasadena, featured a "theme for the event that was meetings in bloom, growing together," says Kat Seiffert, marketing and communications director at FICP. "This played on the highs that in 2022, meetings were surging back," she says adding that the organization always wants to do something that includes a CSR component.
During the forum, FICP introduced a program called, "Networking Lunch With a Cause," which included all of the attendees in structured networking with seating assignments to produce a well-rounded mix of event planners and hospitality partners. "Each of the different tables put together silk flower arrangements," Seiffert says. "We worked with a local silk flower shop to bring lots of gorgeous flowers to this event," she says. "It was a great team-building experience and the CSR aspect of it was that we had pre-identified local assisted living facilities in Pasadena," she explained, adding that one of the communities that suffered the greatest impact from the pandemic was assisted living facilities.
"We wanted to do something specifically to support those individuals who felt isolated for multiple years." All of the arrangements created during the event were donated to an assisted living facility following the event. "They absolutely loved it," Seiffert says. "It was a feel-good event for attendees, as well as making a local impact, which is also a key driver for us," she says. "Wherever we are, we want to make sure we're making an impact on the ground—it was just a really special event."
Another successful CSR activity produced by FICP included Doc Hendley of Wine to Water, a non-profit focused on clean water solutions. The presentation and hands-on CSR activity took place during the Closing Experience FICP Annual Conference in Boston last November. "His organization builds and delivers water filters and applications on how to get clean water to communities across the world," Seiffert says. "We had all of the tables that were in the closing experience and all the attendees built water filters and then they were sent off by Wine to Water to the communities they had targeted on a global basis."
However, some forms of CSR come in more subtle packages. FICP holds a silent auction during every annual conference that is heavily supported by the hospitality partners of FICP with bidding on various items available to attendees. The silent auction has been held over the last 20 years. All proceeds from the auction go to a specific organization. "Over the years, we've raised over a million dollars for various organizations, Seiffert says, adding that FICP broke their own record in 2022 in terms of the overall amount of proceeds and was in support of two organizations: the Massachusetts Association for Mental Health and The Above and Beyond Foundation, which focuses on individuals with the hospitality industry who are in need of support, while showcasing those who have gone above and beyond in lending a helping hand. The overall response from attendees regarding CSR activities has been very strong. "Participation increases every year," Seiffert says, adding that "it really shows the impact and supportive nature of the FICP community."
This article appears in the March/April 2023 issue. You can subscribe to the magazine here.