Identify, educate and inspire to win hearts, minds and votes of elected officials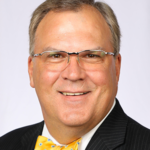 Many associations work all year planning massive legislative days that bring members together to advocate for their issues. Roger Rickard (pictured), founder of Voices in Advocacy consulting, says far too many organizations don't do a good-enough job telling their stories. Here are his tips for speaking up for your group.
Identify Your Resources
"Advocacy is built on relationships," Rickard explains. The first questions to ask are, "Who do you know, what are they willing to do for you and what tools do they need to be able to engage?" If you don't ask, you'll never know if a member has a second-grader who plays soccer with a representative's child or went to college with an elected official's sister and could get an appointment. They could be the best voice to make a call.
In many cases, a citizen who has a compelling story and is passionate about an issue is more effective than a paid lobbyist. Convincing someone in a position of power that the issue is important is what face-to-face meetings are best at. "When you sit across the table and look someone in the eye and have a conversation, the politician can see the passion. That is harder to do in a letter or an email or tweet," Rickard says.
Associations continue to hold legislative days with people in state capitals and Washington, D.C., because they really do work—if they are planned effectively.
Educate the Advocates
Winning athletes don't walk onto the field thinking they are terrible and are going to get killed—or they will. When your members walk into an elected official's office, they have to feel prepared, Rickard says.
Start by telling people what to expect—often, that is 15 minutes with a staff member. Go over what issues they need to cover to make the association's point. Tell them not to overthink it. They don't have to know every factoid. They just have to tell their story. If a question comes up they don't know the answer to, they can admit it and say they will get back with an answer later. "The personal story is the most important thing," Rickard says.
Coach members on how to sell the association's position by arming them with an ask that requires specific action. That could be signing on to a bill or supporting a budget for research. The next step needs to be very clear.
Instruct these new advocates to offer to act as a resource on the issue in the future. Elected officials know a little bit about everything, but trade associations know a tremendous amount about their industry. "You will be surprised how often they reach out if they feel you are a trusted voice and can help them understand what is going on in their district," Rickard said.
Finally, follow up with email to the staff person—not the general info@memberofcongress.org, but an actual representative or staffer's email—to reiterate the issue, the action and the offer to answer any questions. And stay in touch. Invite them to events, conferences and facility tours.
Inspire Widely
Advocacy isn't just about talking to politicians. Rickard breaks the components of influence into seven branches of the advocacy tree, including government affairs, media relations, public service announcements and industry, brand and cause advocacy.
"There are thousands of examples of how people speaking out have changed the tide of public opinion and, in turn, have changed the minds of elected officials who want to be in office more than once," Rickard says. He points to public-service announcements around drinking and texting while driving as a way liquor companies have been able to avoid regulations for their products by spending money to change behavior.
"Who better to voice your point of view than your members?" Rickards asks, rhetorically. "It's time to get them inspired."