The good, the bad and the ugly of team building
"It is the long history of humankind (and animal kind, too) that those who learned to collaborate and improvise most effectively have prevailed." –Charles Darwin
Of all the tools in a meeting planner's toolbox, team building may be the most treasured. That is because it's been around forever, but is still used constantly. Yet, that doesn't mean it always works flawlessly or does the job it was intended for. Among planners and within the business (and not-for-profit) world, there is difference of opinion about how it should be used—and even what can legitimately be called team building and what can't.
At one extreme, team building "has a reputation of being, well, lame," says Brian Scudamore, CEO of O2E (Ordinary to Exceptional) Brands in Vancouver, British Columbia, Canada, who says the very thought can get employees re-running old episodes of The Office. (Yet he also says it can be the most important investment any organization can make.)
In a similar vein, Harvard Business Review (HBR) has noted that while "many corporations plan outings that include such things as ropes courses, trust falls and game playing…many participants find them to have no value; trust falls have become a frequently mocked, Dilbertesque symbol of managers' wrongheaded attempts to create intimacy among employees."
Things can go awry. Lauree Geldray, corporate travel coordinator and administrative assistant at Utah Retirement Systems, says, "One time we played dodge ball. That went horribly wrong." A Washington, D.C.-area company made national news a few years ago after supervisors returned home from a team-building visit to a paintball range pummeled by pellets and covered in welts. Anne Thornley-Brown, Toronto-based facilitator of executive retreats, team building and meetings at Executive Oasis International, co-created the hashtag #baaadteambuilding after reading about human sheep herding—where a "shepherd" guides blindfolded "sheep" into a pen using a whistle—being promoted as team building.
As a reality check for our review of team building today, we surveyed meeting planners, consultants and suppliers to confirm that, done right, team building is still valuable. Among the nearly 100 respondents, 83 percent said team building was either important or absolutely essential at meetings. They also shared what's working and what's not, as well as the best team-building activities they've seen of late. What follows is a primer on the state of team building today, as seen through the eyes of those charged with making these exercises meaningful and impactful.
What It Is And Isn't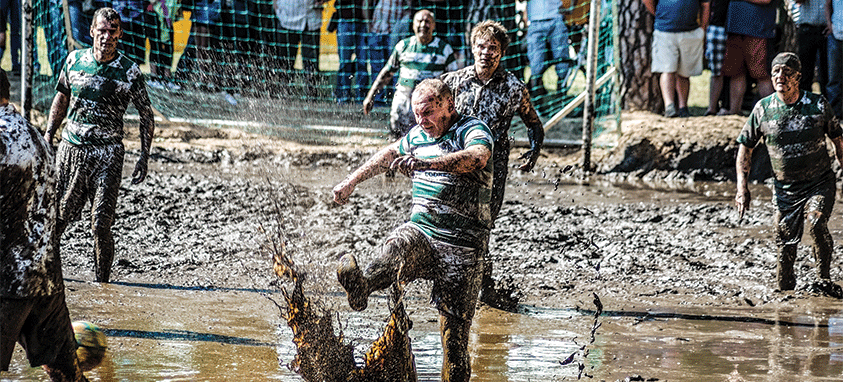 Let's start with a basic definition. "A team-building activity is any positive, shared experience that reinforces positive team skills," says David Jacobson, founder of TrivWorks, a New York City-based company that creates customized trivia events for team building. "It has to have some form of structure, and someone who has put it together with clearly defined goals."
In other words, it shouldn't be strictly recreational or social, say many experts. Asked for her most successful team-building activity, a director of events for a Michigan realtor group replied, "Birthday lunches where we all say what we admire, enjoy or love about the birthday person." By our definition, that isn't really team building. "Those are just nice add-ons," Thornley-Brown says. "It would be as if I invited you to dinner and served as appetizer or a dessert, but no actual meal."
What's the secret sauce for successful team building? Michele Bailey, who heads Toronto-based Blazing The Agency, and leads professional workshops for driving business results, lists these.
They take place at a neutral location. This communicates that the activity is worth sacrificing work time and fosters willingness to try something new.
They don't push people beyond their capabilities. Fear or embarrassment can mean half-hearted participation or even bring things to a stuttering halt. Behaviorists say learning takes place when attendees stretch, but not too much.
They have clearly defined expectations. To promote cooperation, choose activities that require just that for success. If attention to detail is the goal, find activities that emphasize that focus.
They communicate your culture. Plan exercises that echo key components of the organization's core values.
They aim for 100 percent buy-in and participation. This is the struggle for meeting planners. "Lack of wanting to participate and bad attitude toward the activity" is what Julia O'Grady, president of ITM Events in North Grenville, Ontario, Canada, responded when asked what could go wrong in designing a team-building activity. To facilitate commitment, Bailey recommends exercises that focus on working together. To encourage cooperation, structure success as task completion rather than beating other teams.
Other parameters are related to the type of activity. Physical activities pose particular challenges, for example. Indoor rock climbing and outdoor sports challenges get adrenaline flowing, but "it's hard to find a one-size-fits-all activity for a large, diverse group," cautions a Midwestern meeting planner for a large corporation. "Pushing staff members too far out of their comfort zones can not only impact the day, but potentially team environment afterward," adds Todd Brandt, president and CEO of Tourism Saskatoon. Obviously, limitations for the physically challenged and those not physically fit also apply.
Let's share success stories, though.
Evidence-Based Recipe for Success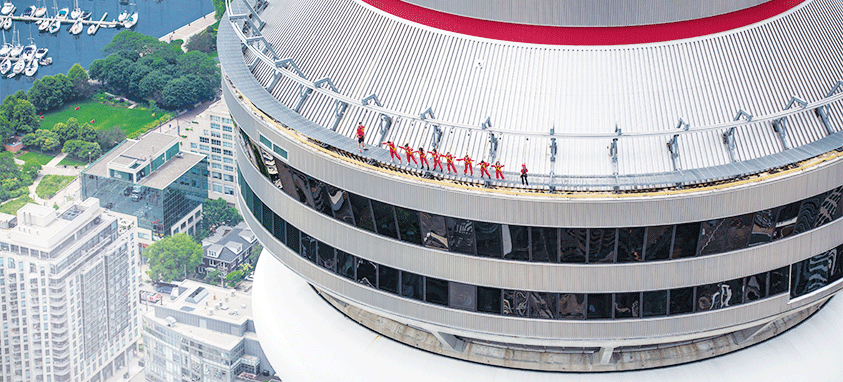 Kevin Kniffin, who researches organizational behavior and leadership at Cornell University, visited fire stations in a mid-sized American city and surveyed nearly 400 firefighters. Why? The communal firehouse dinner is a model for a deceptively simple way to build higher-performing, more cohesive teams.
As reported in Harvard Business Review, there's a special magic to eating together. Meeting planners concur. Dee Walsh, meeting planner for Catholic Health Association of the United States in Washington, D.C., cites a chili cookoff as her most successful team-building effort. "Teams had to interact with each other to create recipes, design aprons and select team logos," she says. "It required leadership, communication, delegation, collaboration and, most important, a cooking class! Everyone could join in."
Mira Anderson, a talent recruiter in the Chicago area, recalled an offsite at a culinary school for HBR. "I actually don't cook very much or very well, but another employee—someone new to our team—is really comfortable in the kitchen," Anderson says. "It was an opportunity for her to step up and lead. That's translated well back in the office; she's shown increased comfort with speaking up."
A planner for a major provider of database software cites an Iron Chef-style cooking class as one of her most successful activities. "It was a great combo of getting to know co-workers in a nonwork environment, collaboration and friendly competition. We got to enjoy the fruits of our labors—and wine!" she says.
Build It and They Will Come
Simply providing the right environment at a meeting can be all you need when the goal is meet, greet and meld. At a recent global conference for Pyrotek, an aluminum engineering company, at Biltmore Hotel, Coral Gables in Miami, a central business objective was to coalesce attendees from all over the world into a single sales force. Many were from recently acquired companies.
Instead of formal team-building activities, Terrence Young, trade show and even strategist at Young Event Marketing, created a space called Smelter Shelter Networking Suite. Its decor and range of activities—from pingpong and foosball to a hosted bar and soft seating—attracted attendees before and after dinner. Some 80 percent of attendees came to hang out, play games, catch up and get to know each other.
Houdini Now Does a Team Escape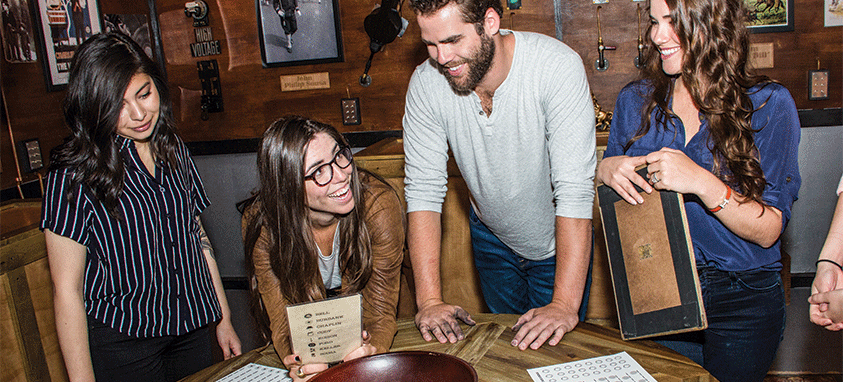 Escape rooms are almost impossible to escape these days—because there are so many of them. According to worldofescapes.com, the Dallas-Fort Worth metroplex has more than 100 of these themed rooms, where groups work together to solve puzzles and find clues that will allow them to unlock the room and "escape" within 60 minutes. New York City has that many, too, as do Los Angeles, Chicago and Atlanta.
Some are eerily evocative of headline news. In Washington, D.C., teams can play White House correspondents who follow clues of a brewing scandal in Escape the Oval Office. In Chicago, The President's Bunker challenges teams to regain control of nuclear missiles ready for launch. In Miami, teams have to find the secret treasure map and return gold stolen by pirates in Pirate Cave. In San Francisco, the choices include Escape from Alcatraz and The Great Houdini Escape Room, described as "part mystery, part history, all fun!"
Several planners cite escape rooms as the most creative and successful team-building activity in recent years. "It brought everyone together, sharing ideas on clues given in order to escape the room in the allotted time," says Yvie Falcon, executive assistant at Stewart Title in the Houston area. "It also helped us understand the critical thinking of the folks on our team by doing the DISC assessment [an assessment tool based on the DISC theory of four behavioral traits: dominance, inducement, submission and compliance] beforehand."
Still, the praise is not universal. Kimberly Knight, CMP, CAE, assistant corporate secretary and director of board relations at AARP in Washington, D.C., exemplifies the unconvinced. "The escape room theme for our group was a total bust," she says. "It received the worst feedback of any activity we have organized in many years. Not every activity will fit every group."
One limitation of escape rooms is that teams locked inside are small, typically six or eight people. Several planners pointed out there are similar opportunities for cooperative puzzle-solving and drawing upon the skill sets of participants no matter their rank in the organization. Options include activities such as geocaching—using a GPS or mobile device and other navigational techniques to seek out hidden containers called caches—and scavenger hunts.
Teaming to Do Good and Bridge Cultures
CSR-related team building continues to trend. "There are more underserved community needs than ever, and participants like to make a difference that matters, beyond a trophy," says Jim Unger, vice president of sales and partnerships for Hornblower Cruises Events. "It's a natural fit," adds Padraic Gilligan, managing partner at SoolNua, a boutique consultancy that helps destinations, venues and hotels increase MICE business. "Folks are always far more ready to get down and dirty when it's in support of a good cause."
Many of the planners surveyed named give-back programs among their most popular and successful activities. They can spring organically from reaching out to local community organizations, or they can be packaged and delivered by organizations such as Best Corporate Events & Team Building, which lists 17 options on its website. These include Build-a-Wheelchair (for veterans and others with mobility impairments), Helping the Homeless (packing backpacks), Donation Nation Care Packs (for nursing homes, food banks and other charities) and Project Alzheimer's (music and memory activities, earning MP3 players to donate to elderly afflicted with this disease).
Unreal and on the Edge
Virtual reality simulations are no longer the team building of the future. "With VR, anything is possible," says William Griggs, CEO of VirtualRealityRental. "We've helped plan events where teams are taken on an amazing virtual field trip to Mount Everest, where guests are asked to collaborate with each other to achieve objectives in a virtual environment or even where attendees foster a sense of friendly competition through VR challenges." For instance, Pictionary VR fosters teamwork by having attendees guess what teammates are drawing in virtual reality.
Extreme reality is one way to describe activities such as ziplining, which is frequently billed as a team-building experience even though it verges on the recreational. Nonetheless, numerous studies tell us that when humans go through a challenging experience together, they feel more connected. That's part of the psychic re-engineering that underpins the famous esprit de corps built during the few weeks of basic training by the United States Marine Corps.
Among the most extreme activities cited in our survey of planners was EdgeWalk, where participants don red jumpsuits and harnesses atop the 1,168-foot-high CN Tower in Toronto, then lean backwards into thin air and edge their way around the 5-foot-wide ledge. "A successful team-building event is all about sparking transformation," proclaims the venue's website. "You want to create that flashpoint where change happens, where people are inspired to do their jobs better, and to lead more effectively."
Baaad vs. Goood
| | |
| --- | --- |
| #baaadteambuilding | #gooodteambuilding |
| Don't waste time setting clear, specific and measurable business objectives. | Ask yourself, "How will this impact the business and improve performance? What will improved performance look like? How will we measure results?" |
| Keep using recreational activities as a substitute for "real" team building. In other words, team members have fun together in the hopes this will improve interaction and communication at work. | Devise specific business objectives or outcomes. |
| Put your team at risk with extreme or dangerous activities. | Know it's not an episode of Survivor. Not convinced? Google "team- building injury." |
| Mix alcohol and activities that involve physical exertion, fire or knives. This includes cooking contests. | Save the celebration for afterward. |
| Go for foolishness and folly. We're talking activities such as pillow fights, bouncing on a trampoline, axe throwing, jumping off buildings to hang suspended in the air, and putting on thermal suits and being set afire. | Make it fun, but keep it relevant and something you would ask your boss to do. |
| Don't bother to set the context, and skip the debriefing and business application exercises. | Take advantage of precious time away from the workplace to make it more than just another corporate play day. |
| Fail to follow up and measure results. | Use all the tools at your disposal, including a post-event survey, post-event team performance metrics and anecdotal feedback. |
Courtesy of Anne Thornley-Brown