Out-of-the-box new luggage items facilitate traveling
With so many pieces of luggage on the market, making choices can be an ordeal. Our advice is to hone in on special features that can make travel a bit less of a hassle. Here are a few of the best options.
Best Carry-Ons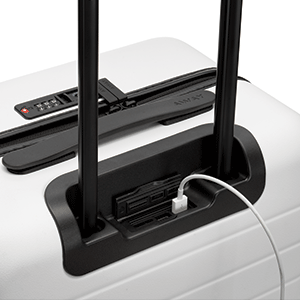 Ever since airlines began imposing hefty fees for checked baggage, passengers have been trying to limit themselves to carry-ons. There are clever hacks and tactics to make it all fit, such as rolling instead of folding clothing, but sometimes the solution is the luggage itself.
When overhead storage bins fill up, wheelie suitcases designed to fit underneath the seat come in handy. Many brands make them, and ebags.com is a one-stop-shop to see options.
Cellphones get drained at airports, and outlets for recharging them are at a premium. Away, a hard-shelled suitcase featured on Ellen DeGeneres' "12 Days of Giveaways," provides a solution. Its carry-on model has a built-in USB charger powered by a removeable lithium-ion battery underneath the handle.
Best for Traveling with Tots
Strollers and car seats and toys, oh my! Bleisure travel is on the rise, and some parents bring children along for the ride if babysitting is available at the meeting destination. While kids are precious cargo, schlepping them and all their accessories through an airport poses a challenge.
"Momtrepreneurs" and "dadtrepreneurs" who have experienced this first-hand have invented some clever work-arounds you may think are gifts from heaven. When kids tire of walking, they sometimes beg to hitch a ride on a parent's suitcase. But the average suitcase may not be durable enough to withstand the additional weight.
The SitAlong Seat (formerly the Ride On Carry On) was designed by New York City-based Darryl Lenz, a mother of two and flight attendant. It's a seat attachment for a carry-on suitcase that converts it to a stroller. Shark Tank star, real estate mogul and author Barbara Corcoran invested in this product on the show's second season. "It folds nicely on your carry-on to go through security and fits neatly in the overhead compartment," she says.
Bagrider, designed by New Zealand's Mountain Buggy, is a suitcase with a cushioned seat that attaches to the handle. The five-point safety harness keeps your little one strapped atop your bag. A kickstand with wheels pops out to provide extra stability as you roll through the airport.
Australian-based Born to Fly Baby is a jack-in-the-box of suitcases. It features a stroller seat that pops out of the front of the bag. It is expected to be available in this country later this year.
La Multi, the brainchild of French company Canailles Dream and Alexis Grignon, is the suitcase version of a Swiss Army knife. It can transform into six different functions—seat, rocker, bassinet, changing table, suitcase and even a bathtub. Norwegian company JetKids also manufactures a transformative suitcase. Its ride-on BedBox converts to a bed so tots can get in nap time mid-air.
Best Checked Bags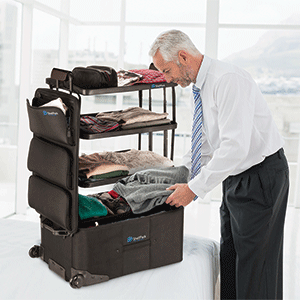 Staying within the 50-pound weight limit for a checked bag is difficult for overpackers. The weight of the suitcase itself is part of the problem. It Luggage purportedly is the world's lightest wide-handle suitcase, weighing only 5 pounds.
On many fam trips, you are gifted with a bottle of wine, or you might purchase some yourself. Prohibited from bringing wine in your carry-on, you are forced to check your vino and hope it doesn't leak. Napa, California-based FlyWithWine's VinGardeValise is a suitcase designed with padded compartments in the shape of wine bottles. It's like a camera case for wine.
Many suitcases look alike, making yours tough to spot on the carousel. And what if someone else should snatch it up? It's not likely to happen if your face is plastered all over it! Firebox offers the Head Case luggage cover—it stretches over your suitcase to make it truly one-of-a-kind. Upload a photo and Firebox does the rest.
Living out of a suitcase is never fun…until now! Unpacking in a hotel and repacking to return home can waste time better spent elsewhere. Meet Shelfpack, a suitcase featuring collapsible shelves that pop up upon opening. Made by Santa Barbara, California-based McKaba Luggage, the bag won the Buzz Award for best new product when it made its debut at the 2015 International Travel Goods Show in Las Vegas.
Best for On-the-Go
Stadiums and arenas are popular venues for conferences, conventions and trade shows, and many meeting and fam itineraries include attending a sporting event. Due to safety measures imposed by professional and collegiate sports leagues, many venues now require fans to carry transparent bags. Safety Bags offers a line of clear totes, backpacks and messenger bags. Costing only $30, they make a great swag bag item. The tote straps come in a variety of colors to match your company or event.
When walking through an airport or theme park, or sightseeing in a city, travelers paw in frustration when they cannot find what they're looking for in their purse or backpack. Twenty years ago, two flight attendants saw a void in the marketplace for bags with pockets, and so Baggallini was born. Available in a wide assortment of styles, the bags all share one thing in common—zippered compartments to secure all your essentials and make them easily accessible.