Stadiums and arenas spark productivity and inspiration
Picture, for a moment, holding your meeting in a sports stadium or an arena. Picture your attendees walking right out onto the field or court where sports history was made, crowds roared and the rafters literally echoed with that roar. Picture the great performances that have taken place there, along with the great pride that championship teams have bestowed upon their cities.
Picture walking through the locker rooms where players stood before taking the field or court, getting last-minute motivational words from their coaches while hearing the anticipatory roar of the crowd just outside. Then picture the museums or halls of fame inside many of these sports venues, where a team's greatest players and brightest moments jump out at your attendees.
It's hard not to be inspired in such a place.
Meeting planners, in their search for inspirational settings, are finding this out. An increasing number of them are using these sports venues to energize and inspire attendees. The results are often surprising.
Here are some of the sports venues where the extra bonus of inspiration is everywhere you look.
Dodger Stadium, Los Angeles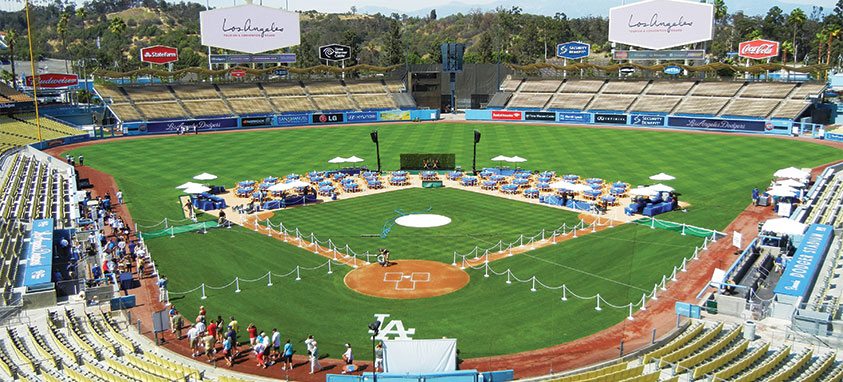 When the Brooklyn Dodgers moved to Los Angeles in 1958, they shook up the baseball world, helping to usher in an era of tremendous expansion for all professional sports, to all corners of America.
From its opening in 1962 to the 2017 World Series, Dodger Stadium has been one of Los Angeles' places to see and be seen, as evidenced by the movie stars and celebrities at the games. The Dodgers have won five World Series since moving there, and have boasted great players such as Sandy Koufax, Don Drysdale and Don Sutton.
It's a great place for meetings and events, as well, with seven meeting spaces of various, and flexible, sizes. On-field event options include a dinner or reception on the warning track, between the Dodgers' and visitor's dugouts; and batting practice on the field, set up the same way as a Major League batting practice. In addition, former Dodgers greats are available for meet and greets, which create memorable experiences for attendees.
Levi's Stadium, Santa Clara, California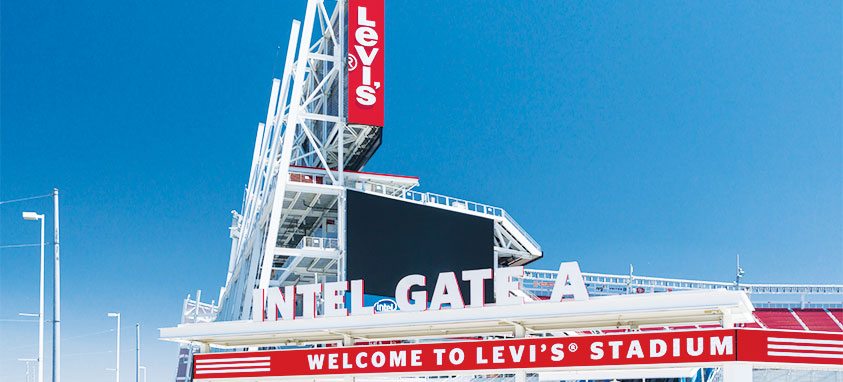 Levi's Stadium is home to the National Football League's San Francisco 49ers. Open only three years, it has the latest technology and amenities, among them full-scale meeting, conferencing and event production; catering; and unique experiences, all in-house.
This stadium has 17 meeting and event spaces, totaling 400,000 sq. ft. The sidelines are available to planners year-round and the field is available outside of football season. Unique activities include 49ers experiences such as photo opportunities with the Gold Rush cheerleaders; the popular mascot, Sourdough Sam; and the team's five Super Bowl trophies. In addition, attendees can test their football skills and practice real drills. Famous 49ers alumni also sometimes visit.
The field at Levi's Stadium can accommodate up to 10,000 people for events, and meeting spaces can hold up to 2,000. This was the site of Super Bowl 50 in 2016, and a game in the National Hockey League's Stadium Series in 2015.
Coors Field, Denver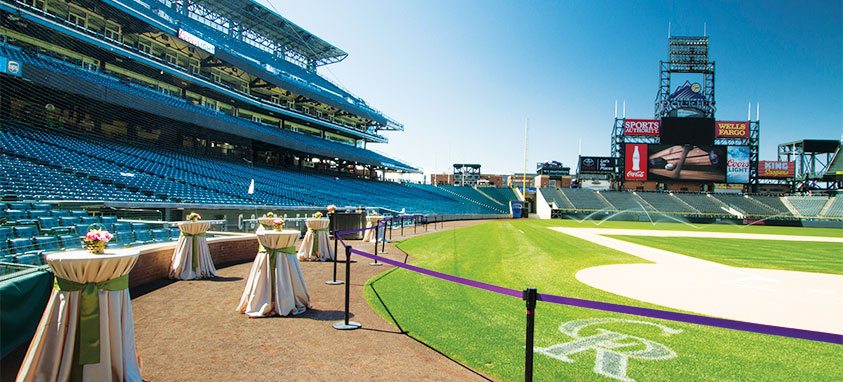 Coors Field was built in 1995 to resemble an old-time ballpark, but it has all the modern amenities. It's in downtown Denver, convenient to cool neighborhoods and nightlife. Management is always looking for ways to make it more attendee-friendly. For example, the 38,000-square-foot Rooftop, opened in 2014, is not only one of Denver's best bars, but also a great place for events.
Coors Field has 126,400 sq. ft. of meeting and event space, in addition to the field, and the Rocky Mountains are never far from view.
Your group can meet Colorado Rockies players and coaches. On nongame days, you can hold a reception on the warning track, and attendees can experience behind-the-scenes tours of the visitors' clubhouse and dugout. On game days, if your group is large enough, it can actually take batting practice.
David DeCamillis is vice president of sales and marketing at Platte River Networks, a Denver technology firm.
"We've been holding two meetings a year at Coors Field for several years now, ranging in size from a hundred to a thousand," DeCamillis says. "And our attendees come from all over the country. They're genuinely inspired by this stadium, and the former and current players with whom they can interact. They love that you can see the mountains. And, year after year, our meetings at Coors Field generate higher survey scores than anywhere else."
AT&T Stadium, Arlington, Texas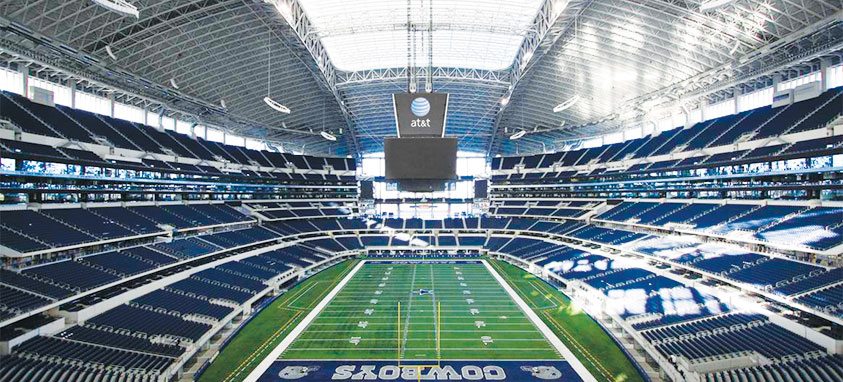 The Dallas Cowboys have always done things in a big way—hey, this is Texas! So, when owner Jerry Jones built a $1.5 billion stadium in 2011 that is the largest domed structure on Earth—with seating for more than 100,000—it seemed a perfect fit for a team that's won five Super Bowls. Now, it's also a perfect fit for meeting planners.
AT&T Stadium has more than 20 meeting and event spaces available, totaling more than 320,000 sq. ft. It can provide personalized experiences for groups ranging from 50 to 5,000.
Customized options include team-building activities such as punt, pass and kick competitions on the field, along with VIP tours, dinner in the Cowboys locker room, performances by the Dallas Cowboy Cheerleaders and an appearance by Rowdy the mascot, who sports perhaps the biggest cowboy hat on Earth.
Teresa Alfaro, senior meetings manager for Volunteers of America, a philanthropic organization based in Alexandria, Virginia, brought 850 employees to AT&T Stadium in April for an awards dinner.
"Our attendees will never forget it," Alfaro says. "We had dinner right on the field. But the best part is they had all 850 of us walk out of the tunnel and onto the field, like the Cowboys do! We came out through a ring of smoke, and they showed it on the scoreboard screen. Many people told me it was very inspiring. And many of our post-meeting surveys asked how in the world we would ever top that awards dinner!"
U.S. Bank Stadium, Minneapolis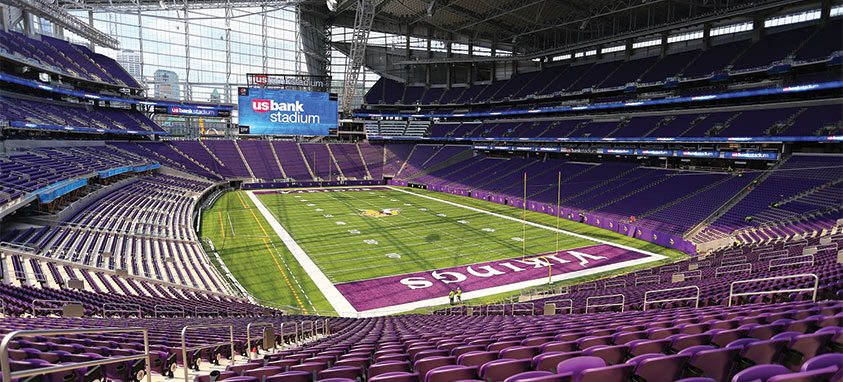 When pro football's Minnesota Vikings inaugurated their magnificent indoor stadium in 2016, fans didn't have to learn how to get there: It was built where the Hubert H. Humphrey Metrodome, the team's former home, once stood.
Actually, though, the stadium was in use even before the season started. Destination Marketing Association International broke in the new property with its annual convention that August.
From six distinctive club areas to the field and concourse, plus suites and lounge areas, U.S. Bank Stadium boasts 241,000 sq. ft. of event space, including nearly 136,600 sq. ft. on the event level and stadium floor. If your meeting or event is a huge one, fear not: There are 65,000 seats (which will all be filled for Super Bowl LII next month).
U.S. Bank Stadium offers state-of-the-art audiovisual and technology features, among them two video boards in each end zone and 2,000 flat-screen, high-definition TVs.
Mercedes-Benz Stadium, Atlanta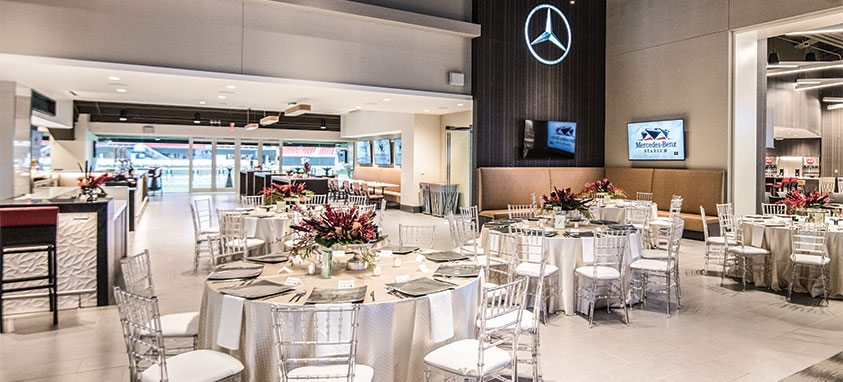 This striking glass-and-steel structure with a covered roof is the newest stadium in the United States. It opened to great acclaim just before the 2017 season kickoff of its major tenant, the NFL's Atlanta Falcons. The Falcons and Atlanta United soccer team won't be the only tenants, however. Meeting planners are already utilizing the 15 meeting and event spaces, totaling more than 150,000 sq. ft., and calling on the services of the on-site meetings and events team.
Your attendees will be inspired—because events can be centered around games, VIP Club spaces, locker rooms, behind-the-scenes tours of the stadium, current and former Falcons players, punt, pass and kick events, running and exercise drills, or a variety of different experiences right on the field.
Two Field Club Patios each offer 30,000 sq. ft. of meeting space, along with 30 big-screen TVs and sideline views.
Mercedes-Benz Stadium is in the heart of downtown Atlanta, and right next to Georgia World Congress Center.
Yankee Stadium, New York City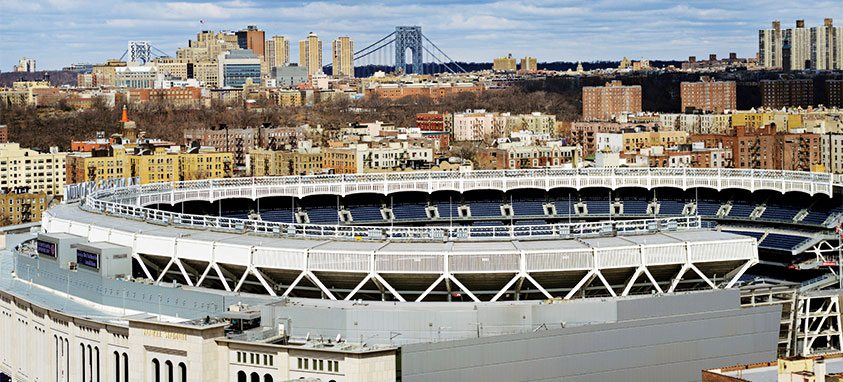 How can you not be inspired when you meet in Yankee Stadium, arguably the greatest baseball stadium in the United States? This latest incarnation of Yankee Stadium opened in 2009 (and the Yankees won the World Series that year), on the same hallowed grounds where the original Yankee Stadium opened in 1923, and the rebuilt Yankee Stadium opened in the mid-'70s.
Babe Ruth. Lou Gehrig. Joe DiMaggio. Whitey Ford. Mickey Mantle. Reggie Jackson. Derek Jeter. The list of Yankee greats seems endless…along with the list of its American League championships, 40, and World Series titles, 27.
Inspiration dwells in "the House that (Babe) Ruth Built," in spaces such as the 10 clubs, more than 60 luxury suites and a vast concourse area. Together, they can be configured to provide meeting spaces for 10 to 10,000. Inspiration emanates, too, from the huge pool of former and current superstars available for your event.
Melissa Rosenbloom is vice president of New York City-based Gourmet Advisory, a high-end event-planning company for corporations and nonprofits. She's done about 20 events at Yankee Stadium, and believes that they generate dramatic results.
"Whether you're a baseball fan or not, it's almost impossible not to be inspired there," Rosenbloom says. "This stadium represents a true piece of American history. Pretty much every meeting we do there has record attendance. I believe the Yankees set the bar for the offerings required to make a meeting memorable. And Yankee Stadium sets the bar for inspiring attendees."
Colleges Have Great Venues, Too
In your search for inspiring stadiums and arenas, don't forget about universities and colleges. Many have unique histories, perfect facilities and all the inspiration your attendees need. Here is a sampling.
Notre Dame Stadium, South Bend, Indiana
Notre Dame can "wake up the echoes"—as its fight song attests—of some of the greatest moments in college football history. It is arguably the most iconic college football spot in America. Nothing on campus may be more iconic, though, than "Touchdown Jesus," a multistory painting on a building towering over the stadium, in which Jesus is raising his arms (signaling a touchdown, according to popular local legend).
Duncan Student Center, Corbett Family Hall and O'Neill Hall each overlook the stadium, and together they have 18 meeting and event spaces, and, along with the stadium concourse, 140,000 sq. ft. of meeting space.
These spaces are all part of the Campus Crossroads Project, a $400 million endeavor that added 800,000 sq. ft. of classroom, performance, meeting, event and hospitality space adjacent to the stadium in 2016.
A new department called VenueND is a one-stop shop for meeting planners. VenueND can connect planners with an IACC-certified conference center at McKenna Hall, schedule campus tours and arrange for attendees to walk onto the field.
Cameron Indoor Stadium, Duke University, Durham, North Carolina
Cameron Indoor Stadium is a 77-year-old icon in college basketball. Duke has won the national championship five times, all under the direction of current coach Mike Krzyzewski, and it has appeared in the NCAA Tournament's Final Four 16 times. Many of Duke's players have had successful careers in the National Basketball Association, among them Danny Ferry, Christian Laettner, Elton Brand and Shane Battier.
Two new meeting spaces opened in Cameron Indoor Stadium in October 2016, offering state-of-the-art technology and amenities. Champions Club, with 2,000 sq. ft., is available for rentals during the day and on nonbasketball game days, weekends and nights. Rubenstein Pavilion Lobby has 1,500 sq. ft. of meeting space, and is available on nongame days.
Tom Gola Arena, La Salle University, Philadelphia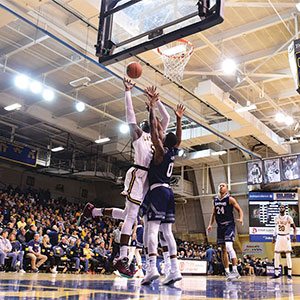 In Philadelphia, and, happily, near the historic sites of Valley Forge National Historical Park, great basketball is a tradition.
La Salle University's Tom Gola was a Basketball Hall of Fame player who led the Explorers to a national championship in 1954, and the Philadelphia Warriors to the NBA championship two years later. He's the greatest player to ever come out of La Salle.
Tom Gola Arena (pictured) is inside Trumark Financial Center on campus. The arena has four meeting spaces, totaling 45,000 sq. ft., and high-speed internet, audiovisual equipment, telephone-conferencing capabilities and catering. Meetings with former and current stars of the basketball team are easily arranged.
---
Steve Winston is an award-winning writer who has traveled extensively and writes for national and international magazines.
---
Vegas Doubles Down on Pro Sports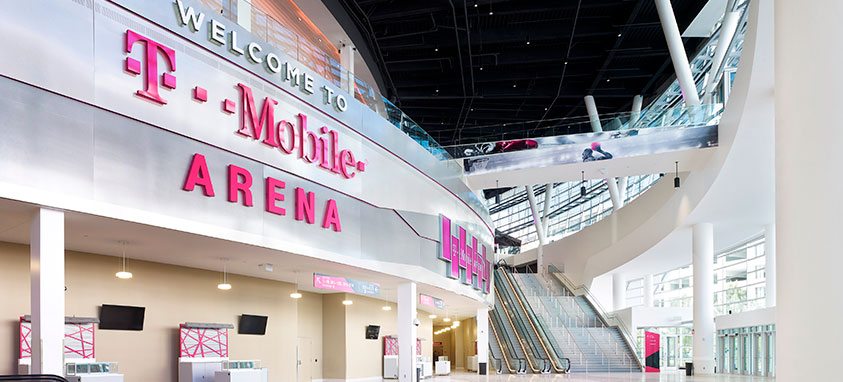 When Lisa Motley finally got the news the NFL's Raiders would be moving to a new home in Las Vegas, she recalls it as a pinch-me moment. "It was a long time coming, and it was surreal," says the University of Minnesota alum, sports fan and Las Vegas Convention and Visitors Authority (LVCVA) director of sports marketing and special events.
How did this metropolitan region of more than 2 million people win big in the pro sports business? Motley starts the story way back in 1905, when city leaders first started making it a goal. By the 1930s, Hoover Dam was supplying water, and local workers were settling nearby. The first casinos had opened, but mid-week business was slow. That led to the opening of Las Vegas Convention Center in 1959, to bring in convention business. In 1973, Rossi Ralenkotter joined LVCVA as a research analyst—before rising to senior vice president of marketing and, in 2004, president and CEO. "He has been putting the pieces in place all that time," Motley says.
Those pieces include the first professional sport in town, Triple-A baseball's Las Vegas 51s (now a farm team for the New York Mets), which arrived in 1983 and still plays at Cashman Field. That same year, the PGA Tour's Panasonic Las Vegas Invitational (now Shriners Hospitals for Children Open) golf tournament arrived at Spanish Trail Country Club. "That helped with summer and October need times," Motley says.
Boxing was already a staple, first at Las Vegas Convention Center and later at Caesars Palace, MGM Grand, The Mirage and, now, T-Mobile Arena (pictured above). To bring a new sporting audience to town during December, LVCVA recruited National Finals Rodeo to the Thomas & Mack Center at University of Nevada, Las Vegas. Bull riding is held in conjunction with a Cowboy Christmas expo at Las Vegas Convention Center.
Boots and lassos were followed by rubber and smoke with the first running of NASCAR Winston Cup Series at Las Vegas Motor Speedway. That dates to March of 1998, and it happened in front of 120,000 people.
Ralenkotter was cagily putting the dominos in place, Motleys says. Next, Las Vegas started hosting championship hockey and NBA all-star games, demonstrating that sporting events could be successfully played in the city without being tainted by gambling. In fact, teams were bringing record numbers of fans to a city where some 150,000 guest rooms are available at a wide range of price points. The Strip's restaurants and entertainment only blocks away encouraged people to linger.
Then in 2016 and 2017, the dominos really began to clatter across the desert landscape. National Hockey League announced the Las Vegas Golden Knights would be the next expansion team and play in a new T-Mobile Arena, built by MGM Resorts International and the Anschutz Entertainment Group. The arena holds 20,000 people, and lies just west of The Strip.
Then the NFL approved Mark Davis' bid to relocate the Raiders from Oakland to a new stadium in Las Vegas starting in 2020, with support from Southern Nevada Tourism Infrastructure Committee and a hike in hotel room taxes to raise $750 million for a new stadium. The sporting news kept coming: United Soccer League announced that Las Vegas Lights FC would join the 51s at Cashman Field. Then, in October of last year, MGM Resorts purchased the Women's National Basketball Association San Antonio Stars team and started selling tickets for 2018 season games at Mandalay Bay Events Center.
This is all good news for event professionals. New, ultra-modern facilities can be repurposed for events, entertainment options for off-sites in suites—and are another reason for people to come in the first place.
"Sports represent the shiny penny for visitors," Motley says. LVCVA hopes to leverage fan appeal to keep the almost 43 million visitors who come each year just a little longer. That is why sports that hold international appeal, such as rugby, curling and soccer, are vital to the plan. International visitors stay longer and spend more.
What's next? Motley is already looking forward to when MLB and NBA teams announce they are coming to town.
—JT Long
How Meetings Benefit from Sporting Events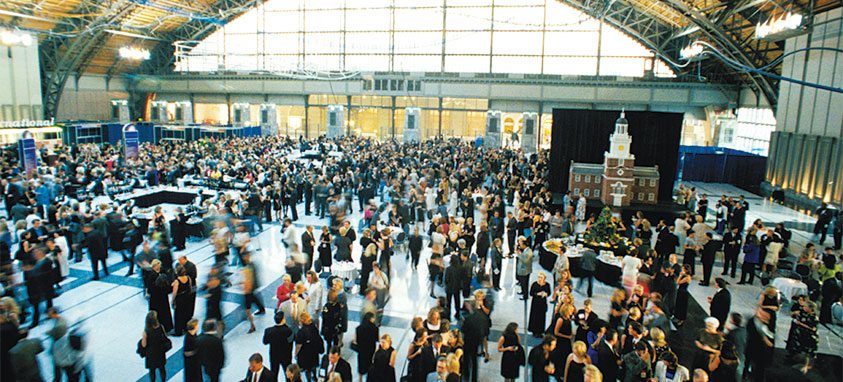 From football to baseball to figure skating, college, professional and amateur sports bring revenue and tourism to popular meeting destinations. When a city is preparing to host a sporting event, it invests in improving infrastructure, building and renovating hotels, and expanding public transportation routes. These enhancements, plus the fact they are trusted cities to accommodate massive amounts of people, have obvious allure for meeting professionals. Here are some cities that have benefited from the sports halo effect.
Indianapolis
When Visit Indy announced Indianapolis would host the 2022 College Football Playoff National Championship at Lucas Oil Stadium, it committed to using Indiana Convention Center for a fan fest. The city is anticipating that the game and festivities surrounding it will bring in more than $150 million and 100,000 visitors to Central Indiana.
Philadelphia
Philadelphia Convention & Visitors Bureau revealed that April's NFL Draft (pictured above) generated an estimated $94.9 million for the City of Brotherly Love. Hotel reservations reached 18,991 booked room nights. Hotel revenue increased by 11 percent from the previous year during that same time period.
Houston
The Super Bowl is one of the biggest money-makers of them all. Whether your favorite team is playing or not, the Big Game draws crowds. The Super Bowl is also a great incentive trip, regardless whether you can get your hands on game tickets. There are so many events and activities going on, visitors will surely have a memorable time. An estimated 337,000-plus hotel room nights were booked in connection with Houston's Super Bowl in 2017. The game brought an estimated $428 million in new spending to the region.
San Jose
Leading up to an Olympics, qualifying events are held to select members of Team USA. One such sport is figure skating. Seeking to capitalize on the popularity of the Olympic spirit, San Jose's SAP Center will host the U.S. National Figure Skating Championships this month, ahead of the 2018 Winter Olympic Games in Pyeongchang, South Korea. The same event reaped some $23 million for the city in 2012.
—Paige Feigenbaum