State Department Photo/Public Domain
Unassuming state capitals, mountaintop experiences and distraction-free zones
Bigger isn't always better. When it comes to small meetings and executive retreats, there are options galore to ensure that issues are resolved, creativity inspires innovation and memorable experiences spur provocative thinking long after events have concluded.
For example, the GLACIER Conference in Anchorage, Alaska, in August drew 200 delegates, including President Barack Obama, Secretary of State John Kerry and dignitaries from 21 other countries. The purpose of the conference was to discuss the impact of climate change in the Arctic and turn conversations into actions.
"There are hard questions to answer," Obama said in his opening remarks. "I am not trying to suggest that there are not going to be difficult transitions that we all have to make. But if we unite our highest aspirations, if we make our best efforts to protect this planet for future generations, we can solve this problem."
Converting aspirations into problem-solving strategies is predictably atop most agendas for small meetings and executive retreats. With so much at stake, it's crucial to identify venues and destinations that are conducive to bringing out the best in small groups.
Presidential Treatment
"If Anchorage can successfully host a meeting that includes the president of the United States, we can certainly handle about anything," says Julie Dodds, director of convention sales for Visit Anchorage.
Although GLACIER Conference had 200 participating delegates, hundreds of other people descended on Anchorage, including international media and support staff. The conference took place at Dena'ina Center. President Obama and his entourage stayed at the downtown Hotel Captain Cook, Kerry's entourage was based at Hilton Anchorage, other U.S. officials took over Anchorage Marriott Downtown and minister-level delegates found lodging at hotels throughout the city.
Elmendorf Air Force Base's proximity to downtown provided an accessible arrival and departure gateway for the president. Ted Stevens Anchorage International Airport's ability to accommodate private jets added to the success of the meeting.
Besides international headlines about the conference, the city of Anchorage and state of Alaska were able to showcase the natural wonders that make this destination incredibly popular with leisure travelers. "The best of Alaska—wilderness, glaciers, wildlife and national parklands—is easily accessible from Anchorage, even if delegates only have one free day," Dodds says.
There's lots to say about Anchorage hosting GLACIER Conference, but Julie Saupe, president and CEO of Visit Anchorage, offered this insight regarding the underlying benefits of small meetings in her city: "It got President Obama out of his bubble."
Capital Gains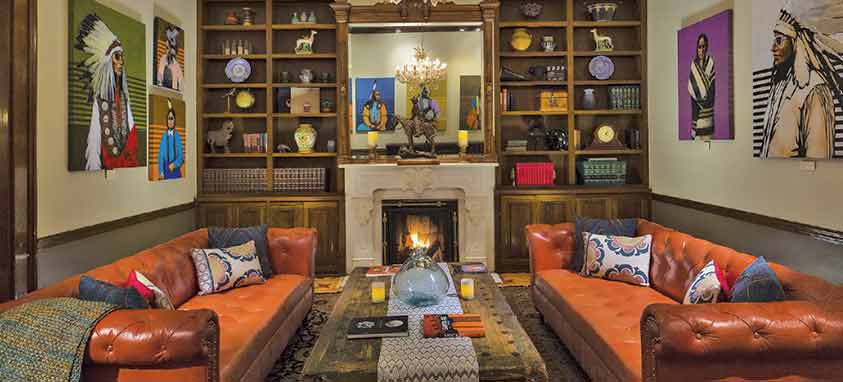 La Posada De Santa Fe
Quick: What's the state capital of New Mexico? How about Idaho? If you think the capital of Alaska is Anchorage, you'd be wrong. The capitals of these states should be on your meeting map thanks to vibrant art scenes, historic venues, fantastic infrastructure and great offsite opportunities.
Santa Fe, New Mexico, is an inspirational place for small groups to meet, and is ideal for executive retreats. The 157-room La Posada De Santa Fe is an excellent choice for executive retreats and incentive travel, with historic origins that date back to the 1700s and an award-winning spa. There's 4,500 sq. ft. of event space.
"Santa Fe routinely wins top awards for culture, outdoor activities, cuisine, history, culture, art and lodging," says Randy Randall, executive director of Tourism Santa Fe. "Smaller groups and retreats can book docent tours at museums like Georgia O'Keeffe Museum or Museum of Indian Arts & Culture, secure a private dining room with a James Beard award-winning chef, have an expert guide trek them to ancient monuments 1,000 years old, and combine the intimacy of the group with the intimacy of the city to achieve even the loftiest goals at a summit that produces results."
Boise, the state capital of Idaho, has emerged as one of the most vibrant cities in the western United States. Attendees will be enamored by Boise's walkable downtown that is packed with trendy restaurants, brew pubs and nightlife.
Boise Centre is undergoing a major renovation that will expand meeting and event space to 86,000 sq. ft. The project, which is scheduled for completion in September 2016, includes a new 14,000-square-foot ballroom and a spacious glass-enclosed lobby with views of Grove Plaza, a Boise landmark and gathering place. Planners and attendees will be impressed with the convention center's stellar customer service, including full-service catering, audio visual and technical equipment and assistance, as well as extensive recycling and sustainability programs.
"Meeting planners continue to be interested in featuring Idaho wines, microbrewery beer and locally and regionally sourced menu selections," says Mary-Michael Rodgers, communications manager for Boise Centre. "Our executive chef has crafted an all-Idaho-grown buffet where the Idaho potato is a given a front-row seat along with smoked trout, Kurobuta pork loin and petite beef steaks accompanied by locally grown vegetables, and for dessert there's a memorable Idaho spud bar s'more."
Juneau, the capital of Alaska, is well-suited for executive retreats and small meetings, especially for those traveling with significant others, according to Liz Perry, president and CEO of Juneau Convention & Visitors Bureau. For example, when a group of 125 Northwest pipefitters came to town, they were joined by 60 family members and friends. Juneau's location on the Inside Passage allowed some attendees to enjoy a successful day of sport fishing, while others were able to go whale watching. Another group activity involved taking a boat to Orca Point Lodge on Colt Island for whale watching and a salmon bake.
"They loved it," Perry said. "No. 1—they said they couldn't have done it without the CVB's help. We really do cater to small meetings."
Mountaintop Experiences
Many times, smaller cities and towns provide inviting environments to gather and open the door for attendees to explore new horizons. For example, Destination Management Association of the West held its annual marketing summit in Ogden, Utah, in September. Ogden, near the Wasatch Mountains, is great for small meetings thanks to Ogden Eccles Conference Center.
The conference center is a facility that small meetings can take over without feeling like small fish in a big fishbowl. The Grand Ballroom has 13,776 sq. ft. of space, which allowed for general sessions, breakfasts and luncheons, and exhibitors to be in the same space during the entire conference. Breakout sessions took place in six lower-level meeting rooms that hold 100 attendees each.
Another cool fact about Ogden is its safe, walkable downtown, where historic 25th Street is dotted with bars and restaurants. There are three world-class ski resorts located within 20 minutes of downtown that benefit from 450 inches of snow every year. With 13,000 acres of freshwater lakes, Ogden is fishing central for those angling for largemouth and smallmouth bass, crappie, perch and bluegill.
Located in California's Sierra Nevada mountain range is the 262-room Beach Retreat & Lodge at Tahoe. The South Lake Tahoe property features a new conference center with a 3,054-square-foot ballroom. Outdoor space includes a tented area on the lakefront and a 1,038-square-foot deck that is accessible through large glass doors from the ballroom. The retreat's amazing location on famous Lake Tahoe allows attendees to kayak, paddleboard, rent Jet Skis or just chill on the beach.
The Ritz-Carlton, Truckee, California
The Ritz-Carlton, Lake Tahoe, a AAA Five Diamond resort, is located 6 miles from historic Truckee, California. The contemporary retreat features an inter-mountain gondola that connects to the nearby Village at Northstar. In the summer, guests may take advantage of concierge services for golfing, mountain biking and hiking. There are 170 guest rooms, and a 17,000-square-foot spa and fitness center. With 15,000 sq. ft. of indoor meeting space and another 15,000 sq. ft. outdoors, The Ritz-Carlton is capable of hosting a variety events.
Distraction-Free Zones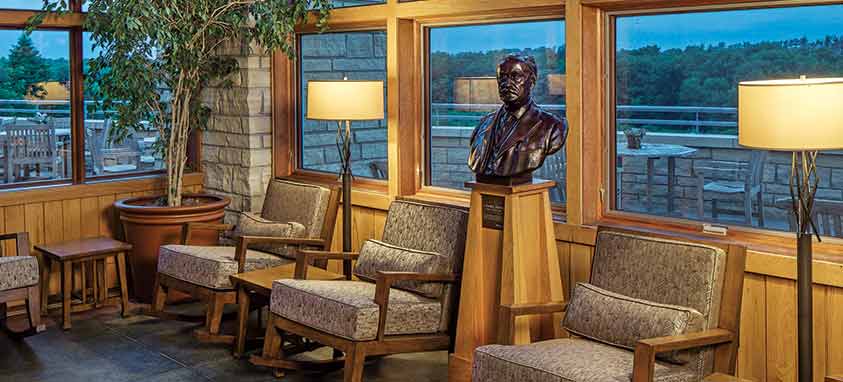 Lied Lodge, Nebraska City, Nebraska
Lied Lodge and Conference Center in Nebraska City, Nebraska, is perfect for groups from five to 300, but more importantly, it provides a distraction-free location with an emphasis on sustainable meetings. The campus completed a $9 million renovation in September, with upgrades to conference rooms, guest rooms, technology improvements and infrastructure. There are 140 guest rooms and suites and 14,000 sq. ft. of flexible meeting and event space.
"We have found that when a client calls us to set up a small meeting or an executive retreat, they are seeking an inspiring place where they can go to strategically plan the direction they want their company to go in," says Theresa Brown, Lied Lodges's director of sales. "They have aggressive agendas and great things to accomplish in their meeting, so we make sure that everything else is taken care of for them."
Lied Lodge's 260-acre campus offers fresh air, inspiration, clarity and rejuvenation. Post-meeting activities include wine tasting on Sunset Terrace, a gnome hunt at Tree Adventure and golfing at ArborLinks. "These are just a few things that make Lied Lodge a perfect setting for small meetings and executive retreats," Brown says.
Just outside Washington, D.C., in Fairfax County, Virginia, Tysons Corner has emerged as a convenient meeting spot, especially now that the Metrorail Silver Line connects the area to the nation's capital. Crowne Plaza Tysons Corner has developed a unique small-meeting concept called "The Ideation Room," which is set off from the rest of the hotel to reduce distractions and promote out-of-the-box thinking. Across from the Metrorail stop is Convene, which has capacity for up to 250 people in its nearly 6,000 sq. ft. of meeting and event space.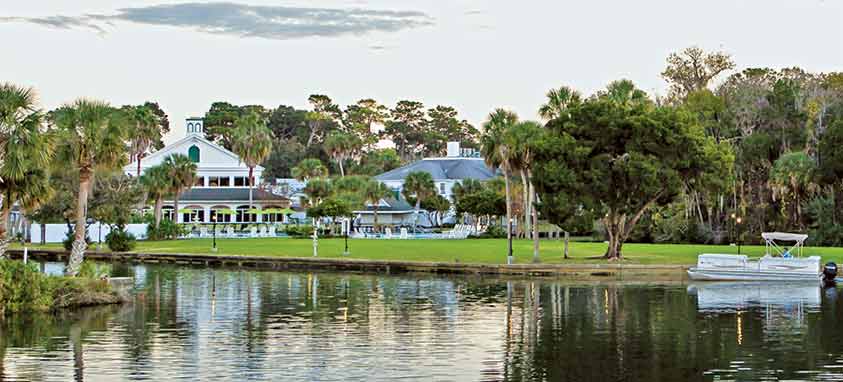 The Plantation On Crystal River, Florida
The Plantation on Crystal River, 90 minutes north of Tampa, Florida, is so conducive to executive decision-making that guests are booking stays beyond their meetings, according to Terry Natwick, director of sales and marketing. Natwick says his resort has seen an increase in the number of executive planning meetings and retreats. Also, groups that used to book two-night visits are now staying three or four nights. There are 196 guest rooms and suites, 12,000 sq. ft. of meeting space, 27 holes of championship golf, tennis courts and a spa.
Of course, execs aren't the only regulars. This area of Florida is known for an estimated 400 West Indian manatees that migrate there each year for the warmth of the springs. Birding is equally eye-popping, with osprey, warbler, egret, eagle and grey-horned owl sightings. It's literally a paradise.
---
Ahoy! Make Sure Attendees Have Boatloads of Fun
Why hold meetings on land when they can be held on the water? For your next event, charter a private cruise with twinkling cityscape views or dolphins swimming alongside. Hornblower Cruises & Events orchestrates meetings and receptions aboard more than 70 vessels it operates out of nine ports, making it the largest private passenger vessel company in North America.
Hornblower's fleet provides small and large yachts for groups of up to 2,000. Cruises make the perfect platform for dockside meetings, receptions, incentives, group events, team building, product launches and film shoots. Port cities include its headquarters in San Francisco, plus New York City, Corpus Christi in Texas, and the California cities of San Diego, Sacramento, Berkeley, Marina del Rey, Newport Beach and Long Beach. Last year, Hornblower made an entry into Canada, debuting the first-ever boat tour experience in Niagara Falls.
On weekends, Hornblower offers popular dinner cruises with dancing and Sunday champagne brunches. Daily tours for the public are also given on Alacatraz Island in the San Francisco Bay Area and at the Statue of Liberty and Ellis Island in New York City. In San Diego, outings often include sightings of blue and gray whales, sea lions and dolphins on marine wildlife cruises throughout the year.
−Meena Ramakrishnan
---
New and Renovated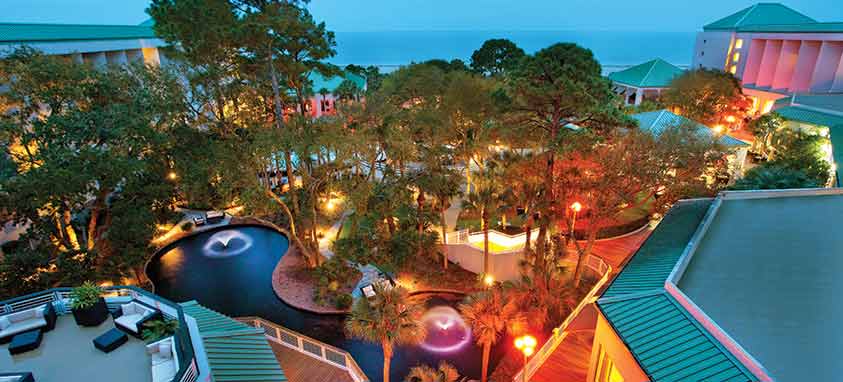 The Scottsdale Plaza Resort, Arizona
The Scottsdale Plaza Resort in Arizona is an ideal small meeting property that stands out even more following renovations completed last month to its 224 standard rooms. Among the upgrades were new glass-walled showers, vanity lighting, accent chairs in living spaces, mounted televisions and the addition of in-room refrigerators. There's 40,000 sq. ft. of meeting space, with room for up to 1,000 for special events. There is a total of 404 guest rooms.
"We listen to our guests who want the best in accommodations but at an affordable price" says David Lunt, president at the Scottsdale Plaza Resort. "It's important to elevate the guest experience with many accommodation choices. We believe our upgrades in this category of rooms will make a notable difference in guests' comfort."
After meetings wrap up for the day, attendees can take advantage of the resort's five pools, lighted tennis courts, fitness center, full-service salon and day spa, and nine-hole putting green. Attendees will also appreciate the poolside cafe, romantic Remington restaurant and JD's Lounge for drinks and watching sporting events.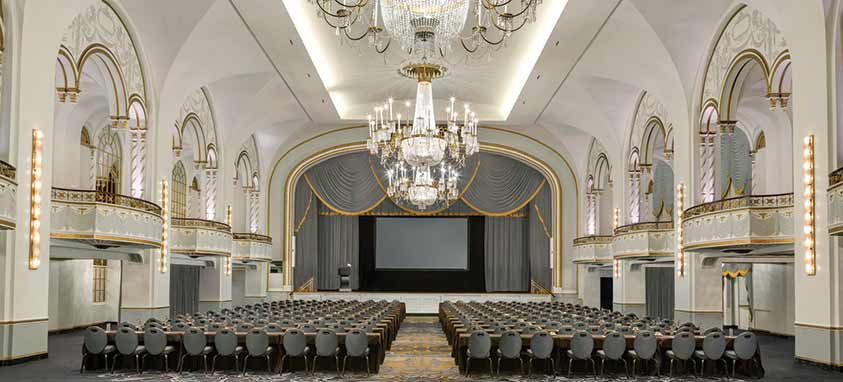 The Westin Hilton Head Island Resort and Spa, South Carolina
The Westin Hilton Head Island Resort & Spa in South Carolina is coming off a $30 million renovation that upgraded its 416 guest rooms, lobby, restaurants and recreation area. Attendees will be awed by more than 9,500 sq. ft. of dedicated oceanfront event space. The property's more than 30,500 sq. ft. of event space includes a 13,200-square-foot ballroom. It also boasts one of the top-rated spas in the United States (best in South Carolina) and award-winning Port Royal Golf Club, named one of the top 75 U.S. golf resorts by Golf Digest magazine.
The Umstead Hotel and Spa in Cary, North Carolina, outside Raleigh, is a Forbes Five Star, AAA Five Diamond retreat that completed a three-month renovation of its conference facilities in September. New audio-visual technology includes 4K resolution equipment and enhanced infrastructure to ensure the property is prepared for the future. In addition to a 10,000-square-foot conference and meeting center, Umstead has 150 guest rooms and suites. Its award-winning, 98-seat Herons restaurant uses vegetables and herbs grown on its nearby farm.
The Clement Hotel in Palo Alto, California, will feature one-of-a-kind six-star experiences when the 23-suite boutique property opens in January. It will be located in the middle of Silicon Valley across from Stanford University, just 45 minutes south of San Francisco and 30 minutes north of San Jose. The Jury Room is a 12-person boardroom with a 70-inch LED monitor and laptop connectivity for presentations and video conferencing.
Boston Park Plaza Hotel completed the first two phases of a $100 million renovation project in August. The property features more than 50,480 sq. ft. of updated meeting space, including 6,000 sq. ft. of new meeting and prefunction space. The ballroom is graced by fully-restored, historic crystal chandeliers. There's also a new steakhouse and restaurant/lounge. Originally opened in 1927, the property has 1,054 guest rooms and suites.
Hyatt Regency Bellevue, 9 miles east of Seattle, completed a $5.2 million expansion last summer that included the addition of meeting space in its Olympic Tower and updated event space in its Cascade Tower. The property also features a state-of-the-art, 135-seat auditorium and seven conference suites. Among the 53,000 sq. ft. of meeting space is the 18,000-square-foot Grand Ballroom. There are 732 guest rooms and suites.
The newly renovated Gaillard Center in Charleston, South Carolina, debuted last month with nearly 16,000 sq. ft. of event space, including a ballroom and an exhibition area. There's a 7,300-square-foot terrace just off the ballroom. The space is designed to accommodate a variety of events, including plenary sessions in the 1,800-seat Martha and John M. Rivers Performance Hall.