Guest room at TWA Hotel at JFK
Check into today's airport hotel, and you may never want to check out
Ugh. Stuck at the airport. Maybe there's a hotel. But it'll be drab. It'll scream with jet engines in the middle of the night.
Not. Instead, it will have glass windows in your guest room more than 4 inches thick, with seven layers of soundproofing. Anything but drab, it will be retro cool. There will be a martini bar and cans of Tab diet cola in the mini fridge. A rotary phone will sit near your bedside (which is actually a digital phone). Hotel staff will wear '60s-style airline uniforms. A 1962 Chrysler Newport will chauffeur guests to terminals when they are not easily walkable.
More: Preparing to Travel? Know Which Airports are the Best
You won't be in any hurry to get to the terminals. Not with 50,000 sq. ft. of brand-new meeting and convention space below the 512 guest rooms, and a 1956 Lockheed Constellation aircraft as one of the bars.
And those are not even the coolest parts of TWA Hotel, which debuts early next year at New York's John F. Kennedy International Airport (JFK). That would be its 200,000-
square-foot, columnless lobby, surrounded by six restaurants and eight bars—the painstakingly restored 1962 TWA Flight Center, a structural masterpiece designed by Eero Saarinen with a wavelike concrete roof as big as Madison Square Garden.
In fact, JFK will soon become only the latest airport to add an outstanding luxury hotel. Across the nation, where airport hotels once meant desperation, they're now becoming destinations. Here is an update on the most noteworthy.
Denver International Airport
Of the 14 operating hotels connected to U.S. airports, none soars above this one at Denver International Airport (DEN). The Westin Denver International Airport's distinctive wings-in-flight design makes it seem right at home next to DEN's runways. And since it sits atop a light-rail transit station, it gives the country's most remote major airport (at 25 miles from downtown) seamless convenience—groups can emerge into Denver's bustling streets in a mere 35 minutes.
Check-in couldn't be easier with the SPG Keyless program, which enables remote check-in and guest-room entry with your smartphone.
Runway views were never more dramatic than at Sky Lounge Bar, and Grill & Vine restaurant puts the taste of local bounty from Colorado farms and ranches on the table.
The 519 guest rooms deserve their AAA Four Diamond status, as does the hotel's 37,500 sq. ft. of newly designed meeting space, which includes two ballrooms, 15 meeting rooms and an open-air plaza for events. The 10,000 sq. ft. of prefunction space features a stunning, three-story glass wall.
Minneapolis-St. Paul International Airport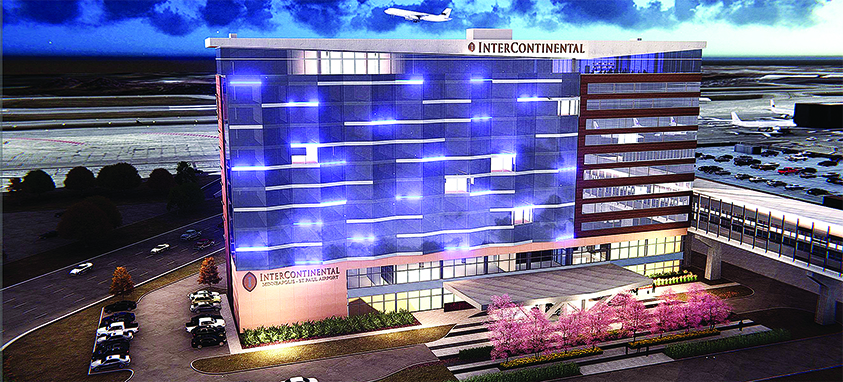 Stylish InterContinental Minneapolis-St. Paul Airport, the first on-site hotel to be directly connected to Minneapolis-St. Paul International Airport (MSP) opened in July, with TSA access to Terminal 1. Its 291 sophisticated guest rooms are oases of quiet. Three restaurants and a luxury spa are also on offer, as is 30,000 sq. ft. of meeting space.
A 12th-floor observation event space, Observation Bar, is a stunner. Its floor-to-ceiling windows frame views over the airport, rivers and the downtowns of Minneapolis and St. Paul.
Although the Twin Cities are only 20 minutes away, attendees never venturing from the hotel will still enjoy a genuine Minnesotan welcome. Warm woods and local materials project a distinctive sense of place. Menus emphasize regional cuisine; and, for groups, hotel staff are eager to assist in sourcing local motivational keynoters, including area cultural experts and sports heroes, and CSR activities that benefit area residents.
"You will feel like you are in Minnesota, but it will live up to being a truly international hotel," states press materials for the Minneapolis-based developer for the $115 million project.
San Francisco International Airport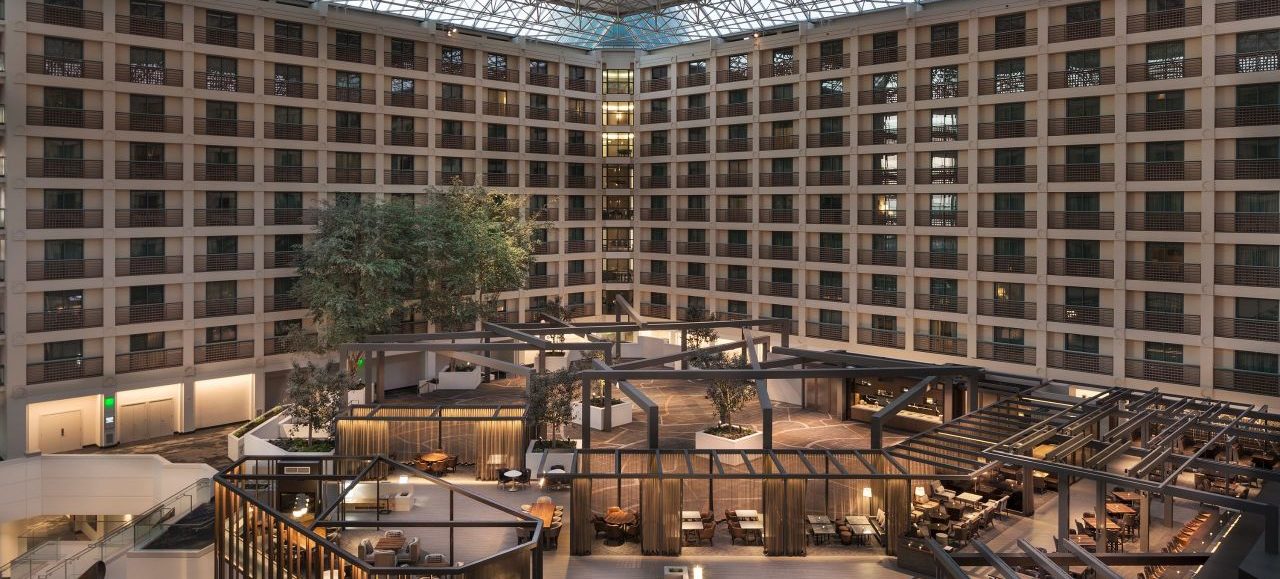 Beginning next July, you can leave your heart at San Francisco International Airport (SFO), with the opening of Grand Hyatt San Francisco International Airport. The $237 million luxury property will sit on a lushly landscaped, 4.7-acre site close to Concourse A of the international terminal, with direct access to the AirTrain light rail system to downtown and its famed attractions.
"Providing our customers with that level of convenience, that passenger experience, the service that [Hyatt is] known for, it's a perfect match with Hyatt and SFO," said SFO Airport Director Ivar Satero at last year's groundbreaking ceremony.
The sleekly curved hotel will offer 351 soundproofed guest rooms, 15,200 sq. ft. of flexible meeting space, a full-service restaurant showcasing seasonal Northern California ingredients, a Grand Club lounge and an extensive fitness center with yoga and massage rooms. It expects to achieve LEED Gold certification for environmentally sustainable design and operation.
Nearby but not on airport grounds, Hyatt Regency San Francisco Airport still sparkles from a top-to-bottom transformation in 2015. The 789-room property added two ballrooms (with inspiring views of San Francisco Bay) to bring its event space to 69,285 sq. ft.
Los Angeles International Airport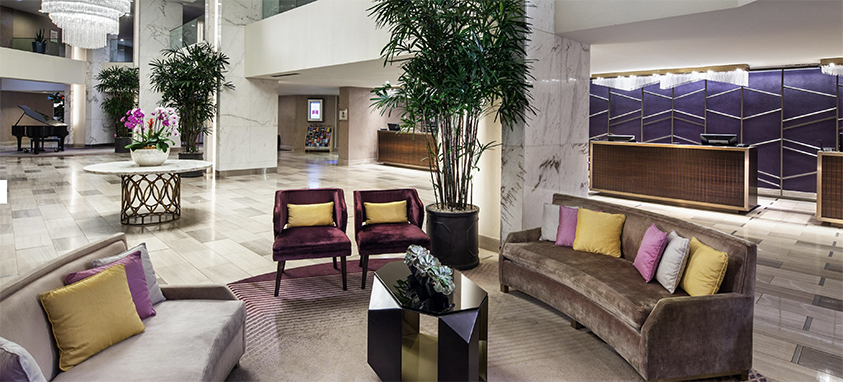 Business-friendly Sheraton Gateway Los Angeles Hotel is but a short and free shuttle ride away from Los Angeles International Airport (LAX). A recent multimillion-dollar renovation gave up-to-the-minute finishes to its 802 guest rooms and 50,000 sq. ft. of meeting space. A business center, 24-hour fitness center and several dining options make it easy to stay, and an electronic flight departures-and-arrivals board makes it easy to leave at just the right moment.
Within walking distance of LAX's Terminal 1, Hyatt Regency Los Angeles International Airport is another group favorite that keeps it local in its cafe-style restaurant, Unity LA., and Unity Open Market by serving Latin- and Asian-inspired cuisine—such as Sticky Pork Ribs from Korea-Town, Drunken Noodles from Thai Town and Carne Asada from Boyle Heights—to highlight L.A.'s ethnically diverse neighborhoods. The luxury property offers 580 guest rooms and 50,000 sq. ft. of meeting space.
O'Hare International Airport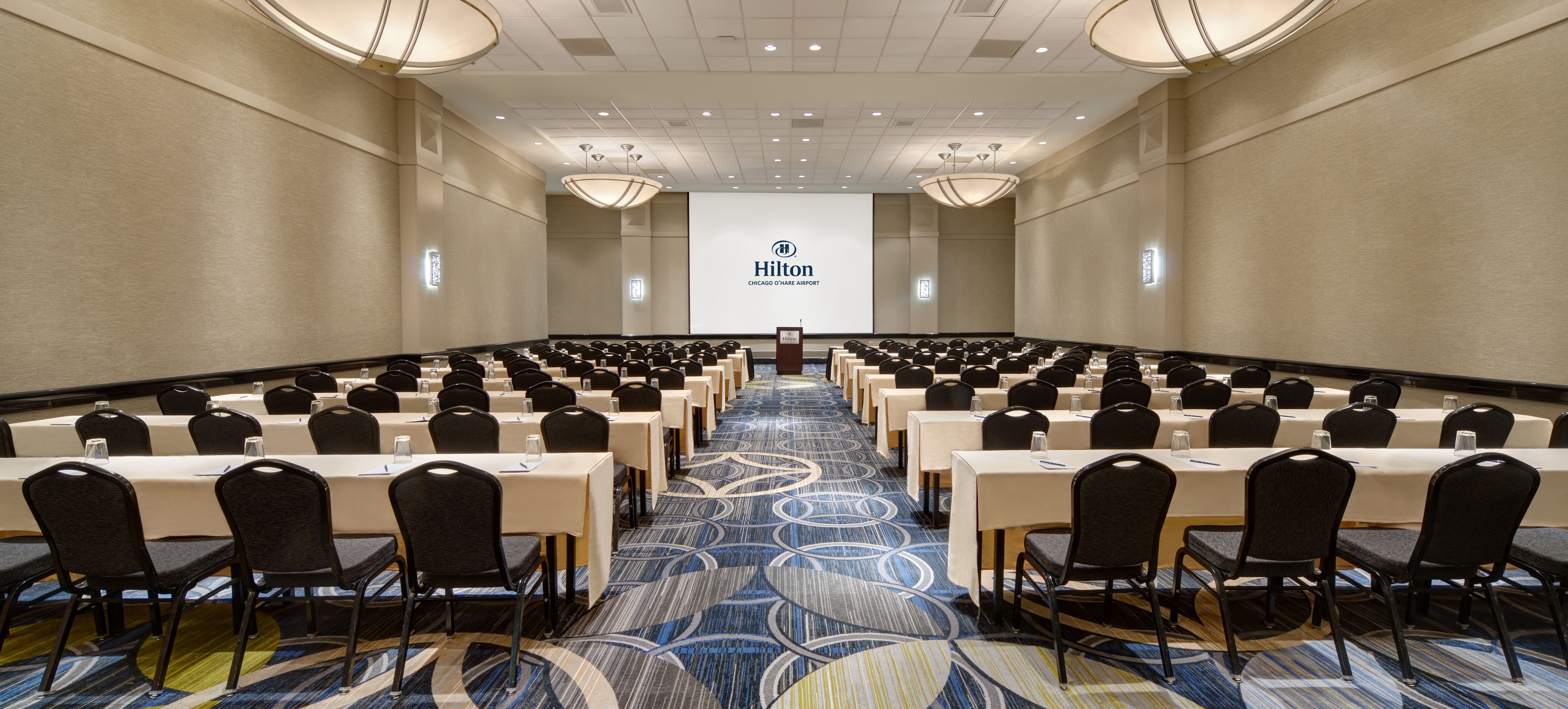 Getting from O'Hare International Airport (ORD) to McCormick Place and downtown Chicago can be a traffic hassle, but the only hotel on airport grounds (and directly connected to domestic terminals via underground walkways) is making it more attractive than ever to hang by the runways since reimagining its signature restaurants, Andiamo and Sports Edition. Long popular for "fly-in, fly-out" meetings, Hilton Chicago O'Hare Airport has 41 conference rooms and 37,000 sq. ft. of meeting and event space. Most coveted among its 860 guest rooms are Runway View rooms.
Major upgrades are on the horizon. Chicago officials have asked for proposals to completely renovate the property, as well as to build a brand-new hotel adjacent to the international terminal.
Meantime, another high-flying choice near ORD is Loews Chicago O'Hare Hotel, which boasts its own art gallery with rotating exhibits by local artists and live music and comedy at its Montrose Room. Dining options include an outpost of upscale The Capital Grille. It has 556 luxury guest rooms and 53,000 sq. ft. of meeting space.
Hartsfield-Jackson Atlanta International Airport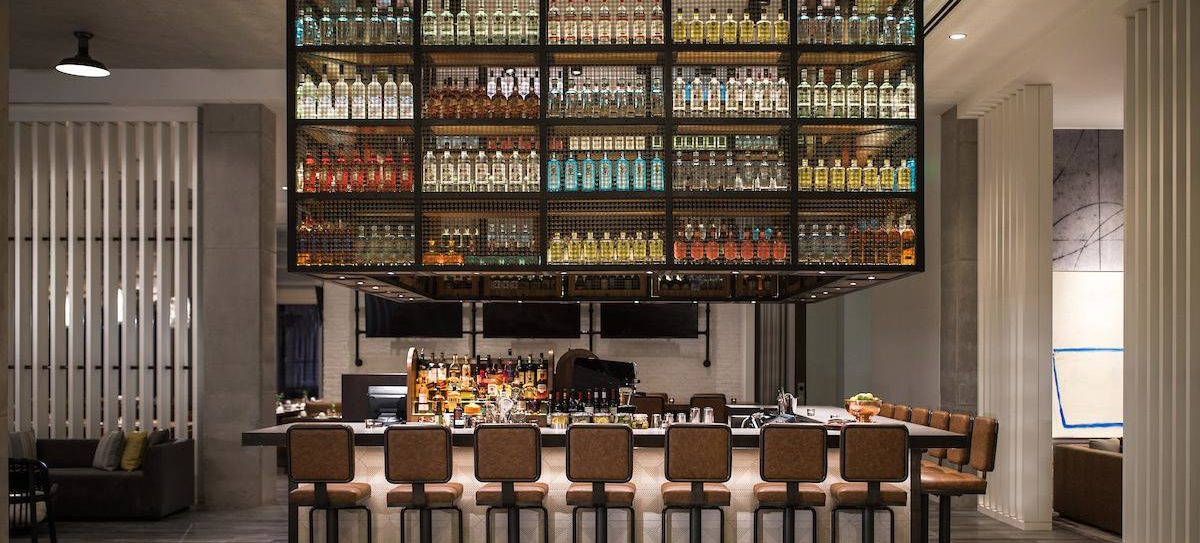 The ground is shaking at Hartsfield-Jackson Atlanta International Airport (ATL), and not just from jumbo jets taking off at the nation's busiest airport. Heavy construction is underway for an InterContinental hotel and adjacent covered plaza designed by Atlanta's most famous hotel architectural firm, John Portman & Associates. The project will include 80,000 sq. ft. of conference space and will connect to the domestic terminal of the airport and via skybridge to ATL SkyTrain.
In 2017, Renaissance Atlanta Airport Gateway Hotel opened, with 204 guest rooms, 5,961 sq. ft. of event space and ATL SkyTrain access from the terminals and to Georgia International Convention Center. The hotel has six floors with runway views, 387 soundproofed guest rooms and 34,149 sq. ft. of meeting space.
More TWA…
The much-anticipated TWA Hotel at JFK (pictured below) is already accepting event space bookings. The largest space will be Starstream Ballroom, named after TWA's first jet service. Prefunction space outside will have Eero Saarinen-designed Knoll furniture, and the ballroom has six private skyboxes for meetings that Forbes describes as "feeling like a scene out of Mad Men," except with up-to-the-minute audiovisual. The smaller Flight Center Ballroom has authentic penny-tiled flooring.
"There is something quite special about hosting events at the TWA Hotel," Tyler Morse, CEO of MCR, the property's owner-operator, told Forbes. "We are restoring one of the most important buildings in America, the TWA Flight Center, and event attendees will be greeted by the vibrant spirit of 1962, the year the flight center opened, along with modern amenities that make this destination unique."
MCR's other properties include Manhattan's High Line Hotel and Miami International Airport Hotel.