"When the music hits you, you feel no pain." –Bob Marley
Name: John Bukaty
Live painting artist
Featured experience at Smart Meetings Incentive Experience Mexico
Mission: To move people. "If I haven't moved you, I haven't done my job."
How did you become a pioneer of performance art?
It all started on a Thursday night in a bar 20 years ago. The venue was a Kansas City brewpub and it was my birthday. I was frustrated and needed to find a way to do my craft that fit my ADD and my extroverted personality. One of my core values is feeling alive. Painting to live music in front of people fulfills that. It is an outside the box kind of job, but once you experience it, it makes a lot of sense.
How do you explain the experience to meeting professionals considering incorporating it into an agenda?
People like watching things happen. This is two things in one, a creative art performance experience that moves people so they will never forget. Plus, guests receive a numbered print of the resulting artwork that creates a visual, lasting connection that will bring them back to the event just as a photograph or a ticket stub does. It makes them look forward to earning the incentive next year, if that is the kind of event it its.
How does the art and music combination enhance the gathering?
Think about it this way: An event coordinator is creating a piece of art through the choices they make about flow, flawless service and an overall vibe. I am trying to find a flow state that allows me to generate on a higher level and get into the zone. By tapping into a DJ or band, the rhythm and harmony builds on itself. Art and music both connect to the heart so bringing them together really has an impact. The patron finds the flow state through conversation, dancing and watching something come to life in front of their eyes. It starts with the music. It can be Reggae at an incentive event in Jamaica, or a jazz band in New York or a DJ like the one at Smart Meetings Florida event last October—whatever fits the theme, place and time. Then we all together create something completely unique and special as a collective.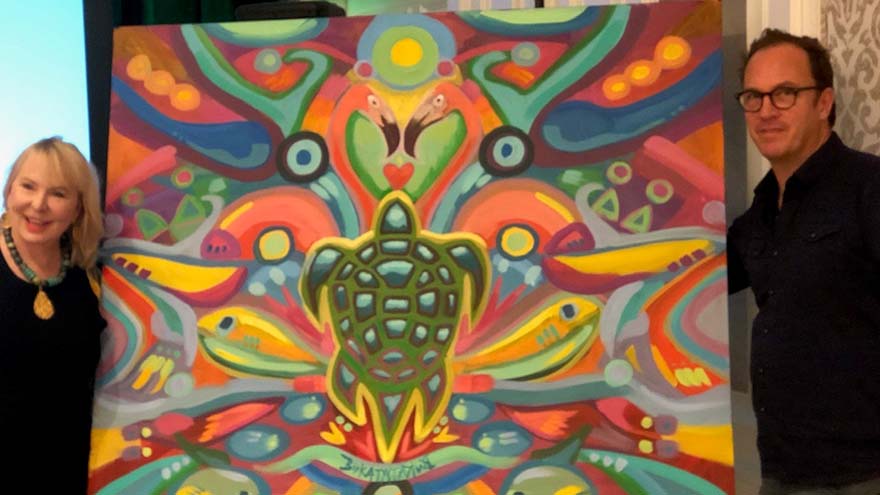 What is the wildest place you have performed?
I painted on a billboard with thousands of people driving by—that was a little dangerous. I painted a mural on a rooftop 100 feet by 120 feet. You can see it from the satellite images on Google Earth. I have painted on top of a mountain with people skiing by and I have painted at the Taj Majal in India. I have painted on stage with famous musicians—Bruce Springsteen at Jazzfest, Tom Petty just before he died. In those moments, I felt that my craft was respected.
What is the most meaningful painting experience you have had?
I meditated on the Ghats in Varanasi (the riverfront steps leading to the banks of the River Ganges in India) and dedicated that painting to my dad who had just passed. That was very meaningful. My goal is to move people every time. If I haven't moved them, then I didn't do my job. People love something unique made by the human hand. If you watch someone make a cake or wrap your sushi, it will taste better. The same is true of art. The craftsmanship of an artist's touch is meaningful. It is my job as an artist to make the invisible visible. And because they are witnessing it come to life, they are participating in bringing it into the world.
How did you end up adding the charity component to the experience?
I had been donating works to charities for a decade, but recently worked with Wet Paint Group at FICP Annual 2021 in November to help 500 people paint canvas shoes for kids that didn't have shoes. The vibe was beyond expectations. At the last minute we added blank business cards so people could write notes to go with the shoes and it really told the heartfelt story.
Tips for making the most of a performance art component at an event?
It all starts with the vision of the meeting professional and what feelings they want to elicit. Set the artist up in a place near the band with a view of a landscape that makes the place special so the artist can capture that landscape and the energy of the music and the crowd. This can happen while people are eating or mingling. That fills an entertainment gap in the program. Then give people something to look forward to by letting them know that a print will be mailed to them that they can cherish after the desert cart has been wheeled away.