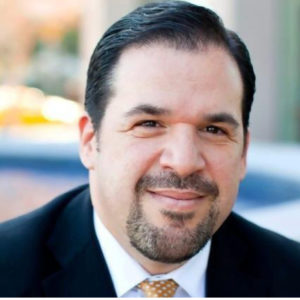 Name: Peter Gamez
Title: Senior Vice President, Global Sales, Two Roads Hospitality and Chair, San Francisco Travel Association
Fun Fact: I am a native San Franciscan.
SF Travel Association chairman Peter Gamez sees hospitality as a part of the solution for big-city problems. Smart Meetings asked him about group travel trends in the Bay and beyond.
You recently stepped into the role of chair at one of the largest membership-based tourism promotion nonprofits in the United States. What are your priorities at this pivotal time in the city's hospitality evolution?
Let's just say it: The expansion of Moscone Center is a big deal. In addition to the added square footage—500,000 of contiguous exhibit space and outdoor terraces and a 50,000-square-foot ballroom—it brought the industry together for a common goal. SF Travel Association worked with hotel partners during the three-year construction project, so that new and renovated properties would be online for the ribbon-cutting in January, and ready for a wave of groups coming in 2019. It will allow us to bring bigger conventions and go after self-contained events within single properties. Combined with increasing capacity coming to San Francisco International Airport (SFO), this sets the city up for growth and vitality in case of an economic downturn.
What challenges do you and the city struggle with in bringing groups to the Bay Area?
We are a welcoming city that embraces all cultures. But a hostile national environment toward international travelers impacts our ability to be seen as attractive to everyone. The new Visitor's Center in Moscone will help roll out that welcome mat. Additionally, our hotel community is engaging people from around the world with translated web sites, timely information about cultural events and sensitive outreach. SFO is adding new flights and routes in Europe. It is working. As a country, the United States grew less in its share of international travelers, but SF has outperformed—and that is a testament to our work here.
It is important to note that the leisure traveler is a big part of the tourist puzzle. "Bleisure" is an overused word, but it is a powerful force for filling hotel rooms. The numbers show lots of additional room nights are booked around conventions.
SF Travel Association CEO Joe D'Alessandro has been proactive in talking about the need to deal with the city's homeless population, especially after a large medical association decided not to meet in the city because of their very noticeable presence on the streets. Is there a solution?
What is really cool about Joe's leadership is that he is addressing the problem head-on, and not trying to hide it under rug. We look forward to partnering with new Mayor London Breed to bring the creative and innovative spirit of the private sector to bear for the public good—for the sake of the city's residents and our streets. Hospitality is one of leading employers and economic providers for the city, and we can be part of the solution. This is a time for big ideas.
Two Roads publishes a State of the Meetings Industry Survey every year. What trends are you seeing locally and nationally?
San Francisco needs inventory. A lack of new supply hinders us from obtaining larger meetings. The good news is we have had new inventory coming online, including San Francisco Proper Hotel and the upcoming Virgin Hotel San Francisco. A number of properties have completed renovations, including three of our Joie de Vivre hotels. But we need still more supply. Then, too, much of the recent supply doesn't have a lot of meeting space or is in a secondary market. That's why we have to be creative about finding alternative gathering spaces in hotels, medical facilities and theaters. This corresponds with people not wanting to be in a room with four blank walls. Our creative juices will be tested in next couple of years.
Nationally, our studies show we could be in for a couple of healthy years in the meetings community. But we need to be prepared in case there is a downturn.
What is the role of Two Roads and the hospitality industry in solving community problems?
We provide services that promote inclusiveness. We need to help make sure we are a community that is inclusive to everyone, rather than supporting travel bans. That message needs to come from civic leaders and corporate leaders.
I love the hospitality industry because it impacts everyone—visitors, newcomers to the country looking for work to support their families, local businesses and cultural attractions. That is why we must be vigilant about those policies and programs that might deter people from coming into a destination. We can rally behind that.
We have a responsibility to provide programs and services that are relevant to business and leisure travelers. People don't want a hotel room that is the same as in every other city. We want to celebrate everything that makes a neighborhood special. Travelers expect personalization, and it is our job to deliver.