As trends evolve for associations and citywides, convention venues are keeping pace
As certain elements of large conventions, trade shows and meetings evolve year over year, many destinations and venues have become more proactive in helping planners make their events successful.
Coordinating an event across multiple hotels plus a convention facility is not a job for the faint of heart. Planning for each one begins at least a few years in advance and the number of elements that must be accounted for is staggering.
These meetings and events transform over time, not only to account for changes in market demand and negotiability, but also to deal with shifting attendee preferences and other factors.
The good news for planners of large meetings is that suppliers in many destinations monitor the changing trends related to the big events they host, and use that intelligence to improve the planning and execution of upcoming conventions and shows in their cities.
Many planners are finding they can rely on the resources of their destination to accommodate meetings' needs, not only from a logistics standpoint, but also to ensure the decor, F&B, downtime activities, and the meetings themselves are keeping up with the trends and wowing attendees who expect to be met with new and authentic experiences.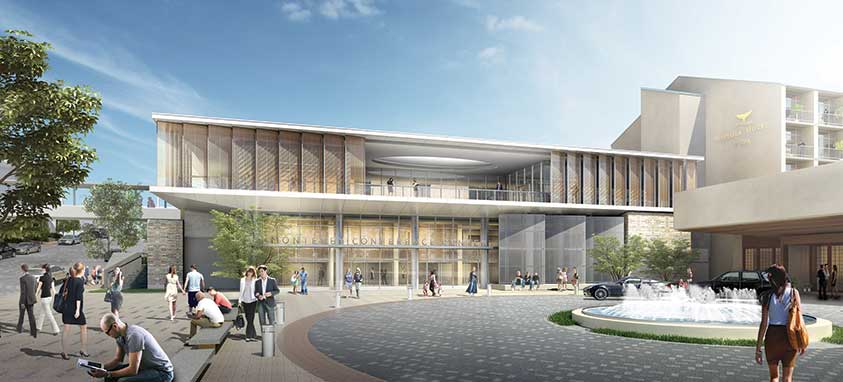 Monterey Conference Center, California
Tighter Availability & Advanced Booking
The slow but sure economic recovery of the past few years has made it tougher for associations to book in some midsized cities that have previously hosted their events.
"We're seeing more large corporate events taking place in this economy," says Terry Kopp, director of sales for Boise Convention & Visitors Bureau in Idaho. "So we are asking associations to start looking at three to four years out if their event dates are not flexible." While lead times for these events used to be about a year in advance, many are now booked closer to two or more years out.
Partly because of corporate demand, Boise Centre recently completed an expansion that brings its usable space to 86,000 sq. ft.
"Midweek in spring and fall is pretty busy," Kopp says. "So if it's possible for an association to meet Thursday through Sunday, they wouldn't need as much lead time and they'd get a lot of value."
One group that booked outside of peak meetings season was able to secure guest rooms and event space in Boise just one year in advance. The Council of State and Territorial Epidemiologists will use 10 hotels to house 1,400 attendees in late June.
Visit Denver is no stranger to accommodating citywides, and it's gearing up to host 67,000 in February at Denver Convention Center for the Colorado Garden & Home Show. To meet the ever growing demand, several properties are being added in 2017, including the 233-room Hilton Garden Inn Union Station and dual-branded Le Meridien Denver Downtown/ AC Hotels by Marriott property that will offer a combined 495 guest rooms.
"We're hearing from some association executives that they feel a pinch in availability for their first-choice dates even three years out," says Lauren Siring, regional sales executive for Monterey County Convention & Visitors Bureau.
"We're in the regular rotation for a lot of California state associations, so we have to help these clients be as creative as possible on their dates but stay within their bylaws," Siring adds. In fact, she was recently able to get a large group to hold its event one month later than usual in order to use the Monterey Conference Connection, comprised of Monterey Conference Center, the 341-room Marriott Monterey and the 379-room Portola Hotel & Spa.
Among the largest standalone hotels—including several in Las Vegas, four within the Gaylord Hotels portfolio and 14 within Great Wolf Resorts portfolio—associations account for a sizable percentage of meetings business, but compete with corporations for dates and space.
Rhonda Khabir, corporate director of sales for Great Wolf Resorts, notes that even with her properties being located near smaller cities, booking midweek delivers better value to large groups, because the properties experience strong leisure demand on weekends.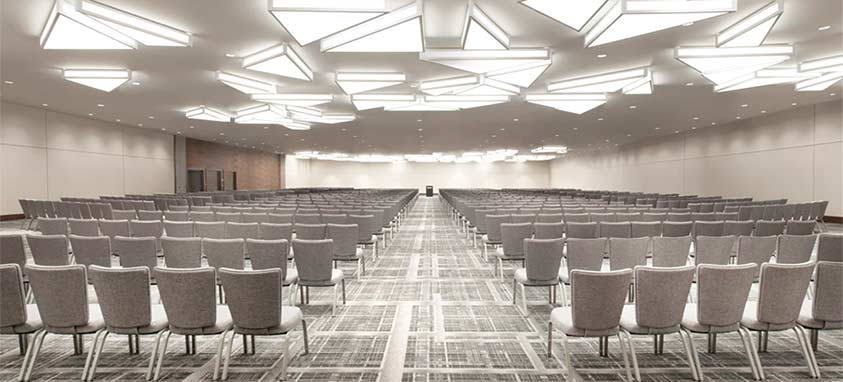 Hyatt Regency Los Angeles Airport
In large cities, some hotels that aren't typically part of the official room blocks for citywide events are still able to deliver benefit to associations. For instance, the 580-room Hyatt Regency Los Angeles Airport will often host attendees of events and meetings that take place downtown, the night before they fly home.
"People who are traveling the entire next day don't want to worry about getting from downtown to the airport," says Libby Zarrahy, the hotel's director of marketing.
"We often see groups of attendees from one [event] staying here on the final night. In addition to the convenience, it gives them some more networking time with each other."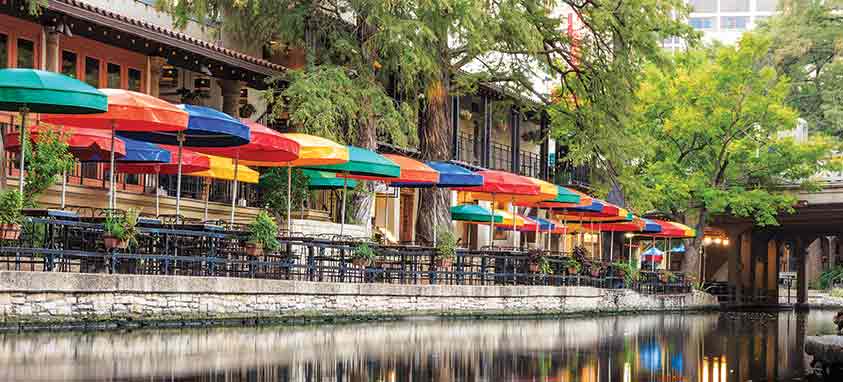 San Antonio River Walk
Utilizing Unique Venues
Offering a comfortable climate most of the year and drivability from much of the East Coast, Greensboro, North Carolina, hosts many sports tournaments and religious conferences each year. For these groups, providing attendees with local flavor while keeping within budget is important. So the Greensboro Area Convention & Visitors Bureau has taken advantage of the recent opening of a new downtown park to accommodate associations' special events.
Set between Greensboro Historical Museum and Greensboro Art Alliance, LeBauer Park opened in 2016 with a concert stage, large fountains, tree-lined game areas and food truck spaces. The Presbyterian Church in America's 1,300-person general assembly will use the park for its opening reception in June.
In El Paso, Texas, the recent approval of a $35 million municipal bond has allowed for the construction of several playing fields for sports tournaments as well as for meeting groups' special events. Given that El Paso has more than 300 days of sunshine each year, these outdoor venues are well-suited to host partially tented, carnival-style receptions, says Brooke Underwood, director of convention development for El Paso Convention & Visitors Bureau.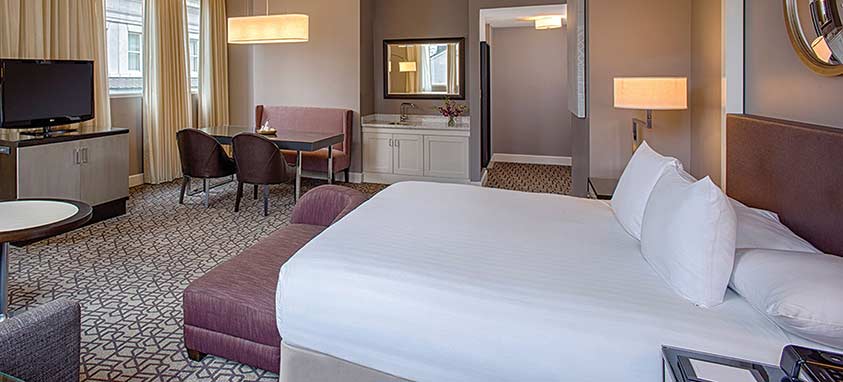 Hyatt Centric French Quarter New Orleans
Southwest University Park, a 7,500-seat minor-league baseball stadium, is walking distance from downtown hotels and is able to host activity-filled receptions.
In San Antonio, the Riverwalk, which runs through much of the city, is stocked with restaurants and entertainment attractions—and it's a great setting for early-morning fun runs and walks led by local guides who can detail the city's deep history.
In New Orleans, dine-arounds and walking tours can be coupled with streetcar rides for interesting yet inexpensive transportation along Canal Street and through the Garden District, according to Gina Chimeno, area director of sales and marketing for the 254-room Hyatt Centric French Quarter New Orleans.
"We ask each CVB to provide the most interesting routes so that our people can see authentic aspects of the city they're in."
Convenience
The convenience factor in getting from point A to B multiplies as group sizes increase, and association groups often require facilities close to the airport. Atlanta is more than happy to oblige for travelers within the United States and beyond. With flights from 55 countries landing at Hartsfield-Jackson Atlanta International Airport (ATL), the airport area offers a whopping 11,000 hotel rooms with more than 250,000 sq. ft. of event space. Georgia International Convention Center adds 150,000 sq. ft. for exhibits, ensuring the stage can be set whether attendees are from Detroit or Dubai. A free automated people-mover seamlessly transports visitors from airport to convention center and back, and the MARTA light-rail system stops at 38 stations around the city, including the airport, Peachtree Center and College Park.
Atlanta's airport area offers conventioneers plenty to do and see, such as Delta Flight Museum, which features rare vintage airplanes. Situated in two refurbished 1940s airplane hangars, docent-led tours serve groups of up to 20, while larger groups can rent the entire space. As many as 1,200 people can dine beneath the wings of Delta's first Boeing 767, The Spirit of Delta.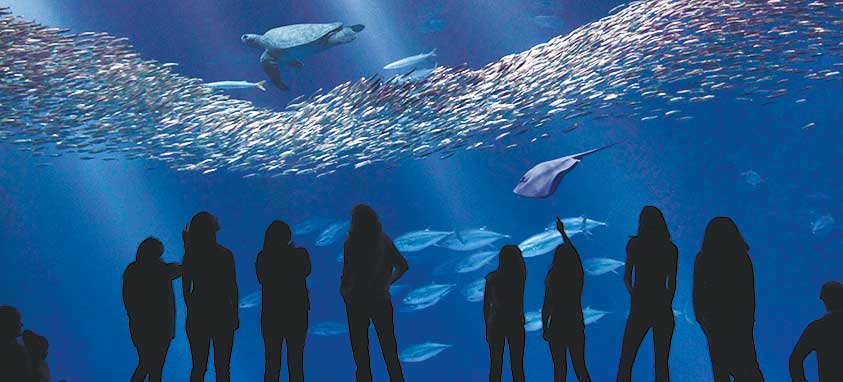 Monterey Bay Aquarium
Mobile Experiences
There's no rule that says attendees can enjoy interesting aspects of the host city only when they venture away from the convention center. In Greensboro, the CVB has offered convention groups portable exhibits to come into the center from local attractions such as Greensboro Science Center's aquarium and zoo.
"For groups that aren't going to use the science center for a special event, we can still provide a 'show and tell' presentation in the convention center's prefunction space during breaks, with everything from birds to meerkats to snakes and other animals," says Amy Scott, director of marketing for Greensboro Area Convention & Visitors Bureau.
In a similar vein, planners can seek to borrow paintings, sculptures and other art pieces from a city's galleries—or ask local artists to bring in some of their own works—and create a temporary gallery in a convention center's break areas.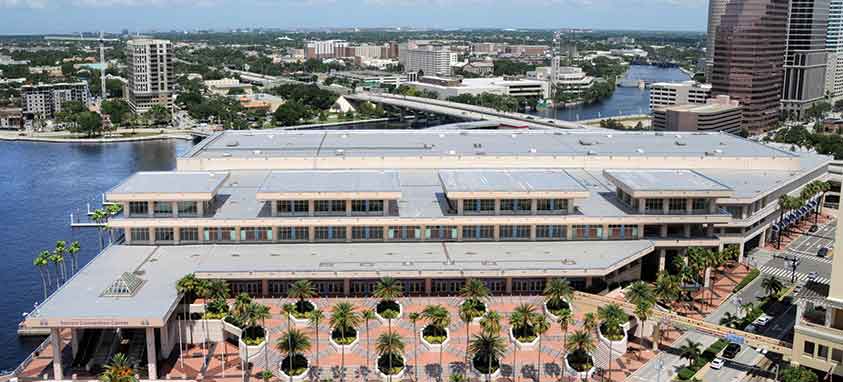 Tampa Convention Center, Florida
Some CVBs are making concerted efforts to show attendees an interesting slice of their city during a group's convention the year before it comes to their city. For example, Rich Cerino, director of convention services for Visit Phoenix, went to Tampa this year to attend a convention that will come to Phoenix in 2017. Inside Tampa Convention Center, he set up a desk next to the event's registration booths and presented passersby with information about Phoenix showcasing activities and options that matched what the association's research found their attendees to be most interested in.
"Once the event was over and their planning team started focusing on Phoenix, we developed an event marketing program based on their association's core values as well as attendee interests," Cerino says. Taken together, these efforts are working. "A lot of groups are blocking more than 1,000 rooms on peak night, but then they're asking us to find them 200 more rooms a few weeks before the show. That's a good sign for the convention industry."
In Elko, Nevada, planners can add a dose of history to the 11,000-square-foot Elko Convention Center by bringing in Basque dancers or cowboy poets to entertain attendees between meetings. The Laurena Moren Theatre located inside the one-year-old center is a perfect space for performances for up to 913 people. Tom Lester, tourism and convention manager for Elko Convention & Visitors Authority, says gold rush-era reenactments complete with black-powder shooting courses are a great way to bring Elko's storied history to life.
Long Beach Convention and Visitors Bureau brings its cool city indoors by decorating its convention and entertainment center with trendy urban lounge furniture and plants to create faux patios for networking. Barbie Ajemian, CMP, vice president of convention services, notes that they've added corn-hole boards and LED ping pong tables for an instant game room, and brought in food trucks for a truly authentic Long Beach lunch. The convention center has 377,730 sq. ft. of meeting space.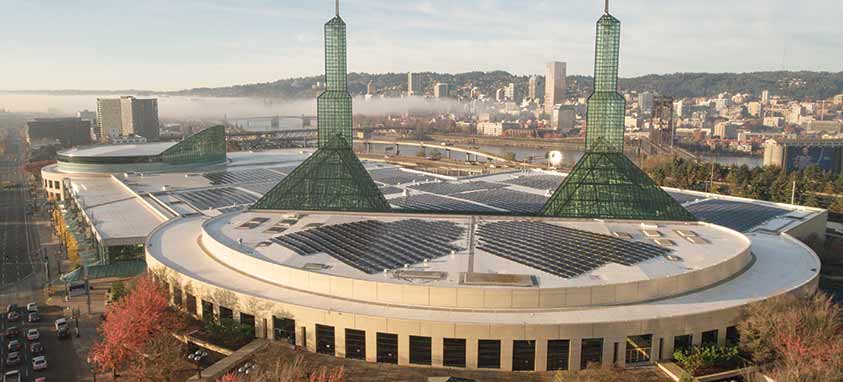 Oregon Convention Center, Portland
Sophisticated, Hip F&B
One interesting fact about food and beverage operations at most convention centers: Because they are not in use every day like restaurants and hotel kitchens, they procure their food and beverage to meet the requirements of an upcoming show, rather than keep certain items in inventory and charge more to procure items outside that inventory.
In conjunction with the growing desire among planners for more local food and beverage items at their conventions and meetings, this means convention center kitchens are offering more variety and quality than ever, and at reasonable prices.
"We are able to customize our in-house food and beverage offerings to the tune of 80 percent, and we rotate menus on a seasonal basis," says Paul Barnes, assistant director of Austin Convention Center in Texas. "The demand has increased for items from local food suppliers, and our clients have been very happy with our response to that."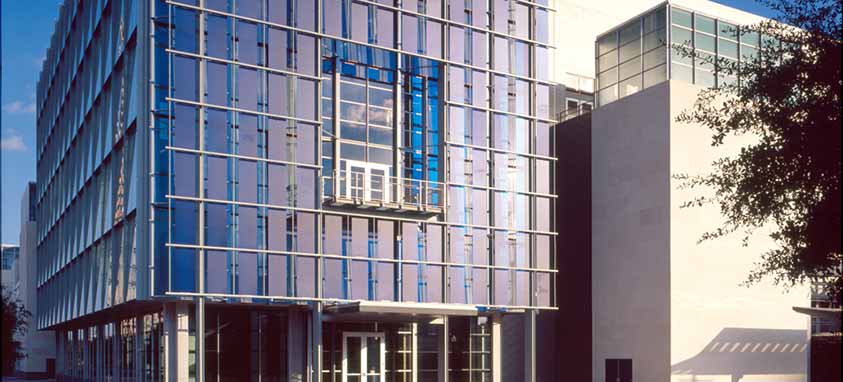 Austin Convention Center, Texas
Planners of a large group coming in mid-2017 recently sat for a tasting with the Austin Convention Center chef that included more than 45 items, nearly all of them locally produced. And at Oregon Convention Center in Portland, 70 percent of produce purchased is locally grown, while 80 percent of the wine, beer and spirits served at events are from local producers.
Another authentic option that taps into the "cool factor" of a local community is using food trucks for special events. No matter whether it's gyros in Boise, pulled pork in Greensboro, bratwurst and jalapenos in El Paso, chicken and waffles in Phoenix or fish tacos in Portland, attendees will go home with a greater appreciation of the destination—and the event they came for.
---
Rob Carey is a business journalist and principal of Meetings & Hospitality Insight, a content marketing firm for the group-business market.
---
Smart Dispatch: Waves of Excitement in Monterey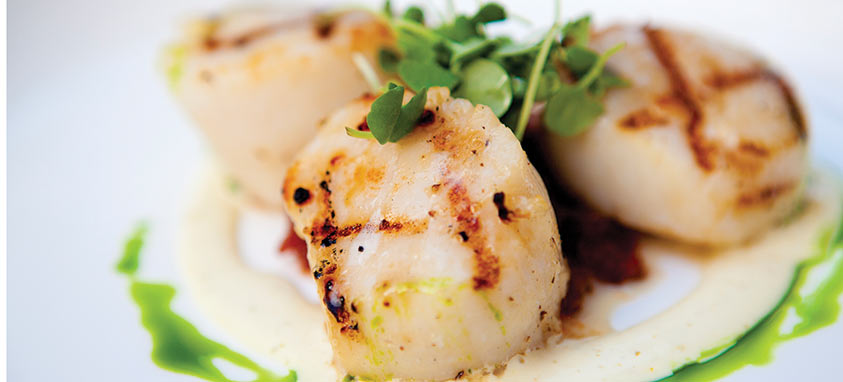 Large groups looking for a unique California experience that's set apart from the major cities should take a look at the blossoming city by the sea. A recent press trip to coastal Monterey proved it can handle larger meetings, as evidenced by the sprawling, 550-room Hyatt Regency Monterey Hotel and Spa.
Set among 22 acres, the hotel looks out onto Pebble Beach Company's championship Del Monte Golf Course and offers more than 40,000 sq. ft. of indoor and outdoor meeting space. It's undergoing a $2.5 million renovation that includes the recent refresh of rooms, suites and furniture, and will also include replacing the lobby and lobby lounge.
Showing off the breathtaking coastal views, we hiked along the rigged Monterey Coast, where biking and running paths are plentiful and challenging.
Cannery Row, the downtown district immortalized by novelist John Steinbeck, is now home to a walkable corridor of gift shops, restaurants and bars. It's also home to famous Monterey Bay Aquarium, which houses thousands of marine animals and plants and is a spectacular location for unique events for up to 2,500 people. Seated dinners, dances, shows and strolling dinners can be accommodated.
While feasting on fresh scallops at Hyatt's TusCa Ristorante, winemakers from Twisted Roots winery poured samples of several varietals they offer. Twisted Roots is one of 85 wineries in Monterey County. The area is home to more than 60 tasting rooms and 225 vineyards.
The picturesque city is about to be even more accommodating to groups with the renovation of the Monterey Conference Center, which aims to be LEED certified upon opening next spring, and will offer 40,000 sq. ft. of flexible meeting space and capacity for up to 3,200. Many other area hotels are undergoing renovations as well, including SpringHill Suites by Marriott The Dunes on Monterey Bay, which will debut an all-suite hotel in Marina in February 2017.
–Loraine Burger
---
Tips from a Veteran Association Planner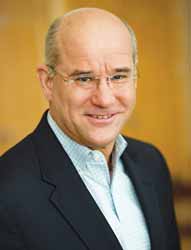 Meetings Management Group in McLean, Virginia, handles conventions and trade shows for more than 20 associations, with several of the events drawing as many as 1,400 attendees. Hunter Clemens (pictured), CMP, CAE, is vice president at the firm and a hands-on player in coordinating these conventions and shows. He finds that CVBs and venues are becoming more consultative on event strategy.
For a client who had a fading trade show in need of a new idea, "we asked [people at] the facility about what they had seen in their space lately that had similar objectives and was interesting," Clemens says. "With their input, we created a whole new layout where the exhibit space was more central to the flow of the event."
Specifically, attendees had to walk through the exhibits to get to the general session each day, and most breaks were held on the show floor. The layout helped reinvigorate the trade-show portion of the event.
For another association that sought to give members more reasons to attend its annual convention, Clemens gleaned a few ideas from convention services managers at the facility that was hosting the following year's event.
"We brought into the convention a specialist from LinkedIn.com who showed attendees how to get the most out of their profile and posting activity on the site," he says. "We also set up a photo studio on the show floor so attendees could get professional headshots for use online and elsewhere."
Clemens' takeaway from these examples: "It's smart for planners to bring the convention services managers deeper into the strategic elements of their events."