Founder and CEO, Entire Productions
Wall Street Journal Best-Selling Author
3x Inc. 5000 Entrepreneur
Poignant Press/Memoir Sherpa
Congratulations on your award-winning book, "Relentless: From Homeless Teen to Achieving the Entrepreneur Dream". Was it difficult reliving the painful stories about your early home life?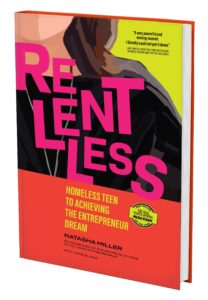 This book took me 4 years to write. I had to take some time off from writing it after learning more about what really happened to me and after discovering new things I didn't even know about. It was an emotional roller coaster. One of the hardest parts was reading my journals that I kept since the age of 10… I thought perhaps my memory had over-dramatized my thoughts. But it was just the opposite—it was worse than I remembered. That was very jarring.
Why was it important to tell that story now, in the wake of the biggest hit to the events industry in the history of gathering people? 
The book wasn't meant to end at the end of 2020, but I HAD to get that pivotal and painful time in my memoir. I had to honor myself and the rest of the industry that did everything they could to stay afloat. I hope that the book can give some hope and inspiration to those who suffered the most and are still suffering. A lot of our industry has a long way to go to fully recover.
How did music help you find your true self? 
Music both created and saved my life. If I didn't have the violin at age 9 and up, I'm not sure I'd still be alive today. Music was a way for me to escape, and safely express myself, a form of meditation. It was also a tool—I used it to get full-ride scholarships to college and then used it to make money.
Read more about the benefits of music.
What attracted you to the events and entrepreneurial world? How has that changed? 
I was performing as a violinist and jazz vocalist for social and corporate events since I was 15. It never occurred to me that I'd get involved in the event industry then. But as I started my business providing talent of every genre and discipline to events in the Bay Area, it snowballed into programming talent all over the world and also producing full-scale corporate events. It took on a life of its own.
As for entrepreneurship, I think I might have had it in me naturally, but since having to provide for myself at such a young age, it also might have grown exponentially because of the need to make sure I was taken care of. Now I'm completely "unemployable" and I'm having the time of my life creating every day in many ways. Both with Entire Productions but in other places in my life as well.
What is the secret to building an Inc. 5000 business and how are using that platform to save yourself and others? 
The secret to landing on that list is to grow at a faster pace than other businesses. For us, it meant learning how to really dial in our systems and processes, hire and develop incredible talent in our organization and provide a culture where we're living and breathing our core values every day. Not just within our team but also with our vendors and clients.
In 2018 we worked on 777 events with only two people in operations. In 2019 we wanted to reduce the number of events but increase our revenue which we did—at 650 events. You can't do that without having developed and implemented solid and repeatable processes. 
You said you wouldn't change anything looking back now and you are now helping others to learn from their struggles. What is the one piece of advice you have for people who are trying to overcome and create their dream life?
 Actually, I would change things if I could. No one should have to grow up the way I did—it's very tough on the soul and I wouldn't wish it up on anyone. If I were cared for and loved and felt safe, but didn't end up being a successful entrepreneur, that would have been OK, I think. But I'll never know.
The one piece of advice I have is no one is coming to save you. However, it's very likely that you have the ability to save yourself. It's not enough to be resilient—you have to #beRelentless!
This article appears in the August 2022 issue. You can subscribe to the magazine here.