Michael Mina discovered early on that he would much rather focus on food and innovative culinary experiences than operate the actual buildings where his restaurants are located. The James Beard award-winning chef admittedly has more passion for seeking out the freshest seasonal produce compared to, say, figuring out ways to pack an eatery for dinner when it mainly draws the lunch crowd because of foot traffic.
Such are the priorities of one of Las Vegas' original celebrity chefs, who opened Aqua in Bellagio back in 1998. Mina has helped usher in a trend that is now commonplace, especially in Las Vegas: Big-name chefs are partnering with major meeting hotels, where built-in clientele create a win-win situation for restaurants, properties and guests.
"The customers are there," Mina says. "What I saw quickly was that—oh my God—the business comes to you. Your job is to make people really happy."
San Francisco-based Mina Group Inc., which formed in 2002, manages 26 restaurants and bars, many of which share residency with such mega-hotels as Aria Resort & Casino in Las Vegas and Fontainebleau Miami Beach. The business and branding models are at the core of Mina Group.
"We were very clear what we wanted to achieve," Mina says of his restaurant management company. "What has happened is that ownership groups come after us. It started snowballing for us."
Partnership with MGM resorts International
In particular, his partnership with MGM Resorts International, parent company of Aria and Bellagio, has been instrumental in catapulting him into the chef stratosphere.
"I was at the Bellagio from day one," Mina says. "MGM gave us so many opportunities. They are the ones who launched me."
Make no mistake: Mina has done his part to thank his MGM brethren and earn their undying respect. Aqua was reinvented as Michael Mina Bellagio in 2003. In January, he christened Bardot Brasserie at the AAA Five Diamond-rated Aria and it has already been ranked No. 1 among Las Vegas' 26 Hottest Restaurants by Las Vegas Eater website.
"We are excited to introduce a sexy new concept to Aria," Mina says. "Bardot Brasserie is the perfect addition to our group of restaurant brands, offering French comfort food in a chic atmosphere."
Proving there's never too much of a good thing in Vegas, his culinary craft can also be sampled at Pub 1842 at MGM Grand and StripSteak at Mandalay Bay.
The Mina Group also benefits from partnerships with Starwood Hotels & Resorts and Four Seasons Hotels and Resorts.
Double the Pleasure
For Fontainebleau Miami Beach, one Mina restaurant wasn't enough. After a successful first year for Michael Mina 74, the landmark beachfront property collaborated with the Mina Group last year to open StripSteak, an innovative streakhouse concept located off Fontainebleau's iconic chateau lobby.
"Our partnerships with celebrity chefs give a great boost to the dining and nightlife scene at Fontainebleau Miami Beach," says Phil Goldfarb, president and chief operating officer. "Having two restaurant concepts with Michael's name has really helped to raise our food and beverage profile, giving travelers yet another reason to select Fontainebleau when deciding where to stay."
The Westin St. Francis San Francisco on Union Square also features two Mina establishments: Bourbon Steak San Francisco and Clock Bar. When the St. Francis underwent a major remodel, they called on Mina to open Bourbon Steak, a move that significantly increased restaurant revenue, according to Mina. "We helped bring a lot of press and awareness," he says.
With his home base in San Francisco, Mina's culinary fingerprints can be found throughout the Bay Area. His signature San Francisco restaurant is Michelin-starred Michael Mina.
Down in Silicon Valley, the new Levi's Stadium, home to the NFL San Francisco 49ers, includes Bourbon Steak Santa Clara and Bourbon Pub. Celebrity chefs serving up masterpieces at meeting hotels is one thing, but sports stadiums? Expect lots of press coverage of those two hot spots when the 2016 Super Bowl takes place at Levi's Stadium next February.
New Ventures
Besides restaurants and bars, the Mina Group has expanded its portfolio to include Locale Market at Sundial entertainment center in St. Petersburg, Florida. Mina describes this venture as a "theatrical market," where 18 different cooking stations allow patrons to purchase food to go, with informal dining options.
"This is the most dynamic project we've done as a company," he says. "What we wanted to do was create a European-style market from the past. I wanted more of a social market, where people could shop and eat at the same time."
Located on the Gulf Coast, Locale Market is big on fresh, local seafood. The seasonal offerings aren't just rotated quarterly; Mina says seasonal often means what's fresh on a monthly basis.
What is a Celebrity Chef?
With all of his success and name recognition, Mina remains modestly hesitant to call himself a celebrity chef.
"I still don't know what that means," Mina says. "I don't look at myself like that. I don't care. That has never been my goal."
Born in Cairo, Egypt, in 1969, Mina was raised in Ellensburg, Washington, and worked in the Space Needle restaurant as a student at University of Washington. Just as he found support from MGM Resorts International and his foodie peers, he purposefully cultivates young talent on his staff by sharing recipes and keeping the door open when they are ready to branch out on their own.
"Chefs will motivate people around them to do great things," he says.
---
Perfect Pairings
Michael Mina's restaurants set the table for exquisite dining at renowned meeting properties from San Francisco to Las Vegas to Miami. Here is a sampling of his destination dining experiences and culinary flair.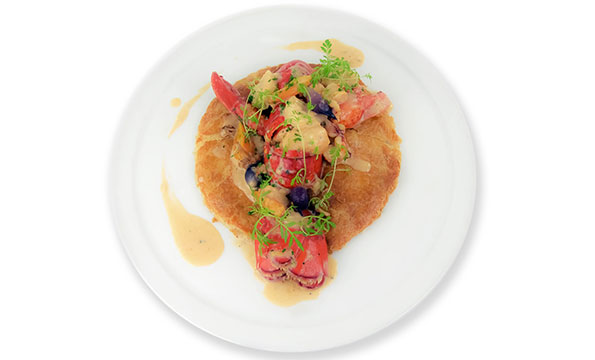 Bourbon Steak San Francisco & Clock Bar
The Westin St. Francis, San Francisco
The best of Bay Area produce can be found at Bourbon Steak, including poached meats and classic seafood dishes. The beef is organic and hormone-free and the seafood is fresh, so the menu changes with the season. The lobster pot pie and Korean BBQ short rib are very popular, as is the truffle mac and cheese. At Clock Bar, the focus is on speciality cocktails, but small bites are available.
*The Westin, which dates to 1904, has 1,195 guest rooms and 56,000 sq. ft. of event space.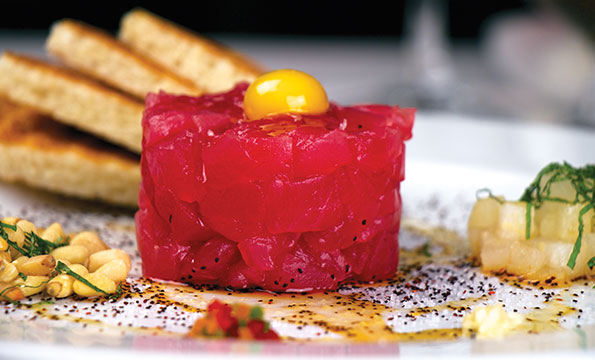 Michael Mina Bellagio
Elegant yet relaxed, Michael Mina Bellagio offers an eclectic mix of contemporary seafood dishes and modern American cuisine, with Japanese and French influences. Begin with the tuna tartare and follow that with the three seas fish tasting, served with bamboo rice, or phyllo-crusted sole. Seasonal dishes include Colorado rack of lamb with tagine vegetables and lamb jus. *Bellagio has 3,933 guest rooms and more than 200,000 sq. ft. of meeting space.
StripSteak & Michael Mina 74
Fontainebleau Miami Beach, Florida
Among the 12 restaurants and lounges at this Miami Beach landmark are two distinctly different Mina creations. StripSteak features a la carte cuts of steak in addition to signature dishes that go far beyond traditional steakhouse fare. For example, the menu includes caviar service, Hudson Valley foie gras and Berkshire wood-fired pork chops. Michael Mina 74 accents shared plates for a dynamic and social experience. There's a rolling seafood cart with fish sourced specifically for the hotel.
*Fontainebleau features 1,504 guest rooms and 107,000 sq. ft. of meeting space.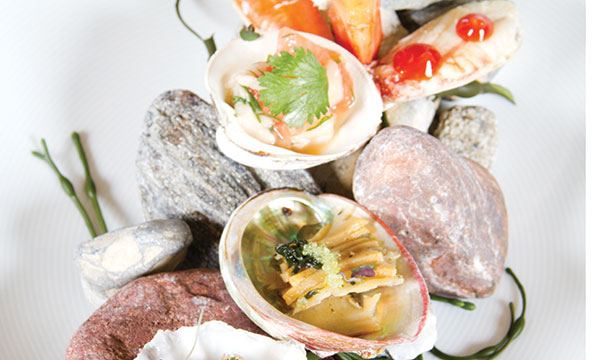 Stonehill Tavern
The St. Regis Monarch Beach, Dana Point, California
This restaurant feels like a tavern with tavern fare, yet exudes an elegant and sophisticated ambience that complements the Forbes Five Star resort in which it calls home. With an award-winning spa, a championship golf course and awe-inspiring views of the Pacific Ocean, The St. Regis is appropriately blessed with the Forbes Four Star-rated Stonehill Tavern. There are lots of regional ingredients on the menu, especially seasonal vegetables and salads. Other popular dishes include seasonal shellfish and Morro Bay black cod. Michael Mina's Northern California Wine County connections help shape Stonehill Tavern's 400-bottle collection, which focuses on boutique producers.
*St. Regis offers 400 guest rooms and suites, 30,000 sq. ft. of indoor meeting space and 60,000 sq. ft. of outdoor event space.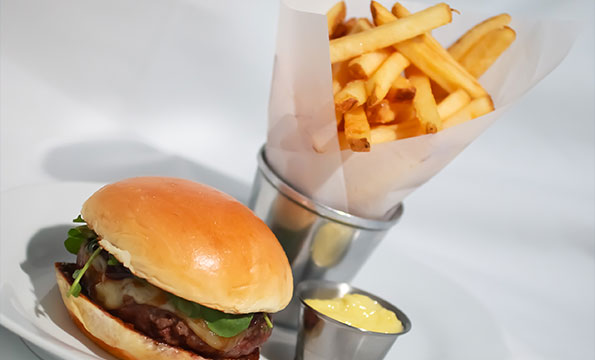 Bardot Brasserie
Aria Resort & Casino Las Vegas
Celebrating its first anniversary this winter, Bardot Brasserie evokes a slice of Paris dating back nearly 100 years. Low lighting and dramatic shadows help create an alluring experience unique for Las Vegas foodies. Menu offerings include the Bardot Burger with dry-aged steak, Comte cheese, caramelized onions and bordelaise sauce. Duck l'orange is another popular option. Bardot was recently ranked No. 1 among Las Vegas' 26 Hottest Restaurants by Las Vegas Eater website.
*Aria has 4,004 guest rooms and 300,000 sq. ft. of event space, including a 51,225-square-foot ballroom.