Intriguing adventures in Miami's Nobu Hotel and Little Havana
Chef Nobu Matsuhisa had already achieved worldwide acclaim for his restaurants when he decided to delve into the hotel business. He opened Nobu Hotel Las Vegas, located within Caesars Palace, in 2013, intending to balance the same ingredients—luxury, fun, craft and theater—that have made his restaurants so famous.
The hotel was very successful, eventually prompting Nobu Hotels to open five additional properties, with nine more in the pipeline. I recently visited Nobu Miami, situated within Eden Roc Miami Beach Resort (pictured above). It features 210 spacious guest rooms, the fabulous 20,000-square-foot Spa Eden Roc, fitness facilities, two luxury pools, an oceanfront pool and lounge, and access to the resort's 70,000 sq. ft. of attractive event space.
Not surprisingly, it also boasts two superb restaurants. Nobu restaurant features Matushisa's inventive Japanese-fusion cuisine, while Malibu Farm Miami Beach highlights simple farm-to-table dining that is fresh, organic and locally sourced whenever possible. Our group was served several courses family-style at each restaurant; highlights included Wagyu Hot Stone (beef) at Nobu and Barbecue Mustard Jidori Chicken with Fennel and Arugula at Malibu Farm.
More Than Just Dominoes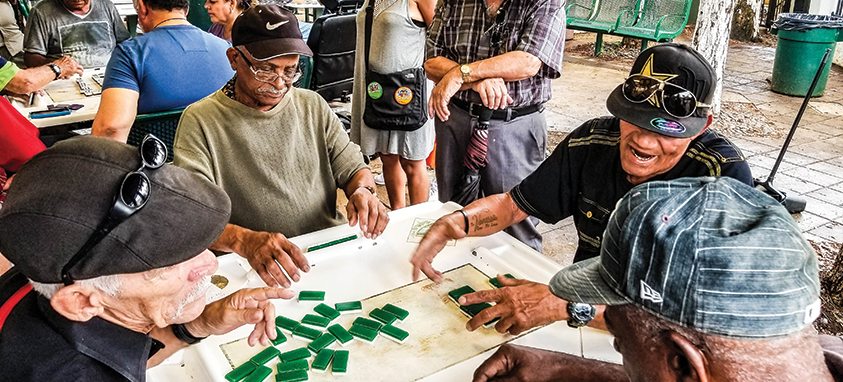 On the last day of our visit, participants were given free time in the afternoon to do what we wanted. For years, I have been curious about Miami's Little Havana neighborhood, and since it was only a 20-minute ride from Nobu, I decided to go there—and what a time I had!
Upon arrival, I realized that I would need to establish priorities, since there seemed to be plenty to do, and I needed to return to the hotel in three hours. But this was no easy matter. The area is full of pulsating shops, music venues, restaurants and cafes that remain predominantly Cuban. Recently, however, settlers of the area have relocated to Hialeah and Coral Gables, and have been replaced by new immigrants from Nicaragua and Colombia, among other places.
Guided walking and bus tours of the area are available, but exploring is the name of the game there, and since I had limited time, I set out on foot to find out what I could experience.
I first came across Maximo Gomez Park, dubbed Domino Park because at any time of the day, older Cubans can be found sipping coffee, socializing with their friends—and playing dominos. But the domino games often mainly serve as the vehicle for wide-ranging discussions—and sometimes heated arguments—about everything from sports to politics. It's very much like Havana, Cuba's Esquina Caliente (Hot Corner), where discussions about baseball expand into arguments about any conceivable subject.
Vibrant Calle Ocho
It was hard to pull myself away from Domino Park, but eventually I began walking down Calle Ocho, the heart of the neighborhood. The area has plenty of touristy Cuban cigar shops and memorabilia stores, plus a variety of other businesses—such as La Barberia, an old barber shop dating back to 1954—that provide intriguing insights into Cuban culture. Some of the old restaurants and bars feel timeless, with old-world design and fixtures, and unmistakable traditional Cuban style.
Setting the beat to all activity in the neighborhood is the wide variety of infectious Cuban music flowing out of restaurants and clubs. It was time to leave, but I felt that my adventure had just begun.
Groups wanting to experience the charm of Little Havana best not wait very long. Luxury apartments are popping up on Calle Ocho, retired soccer star David Beckham is building a stadium in the adjacent neighborhood of Overtown and swanky condominiums are planned for a stretch of the Miami River on the edge of the district. It probably won't be long before Little Havana loses much of its Cuban accent, but the area is still a treasure.