Sprinkle a little pixie dust on the meeting experience in Anaheim
Thursday, July 13
After collecting my luggage at John Wayne Airport in Santa Ana, California, the Disney Meetings team arranged for a chauffeur from Best-VIP to drive me to Disney's Grand Californian Hotel & Spa. Upon checking in at the Anaheim hotel, I got my credentials, along with a Mickey and pals-printed drawstring bag filled with snacks, Band-Aids, stain remover and a sequined cellphone wristlet.
A friendly cast member gave me a tour of the upgraded features in my newly renovated guest room. In line with Disney's green initiative, the rooms have energy-efficient LED lights, recycling bins and a thermostat that kicks on only when the temperature reaches 3 degrees above what you have it set at. Other amenities include raised beds to store luggage underneath, a couch that converts into an extra bed, updated bathrooms, Kuerig coffee pots with to-go cups, and plenty of power and USB outlets. All 950 guest rooms will have these upgrades by the end of 2017.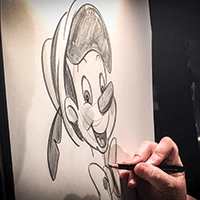 Dinner in Tomorrowland's Starcade room was a tribute to the past. The menu consisted of Walt Disney's favorite dishes—chicken-fried steak medallions, and mac and cheese with panko crust.
During dinner, Disney Artist and Historian Stacia Martin drew and spoke about early characters that led to the creation of Mickey Mouse. Following dessert, we went to a special roped-off section for the Main Street Electrical Light Parade and magical fireworks, which you can request for your group.
Friday, July 14
Friday began at Disney's Paradise Pier Hotel for a buffet breakfast in the Crystal Cove Room. Donald Duck made a special appearance for a fun photo op. To my surprise, I returned to my hotel room to find my photo with Donald framed.
At the Disney Legends Awards Ceremony at D23 Expo in nearby Anaheim Convention Center, Disney CEO Bob Iger inducted Oprah Winfrey, Whoopi Goldberg, Mark Hamill, Stan Lee and Carrie Fisher. Dancing with the Stars pros, led by Val Chmerkovskiy and Jenna Johnson, as well as The Lion King cast and Anika Noni Rose performed.
Lunch was served in a private dining room at Morton's Steakhouse, a short walk away. The table setting was very Disney-fied. Mickey cookies were placed on every plate. Minnie's polka dots were printed on the cloth napkins. We were invited to bring home the Mickey-shaped cookie cutter that was used as a napkin ring. As an icebreaker, we reached under our chairs to see if we found a set of Mickey measuring spoons. The person who did won Mickey and Minnie salt and pepper shakers from the table. The floral centerpiece even had yellow ears. Hidden Mickeys everywhere!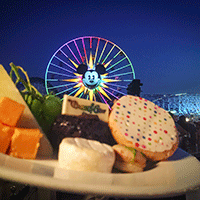 We returned to the convention center for Pirates of the Caribbean: 50 Years of Swashbuckling Adventures. Back at Disney's California Adventure Park, dinner was at the Disney Junior Theatre inside Hollywoodland, followed by the World of Color Dessert Party. It is a seated area overlooking the fountains, and is a great reception area for meeting professionals to reserve as a nightcap.
We used the Fastpass-plus service to visit the new Guardians of the Galaxy–Mission: Breakout!, which replaced The Twilight Zone Tower of Terror this year. It was a real VIP experience. On a full stomach, members of the group had a blast on the free-fall ride.
Saturday, July 15
We began the day with a buffet breakfast in the 12,000-square-foot Sequoia Ballroom at the Grand Californian. At the ABC Summer Fun & Games presentation, child actors from popular ABC sitcoms played a game of Disney-themed Celebrity Family Feud. It's a great team-building activity.
Dinner in the Sequoia Ballroom at the Grand Californian was an immersive experience. The bartender made the Tinktini and told us how they customize cocktails for themed events. Then, we were invited into the kitchen to be served our dinner directly from the chefs. Truly unique. As a party favor, we each received a Mickey figurine. But Mickey and Minnie showing up for a photo op was the real treat!
The group then headed into Disneyland for a special advance presentation of Fantasmic. It was scheduled to officially reopen two days later, on Disneyland's 62nd birthday.
Sunday, July 16
The creativity of Disney Meetings is limitless and during the trip, the cast members were at our beck and call to fulfill whatever we had wished upon a star. All good things must come to an end. On Sunday morning, we gathered one final time for an informal breakfast and fond farewells. See ya real soon!