Security screening at Denver International Airport
Are you covering all your bases?
At an employee-training event held inside a San Bernardino, California, government building on Dec. 2, 2015, employees were in the midst of the typical office-worker talk that swills around water coolers. Everything seemed to be moving along smoothly. It appeared to be a very good day, partly because the training would wrap up with the office holiday party. Spirits were cheery.
One employee left early but soon returned with his wife. The couple entered the building and opened fire, shooting more than 100 rounds of ammo, killing 14 of his co-workers and wounding another 22. The attackers fled and were later gunned down in a shoot-out with law enforcement on a public street.
On Sept. 11, 2001, 19 Al Qaeda terrorists hijacked four planes that departed from airports in the northeastern United States. The 9/11 attacks killed 2,996 people, injured more than 6,000, and caused at least $10 billion in property and infrastructure damage, and incurred $3 trillion in total costs.
Many meeting planners who worked after the 9/11 attacks have their own horror stories to tell. The country was reeling, and planners had to deal with their own losses, personal as well as professional. There were cancelled flights, high attrition, low conference turnouts, demands for registration refunds and a host of other challenges. Since that fateful day more than 15 years ago, the meeting-planning industry has bounced back, but it has also become complacent.
"Sept. 11 was an eye-opener for everyone. It changed everything…everything except human nature," says Ian Poush, a partner at OPS Security Group in Philadelphia. "Fifteen years is quite a long time, and, simply put, our attention shifted. The reality was that terrorism was news, but it was not really happening in our backyard, so people stopped paying attention."
Business is good. Terrorism is a threat, but, as a nation, we're generally prosperous.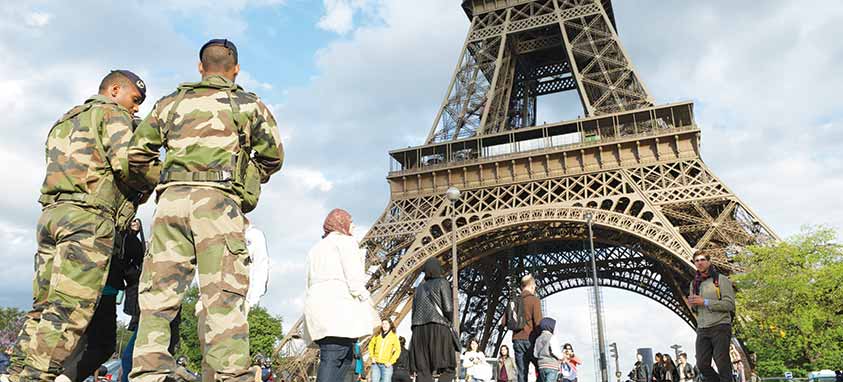 Army soldiers providing security at Eiffel Tower, Paris
Terrorism Attacks Around the World
Attacks in Paris, Brussels and Berlin have been in the news but are an entire ocean away. And although the United States has experienced other terror acts on American soil before and after 9/11—such as the Oklahoma City bombings, Boston Marathon explosions, and mass shootings at Sandy Hook Elementary School in Newtown, Connecticut, and Fort Hood military base near Killeen, Texas—none of them has had nearly the same impact as 9/11.
Stories about emergencies, security and safety seem to pop up nonstop, however, thanks to the 24-hour cycle of social media and news sources. It's a giant wheel, with many spokes, including active shooters, terrorist attacks, power outages, contagious diseases, stolen equipment, data thefts, weather disasters, political upheavals and economic blunders.
"Now, there is an increase in civil unrest and a style of attack that the West, until recently, was not used to seeing," Poush says. "These factors have put the spotlight back on security."
For those who plan and manage large events, such as conferences, these recent acts of terror remind us that we must be proactive when it comes to security, both cyber and physical.
Planners need to ask themselves, "Do I know how to protect my attendees? Do I really need to do so?"
"Planners have a legal duty to take care of their attendees," says attorney Tyra Hilliard, CMP, an assistant professor of business and hospitality at the College of Coastal Georgia. "To live up to this duty, they need to use due diligence when planning and managing a meeting, including choosing a safe facility and suppliers."
She says that to create a safe space, planners don't need to have an absolute obligation, but they must do "what a reasonably prudent meeting planner would do to ensure that the meeting and attendees are safe."
This begs the question, "What is safety and security?"
Safety Versus Security
"Safety and security are often used interchangeably," Poush says. "However, they are not the same. Despite some fluidity in their definitions, generally speaking, security is more of an active effort to control something, whereas safety is thought of as a combination of physical and emotional states causing one to feel free from harm, or 'safe.'"
Hilliard agrees. "I think people use these terms in combination, but, in my mind, they are two different things," she says, pointing to Black's Law Dictionary, the well-known legal tome that defines safety as "the freedom from injury, harm, danger or loss of personal property whether deliberate or accidental" and security as "protection; assurance."
"These make sense to me," Hilliard says. "Safety is well-being. Security is measures put in place to ensure well-being."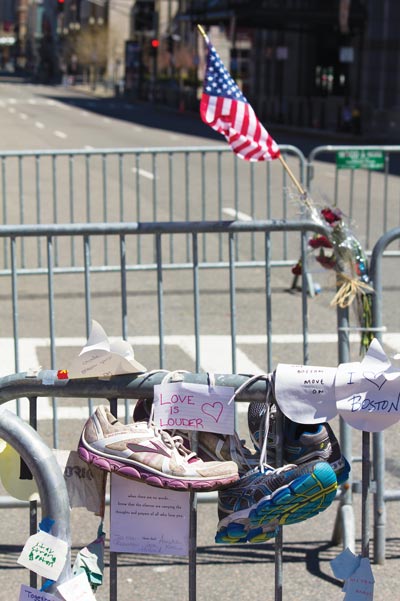 Boston Marathon memorial
Poush asserts that the ultimate goal of any security plan should be safety. So what is the industry doing to better prepare planners?
"With today's increased threat of terrorism, we have brought the industry together to harden the target our venues and events create when we gather people together," says Brad Mayne, CFE, president and CEO of International Association of Venue Managers (IAVM).
As a member of the Exhibitions and Meetings Safety and Security Initiative Council—which includes insurance brokers and Department of Homeland Security (DHS) representatives—he works to ensure that the program is successful and that the meetings and exhibition industry is safer.
"We have a need to protect our $280 billion economic impact through stronger safety and security programs," Mayne says. The alliance includes IAVM, International Association of Exhibitions and Events (IAEE) and Exhibition Services Contractors Association (ESCA).
Mayne also says that IAVM is applying for a Safety Act Designation, a DHS-sponsored program that not only creates an online portal with access to "effective anti-terrorism products and services," according to the agency's website, but could also provide those who qualify certain legal liability protections. In the beginning, the IAVM initiative would cover mostly convention centers.
What Other Groups are Doing
Planning major events that attract hundreds, even thousands, of attendees presents unique challenges no matter the makeup of your audience or the location. But what if your group's members are always targets?
Some groups routinely employ their own security. The National Gay and Lesbian Chamber of Commerce (NGLCC), for example, uses the services of OPS Security Group.
"As a diverse organization serving the LGBT community, we must always be prepared to respond to the unique needs of our constituents and to prevent disruption from those who may not agree with our mission," says Rick Fowler, NGLCC's vice president of meetings and education.
The organization hired OPS to "ensure that attendees are participating in a fully inclusive and safe meeting space," he says.
At NGLCC meetings, security includes coordinating with local police and fire officials, medical professionals and EMT providers.
"The plan incorporates a seamless combination of visible, uniformed security professionals and nonuniformed security professionals that blend into the crowd," Fowler says. "Our emergency action plan comprehensively covers any type of disruptive event, should it be a protest, weather event, medical emergency or physical safety incident."
Some of the services provided at NGLCC meetings include event-access security, emergency response preparedness, pre-event and daily security briefings, and staff training.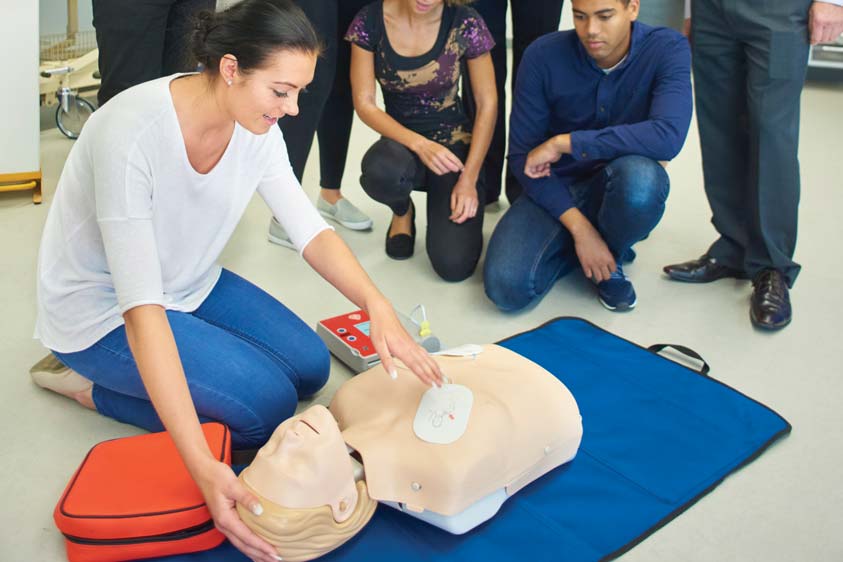 CPR class
Handling Medical Emergencies
Planning and preparing for threats also includes medical emergencies. The writer witnessed the following incident.
A few months ago at a reception held at a public college, an attendee collapsed. For a moment, time seemed to stand still. Suddenly, someone shouted, "He collapsed! He collapsed!" Someone called 911 while two other people performed CPR. Everyone else stood by, cemented in place, some with hands clasped to their mouths.
The planner ran next door to the campus health center and grabbed the on-duty nurse, while people administered CPR. All the while, the 911 operator was still on the phone.
"Continue CPR. Do you know his age? Is he on any medication?" the operator asked. The attendee's wife was nearby, stricken with grief and shock. "He's 72 years old," she said through sobs.
"Everyone, the shuttles are here and ready for departure," another meeting planner said, trying to get people to exit and move on to the next event. The good Samaritans who started CPR continued to take turns, while another stayed on the phone with the 911 operator.
It felt like an hour had passed, but from the time the 911 operator answered to the time the Emergency Medical Services (EMS) team arrived, a mere seven minutes had elapsed. EMS took over with an automated external defibrillator (AED), put the man on a stretcher and off they went to a hospital.
The man didn't make it. It was tragic to witness, but after his death, the questions began rolling in. Did the venue have an AED? Did the staff know CPR? Was the drive accessible to an ambulance? And how do we prepare for the next emergency?
Ask the Right Questions
The incident demonstrates the importance and varied nature of safety and security planning. Do you know what to do if an attendee collapses? Or if a cocktail-table candle starts a fire? What about intruders to your trade show? Or an injured international attendee? Or a hack of your member files? What about political protests or a gun-toting extremist?
Now more than ever, planners and their companies need to be prepared for whatever comes their way, and knowing what questions to ask is a necessary beginning.
Hotels and venues have the same goals, with many sites employing 24-hour security, which can include personnel, cameras and programmable door locks, among other safeguards.
Often a wide range of staff, from sales to housekeeping, are certified in CPR and first aid, and some personnel have ties with local emergency responders and hospitals.
American Hotel and Lodging Association, along with Overseas Security Advisory Council and its Hotel Working Security Group, have created a standardized hotel-assessment tool that enables tour operators, meeting planners, airlines and third-party service providers to conduct security, safety and health surveys of hotels.
It's not a challenge to demonstrate that, in some respects, being a meeting planner is similar to being a CEO. Both have their hands in all of the company cookie jars—including executive, administrative, human resources, marketing, finance and communications—and always deal with some unexpected issue.
Some planners might assert that it's impossible to plan for every emergency. That's probably true. Often, it takes a specific incident to get wheels in motion to fix a problem or ramp up plans to deal with the next situation. It's important to be active, rather than passive, though. When it comes to the safety of attendees, your organization and yourself, it's more important than ever to be prepared and proactive, and to ask the right questions.
---
Simple Safety Steps for Planners
Safety and security pertain to everything from taping down an extension cord to preventing a madman from entering your venue. Here are some important safeguards that need to be in place at the hotel or venue hosting your event.
• Make sure exit signs are working.
• Confirm Americans with Disabilities Act (ADA) compliance.
• Obtain a list of contacts for emergency responders from local fire, police and medical agencies.
• Include the property's security staff at preconference meetings.
• Know where local hospitals are located.
• If you have international attendees, know where their embassies or consulates are located (and find U.S. embassies for your international meetings).
• Make sure venues are compliant with local fire and electrical codes.
• Tape down cables, extension cords and any other potential tripping hazards.
• Use battery-operated candles instead of lighting traditional wick candles.
• Back up and protect data and registration files.
Sometimes, the simple steps are the easiest to overlook, so keep a checklist and make sure you cover these basics.
---
Keeping the Bad Apples Out
Meeting planners don't have to come up with safety and security plans all by themselves. Get other parties involved and make sure to engage venues, vendors and local agencies as needed. Reach out to other colleagues to see what they're doing. Here are some steps to keep the unwanted out.
1. Require attendees to wear name or registration badges while at the meeting (and have them take them off when not at the meeting).
2. Make sure hotel staff has a list of attendees and knows what registration badges look like.
3. Hire extra staff or a security firm to secure venue entrances, and ask to see room keys at hotels.
4. Train staff to know what to do or whom to contact when they see someone who doesn't belong.
5. Use polygraph or psychological evaluations when hiring new staff and employees.
6. Hire off-duty police officers to roam venue space and create a police presence.
7. Provide active-shooter training for your staff (and confirm hotel staff have been trained, too).
8. Create evacuation plans for your staff members in case they need to get attendees out in an emergency.
9. Make first responders aware of your presence.
10. In your request for proposal (RFP), ask what other groups will be in-house during your meeting dates.
11. Check the local convention and visitors bureau's website to see what other groups are in town.
12. On your registration forms, ask for attendee emergency contact information.
13. Keep abreast of news and weather so that you can plan and prepare.
Alan L. Kleinfeld is a writer and speaker who has been in the meetings industry for 20 years. He is a consultant, an adjunct professor and a public safety officer.