Medical meetings were some of the first to come back to real-life events and our industry check-up finds the patients well and thriving
"The medical community did not work from home during Covid-19," says Megan Finnell, CMP, director of meetings and conferences with Medical Group Management Association (MGMA). "Their experience during Covid was not like an office worker's experience."
Finnell is talking about why medical meetings came back fast and came back strong, both during early Covid recovery in 2020 through 2022.
"The community was familiar with distance, handwashing and medical masking so meeting with those protections in place was less of a barrier to meeting in person," she says.
In the early stages, Covid put a temporary stop to medical meetings both internationally and in the United States. One of the first to be affected was the European Congress of Radiology, planned for March 2020 in Vienna and ultimately held virtually in July of that year. But the vital importance of training and in-person connections for physicians at the front lines of healing during a pandemic made medical meetings one of the first industries to mount an all-out offensive on lockdowns and cancellations.
A recent PPI Survey (Practice Profitability Index) of over 5,000 physicians on the website CareCloud.com reported that 42% claimed that they improved their practice by obtaining vital information at conferences. The study also found that physicians listed medical conferences as their second-most valuable source of information (peer-to-peer info being the first).
Medical Meetings Return With Shifts
While physicians and medical professionals may not have been in the house on lockdown, the return to face-to-face dynamic of medical meetings has challenges.
"People have not gone to events in two-plus years so it's all about networking and catching up in person," says Jody Brandes, HMCC, CMP-Fellow, CMM, group manager of strategic event services for Genentech Inc.
Virtual exhibits rarely existed pre-pandemic, so everyone had to quickly learn new platforms and formats. "Information is now available online, so it's more about how information is presented in unique ways," Brandes says.
Read More: The Challenge of Safely Returning to In-person Corporate Events
In-person events are being asked to serve new functions. "Conventions are also being looked at as recruitment events and more booths are including HR information about their companies," she explains.
Other trends include meetings increasingly dealing with "a big uptick in mental health: from new treatments, telemedicine and apps to the overall mental impact of the pandemic on people."
Brandes believes that, "Health care professionals are more selective on what meetings and conventions they attend because their office work is busier, and they don't want to put themselves at risk by traveling."
A Cali-Style Comeback
Major events that stalled during Covid lockdowns are returning with all the attendant growing pains and detail ironing that entails.
Jenabeth Ferguson, vice president/symposium director for Healthcare Facilities Symposium & Expo, a major event for healthcare design, is gearing up for the show returning September 27-29 to Long Beach Convention Center, where it launched 35 years ago.
"We are in a new market in California: our show hasn't been there in a very long time and we're attracting new people in healthcare design. This is an opportunity for something to go incredibly right," she says.
One challenge is that "for our specific event we have relied on direct mail, and we relied on it longer than other industries because it was working for us. The problem now is that people are not working in offices." That meant the organization had to market the event more digitally: banners on websites, purchased banners and sponsored content.
Ferguson remembers that "in 2021 we had a good show, but the folks from the hospitals didn't show up as they had been used to doing. They were so busy [dealing with Covid], they just couldn't get away."
This year, the organization is dealing with the opposite effect: a lot of pent-up demand.
"Healthcare design is specialized. You can't touch and feel the space on Zoom," Ferguson explains.
And what about meeting in-real-life risks? "We're finding that if you're coming, there is a certain amount of risk you're willing to take," she says.
The event planners at Healthcare Facilities Symposium have already created name tags that define personal space and risk levels participants are willing to take. Green equals handshakes and hugs, yellow means elbow bumps, red means keep six feet apart and all the tags are explained at the beginning.
Breaking Through Barriers
Accreditation is a major component of the in-person aspect of medical meetings.
Finnell's MGMA deals with the business, rather than clinical side of medicine. "People who are administrative and run system practices," including physicians who are seeking CME (continuing medical education). This group can't be held on lockdown indefinitely as providers can't practice without being credentialed. "It is an absolute must that they keep getting that accreditation," Finnell explains.
"The biggest barrier now is getting enough staffing coverage to allow them to leave their practice to attend meetings," she says. "Many of them are still trying to recover loss of revenue. They are dealing with severe staffing shortages, so much so that they have trouble covering meetings. We have pushed our cancellation clauses back further, giving them broader deadlines and later registration windows than ever before."
Finnell says this has paid off since there have been major spikes in registrations from eight to four weeks out.
She says that participants are also willing to pay higher prices as a trade-off for flexibility.
Remarkably, Finnell's group has chosen not to do hybrid meetings.
"Hybrid was the worst of all possible worlds," she shares. "You have to plan for different time zones and then you find yourself with a bad camera in a badly lit room."
The group did a standalone digital event in 2020 and then when in person meetings came back in 2021, they produced a separate digital event three weeks later.
The group's major conference in October will be live with a digital event in November. "We continue to evolve with what's working and make each of them better," she says.
"We are not selling booths and banners, we are selling leads, relationships and exposure," Finnell says.
"Covid forced us to strip back everything we know about conferences and ask: what is it we are really trying to do? It has forced us to change," she concludes.
The Old College Try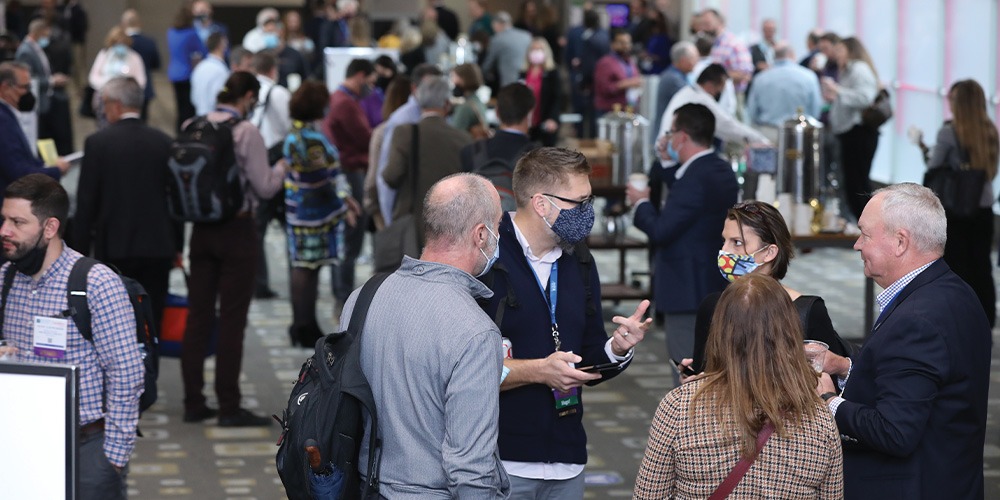 Also in California, UCLA Hospitality, comprised of Meyer & Renee Luskin Conference Center, UCLA Guest House, UCLA Lake Arrowhead Lodge and UCLA Conferences and Catering all center on medical meetings as a prime component of their clientele.
"Covid forced us to strip back everything we know about conferences and ask: 'What is it we are really trying to do?'"
–  Megan Finnell, Medical Group Management Association
Cindy Gagle, senior director of hospitality sales and marketing for UCLA Hospitality remembers that "when we opened in 2016, we had been activating preopening conference sales since 2015. The medical market, within the group segment was one of the strongest contributors to overall volume within the first years and pre-Covid."
Gagle says, "Much of the initial demand, within the medical segment, was attributed to the desires of medical professionals and/or professors who sat on boards of directors within various national and regional medical or medical-related associations."
Hedy Varga, senior group sales manager with Luskin Conference Center explains that ,"Prior to Covid, demand was so strong that our team was able to initiate several multi-year agreements which set the strong pace for this market. However, during and following Covid, this trend has decreased significantly. In addition, we were affected by an abundance of cancellations."
Varga points out that while Covid may have affected market size, it also helped carve out new opportunities.
Read More: Partner Your Way Through the Post-pandemic Surge
"There have been some trends that have happened as a result of Covid," she says. "We have seen the birth of smaller-sized meetings and virtual events. Because many meetings were not able to be held on-site, the need to develop the skills [had] to successfully deliver virtual and hybrid programming that was very strong.  Our services team jumped at this opportunity and created a virtual meetings department.  This department was and still is very successful."
Varga says that now that some Covid restrictions have eased (although the Center still requires onsite masking indoors), there is a great deal of pent-up demand that is evident.
"I just toured a physician who cannot wait to meet in person," she recalls but with a caveat. "Many planners, of course, still have a bit of worry about not overcommitting, although force majeure clause does cover Covid."
She says that meetings scheduled for this fall are also returning to the same size as pre-Covid meetings.
She observed that site visit checklists now included ADA compliance, broad hallways, wheelchair access, IACC center certification, high ceilings, an open-air lobby, LEED Platinum Certification and robust technology.
"An integral part of the healing practice is to meet in person," says Gagle. "We are seeing our clients for the first time in a couple of years. We are equally excited to engage personally and face-to-face."
A Medical Meeting Planner Shares Insider Tips for a Robust Event:
Wendy Carranza, CMP, DES, meetings manager at American Orthopaedic Foot & Ankle Society, shares tips for effective medical meeting planning:
Doctors are coffee junkies. Budget for coffee at breaks, even ones in the afternoon. Or find sponsors for the coffee breaks. Don't cut costs here or you'll get an earful. Let your attendees get their coffee fix in the exhibit hall to drive traffic. They want their Happy Juice, and this works like a charm.
If you do a hybrid meeting, charge the same for both in-person and virtual. Don't cheapen your content. Also, it makes life a lot easier to transfer a live registration to virtual, if need be (or vice versa)—no refunds necessary. Keep the content online for several months after the meeting to maximize incoming revenue. Make the online content available to those who attended in person so they can catch anything they missed or want to watch again.
While doctors attend medical meetings for CEUs, don't forget to offer some wellness activities and stress relief. A walking challenge, fun run or scavenger hunt to get people moving and bring them together is always a good idea if there is time.
This article appears in the August 2022 issue. You can subscribe to the magazine here.