A variety of seating put attendees close to the action
A luxury travel exposition in Miami sets the tone for a new jet set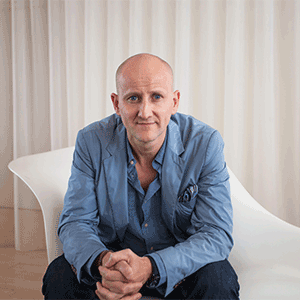 Editor's Note: Smart Meetings interrogated Serge Dive, CEO of London-based Beyond Luxury, to uncover the secret for elevating the event experience for a contemporary travel market hungry to discover the next new thing. Spoiler alert: The special sauce was baked into the destination.
Business Goal: The international convention brand Beyond Luxury brings 1,600 people from all over the world to an annual event in the United States every June that combines conferences, exhibitions and seminars to celebrate travel innovation and artistry. Known as LE Miami, it is a trade festival dedicated to the thriving high-end, contemporary travel market. The show promotes high-end suppliers offering unique, design-oriented and personalized products and services aimed at the creative class.
Biggest Challenge: Finding a location that fits the theme. It has to be modern and of-the-moment, and not based on nostalgia. This is an art and fashion-focused industry, and the location must match that au courant vibe. Being associated with the right city elevates the brand.
Dive's goal was to appeal both above and below the shoulders—to inspire the head with art and to immerse attendees in fun experiences. "We wanted to amplify who we are as whole people," he said.
Solution: Miami is a place of reinvention. "It is the worldwide center of fashion," Dive said. Miami Beach Convention Center, which is completing a $620 million expansion and renovation, including a glass jewel of a 20,000-square-foot ballroom, was the ideal location because it showed off the location and the sponsors.
The city it is also home to a collection of high-end properties in an urban setting close to the beach. "It resonates with a celebrity attitude," Dive said. By partnering with hotel properties, He was able to amplify that curated message. The result of the collaboration was a setting that looked more like an art gallery than an expo. Plus, the weather was amazing.
Interactive Elements: Off-sites explored the neighborhoods and included events at the beaches. Every year, there is more to explore in the galleries, restaurants and new spaces around the city.
Measuring Success: When it's right, Dive says he can feel it on the show floor. He defines success as curating just the right mix of high-quality exhibitors and buyers. Just to be sure, he surveys vendors using the event app.
Lessons Learned: Never underestimate the value of the destination. Miami, as a location, is functional and easily accessed from all over the world. In very few other places can you be in a city yet near the beach, and with so many hotels within walking distance of the convention center.