Jimmy Buffett finds what we're all looking for
In March 2012, James William Buffett, as chairman of the board for Margaritaville Holdings, was called to testify before the Nevada Gaming Control Board. That testimony ended as follows.
Member Burnett: "My last question for you, sir, looking at your corporate chart and the success that you have had with 'Margaritaville,' and it is clearly extensive, I think you mentioned or your attorney mentioned that you wrote the song in 1977. When you wrote that song, did you have any idea what it would become?"
Mr. Buffett: "It's been a pretty good song. No, it was written in five minutes on a hot day in Austin, Texas, with a margarita and with a beautiful woman. I finished it in Key West. I had no idea."
You may think you know Jimmy Buffett and his "Margaritaville." But we're guessing that, unless you've been paying really close attention, you don't. Think big…and then think even bigger. The man is light industry. Between his album sales, tours and businesses, Jimmy was estimated by Forbes to have earned $50.5 million last year. (By the way, we are referring to him by his first name, because the "patron saint of the untroubled," as The New York Times has dubbed him, prefers it that way.) The previous year, his net wealth was said to be $500 million.
He embodies lessons every meetings professional can take to heart, too—but more on that in a moment.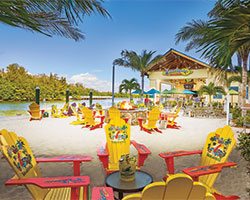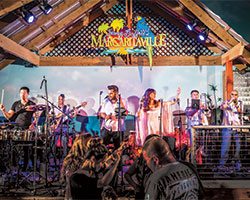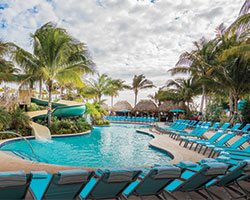 Yes, you have certainly heard his music. It's instantly identifiable—more than 30 albums, nine of which went platinum or multiplatinum. And even if you aren't one, you probably at least know about the Parrot Head thing. Second only to the Grateful Dead, Buffett and his Coral Reefer Band have the world's most diehard contingent of concertgoers. Unfailingly, they show up in flip-flops and outlandish tiki wear to set up tailgates of smoky hibachis and battery-operated margarita blenders in the parking lot of whatever arena Jimmy and the boys happen to be selling out.
But did you know that, on Amazon, you can buy an $800 Margaritaville Mixed Drink Maker, along with 1,725 more "Margaritaville" results for products in 28 merchandise categories, ranging from Adirondack chairs to a Parrot Head pool float, to gourmet salad dressing, to men's boxers?
You may have enjoyed an order or two of Jimmy's Jammin' Jambalaya or a Cheeseburger in Paradise at a Jimmy Buffett's Margaritaville restaurant. But did you know there are now more than 30 locations around the world, including three that won't stay put (they're on Norwegian Cruise Line ships)? His first-ever Margaritaville restaurant in California, at Universal City CityWalk in Los Angeles, opened in March with the most appropriate brand-fare—a performance by Jimmy and his band. His Volcano Nachos came slouching into Cleveland with the Margaritaville restaurant opening there in July.
Maybe your groups have even met at one of his nine hotels, resorts or casinos. Margaritaville Resort Orlando, Jimmy's latest, is—in a word—huge. The $750 million, 300-acre resort is currently being phased in, with most of it scheduled to be open by late this year. It encompasses 300 time-share units, 1,000 "Margaritaville-inspired" vacation homes (furnished in Ethan Allen's new Margaritaville line, of course) linked by a lagoon system and trams, plus a 187-room hotel with lots of meeting space and a nearby retail center for Jimmy's bars and restaurants.
After that? Margaritaville Nashville Hotel just announced it will become the latest property to feature a Margaritaville Vacation Club, when it opens 52 condominium-style time-share units in summer 2019. And New York City real estate circles are buzzing that a move into Manhattan will bring a Margaritaville hotel and restaurant to Times Square.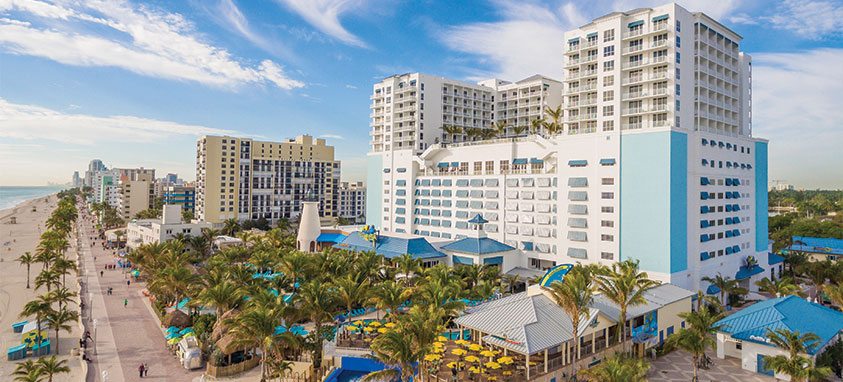 Margaritaville Hollywood Beach Resort (pictured above), in South Florida, opened in late 2016. "We don't need people being wasted away in Margaritaville," grumped Audrey Joynt, a past president of Hollywood Beach Business Association, to The Miami Herald before it was built. But there have been few, if any, complaints since. The $190 million, luxury property has a JWB Prime Steak and Seafood restaurant that "could hold its own in Manhattan," as one news report opined.
True, a more immersive Jimmy experience can be had, as well. Options include an in-house Margaritaville restaurant and 5 O'Clock Somewhere Bar & Grill on the beach. The most striking—but still subtle—margarita motif in the hotel's common areas is the lobby chandelier, assembled from upside-down margarita glasses. Guest rooms are tastefully decorated with what the hotel calls a "no worries tropical vibe." After the hotel's debut, groups began filling its 30,000 sq. ft. of meeting space and room occupancy rates hovered at above 90 percent, according to industry reports.
And they weren't all hardcore Jimmy fans.
"We don't follow Jimmy Buffett's music, but his name gave me comfort," Pam Wilken of Ashkum, Illinois, told a reporter. In her 50s, Wilken farms soybeans and has a candle business. Her husband, Lynn, added, "It's hard to put your finger on, but there is something authentic about this place. It doesn't feel forced on you."
And what did Jimmy say?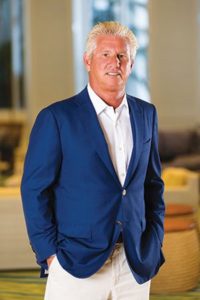 "We somehow got it right."
The "we" he refers to is Buffett and business partner John Cohlan, CEO of Margaritaville Holdings. So the story goes, Cohlan, who only knew Jimmy's wife socially, showed up at Jimmy's home one day in 1996 to talk about Margaritaville, the Opportunity. The song itself had been around for a decade before Jimmy opened his first restaurant, in Key West; a second followed in New Orleans, in 1993.
But Jimmy was napping. "I do like a good nap. That's true," he said later.
Cohlan had recently been to one of Jimmy's concerts, and would not be denied. He told The New York Times, "When I saw him perform, I said to myself, 'Whoa. Holy you-know-what. This is a brand.'"
Which brings us to our lessons.
Be True to Your Brand, Then Build On It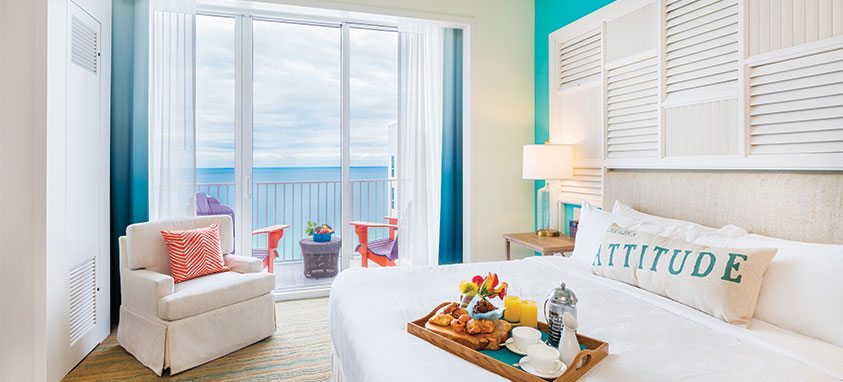 In Margaritaville world, it's referred to as "a state of mind." The luxury hotels, in particular, don't hit you over the head with the Jimmyness of it all—they don't have to. You don't hear "Cheeseburger in Paradise" or "Come Monday" over and over again on the sound system. The expectation is that an escape to Margaritaville will be relaxing in a laid-back, easy-breezy way. And that's what it delivers, plus things not so expected (but also not in conflict with the brand).
"It's a universal lifestyle concept," says David Margolis, director of group sales at Margaritaville Hollywood Beach Resort (room pictured above). "It promotes fun and escapism, as opposed to the mundane of every day." One obvious—but key—way this concept is delivered is through live music performances. Not Jimmy tribute groups, either. "We have live music every night of the week, at several different locations and with no cover. It could be country, reggae, you name it," Margolis says. "I always urge groups to take advantage of it."
Authenticity, Authenticity, Authenticity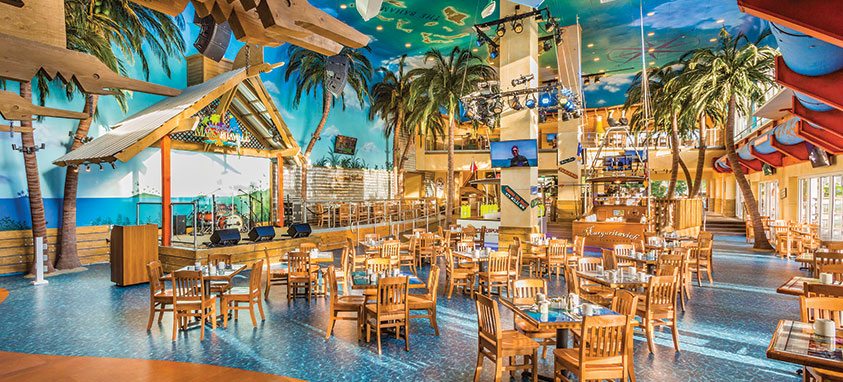 Jimmy's mellow, come-what-may persona feels real—because, by all accounts, it is. (Thus the title of last year's biography, written by culture journalist Ryan White: Jimmy Buffett: A Good Life All the Way.) His evident genuineness is the linchpin of a Margaritaville culture that is not unlike, say, Southwest Airlines', where employees are urged to be themselves and empowered to put smiles on the faces of customers.
Margolis describes Jimmy as "a wow of a personality, a jovial gentleman whose gears are always turning." Nobody wants an experience, including a meeting, that feels as if it was created by a focus group, and Margolis encourages meeting planners to piggyback onto Margaritaville's feel-good vibe to make meetings more fun and memorable.
Everyone Wants to Party
Jimmy has his fingers in too many pies for anyone to believe he only likes to chill. Yet he also has at least one finger on the pulse of this crazed, warp-speed world we live in. He knows that, deep down, everyone wants to have fun. And having an icy margarita or a cold beer in your hand at the same time probably doesn't hurt.
For groups, that translates to "breaking the cookie-cutter mold," Margolis says, illustrating what he means by recounting a recent gathering of medical-device-maker Medtronic. As a team-building activity, Medtronic attendees were challenged to a cardboard boat regatta. Given sheets of cardboard, 90 yards of duct tape and knives, each team had to "build" and float a boat within a time limit. Similarly, a group from Ultimate Software, which specializes in human resources products, was tasked with creating sand sculptures of the company logo on the beach. Another popular activity—no surprise—is a margarita mixology competition.
Learn, But Don't Look Back
Not all of Jimmy's business ventures have been wildly successful. An early hotel in Biloxi, Mississippi, failed. A beer called Lone Palm Lager, named after one of Jimmy's songs, did not fly off the shelves until it was renamed LandShark Lager. ("We only found out later, after we did consumer research to figure out what was going on," Cohlan recounted, "that the name bummed people out because it made them think about drinking alone.") A stake in a spin-off group of restaurants called Cheeseburger in Paradise was sold after disappointing sales. Still, subsequent successes speak for themselves.
In the end, the spectacular journey of Jimmy Buffett is rooted in storytelling. His songs and everything that has followed are all part of a narrative line that has increasing relevance with each passing year. It goes something like this: The world's moving too fast, so slow down. Enjoy. Don't be afraid of looking a little silly or having a little fun. Find that lost shaker of salt.
Or, as a woman named Carol Wayland from St. Catherines, Ontario, Canada, told a reporter when asked why she and her husband, Butch, love visiting Margaritavilles, "We're not Parrot Heads. We're just normal, everyday people who happen to be residents of the Margaritaville state of mind."
10 More Things You Don't Know About Jimmy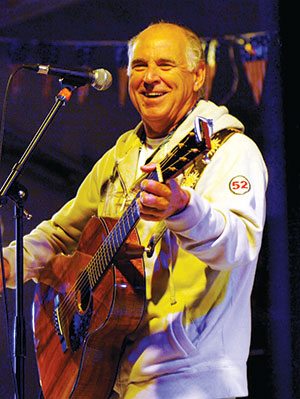 1. He was born on Christmas Day, 1946, in Pascagoula, Mississippi, which makes him 71 years young.
2. He began his musical career in Nashville, as a country artist.
3. He one of only eight authors to be No. 1 on the New York Times Bestsellers List in both fiction and nonfiction (in the company of Hemingway, Steinbeck and Dr. Seuss).
4. His musical comedy, Escape to Margaritaville, opens on Broadway March 15.
5. His LandShark Lager was winner of a North American Brewers Association gold medal in 2015.
6. He co-founded (with former Florida Gov. Bob Graham) Save the Manatee Club, the world's leading manatee protection organization.
7. Not only does he like to sail; he is also an avid pilot. In 1996, Jamaican police shot at his airplane, mistakenly believing it was smuggling marijuana.
8. One of his latest ventures is luxury retirement villages. The first, Latitude Margaritaville, will open in Daytona Beach, Florida, this year, with more than 7,000 homes; the second, in Hilton Head, South Carolina, will feature more than 3,000 homes.
9. He has a long history of performing free for a good cause. In 2004, he sang at a hurricane relief concert in Orlando to help homeless hit by four major hurricanes that year in Florida, Alabama and the Caribbean. In 2010, he put on a free concert in Gulf Shores, Alabama, to help draw people back to those beaches after the BP oil spill in the Gulf. Only last month, he got country stars Kenny Chesney and Toby Keith to join him for Trying to Reason, a Florida hurricane relief benefit concert in Tallahassee. (The reference is to Jimmy's 1974 song "Trying to Reason with Hurricane Season.")
10. He made a cameo appearance in the 2015 movie Jurassic World, where he is seen holding a margarita in each hand as dinosaurs are loosed upon the park. Some things never change.