This is how it happens: A meeting planner and maybe her colleagues are enamored with the latest Top Chef, or her group is dominated by serious foodies or she needs an event with a touch of fame.
So when it's time to meet in Las Vegas, dining at one or more of the restaurants run by celebrity chefs is a no-brainer. These famous names have become a powerful draw for visitors and groups alike—and a white-hot business for the city and surrounding area.
"Gaming revenue is on the decline, but food and beverage, and entertainment, have helped make up the deficit," says Gregg Herning, vice president of sales for MGM Grand Hotel & Casino, which has multiple celebrity chefs on property. "As far as restaurants go, Las Vegas is a foodie's mecca."
Because of the density of rock star-run restaurants, in fact, visitors enjoy a big advantage over other cities. "Las Vegas is easy—you don't have to worry about restaurant reservations months in advance because you've got so many of them," says Chris Meyer, vice president of global business sales at the Las Vegas Convention and Visitors Authority (LVCVA).
And whether one wants a Guy Fieri or Guy Savoy, the options are endless: It seems like every master worth his mirepoix (yes, most celeb chefs are male) has opened an eatery in the city.
Top toques known from cooking and restaurant reality shows have a big presence now, including Tom Colicchio, Scott Conant and Gordon Ramsay. But chefs with stellar reputations that extend beyond pop culture are also well-represented, such as Joel Robuchon, Pierre Gagnaire and Nobu Matsuhisa.
With so many culinary artists to choose from, it's not surprising that Las Vegas is an easy repeat destination for many meetings.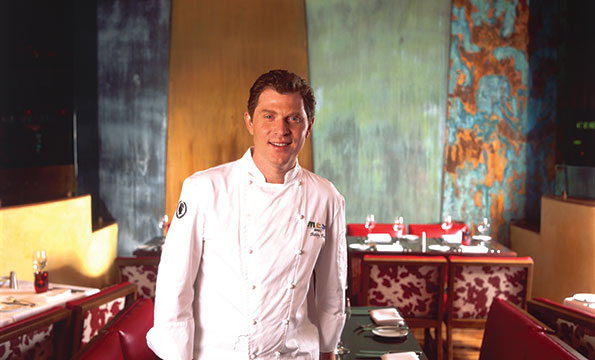 Bobby Flay, Mesa Grill, Caesars Palace
Meeting & Eating
Meetings and conventions are Las Vegas' lifeblood, and it hasn't escaped major hotel properties' attention that attendees like good food and recognizable chefs.
"Surveys from convention planners still rank the food experience as very high on the scale," Herning says. "Having such an impressive variety of restaurant choices, many with celebrity chef's names attached, is a valuable competitive feature and point of differentiation. This is especially so since the popularity of the celebrity chefs on television."
Dining at these restaurants, Herning says, "brings yet another dimension to our guests' Las Vegas experience."
Herning notes that MGM Grand's celebrity chefs rarely cook for groups. "However, we offer groups a spectacular themed dinner where each restaurant is represented in a 'dine around,'" he says. "This allows a convention guest whose meeting schedule may not allow the chance to sample all of the exciting restaurants on property to experience a taste of MGM Grand."
Don Ross, vice president of catering, conventions and events for Las Vegas, Caesars Entertainment, says Caesars' properties similarly offer groups high-end, restaurant-quality dining that is a far cry from the rubber-chicken dinners served at banquets in the past. "We set up menus and service similar to a restaurant—menus that taste of Caesars, with the spirit of the chefs [such as] Nobu and Bobby Flay," he says.
Ross adds that current dining trends for groups have "moved away from plated meals unless you're doing a gala sit-down, four-course meal. Instead, we offer food stations, chefs in the room, small plates."
These plates, Ross says, are "mini entree portions." While they may have a full complement of various foods as you'd be served in a restaurant, they're easy to grab and hold. "We know a lot of customers are coming to network, meet one another and do business," he says.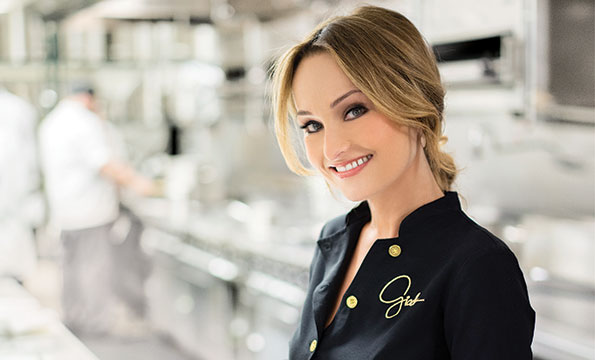 Giada De Laurentiis, Giada, The Cromwell
Are Big Names Necessary?
The definition of a celebrity chef can vary—is he or she a household name because of TV exposure or brand ubiquity, such as Giada De Laurentiis or Emeril Lagasse? Should those associated with a resort's overall excellence be included, even if they're not that well-known? (For example, Wynn Las Vegas and Encore have more Forbes Travel Guide Four Star award-winning restaurants than any other resorts in North America, but their chefs are not necessarily recognizable names.)
And not all resorts and hotels partake in the celebrity chef phenomenon. The New Tropicana Las Vegas, for example, has the slogan "Food is Our Celebrity," and chooses to focus on food rather than a famous name who cooks it.
"Unfortunately, most celebrity chefs are not in the day-to-day operations and have little to do with execution," says Bill Gragg, vice president of food and beverage for The New Tropicana. "In some ways it seems like false advertisement, given that they are contracted to make appearances only three to four times per year."
The Tropicana, Gragg says, is proud that its Trip Advisor reviews are often raves about the food. The property has three restaurants and a "South Beach" food court. "We select the best sustainable ingredients that are suitable for the season, which makes a huge impact on flavor," Gragg says. "We do pay attention to trends and introduce them as features to find out if they make sense with our clientele."
Gragg also points out that visitors are attracted to Tropicana's prime location, award-winning shows and casino. The Tropicana recently underwent a $200 million renovation, and added state-of-the-art Wi-Fi to its 100,000 sq. ft. of convention space, which makes it very attractive to groups.
Other properties simply know their customers. The Westin Las Vegas Hotel, Casino & Spa is a block from The Strip and boasts freshly renovated public areas and meeting space; its dining options are set up for 24-hour activity and include a restaurant, bar and an extensive room service menu. The architecturally unique M Resort Spa Casino, at the south end of Las Vegas Boulevard, is known for its swimming pool and scenic views, and has a variety of restaurants sans big-name chefs.
In keeping with its storybook castle theme, Excalibur Hotel & Casino caters to those who are comfortable with the tried-and-true with Steakhouse at Camelot, Johnny Rockets, Buca di Beppo, etc. Westgate Las Vegas Resort and Casino (formerly the Hilton), where Elvis Presley performed a record-breaking 837 consecutive sold-out shows, has a Benihana, steakhouse, sushi restaurant, noodle bar and buffet. Tuscany Suites & Casino is another property with a variety of restaurants and cuisines, and nary a celebrity chef in sight.
Do the Math
A number of Las Vegas celebrity chefs are not content with just one restaurant, or sometimes even two. Wolfgang Puck has a total of six at various resorts, ranging from venerable Spago at The Forum Shops at Caesars to the new Wolfgang Puck Bar & Grill at MGM Grand (he has another bar and grill in downtown Summerlin, outside of Vegas proper). Mario Batali, Emeril Lagasse and Michael Mina have four each. Many other chefs have at least two.
Why would chefs want to grow their empires with restaurants within a block or two of each other?
"They are so creative, and many don't want to be labeled," says Caesars' Ross. "A chef [such as Puck] can do California cuisine, Italian, a steakhouse. They have great ideas to go into different buildings and do different concepts. Chefs have become restaurateurs."
Longtime Vegas chef Andre Rochat thinks chefs who successfully run multiple restaurants in the city understand its unique "neighborhoods."
"So many of the hotels function as a city or neighborhood all on their own," Rochat says. "There are, in many cases, 4,000-plus hotel rooms [at a single property], which could mean that there are 8,000 guests at any given time. If you are in town for three days and have the best spa in your hotel, 15 to 20 full-service restaurants, multiple shows, multiple nightlife options, gaming and shopping all under one roof, you really have no reason to leave.
"A restaurant operator in one of those locations can maintain [itself] just with the transient hotel customer in the resort. You can have multiple restaurants at different resorts as they are all different neighborhoods, as long as you appeal to the market within the hotel."
A few chefs, such as Scott Conant and Jose Andres at The Cosmopolitan of Las Vegas, have multiple restaurants at the same property. Much lauded Joel Robuchon, named Chef of the Century by the respected Gault Millau restaurant guide, has his two restaurants next door to each other at MGM Grand. Joel Robuchon Restaurant, with three Michelin stars, serves high-end French cuisine. Adjacent L'Atelier is much more casual, with a counter and open kitchen.
"It's very hip, and those who want can watch their meal be prepared," says MGM Grand's Herning. "You can watch as salads are put together with tweezers; you can converse with the chefs."
Hungry for More
Restaurants associated with big names are certainly not inexpensive. But their popularity means people are willing to pay to eat well and be able to say they've dined at Masa's or Julian Serrano's.
"The dining experience today comes with a price, but seeing the numbers that we see, our guests are telling us that the experience is worth the price," Herning says.
And the chefs love the exposure. Shawn McClain, who had four restaurants in the Chicago area before opening Sage and Five50 at Aria Resort & Casino, says his Las Vegas restaurants have helped expand his brand beyond the Midwest. "It has allowed me to showcase my food on a bigger stage and to a worldwide audience," McClain says.
It's a sure bet that we'll see more celebrity chefs in the city in the future. The next one may come from a TV show, but there are others as well.
"We actually go around world seeking chefs, and not just who you see on TV," says LVCVA's Chris Meyer. "Our hotel partners have a deliberate process regarding who they're looking for to complement the ambience of their particular property. So we're constantly seeking new chefs in celebrity and acclaim."
Meet and eat in Las Vegas? It's a win-win for all.
---
Celebrity Chef Cook-Off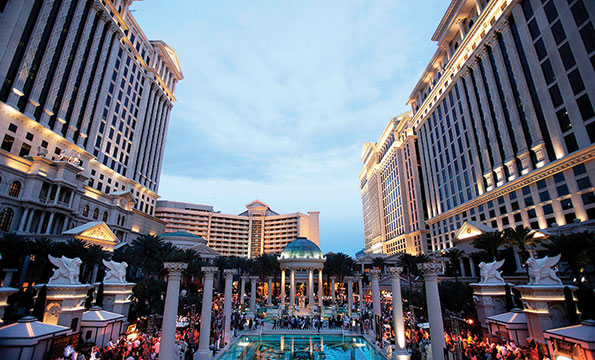 The ninth annual Vegas Uncork'd by Bon Appetit, a culinary and wine festival involving some of the best chefs in the world (who happen to have restaurants in the city), takes place April 23–26. The action unfolds at Aria Resort & Casino, Bellagio, Caesars Palace and MGM Grand. New events include "In Hell's Kitchen with Gordon Ramsay," where guests are divided into teams for the full-on Ramsay experience as he fires up one of his signature dishes. Other headlining chefs are Jean-Georges Vongerichten, Francois Payard, Masa Takayama, Michael Mina and Giada De Laurentiis. vegasuncorked.com
---
Vegas' First Gourmet Chef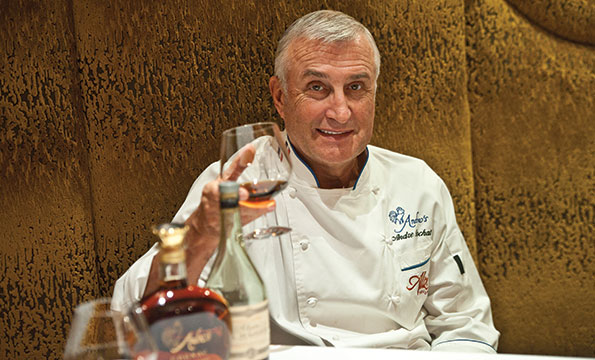 Vegas' First Gourmet Chef
In 1980, French-born Andre Rochat bought a 1930s-era house in downtown Las Vegas—then hardly known for fine dining—and opened his gourmet, eponymous restaurant. Andre's became hugely popular with locals and visitors alike. In 1997, Rochat opened Andre's Restaurant & Lounge at Monte Carlo Resort and Casino, and in 2001, he opened Alize at the Palms Casino Resort. In 2008 and 2009, both Alize and Andre's were honored with Michelin stars.
"Trends come and go, but excellent food and exceptional service is always what people are looking for," Rochat says.
Nevertheless, he has made changes to accommodate an evolving customer base. "At Andre's, we added a la carte items. We found that many times, guests did not make dinner reservations in advance, or have something else planned in their night, so they decide where to dine at the very last minute and do not want to spend a very long time dining. These changes gave us the option to appeal to everyone. We also expanded the bar menu…[appealing] to yet another customer base."
Rochat estimates that 40 percent of Andre's business is groups, for both buyouts and events in the various spaces. "We provide the same quality of food and service for our group as we do for our regular diners," Rochat says. "That is one thing that we always focus on—the quality of the experience. Whether you are a group of 40 or a party of two, you should have a very similar experience."
---
Outside Las Vegas
The dining scene is booming outside of Las Vegas. From new hot spots in Summerlin, on the west side of the city, to haute eats in Henderson, the region is seeing some great restaurants and a few famous faces.
Las Vegas Convention and Visitors Authority's Chris Meyer believes locals are driving the action. "There are 2.4 million people in the greater valley," he says. "There are lots of things we like to enjoy. These new eateries are designed for locals." Meyer says even visitors are venturing beyond Las Vegas to dine, "looking for local experience."
In addition to Wolfgang Puck's Bar & Grill, Summerlin is home to acclaimed chef Gustav Mauler, a favorite on TV talk shows, who holds court at Spiedini Ristorante at JW Marriott Las Vegas Resort & Spa. In Henderson, David Clawson opened his eponymous restaurant last year to great reviews; Carla Pellegrino, who competed on "Top Chef: Seattle," runs Bratalian Neapolitan Cantina.
And visitors love Marssa (pictured), a fusion restaurant headed by chef Kazuki Tozawa at The Westin Lake Las Vegas Hotel, Casino & Spa. "For our guests, the quality of experience and location far surpasses the celebrity status of the chef," says Bob Reppin, food and beverage director of The Westin.
---
Name-Dropping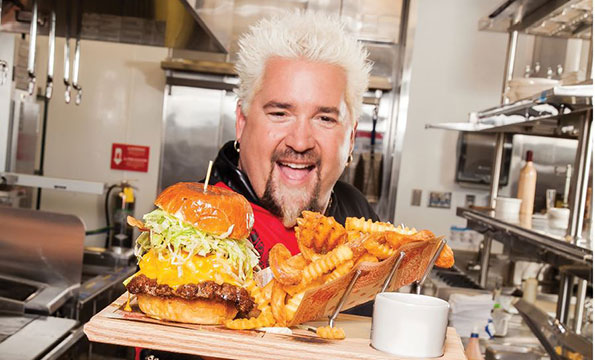 Guy Fieri's Vegas Kitchen & Bar, Linq Hotel & Casino
Just a few of the famous names with restaurants in the Las Vegas area:*
Jose Andres

(Jaleo & China Poblano, The Cosmopolitan)

Akira Back

(Yellowtail Japanese Restaurant & Lounge, Bellagio; Kumi Japanese + Bar Akira Back, Mandalay Bay)

Paul Bartolotta

(Bartolotta, Wynn)

Mario Batali

(four restaurants, The Venetian)

Ho Chee Boon

(Hakkasan, MGM Grand)

Daniel Boulud

(db Brasserie, The Venetian)

Scott Conant

(Scarpetta & D.O.C.G., The Cosmopolitan)

Alain Ducasse

(Mix, The Delano Las Vegas)

Joseph Elevado

(Andrea's, Wynn)

Todd English

(Olives, Bellagio)

Pierre Gagnaire

(Twist, Mandarin Oriental)

Carlos Guia

(The Country Club, Wynn)

Devin Hashimoto

(Mizumi, Wynn)

Stephen Hopkraft

(STK, The Cosmopolitan)

Tony Hu

(Lao Sze Chuan, Palms Casino)

Hubert Keller

(Burger Bar & Fleur, Mandalay Bay)

Thomas Keller

(Bouchon, The Venetian)

Emeril Lagasse

(one restaurant, MGM Grand; three restaurants, The Venetian)

Mark LoRusso

(Botero, Wynn)

Nobu Matsuhisa

(Nobu, Nobu Hotel at Caesars; Nobu, Hard Rock Hotel & Casino)

Gustav Mauler

(Spiedini, JW Marriott)

Shawn McClain

(Sage & Five50, Aria)

Matthias Merges

(Yusho, Monte Carlo)

Mary Sue Milliken & Sue Feniger

(Border Grill, Mandalay Bay)

Michael Mina

(four restaurants, Las Vegas)

Rick Moonen

(RM Seafood & Rx Boiler Room, Mandalay Bay)

Masaharu Morimoto

(Morimoto, Mirage)

Charlie Palmer

(Aureole & Charlie Palmer Steak, Mandalay Bay)

Wolfgang Puck

(six restaurants in Las Vegas; one in Summerlin)

Michel Richard

(Central, Caesars)

Joel Rubuchon

(Joel Robuchon & L'Atelier, MGM Grand)

Theo Schoenegger

(Sinatra, Wynn)

Julian Serrano

(Julian Serrano, Aria; Picasso, Bellagio)

Kerry Simon

(Simon, Palms Casino Resort)

Masa Takayama

(Bar Masa, Aria)

Jean-Georges Vongerichten

(Steakhouse,

Aria)

David Walzog

(Lakeside Seafood & SW Steakhouse, Wynn)

Ming Yu

(Wing Lei, Wynn)
* Excludes chefs whose photos appear in this story