Guy Kawasaki knows that some meeting planners are flabbergasted to find out he charges upwards of $40,000 for a keynote speech in the United States (even more abroad). "What I tell them is, 'If that's shocking, here's what I'll do. If I don't get a standing O, then it's free. If I do, it's double,'" he says.
No one has taken him up on the offer, but with his calendar averaging one or more speeches a week, it's clear many believe he can deliver enlightening and targeted messages on leadership, innovation and more to a wide range of audiences.
In fact, he's been engaging audiences for years, with remarkable success. Kawasaki made a name for himself as chief evangelist for the Macintosh at Apple in the '80s, and did another stint at Apple in the '90s. He has founded, run and advised tech and investment/venture capital companies, and become a prolific author and speaker. Currently, he's chief evangelist for Canva, an online design service "that planners should use!" he says.
Kawasaki also has been a pioneer of business blogging, posting and tweeting, and is ubiquitous on pretty much every major social media platform. He has more than 274,000 likes on Facebook, 1.44 million followers on Twitter, 1.5 million followers on LinkedIn and 6.8 million followers on Google+.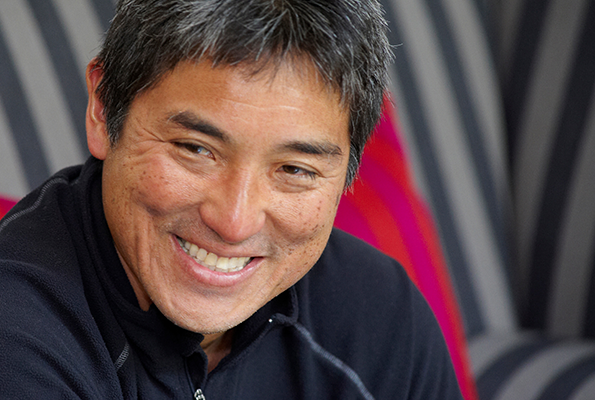 His dominance in the digital universe doesn't cloud his view of face-to-face meetings.
"You can't take a selfie if you're not face to face," he jokes. Seriously, "virtual hangouts, Skype and webinars are great, but face-to-face is better. If live presentation is a 10, the best I can do virtually is a 7 or 8. That's not acceptable to me."
Watching videos of Kawasaki speaking to various groups on various topics, and talking by phone with him from his home in Atherton, California, it's striking how nice, even sweet, this consummate marketer is. It's a reflection, perhaps, of his island upbringing in Hawaii, but also of his ability to captivate and influence audiences. Indeed, he has written a book on just this subject: Enchantment: The Art of Changing Hearts, Minds, and Actions. "Smile at people," he writes in the book. "What does it cost to smile? Nothing. What does it cost not to smile? Everything, if it prevents you from connecting with people."
Yet in his latest book, The Art of Social Media: Power Tips for Power Users, Kawasaki says bluntly, "If you're not pissing people off on social media, you're not using it right."
"Social media is marketing," he explains. "If you're using marketing, not everyone is going to like it, and that's OK. I repeat my tweets four times a day—not everyone who is interested is in the same time zone or has the same reading habits. I tweet 25 times a day. Not everybody likes that. But I can get four times the interaction with people."
Kawasaki is adamant about hitting people over the head, figuratively speaking, with social media before, during and after meetings. "Use it before to drive butts in seats," he says. "Optimize the meeting by blasting it out with social media. I know that the organization has spent millions of dollars getting 2,000 people to Madrid or Hong Kong. They've hired Katy Perry to sing. But they don't have the budget to bring in a social media person to provide coverage of the meeting! I don't understand that."
He's equally direct about how planners should plan for optimal performance by a keynote speaker:
• "The most important thing for me is a packed room. I would rather have a room with capacity for 1,000, and 999 people there than [a room for] 2,000 with only 1,500 people. I want butts in seats, I want it to look crowded. Make it standing room only, make it classroom-style if you have to."
• "Don't try to milk the speaker for every possible event before the keynote—VIP dinner, VIP reception, five press interviews—and then wonder why the speaker has no energy during their speech. Milk me all you want after I speak."
(As a side note, Kawasaki has a hard time at social functions. He has Meniere's disease, and copes with vertigo and hearing loss. "Cocktails and large dinners are difficult because I cannot hear," he says.)
• "If you want a keynote speaker to give a first-class speech, fly them first class. [There's the] pure comfort factor, but also many times you have a tight connection, and if you're in row one or 50, it makes a difference in making the plane.
"It's not 'if you treat me well, I'll come back,'" he says. "For the money I'm paid, I better deliver. I always keep in mind that this is the first time some people have seen me—it's the only chance I get to make a first impression. There are no 'off' days for me."
Days off are spent with family. He is married to Beth; they have four children, including two in college, one in middle school and one in elementary school. His priority in life is "to raise a great family."
"Almost everything I do is a means to an end, and that end is to provide a life for them," he says.
"Almost" is the operative word: Kawasaki is a hockey nut, and plays pickup games whenever and as much as he can. He admits he is not good at it.
"True love is if you love something you're not good at," he says. "It is the only thing I've found [during which] I am truly not thinking about anything else. It's a beautiful sport, with high caloric output, lots of strategy, mathematics and physics."
Kawasaki makes a similar emotional connection to his work as an evangelist, noting in a recent Reddit Q&A, "I love to evangelize stuff that I love. I need to believe in my heart that I have the other person's best interests at heart. When I tell people to use Macintosh, I believe it's the best computer for them. When I tell people to use Canva, it's the best graphic design tool for them."
It's this heartfelt connection that makes the mission in his work not just to communicate, but to empower. "When I die," he says, "I want people to say 'Guy empowered people with his writing, speaking and advising.'"
---
Guy Kawasaki
Born and raised: Honolulu; age: 60
Resume: Chief evangelist, Canva; executive fellow, Haas School of Business, University of California, Berkeley; author, speaker, entrepreneur. Formerly adviser to Motorola/Google; founder of several tech and investment companies; and chief evangelist of Apple.
Education: B.A., Stanford University; MBA, University of California, Los Angeles
From The Art of Social Media: "Would you be willing to risk complaints about repeated tweets and the possibility that people might unfollow your account to achieve 5.8 times more clicks? I would—and do—every day of the year….
"If you're not pissing someone off on social media, you're not using it aggressively enough."
---
How to Socialize Events
by Guy Kawasaki and Peg Fitzpatrick
In 2014, Peg Fitzpatrick and I staffed the Motorola launch events for the Moto X phone in Mexico, Argentina, Brazil, Peru, Colombia and Chile. I was the keynote speaker; she was the social-media ninja. On this road show, we learned how to rock an event with social media.
Pick a Short, Evergreen Hashtag
We could have picked hashtags such as #MotoX, Brasil2013, #MotoXMexico2013 or #MotoXPeru
2013, but they would have lasted only three days, best case. Instead, we picked a short, generic, evergreen hashtag: #MotoX.
The goal is to choose a hashtag that's trending and constantly in people's faces, whether it refers to an event in Brazil or to new television commercials.
Integrate the Hashtag Into Everything
Use the hashtag from the moment you start promoting the event. That means it's on your website, in all your advertising and in your email signature. The printed program for the event should have the hashtag on the cover. The introductory slides should publicize it in 60-point type, and every subsequent slide should have it in the footer.
Ask Everyone to Use It
It's not enough to tell people the hashtag; you also need to ask them to use it. The conference "voice of God" should ask people to share posts. The event host should do this, too.
Dedicate a Person
To truly socialize an event, at least one person should focus exclusively on social-media activities. This person will have plenty to do:
Before: Share promotional posts to drive awareness and attendance.
During: Tweet what's happening and take pictures of speakers and guests. Upload these pictures during breaks and reshare other people's posts.
After: Share articles about the event, as well as more pictures and videos. Encourage attendees to reshare their pictures.
Katie Clark, a market researcher, suggests hiring a social-media personality to fill this role if you don't have internal expertise. This person will know what to do, amplify exposure with his or her own accounts and call in favors from buddies. This is the role Peg filled for Motorola in South America.
Stream Live Coverage
Think of how much you're spending to make an event happen. Why wouldn't you broadcast live video coverage? Are you afraid that too many people will place orders? Get real. If you're announcing a product in Bogota, you want a blogger in Moscow to write about it, too.
Provide Real-Time Updates
If you're not live streaming video, have your social-media person provide blow-by-blow updates. Twitter, Instagram or your blog are probably best for this.
Real-time updates aren't as good as live streaming, but they're cheaper and easier. They're also better for people who cannot watch videos at work because of company policies or low bandwidth.
Display the Twitter Stream
Use services that display the tweets containing your hashtag and beam them onto a screen at the conference. This encourages more interaction and more use of your hashtag. For some, seeing one of their tweets scroll by is like seeing their picture on the display in Times Square. Twubs and Tchat are two services that do this, and hide retweets in order to eliminate repetition.
Provide Wireless Access
Let me get this straight: You're spending thousands of dollars to put on the event. You're pounding your hashtag into everyone and asking them to use it. But you're restricting wireless access. Have you lost your mind?
When you're doing site selection, take a computer or phone to run Speedtest at each facility. Tell the salesperson that you anticipate several hundred people using the network at once, so you'll take your business elsewhere if the facility can't provide good Internet access. If all else fails, bring in mobile hotspots or turn some smartphones into tethering hotspots. There is no excuse for lousy wireless access.
Don't password-protect the network. A password-protected network is the enemy of social-media buzz. If you must password-protect the network, publish the password everywhere—which, of course, means security is an illusion, so you might as well not use a password!
Provide a Place to Take Pictures
We set up an area for taking photos at the Moto X events. All that was necessary was good lighting and a backdrop with "Moto X" printed all over it. People saw the backdrop and thought it was "15-minutes of fame" time: Let's pretend we're Hollywood stars.
Take and Share Candid Pictures
Hire a professional photographer to take candid pictures at your event. He or she will cost around $1,000 per day, but this is less than you would spend on souvenir USB drives featuring your logo that people don't want.
At the Moto X events, I posed with anyone who asked (and asked anyone who didn't ask me) in front of the backdrop. After each event, we sent an email to guests telling them where they could find these photos, and we encouraged them to download the pictures and share them with the Moto X hashtag.
Put Your Execs to Work
At many events, after company executives speak to the gathering, they rush off to a limited-access press conference or individual interviews. They might make a short public appearance later, during which they're surrounded by their "people" to protect them from who-knows-what. This is a big mistake.
Your executives should go beyond merely being willing to pose for photos with attendees and instead proactively ask people to have a photo taken with them. No one will refuse, and roughly 100 percent of those photos will be shared.
Cover the Earth
Once you have pictures and video, share them on every platform. We shared photos of the Moto X events on Google+, Twitter, Facebook and Instagram for Motorola. The goal is to get everyone who was at the event to see the pictures and videos and reshare them. With a little bit of social-media effort and magic, you can make your event look like it was the place to be.
The Art of Social Media: Power Tips for Power Users, in agreement with Portfolio, an imprint of Penguin Publishing Group, Penguin Random House LLC. Copyright Guy Kawasaki and Peg Fitzpatrick, 2014.