Joe Terzi is President and CEO of San Diego Tourism Authority

Last year, San Diego was featured in National Geographic Channel's documentary series, "World Smart Cities." What makes San Diego a smart city?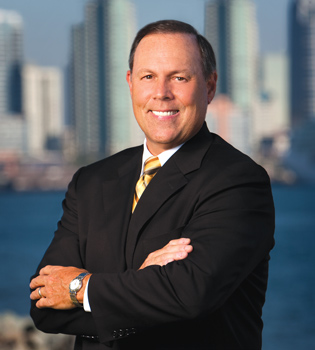 San Diego has always been a great destination for leisure and business. The National Geographic documentary focused on the fact that we are a city with both beauty and brains! A classic beach town with 70 miles of spectacular coastline, the best weather in the country and a wealth of attractions are only part of the story. San Diego has emerged as a center of excellence and innovation, leading the way with advances in health care, technology and cyber security, just to name a few.
What sets San Diego apart from other major meeting cities?
San Diego is one of the best destinations for both single-property and major citywide meetings. We have a diversity of product—with unique neighborhoods, a vibrant and compact waterfront downtown, an international airport in the center of the city and a world-class convention center.
There are more than 12,000 available rooms within walking distance of San Diego Convention Center, including three mega-hotels—each with 1,500 rooms and just steps from the entrance to the center. The Gaslamp Quarter, a 16-block entertainment district, allows meeting attendees to step out of the convention center or their hotels and experience hundreds of restaurants, bars and entertainment opportunities. Petco Park, home of the San Diego Padres, is located one block away, in San Diego's East Village.
Which groups seem to like San Diego the most for meetings and conventions?
Key to our success is maintaining our relationship with the meetings industry and high-end medical association business. Our convention center hosts approximately 70 conventions annually. Our diversity of product allows us the opportunity to find a fit for everything from the highest-end incentive groups to groups working with very tight budgets. We are committed to supporting all group needs—from small board of directors meetings to 30,000-peak-room-night mega citywide conventions, like our annual Comic-Con convention.
How important are international travelers to San Diego, and what initiatives have been put in place to attract visitors from other countries?
We have focused on growing nonstop international air service to San Diego, securing daily nonstop service from London and Tokyo in the past several years. We expect to add two to three additional nonstop international flights in 2017.
We have travel and tourism representation in Great Britain, Germany, Japan and South Korea, and added China and Australia in 2016. We also cover Mexico and Canada directly from our office in San Diego.
We recognize the huge increase in international visitation to the U.S., driven by the great work of the U.S. Travel Association, Brand USA and Visit California. They have helped position California as the No. 1 state for international travel. We are spending about $3 million to increase recognition of San Diego as a must-see place to visit.
Can you help coordinate events that include crossing the border into Mexico?
The Cross Border Express (CBX) Airport Terminal opened in December 2015 and has surpassed all projections for use, departing from and arriving to Tijuana International Airport. We are working on partnerships with the federal government in Mexico City, the state of Baja California, key air carriers and the hospitality community to develop a joint marketing campaign with the working title, "Two Nation Vacation." We see the CBX as a fantastic new opportunity to grow tourism on both sides of the border.
Three years ago, San Diego Tourism Authority's funding was significantly cut. Describe changes that were implemented to help the organization move forward.
Unfortunately, we had a significant reduction in funding, caused by a dispute with our former mayor. We were forced to reduce staff by 50 percent and eliminate all advertising and marketing expenses. The good news is that we now have a full staff of exceptionally talented and committed associates. Our budget for 2017 will be about $38 million, and we expect to continue to grow the positive impact of tourism in San Diego for many years to come. We are back, and I believe, better than ever!
What's your favorite San Diego attraction, landmark or experience to show family and friends?
I love to take people to the beach at the Hotel del Coronado. The Del is a landmark in San Diego, with more than 100 years of history sitting on one of the most beautiful beaches anywhere in the United States. There is also La Jolla (the jewel of San Diego), the world-famous San Diego Zoo, the great Cali-Baja cuisine, more than 100 craft breweries and SeaWorld, just to name a few attractions.
Describe San Diego in five words.
Happy. Friendly. Authentic. Healthy. Inspiring.
---
Joe Terzi
Hometown: New York City
Education: B.S. in marketing, Rider University (Lawrence Township, New Jersey)
Career: Began career with ITT Sheraton Corporation (1972); later worked for Starwood Hotels & Resorts (1998-2009) and San Diego Tourism Authority (2009-present)