St. Regis Punta Mita Resort, Mexico
The resurgence of incentive travel brings with it several new trends. The latest Pulse Survey from Incentive Research Foundation (IRF) indicates that planners are investing in more robust experiences. Companies are also catering to travelers' personal tastes, from welcome gifts to cultural immersion.
According to the IRF survey, 67 percent of respondents said that the economy is having a positive impact on incentive travel. Budgets are up, with 50 percent of planners saying their incentive allotments are increasing. Spend is also on the rise, as 30 percent of corporate buyers indicate that they plan to shell out more than $4,000 per person.
The numbers are good, but the experiences are even better. Trips are shifting from traditional bucket list types to personalized and enriching, punctuated by exotic destinations and a slew of new and unique adventures.
Local Flavors
Many travelers say they love to seek authentic experiences in the local culture when they visit a new destination—then join overly guided tours of slightly under-the-radar attractions with dozens of other visitors. One of the biggest trends in incentive travel, however, is to engage with locals in ways that may not be possible when traveling purely as a tourist.
"Something that moves beyond ziplines and catamarans to something that's authentic to that destination," says Mike May, president of Spear One, a marketing program management company that specializes in incentive travel.
Butterfield & Robinson (B&R), an active travel company that arranges walking and biking trips in exotic locations, got in on this trend early. "Our travelers are part of our B&R family, and with that comes a keen and sincere interest in sharing the very best the world has to offer," says Karen Dockrill, B&R's director of business development.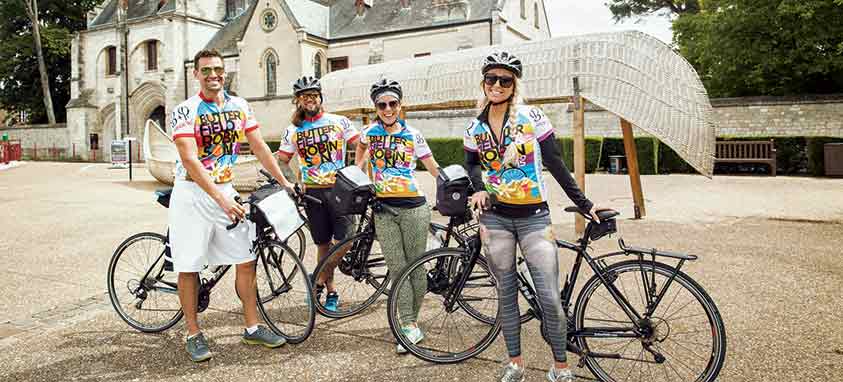 Bike Excursion in France
This usually translates to the opportunity for meaningful interactions and experiences with locals, including making pasta with local families in Italy and even grander experiences. "We can arrange for an exclusive wine tasting in the private caves of local vintners who are not open to the public," Dockrill says. "We have relationships with legendary characters like Anselme Selosse, known in the world of viticulture as the pioneer of first using oak barrels to magnify his wines. Our private champagne tasting with him is by personal request, and to have the opportunity to visit with him through B&R is a legendary experience."
Sometimes the experiences dive deep into a destination's values. "In Thailand, we include an element of culture unlike anything else a visitor can experience," Dockrill says. "We offer our travelers an opportunity to be blessed by a monk in a traditional spiritual cleansing ceremony whereby gallons of water are poured over your head. As you would expect, it is both spiritually profound and memorable."
Where To?
The old saying goes that life is all about the journey, but when it comes to incentive travel, it's often more about the destination. International destinations are once again on the rise for incentive trips, especially locations rife with sun and sand.
The Caribbean
The sparkling emerald water of the Caribbean Sea attracts 47 percent of planners and participants, according to a survey by Spear One. The Dominican Republic's 250 miles of pristine beach is a perennial favorite, but other sunny spots have started to share the spotlight.
Luxury hotels such as Grand Lucayan in the Bahamas put groups and individual participants in a paradisiacal setting, with lush tropical landscaping opening up to white-sand shores inviting so much relaxation they may not want to leave.
The Westin Grand Cayman Seven Mile Beach Resort & Spa delivers for aquatic adventurers, with Jet Ski fishing and scuba expeditions to Grand Cayman's famous undersea wall. Oh, and they have a submarine for participants who want to see the underwater universe without getting wet.
Mexico & Central America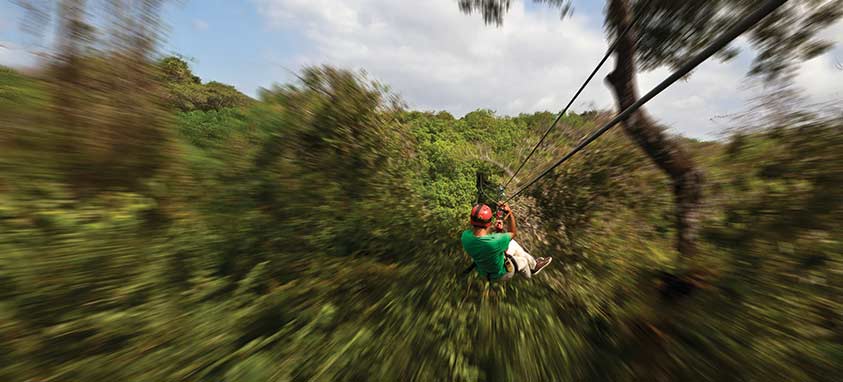 Ziplining at Melia Panama Canal
An ongoing investment to improve infrastructure (to the tune of $13.6 billion), relatively short flights and potential for exotic adventures have put Panama—specifically Panama City—on the map as a destination for incentive travelers. The sprawling orange structure of Melia Panama Canal makes a striking figure on the shore of Lake Gatun—with lush tropical rainforest surrounding it on all other sides. Resort-led day and nighttime safari tours in the rainforest are a must for nature lovers. And, of course, the Gatun Locks of the world-famous Panama Canal sit just 20 minutes away.
Mexican resort cities remain as popular as ever, thanks to the country's wealth of all-inclusive beach resorts. Cancun's white- and gold-hued beaches rival those of Caribbean islands, especially the private strip of sand at Grand Fiesta Americana Coral Beach Cancun. Cocktail in hand by the cascading pool is a great way to lounge at the luxury property. On Mexico's Pacific Coast, The Westin Resort & Spa Los Cabos' art deco archtecture sits nestled in the cliffside facing a secluded, prinstine beach and the Sea of Cortez.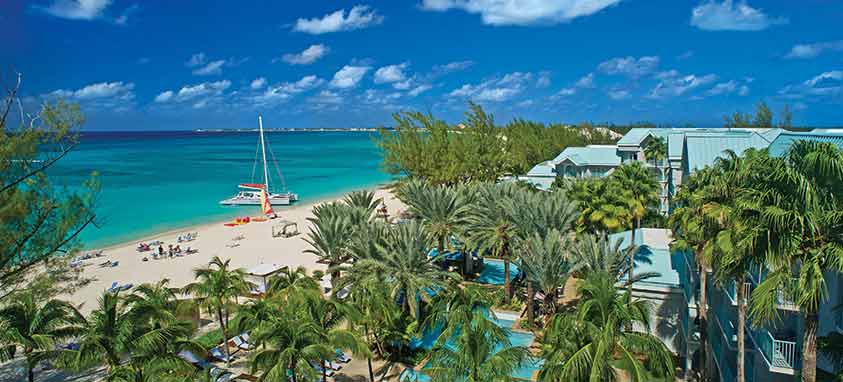 Bucket List
Bucket list adventures such as African safaris are trending down ever so slightly, according to Spear One's study (due in part to the recent Ebola outbreak), but others are taking their place—such as B&R taking clients on once-in-a-lifetime trips to the Galapagos Islands. Not only do they take in the scenery and rare wildlife made famous by Charles Darwin, they also visit Galapagos Science Center, a research facility run by the University of North Carolina's Gillings School of Global Public Health.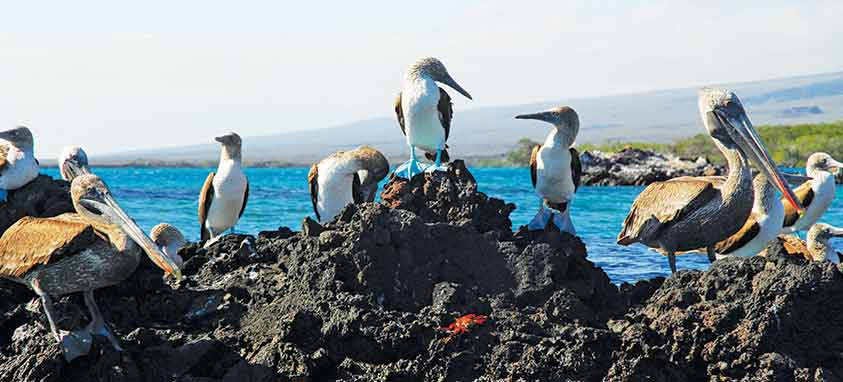 Brown Pelican on Volcanic Rock in the Galapagos
"It is the only one of its kind in the world designed to foster research, education and outreach programs to advance conservation efforts in this profoundly beautiful natural wildlife region of the Galapagos," Dockrill says.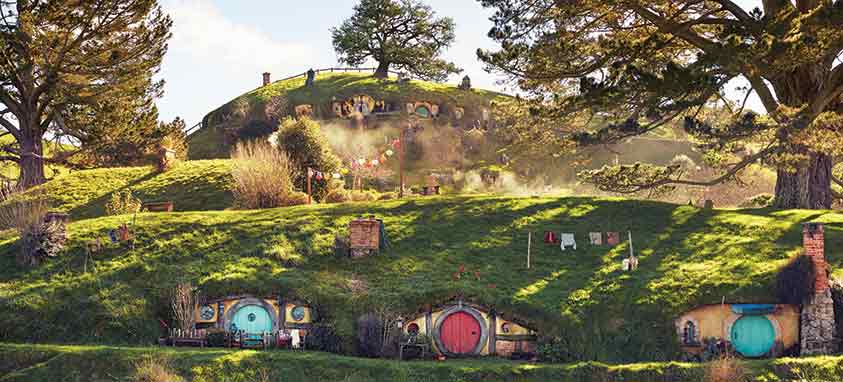 Hobbiton, New Zealand
New Zealand has also exploded on the scene as a bucket list destination. Visitors don't need to be fans of Lord of the Rings to be awestruck by the craggy, mountainous landscapes cut by lush valleys and eye-popping blue waterways there. Fans can visit Hobbiton, the set for the hobbit village in the movies, which was kept in place after filming finished. A hike up Mount Doom is recommended only if you have a ring that makes you invisible.
Hawaii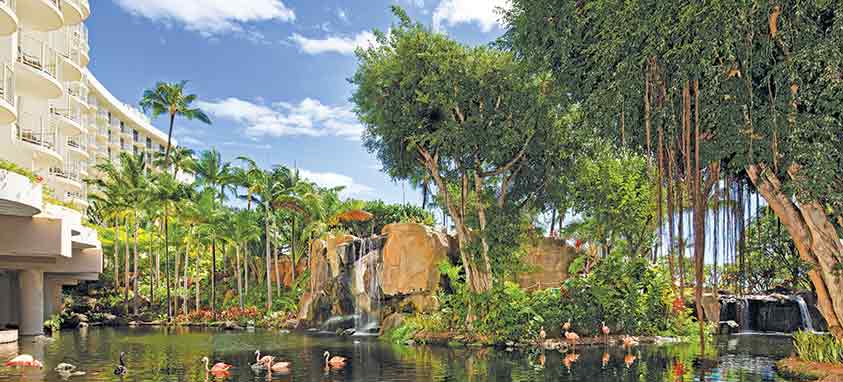 Westin Maui
Hawaii is technically a domestic flight for U.S. incentive groups, but it's a bucket list destination for a wide variety of reasons. The Westin Maui Resort & Spa arranges helicopter tours that showcase the diverse geology of the island, bringing travelers otherwise inaccessible—and spectacular—views of towering waterfalls, volcanoes and ancient ruins. For adventure on the Big Island, Hapuna Beach Prince Hotel can help arrange anything from hikes in Hawaii Volcanoes National Park to touring a local macadamia nut factory.
Customization Counts
Companies sending groups or individuals on incentive trips have learned that they get way more return on their investment when they place a heavy emphasis on personalizing the trips from beginning to end, starting with welcome gifts.
"We're seeing a lot of requests for gift galleries, so instead of a specific gift that everybody gets, it's a store," says Greg Bogue, vice president of experience design at Maritz Travel. "People get to pick the thing that's relevant or that they want."
Tying into the local experiences trend, many welcome gifts are starting to come from local craftspeople native to the destination. "We print a client's money, Monopoly money, and have a local shopping experience where local merchants come in during the welcome reception," May says. This ensures that whatever the travelers choose, it's tied to the area's culture and is a keepsake reminding them of the great time they had.
The personalization trend goes well beyond gifts, stretching into the experience of the trip itself. "I think we're going to see over the next several years this idea of individual values becoming a major driver in the experiences that people want," Bogue says.
Many travel companies are customizing itineraries to their clients' preferences, which requires a lot of getting-to-know-you touches. "Over 50 percent of our business is derived from repeat travelers," Dockrill says, "So when it comes to customization we have a lot of insight on their likes and dislikes. We know how they feel about hotels, wine, if they have allergies, if they have special interests like art or colonial history…we even know if their pillow or bed needs to be firm of soft."
Getting that custom touch is especially important for first-timers. "We definitely create a personal conversation with them," Dockrill says about ensuring an incentive trip is tailored to the individual—in an exceptional way, of course. "It could include organizing private jets, orchestrating an exclusive dinner at the foot of the statue of David, coordinating a four-piece orchestra to play in a gondolier-led masquerade cruise through the canals of Venice or arranging for an exclusive tasting in a private cave."
Best results seem to come when the travelers are involved early in the process. How early? For many, getting them involved right from the start helps craft the trip—and builds excitement. "Research is part of the experience," Bogue says. "All of our guests, as soon as they know they're going somewhere, what do they do? They research and start formulating their impression of what their experience is going to be."
Be All that You Can Be
Following the image problem incentive travel suffered during the Great Recession, many incentive trips started incorporating meetings and other business elements.
"After 2008 when everything collapsed and the heightened awareness of incentives and how they were pure incentives and there was no business content, we started adding a business element to it," says Todd Zint, vice president of meetings and event strategy for National Financial Partners Corporation. "We've actually kept that going because you're bringing the top qualifiers of your company in, and the opportunity to be able to share ideas within that community is so powerful."
In some ways, that idea has also shifted to personal improvement. After all, if a person returns from a trip having had a difference-making experience on a personal level, that is likely to improve their professional self as well.
"We're all having to design experiences and I think our next challenge will be transformation, helping people change and becoming their better self." Bogue says. These types of programs include "giving back" activites that are most popular with the millennial generation, such as taking part in charity programs or conservation activities that impart good feelings from having a direct impact on the local community.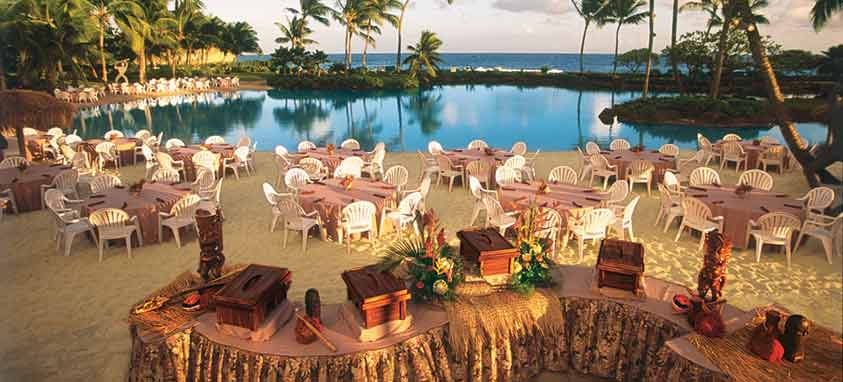 Grand Hyatt Kauai, Hawaii
Sometimes a more relaxed, regenerative experience fits the bill at a spa-centric destination. Grand Hyatt Kauai Resort and Spa in Hawaii takes pampering to levels as high as the island's mountains, with 60 treatments for just about every part of the body at Anara Spa, including hair and nails in the salon. The St. Regis Punta Mita Resort in Mexico has a 10,000-square-foot spa that rejuvenates guests with treatments including outdoor massages in the resort's serene tropical grounds. California's Renaissance Indian Wells Resort & Spa is the place to get refreshed in a garden setting in the soothing surroundings of the Coachella Valley.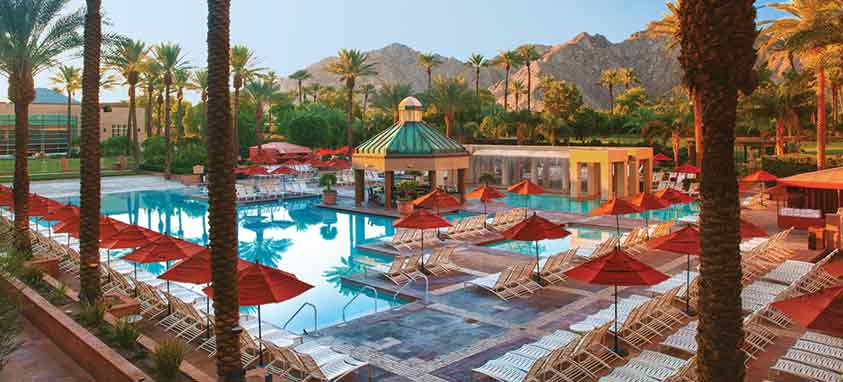 Incentives Unplugged
Another direction some incentive trips have taken is seclusion. The ability to not worry about checking your devices every five minutes and instead focus on the people and places around you.
"I wouldn't be surprised if a movement starts where we all walk in and we drop our devices into a black box so we can really have that genuine face-to-face interaction and not be distracted," May says.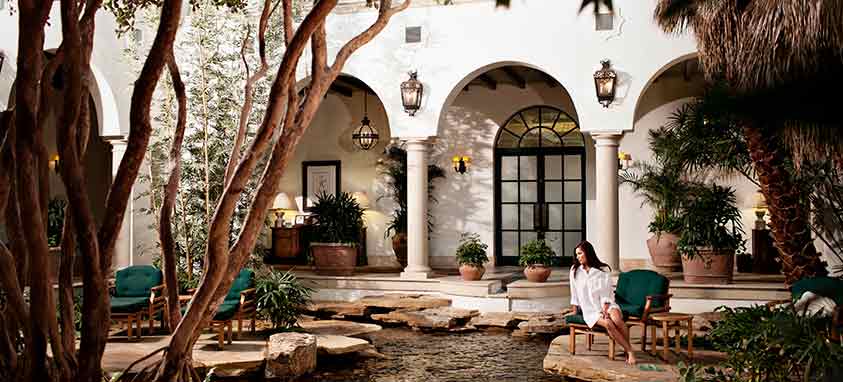 The Cloister at Sea Island, Georgia
Georgia may not sound like a hidden-away destination, but Sea Island might as well be miles off the state's Atlantic coast (even though it's right off the mainland). The Cloister at Sea Island, a Forbes Five Star property, is the picture of relaxed luxury, where guests can isolate themselves as much or as little as they want—and the Antebellum style helps create a throwback to an age before everybody had smartphones.
Colorado's mountainous terrain is a natural location for unplugging, especially at Beaver Creek Resort in Vail. There aren't many better places to connect with nature (in opulent style, of course) than a lush Rocky Mountain valley with sparkling streams in a village-esque setting inspired by European ski resorts.
Unplugging doesn't have to mean lounging on an island or sitting by the fire in a cozy mountain cottage. Some prefer a more extreme style where they can be active and participate in adrenaline-filled adventures in a purely natural setting.
"We have sent people to the remote depths of Alaska and Ultima Thule Lodge to view bears, fly to remote glaciers or sit atop an iceberg," Dockrill says. "We have tours that will take you hiking from mountain hut to mountain hut at 8,000 feet in the Italian Alps. This may include intermittent adrenaline stops for rock climbing, windsurfing and then paragliding from the peaks back into town."
There's no word on incentive trips to Antarctica. Yet.
Experience is Key
With incentive trips expected to keep soaring over the next several years, these trends are sure to expand, and new ones will emerge. To what? Well, incentive trends seem to mirror or branch off of leisure travel trends.
"I really think that experience is the new status symbol," Bogue says. "Social media is full of people documenting their experiences."
And people do so when traveling for business or pleasure, so Facebook and Twitter may reveal the next set of trends to come along. If they do, we'll tweet about them.
---
A Hidden Gem, Deep in a Canyon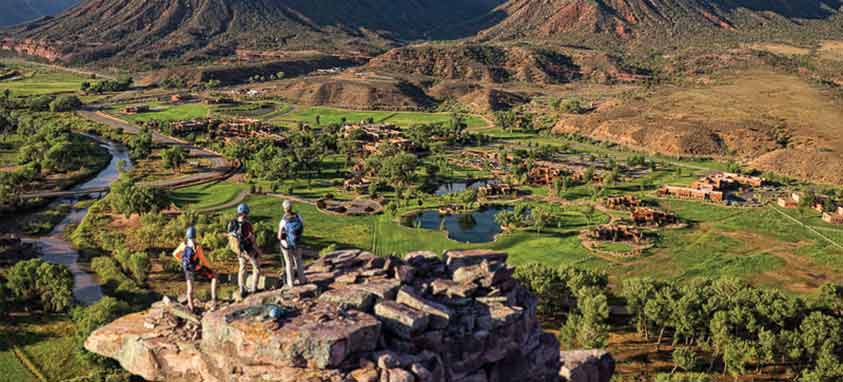 When John Hendricks first visited Unaweep Canyon with his family in 1995, he was awed by the stunning red rocks surrounding the canyon and the sacred aura of the land. He knew immediately that he wanted to live in this remote western Colorado area and find a way to share it with others.
So, Hendricks, founder and former chairman of Discovery Communications, a broadcasting and film production company that owns the Discovery Channel, opened luxurious Gateway Canyons Resort & Spa in 2005, intent on creating a unique experience that would appeal to a wide variety of guests. The result is a gorgeous property in Gateway, 53 miles southwest of Grand Junction, which is a top spot for incentive trips. In Conde Nast Traveler's 2014 Readers' Choice Awards, it was chosen as the Best Resort in Colorado and the 12th Best Resort in the World.
Gateway Canyons is ideal for guests wanting a laid-back, even meditative experience. The peacefulness of the valley complements the resort's pools, spa and stargazing outings. For guests seeking more activity, an ultra-terrain-vehicle excursion to an amazing lookout point, an exciting ride aboard a Pro-Baja racing truck, a dramatic helicopter tour and a fun horseback ride through rocky terrain provide thrills. Also, car enthusiasts won't want to miss the auto museum, which features nearly 60 of the most prized and impeccably preserved historic cars in the country, displayed in a unique gallery setting.
The resort provides 72 guest rooms (including 14 spacious, attractively designed casitas) and 11,778 sq. ft. of meeting space. —Dan Johnson
---
What's Your Specialty?
With customization and personal preferences playing more of a role with incentive trips, the hotels and resorts chosen for travelers may shift from purely luxury properties to those that specialize in a certain mood or activity that aligns with the travelers tastes (though luxury will certainly still be part of the package).
Mirage Las Vegas: A James Beard award (for chef Laurent Tourondel's BLT Burger) and 12 restaurants ranging from buffets to a fine steakhouse is enough to prove that Mirage has a selection of masterful fare to delight any palate (above, bottom right).
The Cosmopolitan of Las Vegas: This is for those who appreciate fine spirits and like to unwind with drink in hand. Choose between eight lounges and nightclubs for dancing, chic socializing, spiked ice cream and more.
Oceano Hotel & Spa Half Moon Bay: A two-minute walk from your room leads to the shore of Half Moon Bay, where California gray whales congregate nearby January through April.
Trump Doral Golf Resort & Spa Miami: The Donald set out to create a world-class golf resort and succeeded, with four courses of some of the best championship golf in Florida (above, top right).
Sheraton Steamboat Resort: Steamboat Springs, Colorado, has been nicknamed "Ski Town USA," and attracts the best in the sport to this posh resort's Rocky Mountain home (above, left).
Inn and Spa at Loretto: This iconic Santa Fe, New Mexico, resort is one of the most photographed hotels in the West, blending stunning Native American architecture with modern luxuries.