United Way Guelph Wellington Dufferin connects through service
With the help of committed volunteers, donors, staff and partners, United Way Guelph Wellington Dufferin—which serves the Ontario, Canada, city of Guelph and the counties of Wellington and Dufferin—has worked for 75 years to monitor and meet the pressing social needs of its community. It does this through fundraising that supports its programs and enables the organization to "meet existing and emerging social needs to improve lives and build community."
The organization's leadership decided it needed to engage younger residents in community service. It made this a strategic priority and began to promote volunteer opportunities in the community, and to connect with others who were similarly donating their time and skills.
Challenge
United Way Guelph Wellington Dufferin wanted to draw the attention of young leaders—individuals in their 20s and 30s in the early stages of their careers who were looking for opportunities to get involved, expand their networks and establish themselves within their community. It proved to be difficult to fully capture their attention, however.
"Finding a way to engage millennials in our community and meaningfully connect with them was a challenge for us," says Emma Rogers, campaign manager at United Way Guelph Wellington Dufferin. "We wanted to create an event that would not only personally benefit the participants, but give us an opportunity to make a connection with them to promote our local community needs."
Eagle's Flight, an experiential event provider, worked with the nonprofit to capture the attention of this demographic by stressing the meaningful impact they could have on the community.
Solution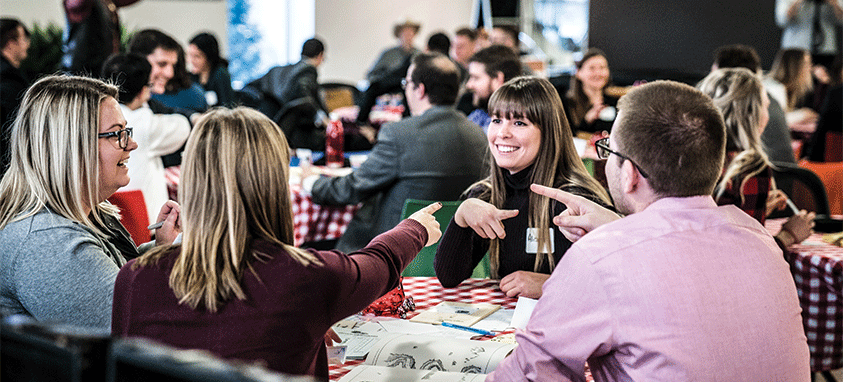 The solution was GenNext. Since 2015, this annual networking event has been creating excitement and engagement through heavily themed, high-excitement events.
The latest conference, GenNext 2017, was themed Rattlesnake Canyon—and centered around creating a competitive edge through partnerships and the quick identification of customers' needs. Not only was the experience relevant to United Way's objectives, but the theme transported attendees to the Wild West of the 1800s. There was no shortage of hay bales, cowboy hats and plaid.
The experiential conferences served as a metaphor—allowing participants to see the connection between what they learned at these events and their own professional, personal and community-centered goals. And it got them excited about pitching in and helping.
The conferences explored what individuals need, where information can be found, and what can happen when people work together—all of which relates to United Way Guelph Wellington Dufferin's purpose of providing volunteers and resources to organizations that need support by leveraging the skills and desires of those who want to make a difference.
With the engagement roadblock removed, United Way could then inspire attendees to build trust, employ a customer-focused mindset and share resources—all necessary components as the next generation takes an increasingly prominent role in United Way's initiatives in the community.
Results
The annual GenNext events focused on building teamwork, a common vision, critical skills and partnerships to work toward a common goal. Due to the increased engagement of these young leaders and the opportunities this networking event provided, it became highly anticipated year after year.
The 2017 event attracted more than 100 GenNext leaders and 30 influential community leaders who came together to work through an experience that did not depend on resources and experience. Within these event parameters, the dynamic in the room changed, and barriers were broken down between younger attendees and experienced organizational and government leaders. By the end, everyone had the skills and resources they needed to make a difference.
GenNext events are both networking and learning opportunities. They create an understanding that connects people, services and resources. In fact, in 2017, United Way Guelph Wellington Dufferin surpassed its $3.5 million fundraising goal, and the success was celebrated among staff and volunteers whose web of partnerships maximized their results and achieved a common goal.