26 slick urban destinations primed for exciting events
Petula Clark was right. The lights are much brighter downtown, where you can also forget all your troubles and forget all your cares. The 1965 Grammy Award-winning song, "Downtown," still resonates loudly today, for good reason.
Downtowns are cool again. America's city centers may have lost some luster throughout the '80s and '90s, but they have come back with a vengeance. As a result, downtown meetings are a big deal, too, with trendy new hotels sporting scenic terraces and multilevel floor-to-ceiling windows that showcase this renaissance in spectacular fashion.
Convention and visitors bureaus throughout the United States paint a vibrant and exciting portrait of what meeting planners and attendees can experience downtown, from Pittsburgh to Indianapolis to San Diego. As Clark emphatically sang:
"So go downtown. Things will be great when you're downtown. No finer place for sure, downtown. Everything's waiting for you."
Chicago
"Chicago is one of the world's most vibrant cities, where unique venues, great dining, exceptional cultural offerings, urban recreation, magnificent shopping and exciting entertainment abound. Located along the shores of Lake Michigan, Chicago offers meeting planners and attendees a picturesque landscape for events and a unique backdrop from which to draw inspiration. The city's energy can be felt and seen in the downtown district, from its towering skyscrapers to its beautifully designed public green spaces, including re-imagined spaces such as the new Maggie Daley Park and the Chicago Riverwalk. Chicago also offers unmatched accessibility and convenience. Downtown Chicago is within 20 miles of both Chicago O'Hare International Airport and Chicago Midway International Airport, which together serve more than 80 airlines. Once downtown, visitors can easily access public transportation or opt to walk in order to take in all of the excitement."
−Marc Anderson, chief sales officer and senior vice president, Choose Chicago
Shopping on Vine Street, Cincinnati
Cincinnati
"The transformation of Cincinnati's downtown over the last five years has been incredible. For attendees, downtown's 'new cool' means coming face-to-face with free, award-winning art on a short walk between hotels and the convention center where attendees can look at the nearly 40 outdoor murals Attendees also can stop for coffee at the Contemporary Arts Center and explore Over-the-Rhine's pre-Prohibition beer tunnels before networking at a historic microbrewery. Even our revitalized downtown parks reflect Cincinnati's character and heritage, from Smale Park on the Ohio Riverfront to live music and fitness classes in Washington Park. And with downtown's walkability, bike-share program and the launch of our streetcar this fall, it's easier than ever for attendees to get around to each of our unique neighborhoods and be part of the excitement."
−Dan Lincoln, president and CEO, Cincinnati USA Convention & Visitors Bureau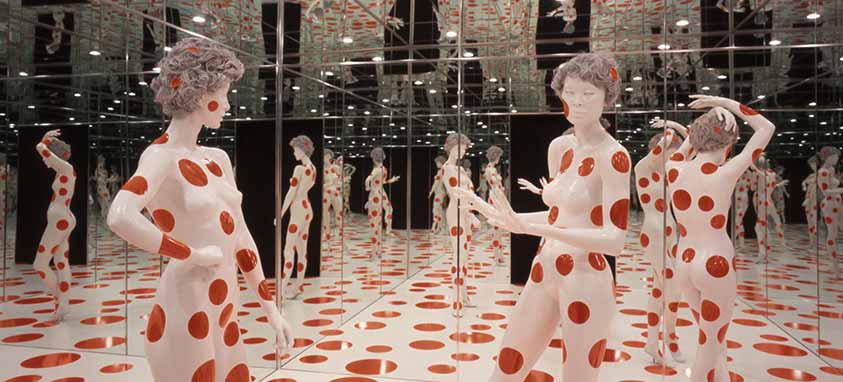 Mattress Factory, Pittsburgh
Pittsburgh
"Last year when The New York Times called Pittsburgh 'cool,' it confirmed what we had been seeing for several years. Our city is a very cool destination for downtown meetings because of our many unique activities and attractions, all within a few blocks of the beautiful David L. Lawrence Convention Center and major hotels. Recently named the Top Food City in the United States by Zagat, Pittsburgh presents visitors with the finest dining options. Our rivers offer numerous ways to experience Pittsburgh's beauty, from kayaking around Point State Park to enjoying a river dinner cruise to bicycle rides along their shores. Our Cultural District is home to seven world-class theaters along with the Pittsburgh Symphony and Pittsburgh Ballet. Of course, sports fans can see a Penguins [NHL] game, Steelers [NFL] game or watch a Pirates [MLB] game at PNC Park, rated the best ballpark in America. And for art lovers, the city is proud to showcase the famed Andy Warhol Museum, the contemporary Mattress Factory and our Carnegie Museums."
−Craig Davis, president and CEO, Visit Pittsburgh
San Diego
"Downtown San Diego is an ideal spot for meetings and events due to its convenience and diversity of offerings. The airport is just minutes away, and downtown boasts hundreds of fantastic bars and restaurants, all within an easy walk from the convention center and numerous hotels. Whether they want to have a cocktail in a swanky speakeasy-style lounge, ride the ferry to scenic Coronado, tour a decommissioned aircraft carrier or catch a baseball game, meeting attendees have countless options to find fun, entertainment and inspiration in San Diego's vibrant downtown."
–Joe Terzi, president and CEO, San Diego Tourism Authority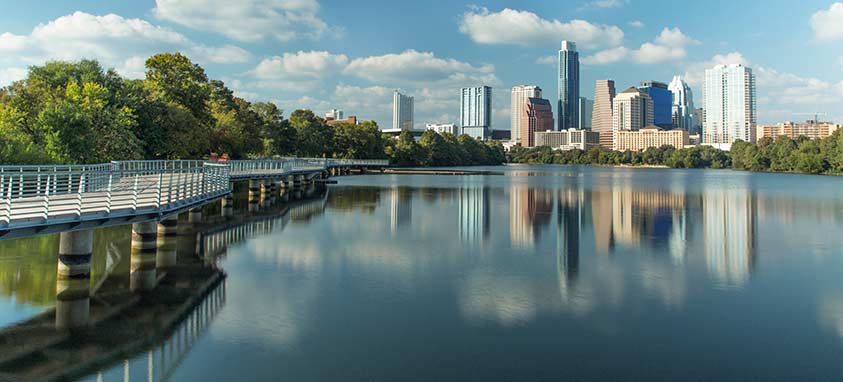 Austin Boardwalk
Austin, Texas
"Austin's long been known for a lot of things— more than 250 live music venues, cool vibe and no-nonsense approach to barbecue, to name a few. But over the last two decades, its foothold as a technology hub has sped up exponentially. In 2015, Forbes named Austin the No. 1 city for tech growth in the United States. Austin is home to Dell Headquarters and other established industry leaders and startups, including Apple, IBM and Google. University of Texas at Austin is a top 100 university, with Dell Medical School opening this year. These amenities, along with all of the new hotels—including the newly opened 1,012-room JW Marriott and the 2017 arrival of the 1,068-room Fairmont Austin—have allowed us to bring national meetings, both association and corporate, into the city for the first time.  Austin is fortunate to be considered a new destination that delivers an authentic, one-of-a-kind experience for convention attendees. From incentive meetings to medical or high-tech conferences, folks will find multiple entertainment districts to enjoy during their free time."
–Steve Genovesi, senior vice president of sales and services, Austin Convention & Visitors Bureau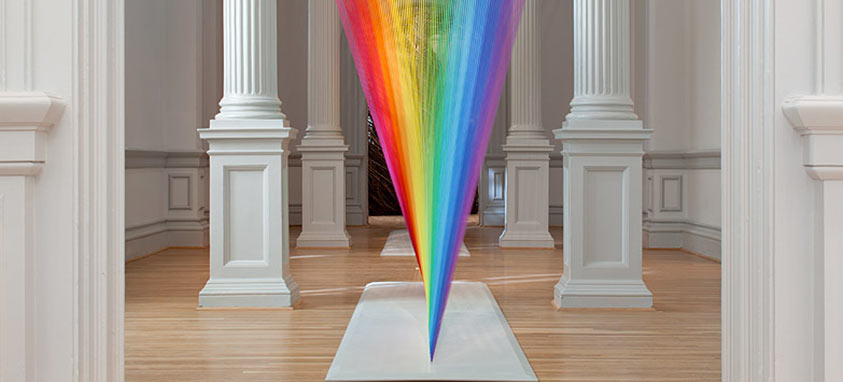 Smithsonian American Art Museum, Washington, DC
Washington, DC
"What makes Washington, DC cool are the amazing and unique experiences a delegate can have when meeting in this world-class city. Imagine starting your journey by stepping out of the hotel where Dr. Martin Luther King, Jr. wrote his iconic 'I Have a Dream' speech. On your walk to the state-of-the-art Walter E. Washington Convention Center, you pop into the newly renovated Renwick Art Gallery to witness the incredible Wonder exhibit. After a day of meetings, tantalize your taste buds at the newly opened Kinship by James Beard award-winning chef, Eric Ziebold. Then top off the evening while ice skating under the stars at the National Gallery of Art's Sculpture garden with DC's iconic skyline as the backdrop featuring the Capitol, Washington Monument and a variety of free museums and memorials to explore. We market the nation's capital with the DC Cool campaign because Washington, DC simply is."
−Elliott L. Ferguson II, president and CEO, Destination DC
Atlanta
"Downtown Atlanta is the perfect starting point for a visitor's exploration of Atlanta. This tourism and meetings district is home to world-class attractions such as Center for Civil and Human Rights, College Football Hall of Fame, Georgia Aquarium, CNN Global Headquarters and World of Coca-Cola. These attractions form a ring around Centennial Olympic Park and put visitors just steps away from more than 10,000 hotel rooms, nearly 300 restaurants and major conference venues, including Georgia World Congress Center and Atlanta Convention Center at AmericasMart. Downtown is also easily accessible by Atlanta's public-rail system, MARTA, which transports visitors directly from baggage claim at Hartsfield-Jackson Atlanta International Airport to the heart of downtown in less than 20 minutes. Downtown is easily walkable and the Atlanta streetcar provides easy connection from Centennial Olympic Park to the MLK National Historic Site, located just east of downtown."
−William Pate, president and CEO, Atlanta Convention & Visitors Bureau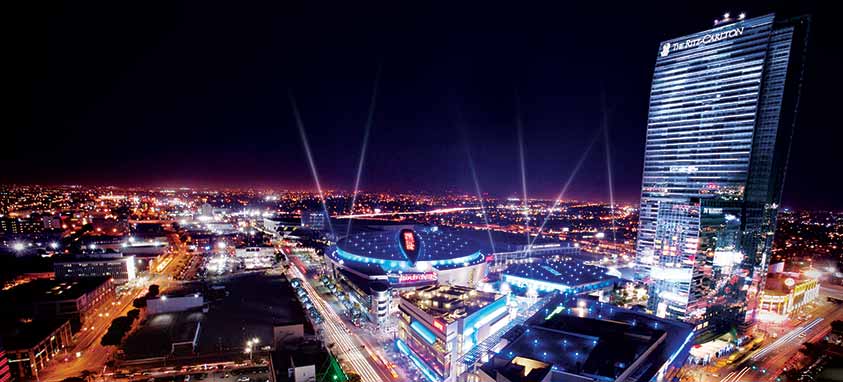 Downtown Los Angeles
Los Angeles
"A dynamic location known for its exceptional culture and nightlife, Downtown L.A. is the perfect setting for meeting attendees seeking fresh, authentic experiences. The region's recent renaissance has created a walkable urban center featuring scores of new and refreshed hotels, from luxury and historic to boutique and value. The anchor of the downtown experience, L.A. Live is located steps away from Staples Center and the Los Angeles Convention Center and features several event venues such as the newly rebranded Microsoft Theater, which is home to the Primetime Emmy Awards. Downtown L.A.'s dining scene has quickly become one of the hottest in the entire country. Restaurants such as Bestia, Baco Mercat and Redbird are setting trends in the culinary world. A surge of new hotel developments include InterContinental's Hotel Indigo Downtown Los Angeles, a hip 350-room hotel (opening December 2016), and the 73-story, 900-room InterContinental Los Angeles Downtown (opening in 2017). Every aspect is on the move in downtown and it's fueling L.A.'s surging popularity as a premier meetings destination."
–Ernest Wooden Jr., president and CEO, Los Angeles Tourism & Convention Board
Denver
"Downtown Denver has a cool factor that has helped to earn us a spot among the top-ranked meeting destinations in the United States. Located at the base of the Rocky Mountains, it is the urban hub for cultural, culinary and sports offerings, with seven professional sports teams and an authentic selection of more than 300 restaurants and 100 breweries. Denver also has recently been named one of the top cities for millennials by The New York Times and Forbes. With 300 days of sunshine a year, Denver is an active outdoor city, and the striking mountain views serve as the backdrop to many scenic meeting-space options. Our compact, walkable downtown features the 16th Street Mall, a mile-long pedestrian promenade, and the second largest performing arts center in the nation. Beginning in April 2016, a new light-rail connection will bring visitors directly to downtown Denver's historic Union Station from Denver International Airport. And the Colorado Convention Center, situated within walking distance of more than 9,000 rooms, will proceed with more than $100 million in Platinum LEED meeting space additions, including a new football field-sized rooftop terrace overlooking the Rocky Mountains."
−Rachel Benedick, vice president of sales and services, Visit Denver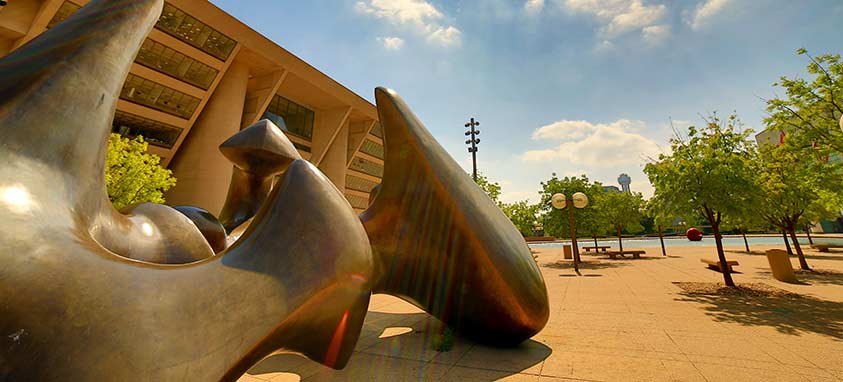 City Hall, Dallas
Dallas
"Downtown Dallas is one of the fastest-growing destinations for business travelers. We've invested billions of dollars in new development, including more than a dozen hotel properties already in the works, award-winning restaurants, and museums and cultural attractions, comprising the largest contiguous arts district in the nation. As an inclusive city with Southern appeal, downtown Dallas offers unparalleled upgrades and amenities, including hotel-room rates significantly lower than other major metropolitan areas. Dallas is also home to Dallas Area Rapid Transit (DART), the longest light-rail system in the country. It is connected to two major airports, which have more domestic nonstop flights than any other U.S. city. The great part about doing business downtown is that it's a walkable neighborhood. You can grab a bite at the food trucks positioned at Klyde Warren Park or visit corner bars, shops and local hangouts that really let you experience life like a local."
−Phillip J. Jones, president and CEO, Dallas Convention & Visitors Bureau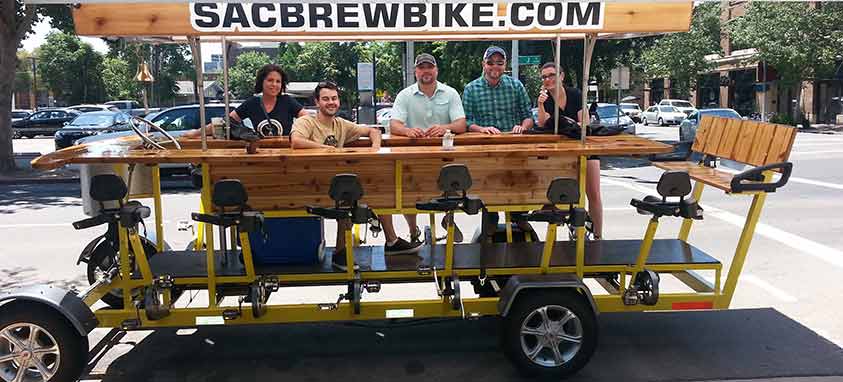 Sac Brew Bike
Sacramento, California
"The year 2016 is going to be exciting for America's Farm-to-Fork Capital. When we open the Sacramento Kings' $477 million Golden 1 Center in October, it will be the most technologically advanced arena in the NBA. The Golden 1 Center will be complemented by a 16-story, $250 million development including condominiums, a 250-room Kimpton hotel and ground-floor retail. The city's downtown is exploding with a bevy of new restaurants, including the Empress Tavern in the basement of the historic Crest Theatre. Music venues, coffee bars, boutiques and world-renowned museums are within easy walking distance of downtown hotels, the Sacramento Convention Center and the new arena. Visitors can pedal to several craft breweries on the 15-passenger SacBrewBike, cheer on our professional baseball team at Raley Field or get a workout on the 32-mile American River Bike Trail. To sum it up, there's never been a better time to explore Sacramento."
−Steve Hammond, president and CEO, Sacramento Convention & Visitors Bureau
Indianapolis
"Indianapolis maintains one of the most vibrant and activated downtowns in the country, with the convention district strategically positioned in the heart of it. Hotels and the convention center are within walking distance of more than 250 dining options, 50 attractions, hundreds of shops and 250 acres of green space in White River State Park, the nation's largest urban state park. The Indianapolis Cultural Trail, Central Canal, world-class museums and performing arts, award-winning chefs and an array of nightlife options add to the rich culture and character of the city, and it's all easily accessible. Known as a sports capital, downtown also features the NCAA national headquarters; Lucas Oil Stadium, site of the 2012 Super Bowl; Bankers Life Fieldhouse, home of the NBA Pacers and 2016 Women's Final Four; and Victory Field, named the best minor league ballpark in the country by Sports Illustrated. We see it time and time again: Downtown Indy amazes first-time visitors and continues to impress those who return."
−Daren Kingi, senior vice president of sales, Visit Indy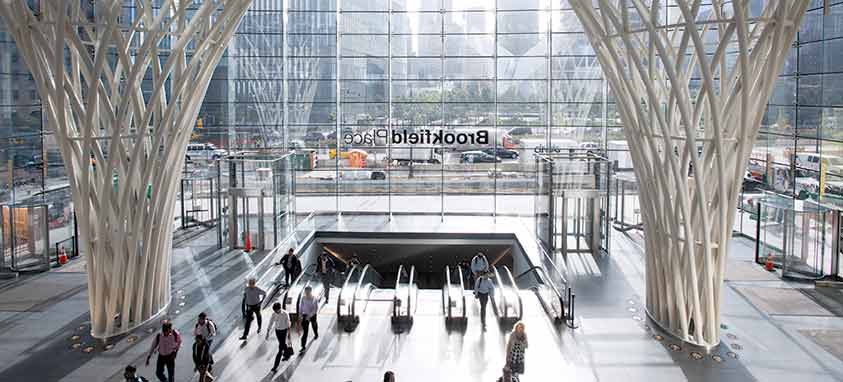 Brookfield Place, New York City
New York City
"New York City has something to offer every kind of delegate and meeting planner, with world-class hotels, venues, attractions and more. The city saw unprecedented developments downtown last year with the brand-new One World Observatory atop 1 World Trade Center and the Whitney Museum of American Art in the Meatpacking District, in addition to new retail destination Brookfield Place and Fulton Center transportation hub, which opened in 2014. Adjacent to the Jacob K. Javits Convention Center, the recently opened 34th Street Hudson Yards subway station allows delegates to travel via the 7 subway line directly into Times Square, and farther into Lower Manhattan and beyond. In 2016, downtown Manhattan continues to grow, with the new Westfield World Trade Center and new hotels including the Four Seasons New York Downtown, The Beekman and the Tommie Hudson Square."
−Jerry Cito, senior vice president of convention development, NYC & Company
Comerica Park, Detroit
Detroit
"Downtown meetings in Detroit are cool because attendees have the opportunity to be part of the comeback of the city and experience firsthand all the exciting changes taking place. They can see the construction of the new M-1 Rail streetcar along Woodward Avenue; dine in one of the nearly 100 new restaurants that have opened in the past two years; see the progress being made at the District Detroit and the new Detroit Events Center; shop at the many unique retailers downtown; and stay at one of the new or historic downtown hotels. Downtown Detroit is walkable, with a completely revitalized riverfront and many parks that serve as gathering places for lunch, festivals, movies and other activities. The city is also bike-friendly, hosting a weekly group bike ride that attracts more than 3,000 riders each week. The world-class attractions, theater and nightlife options also are part of what makes Detroit a vibrant city on the comeback."
−Bill Bohde, senior vice president of sales and marketing, Detroit Metro Convention & Visitors Bureau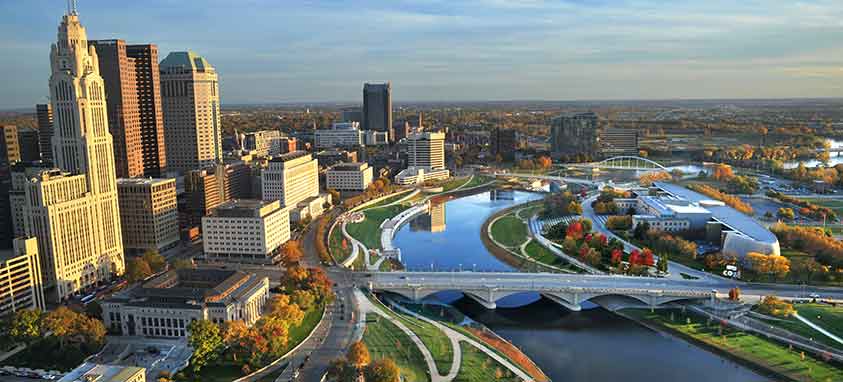 Columbus Greenways
Columbus, Ohio
"One of the best things about hosting a meeting in downtown Columbus is how many different experiences are available to attendees within walking distance of the Greater Columbus Convention Center. Right outside of the main entrance to the convention center, visitors can spend their days shopping our local boutiques or enjoying world-class art galleries in the Short North Arts District. By night they can taste their way through the district's many nationally renowned restaurants. For sports fans, the nearby Arena District is home to NHL's Columbus Blue Jackets at Nationwide Arena and minor-league baseball's Columbus Clippers at Huntington Park. Some of my favorite downtown activities include walking along the Scioto Greenways, offering 33 acres of green space along the riverfront, taking in a concert at the Columbus Commons or relaxing with a local coffee or beer from one of our Coffee Trail or Ale Trail partners."
−Brian Ross, president and CEO, Experience Columbus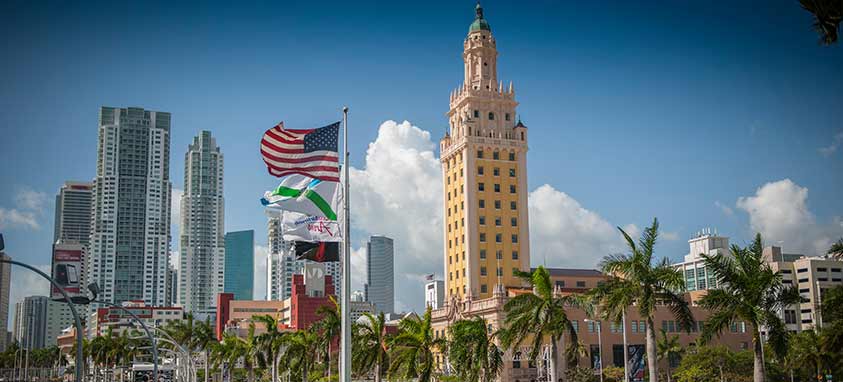 Downtown Miami
Miami
"Miami is in the midst of a meetings renaissance and much of it is happening in the heart of downtown. The Brickell City Centre complex, a $1.05 billion project and home to the first East Hotel outside of China, is scheduled to open in March, situated within 500,000 sq. ft. of luxury retail and dining with stunning views of downtown Miami. Only a five-minute drive away is the downtown Miami World Center, a $2 billion project currently under construction that is home to the new 1,800-room Marriott Marquis. It has 600,000 sq. ft. of meetings and event space as well as lecture and exhibit halls, and is surrounded by 765,000 sq. ft. of retail and dining including Bloomingdales and Macy's. With the $615 million renovation and expansion of the Miami Beach Convention Center taking place just over the bridge, meeting planners will have more options than ever in Greater Miami and The Beaches."
−William D. Talbert III, CDME, president and CEO, Greater Miami Convention and Visitors Bureau
Raleigh, North Carolina
"Downtown Raleigh is a perfect destination for planners who are looking for the best of both worlds: the physical facilities to host a first-class event as well as the energy of a bustling metropolitan destination. Take downtown's 500,000-square-foot Convention Center Campus, which includes the Silver LEED certified Raleigh Convention Center, Duke Energy Center for the Performing Arts, Red Hat Amphitheater and City Plaza. This campus offers everything from ample space to state-of-the-art technology and is just steps from chef-driven restaurants that are paving the way for the area's reputation as a legitimate culinary destination. Close by are world-class free museums, more live music offerings than anywhere else in the state, visual and performing arts events, local boutiques and design shops sourced by smart and savvy locals, and a craft beer scene with 21 breweries and counting. Take all this and factor in affordability and accessibility, and you've got the most enriching and energizing meeting destination in the Southeast."
−Denny Edwards, president and CEO, Visit Raleigh
Orlando
"Orlando's meeting professionals have always used downtown facilities for their events, and when the $400 million Dr. Phillips Center for the Performing Arts Center opened last year, planners from all over the country took notice. With the opening of this spectacular venue, we've also seen a burst of restaurant openings around the popular church Street and Lake Eola areas. Hotels such as the Grand Bohemian Orlando and Aloft cater to groups. We also have some other fantastic venues, including the Amway Center for concerts and sporting events, and newly renovated Citrus Bowl, which just hosted the Russell Athletic and Buffalo Wild Wings Bowl games. While most of our meetings and conventions revolve around our convention center and other convention hotels across Orlando, the downtown area is definitely well-equipped with new and diverse options to create memorable meetings."
−George Aguel, president and CEO, Visit Orlando
San Francisco Museum of Modern Art
San Francisco
"In San Francisco, downtown encompasses several places. At the Embarcadero, the towering Financial District seems to rise from the bay, just across the boulevard from the Ferry Building. In Union Square, top designers, world-famous retailers, theaters and art galleries line the streets. Up on Nob Hill, world leaders and high society gather at the elegant hotels. Next door in Chinatown, visitors experience a city within a city. In the hub of high-tech innovation that is South of Market, cultural institutions like the soon-to-reopen San Francisco Museum of Modern Art face the expanding Moscone Center. Whatever part of downtown you're in, you will find delicious and diverse dining options and hotels with the facilities and services you expect from a world-class city. While it's an easy, scenic walk from one part of downtown to the other, you'll also have plenty of transit options. Hop on the vintage F-Line streetcars or the historic cable cars, or grab a ride with shared-economy services like Lyft."
−Joe D'Alessandro, president and CEO, San Francisco Travel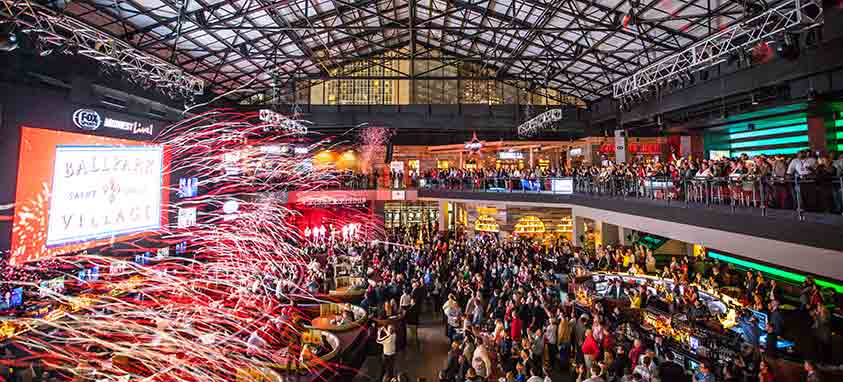 Ballpark Village, St. Louis
St. Louis
"If you haven't visited St. Louis lately, you won't recognize downtown. With more than 7,000 hotel rooms in downtown and many of them new or newly renovated, along with a state-of the-art convention center and some of the finest dining and entertainment options in the nation, St. Louis will have your group pleading for a return engagement. Meeting planners and attendees are raving about the music and entertainment scene, including the must-see Ballpark Village, which has become a focal point for visitors. This venue offers up live bands, great dining experiences and nighttime fun for each and every hard-working meeting attendee. Not to be outdone are the establishments along historic Washington Avenue that are all within steps of the America's Center, where your guests will find amazing eateries, unique venues and live entertainment—and opening April 2016 will be the National Blues Museum. St. Louis is back, and you will be, too."
−John Bettag, vice president of sales, Explore St. Louis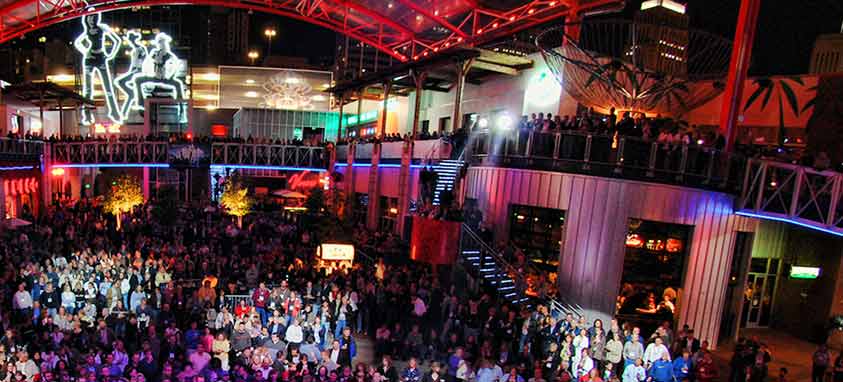 Power and Light District, Kansas City
Kansas City, Missouri
"Kansas City was named one of America's Best Downtowns by Forbes, and for good reason, as a lot has been done to improve the visitor experience in the city's core convention district. Over the last several years, more than $6.5 billion has been poured into revitalizing the area, including convention center improvements, and the opening of Sprint Center arena, Power & Light entertainment district and the Kauffman Center for the Performing Arts. This April, KC will unveil its new modern streetcar, a free amenity connecting downtown hot spots. In 2018, a new 800-room Hyatt convention center hotel will debut, continuing downtown's renaissance for many years to come."
−Derek Klaus, senior communications manager, Visit KC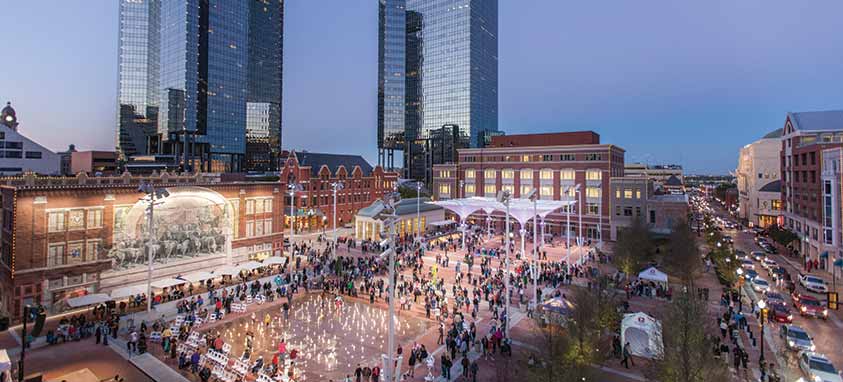 Sundance Plaza, Fort Worth
Fort Worth
"Fort Worth boasts the best downtown in the nation, according to Livability.com. Demand is higher than ever, prompting plans for a new 1,000-room hotel and convention center expansion. Visitors and locals already enjoy 35 blocks of connected hotels, restaurants, entertainment and nightlife in the safe and the walkable Sundance Square district. Dine inside a rooftop dome overlooking the twinkling lights of Sundance Square Plaza or watch a touring Broadway show at the internationally recognized Bass Performance Hall. Take the festivities outdoors and stroll through the Water Gardens, a remarkable oasis designed by Philip Johnson. No matter the need, Fort Worth can accommodate it all."
–Bob Jameson, president and CEO, Fort Worth Convention & Visitors Bureau
Baltimore
"Baltimore's nickname, Charm City, might have many different origins, but what makes it still relevant today is the city's combination of affordable, top-notch hotels and amenities with world-class attractions and museums; the allure of the Inner Harbor and waterfront activities, all within walking distance of award-winning restaurants; and the quirky personalities of our authentic downtown neighborhoods that come together to make Baltimore a place with a small-town feel but the benefits of a major city. You might come to downtown Baltimore for a meeting, but you can also go to our two professional sports stadiums, then over to the National Aquarium or up to the Washington Monument, or even to Fort McHenry to learn about our rich history. You can easily do all of that, plus so much more, with the free Charm City Circulator hybrid buses or the Baltimore Water Taxi."
−Tom Noonan, president and CEO, Visit Baltimore
Minneapolis
"Downtown Minneapolis is a cool meetings destination where it's easy to beat that heat, or the cold. That's because we keep it all connected in climate-controlled comfort, with our 8 miles of skyways connecting hotels, restaurants, shops and the Minneapolis Convention Center. The NFL thought Minneapolis was cool when it selected our city for their premier event, the Super Bowl, in 2018. We were able to make that room full of billionaire owners see there's no such thing as bad weather, just bad clothing, and we are indeed 'Built for the Bold.' Our multicultural eateries reflect the diverse fiber of our population. Beyond our Scandinavian and European roots, culture and cuisine from South America, Africa and Asia abound. And be sure to stop by our brand new Minneapolis Visitor Information on Nicollet. It's been called the 'visitor center of the future,' and it's the new home of the city's iconic Mary Tyler Moore statue."
−Melvin Tennant, president and CEO, Meet Minneapolis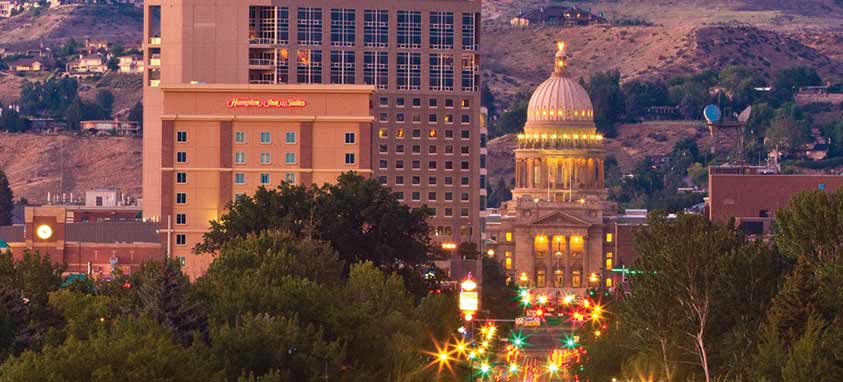 Downtown Boise, Idaho
Boise, Idaho
"Boise is delightfully convenient for busy travelers. From our airport, where you can sample local food and drink, it's just a 10-minute cab, Uber or shuttle ride to downtown. Once there, visitors might not need to use a car for the remainder of their trip. The Boise Centre, our meeting facility, is in the heart of downtown, just a few minutes' walk from several Boise hotels, and is expanding with an additional 36,000 sq. ft. of meeting and event space by September 2016. And if visitors are planning ahead, they can anticipate more lodging options in the coming years. Boise is experiencing a hotel boom, with at least four new projects underway in the city's core. From the doorsteps of the convention center, Boise offers dozens of new and revered restaurant options, brew pubs and cafes, as well as a growing wine scene. Need a break? Hop on a Boise Bike Share bicycle and cover even more ground in our compact, welcoming city."
−Carrie Westergard, executive director, Boise Convention & Visitors Bureau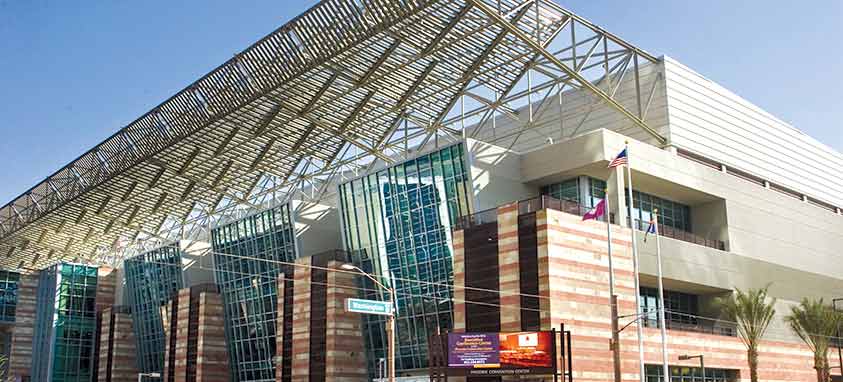 Phoenix Convention Center
Phoenix is an All-Star City
Downtown Phoenix is meeting- and fan-friendly. There's quite a bit of buzz surrounding the latter, since Greater Phoenix hosted the 2015 Super Bowl and the 2016 College Football Playoff National Championship, and has the distinguished honor of being home to the 2017 NCAA Men's Basketball Final Four.
During last month's college football championship between Alabama and Clemson, the heart of downtown Phoenix was converted into a five-block festival, with indoor and outdoor spaces used to enhance fan experiences. Playoff Fan Central was located inside the Phoenix Convention Center, offering interactive games, exhibits, surprise guest appearances and pep rallies. The college football extravaganza drew an estimated 300,000 to Greater Phoenix.
University of Phoenix Stadium in Glendale, 10 miles northwest of downtown Phoenix, was host to both championship football games and will be the site of the 2017 Final Four. The three major sporting events are expected to generate more than $1 billion statewide.
Downtown event venues and attractions include Phoenix Art Museum, Heard Museum, Arizona Science Center and The Children's Museum of Phoenix. Talking Stick Resort Arena and Chase Field are large-scale downtown venues. Chase Field, home of the Major League Baseball Arizona Diamondbacks, has an open-air retractable roof and is the only stadium with a swimming pool.
"Downtown meetings in Phoenix offer an urban vibrancy that includes great hotels, an up-to-date convention center, easy accessibility of the light rail from the airport, an assortment of great cuisine, beverages, shopping and entertainment—all within walking distance," says Douglas MacKenzie, director of media relations for Visit Phoenix. "Downtown Phoenix is an expert in mega events, from last year's fan fest for the Super Bowl to this year's Championship Campus and next year's NCAA Final Four Championship for even more fan experiences, all with 320 days of sunshine."
Properties that are popular with fans and meeting attendees alike are Renaissance Phoenix Downtown Hotel, Hyatt Regency Phoenix, Sheraton Grand Phoenix and The Westin Phoenix Downtown, with a combined 2,453 guest rooms and 225,000 sq. ft. of event space.
Close to the action, yet considered an urban retreat, Renaissance Phoenix Downtown has 518 guest rooms and suites, plus 50,000 sq. ft. of event space. There's complimentary Wi-Fi in all public spaces, and guests will love the rooftop heated pool, lounge and restaurants.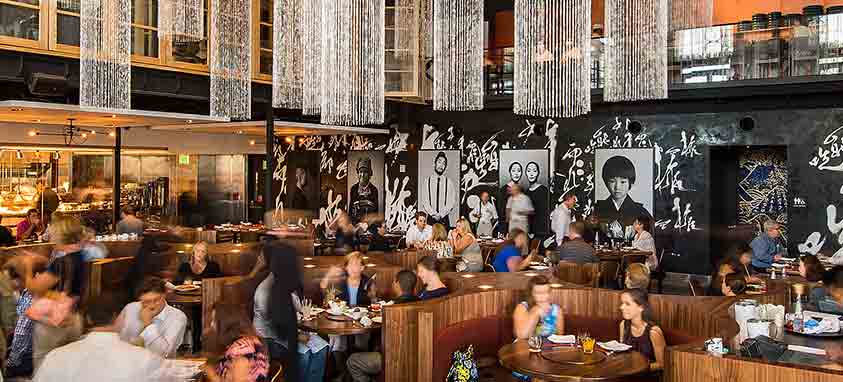 Morimoto Asia, Lake Buena Vista, Florida
Everything Is Waiting for You, Downtown
As it turns out, one of the most famous downtown event destinations isn't a downtown after all. Downtown Disney was so popular that it was often mistaken for downtown Orlando. That began to change a little in September, when the entertainment district in Lake Buena Vista, Florida, was renamed Disney Springs.
Expected to be completed this year, the four-neighborhood area will expand to include 150 shopping, dining and entertainment venues. Redesigned to evoke a village atmosphere, Disney Springs features open-air promenades, flowing springs and the charm of a waterfront town.
One of the new dining options is Morimoto Asia, which features a two-story layout with terraces, grand halls, private rooms and waterside seating. The Boathouse is another waterfront eatery and features a raw bar. Make sure to save time to take a ride on the amiphicars, which are launched on the manmade lake just outside the restaurant.
Hyatt Place Denver/Downtown and Hyatt House Denver/Downtown, which both opened in November, are bolstering the rise of Colorado's state capital as a meeting leader. Less than a five-minute walk to Colorado Convention Center, the two Hyatt brands exist under one roof, with a combined 361 guest rooms and 4,800 sq. ft. of event space. Hyatt Place is geared toward business travelers, while Hyatt House is for extended stay. The properties are a great example of the new regionalism design movement, including a snowboard art installation inspired by the lines found in a topography map of Colorado and Rocky Mountains snowboarding.
Hyatt Regency Aurora-Denver Conference Center is scheduled to open this spring with 249 guest rooms and more than 30,000 sq. ft. of meeting and event space. There will be a full-service restaurant, outdoor pool and fitness center.
Hard Rock Hotel San Diego offers the perfect combination of location and cool. Situated in the historic Gaslamp District and within walking distance of San Diego Convention Center and Petco Park, Hard Rock has 40,000 sq. ft. of event space and 420 guest rooms and suites.
Hard Rock's stellar event space includes The Edge, with 3,946 sq. ft. and floor-to-ceiling windows overlooking the Gaslamp. There's an 8,700-square-foot outdoor venue called Woodstock that can be used for concerts or receptions in which planners can create their own backdrops. The 9,100-square-foot banquet hall can accommodate up to 1,000. For pure rock-star treatment, buy out the 11th-floor outdoor terrace and enclosed dining area (Elevation), which are adjacent to a Platinum Rock Star Suite.
The Godfrey Hotel Boston is a luxury boutique property that opened in September a block from Boston Common. The 242-room lifestyle hotel is in the city's burgeoning Downtown Crossing. It's also convenient for those attending events at Boston Convention and Expo Center. The conference room can seat up to 25 for banquets and holds 40 for receptions.
Motif Seattle, A Destination Hotel, is near several prominent tourist attractions, including Pike Place Market, Pioneer Square, Space Needle and Seattle Aquarium. It's also a great meeting hotel since it boasts 10,000 sq. ft. of space and is walking distance to Washington State Convention Center. The 6,000-square-foot ballroom can be divided into three sections and offers spectacular views of Puget Sound and Olympic Mountains.
Smart Meetings Northwest will take over the 319-room Motif on Feb. 23. The event includes a closing reception at Safeco Field, home of the Major League Baseball Mariners. Event attendees will be treated to a tour of the baseball park, which has 66,000 sq. ft. of indoor event space and 236,000 sq. ft. outdoors.