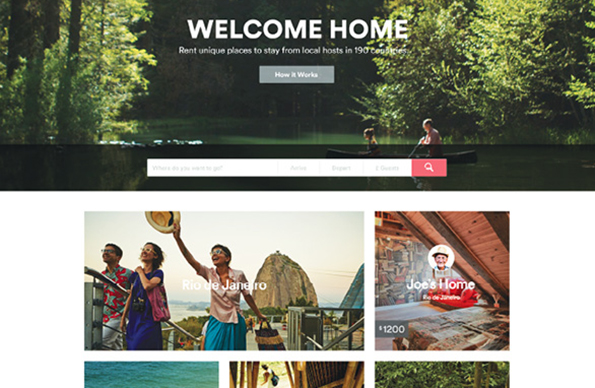 Airbnb Website
Since Brian Chesky and Joe Gebbia opened their home to out-of-town attendees for an international design conference in San Francisco in 2007, Airbnb, the company they founded the following year, has become a star of the sharing economy. Airbnb has now served more than 25 million travelers in need of a place to stay, while economically benefiting their hosts.
Its impact on big events has been remarkable. During the 2014 World Cup, Airbnb says it became Brazil's largest hospitality company, accommodating 20 percent of the event's attendees when hotel rooms filled up and generating $38.3 million in revenue for local hosts.
Airbnb, of course, has also made big inroads into meetings, both large and small. The model makes sense for meetings on many levels.
"We've seen a trend of group offsites/onsites," says Marc McCabe, business travel lead for San Francisco-based Airbnb. McCabe says that as an example, a company might be sending a small team to Lake Tahoe for a focused, multiday meeting; he would suggest that it rent a large cabin for the entire team. He's also seen more companies that bring together remote workers book a large Airbnb accommodation so everyone can stay together when meeting at company headquarters.
In addition, "Airbnb properties offer the opportunity for teams to host smaller gatherings on the side of your main event," McCabe says. This includes small meetings in already-booked Airbnb accommodations as well as event space that can be booked through Airbnb.
Getting More Popular With Groups
Ten percent of Airbnb's customers are business travelers; according to corporate travel booking giant Concur, business-based Airbnb transactions grew by 27 times from 2013 to 2014. Clearly, it's a big growth area for the company.
Why is Airbnb so popular among business travelers and meetings attendees? Several reasons:
Unique venues: Planners can search the Airbnb website for properties that accommodate groups by inputting the desired city or area, as well as the dates, and clicking on "16+" as the number of guests. They can then filter the listings by size, price, neighborhood, amenities, keyword and more. When Julius Solaris of Event Manager Blog discovered this function a few years ago, "a whole new world [of] opportunities unfolded. "Airbnb has a mission to list unique spaces. This is what event planners are usually looking for. If you, like me, are bored with the same old venues and want to surprise your guests, you might give it a try."
Ease: A business travel program and partnership with Concur that Airbnb launched in July made it easy for groups to book accommodations. The program uses an online portal linked to corporate accounts with booking parameters set by company travel managers. "We're just at the beginning of our efforts around business travel," McCabe says. "Right now we have over 60 companies signed up for our business travel program from a number of industries."
Amenities: Airbnb properties often provide guests with features that add extra value to the attendee experience. McCabe recalls his favorite Airbnb stay and how it added to the event: "My most memorable experience was probably traveling to L.A. for the annual Global Business Travel Association conference. I stayed in a 600-square-foot modern loft only five blocks from the conference, and I paid $150 a night! A lot of old red brick inside, Netflix for winding down and an awesome little gym and Jacuzzi on the roof with the downtown L.A. skyline as backdrop. I had a few of my colleagues stop by to plan our booth the night before the event. Overall, an excellent experience."
Location: Tapping into Airbnb often means off-the-beaten-path event venues with lower associated costs. "Airbnb often offers accommodation options that are closer to venues that lie outside of traditional downtown areas," McCabe says. "When you're traveling and have a conference in Brooklyn, sometimes you want to walk right over, not take the MTA from Manhattan. Airbnb provides folks that option."
Boom of "bleisure" travel: For those combining business with leisure travel, Airbnb's homey accommodations are an appealing alternative to hotels. A recent study by Homewood Suites by Hilton revealed that 62 percent of business travelers were likely to extend their stay to enjoy the destination, and 55 percent like to relax by participating in local activities.
Price: All meeting planners have a budget, and Airbnb's affordable accommodations are hard to ignore. According to PricewaterhouseCoopers, hotel occupancy in the United States is expected to increase to 61 percent this year—the highest it's been since the recession began in 2007—and numbers are higher in Europe. More demand could mean a spike in room rates at hotels, and Airbnb just might be the answer for planners in need of more budget-friendly options.