How tomorrow's events are being planned today
In the not-too-distant future, attendees of large conferences will be outfitted with contact lenses that deliver information about people, booths and events directly to their eyeballs.
That's the prediction of meetings app developer Lawrence Coburn, CEO of DoubleDutch. If you think it sounds like an outlandish science-fiction plot, think again.
Augmented reality—in which information from a device is delivered directly to the eye of the beholder so he or she can see the physical reality of the space and information about it at the same time—is already here.
It got a bit of a rough start with Google Glass, which people disdained because of its eccentric look and the uncomfortable feeling of being recorded by the wearer. But make no mistake, augmented reality will be in the event space in just three to five years, Coburn says.
But you don't have to wait that long for technology to make events smoother, more efficient and more useful. Events and technology these days already go hand in hand. And for good reason.
Industry Professionals Weigh In
"Events are the single biggest marketing spend in the world," Coburn says. "It's actually not even close. It's a $565 billion spend," he says, referring to a Frost and Sullivan study. "Typically a company will spend 30 percent of its marketing budget on events, conferences and trade shows. The problem—if you can call it that—is it's been very hard historically to measure if that event spend is successful."
DoubleDutch and a host of companies are changing that. Their custom apps not only provide live information about events, but also measure audience engagement and the success of conferences. New apps, software and hardware offer a multitude of possibilities for events that aim to make them more interesting, useful and cost-effective.
Whether you're searching for a venue, looking for speakers, making travel plans, promoting your meeting, or collecting information and creating virtual games that engage attendees, technology can help you do it efficiently.
In fact, using technology to plan and execute events really is no longer optional—it's a must.
"A true meeting planner must be technologically savvy and current," says Kathleen C. McCasland, CEO of Your Conference Connection (YCC). "No longer is it acceptable to know just Word or Excel. In the last five years, Twitter, LinkedIn, Facebook, YouTube and Periscope, to name a few, have become essential to marketing a conference.
"The incarnation of the mobile app has drastically cut back on the need to print thick programs and improved participant communication at the conference," she adds. "Participant tracking technology is becoming more popular, as is live streaming."
Allie Magyar, president of Dynamic Events, Inc., agrees, stating, "Event technology can be your personal assistant, your watch dog and your task manager. Meeting planners can't afford to waste time on manual tasks when there is so much more to be done on strategy and leadership of your teams, and such limited time to get it all done."
Teaming Up for Tech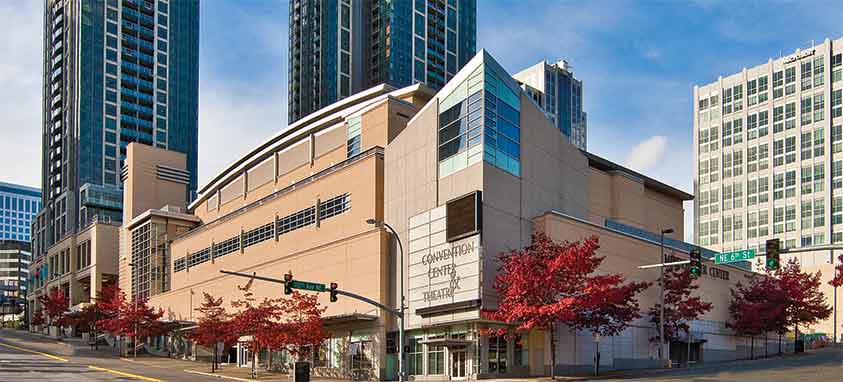 Meydenbauer Center, Bellevue, Washington
Major companies that can offer varying technology services are teaming up to deliver more complete packages to customers. For instance, two hospitality companies are partnering to deliver better tech for conferences: Encore Event Technologies (Encore) will provide technology and seamless customer service to MGM Resorts International.
Encore began providing services in March to MGM Resorts, Las Vegas' largest collection of meetings and convention properties. The relationship allows MGM Resorts to leverage more than $100 million of cutting-edge equipment and the reach of Encore. The resort will feature advanced audiovisual capabilities, a smartphone app full of resources for planners and design services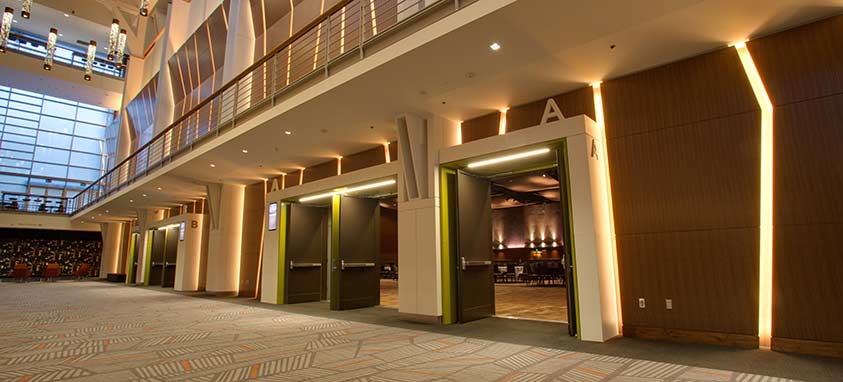 Meydenbauer Center, Bellevue, Washington
Meeting organizers know state-of-the-art tech is de rigueur for any convention center. Bellevue, Washington's Meydenbauer Center, built in 1993, just completed substantial renovations to create a more tech-forward space matching the innovation and sophistication for which the city is known.
"Since Meydenbauer opened 23 years ago, Bellevue has developed into a vibrant urban city that is home to several major corporations and ambitious start-ups," says Stacy Graven, executive director of Meydenbauer Center. "[The renovation] elevates the convention center's interior and provides a new level of finishes and technology that is consistent with our hotel partners."
Every size facility is upping the ante on technology to better serve planners and attendees.
10 Ways Tech Enhances Events
1. Site Selection
Before you have a meeting, you have to find the perfect place. Word of mouth and experience still count. Several companies help you with this.
Shannon DeSouza, director of sales and industry relations for Attendease, recommends Room Viewer and Social Tables, programs that allow planners to create a room layout and seating chart.
Social Tables allows collaboration between event properties and planners. Room Viewer helps planners create event space layouts and more.
"[They're] super cool and allow for diagramming of property and seating," DeSouza says.
Many planners rely on Cvent Supplier Network, which allows users to search more than 200,000 event venues worldwide, send requests for proposals, receive proposals and then compare them.
"This free database is amazing when looking for meeting or special-event spaces," says Juliane Farinazzo, partner and events director for Bijou Events. "It's available to thousands of cities globally and provides excellent comparisons of space sizes, floor plans, hotel accommodations and more."
Farinazzo also likes Splacer, a marketplace where people can list, discover and book unique spaces.
"When I am looking for a more unique or unexpected meeting space…Splacer offers the most avant-garde spaces in New York, Israel and San Francisco," she says. The website offers competitive pricing from a wide array of spaces and hotels, and "access to venues that push traditional boundaries," Farinazzo adds.
2. Scheduling & Planning Tools
"There is a variety of different planning tools available that allow for collaboration of large teams and task management, as well as easy reporting and visibility for extended teams," says Allie Magyar, president of Dynamic Events, Inc. And best of all, many are free.
"In event management, it seems sometimes that things change daily. We need tools and communication methods that allow us to be agile and responsive," Magyar says.
Specifically, she recommends tools that allow collaboration such as Basecamp, Trello and Microsoft Planner. Basecamp is a private, secure space online where people working together can organize and discuss everything they need to get a project done.
Trello is a free product that allows people to collaborate and organize with each other, and Microsoft Planner, which comes with Office, also allows online collaboration across devices so that team members from all over can collaborate.
Great planning software allows planners to create easy buckets of tasks, assign workloads and communicate efficiently.
Evernote and Wunderlist, both of which allow collaboration and are used as task managers, also are popular for lists, collaboration and work across all platforms.
Magyar also uses weekly scorecards and likes online collaboration tools Slack and Yammer, which are used by large and small companies. These kinds of products "help align your team on large announcements, resources or actions and allow for cross-group collaboration," she says.
DeSouza's own event scheduling software, Attendease, is great for its easy-to-use drag and drop interface. "When I'm working on complex events, it allows me to create filters, waitlists and capacities—which makes my life extremely simple," DeSouza says.
3. Event Marketing & Promotion
Marketing and promotion capabilities are built into most event applications. But it might take some out-of-the-app creativity to come up with the perfect solution to suit your events' needs.
Promoting your meeting "involves several different tactics," says Dahlia El Gazzar, founder of the tech company Dahlia-plus. "The art is in creating a solid marketing or promotion plan for your event—and the science is to find a tech platform that will track which tactics are working to attract [the right] type of attendee," El Gazzar says.
4. Speaker Selection
Anyone who's been to enough events and heard enough keynotes can attest that finding just the right speaker can make or break an event.
Several companies highlight keynote speakers. National Speakers Bureau (NSB) allows planners to search by name or topic and find the right speaker for their event at just the right cost. NSB details each speaker's topics of interest as well as his or her presentation style, and is generally high-end.
Orate caters specifically to event planners, allowing them to find speakers at any price point. The National Speakers Association is a trade group for speakers that provides a long list of speakers and their availabilities to planners.
El Gazzar also suggests getting creative with speaker selection. Some organizations crowd-source their speakers, using online polling methods to find speakers. This not only allows event planners to find speakers, but it also helps them to promote their events. El Gazzar points to South by Southwest (SXSW) festival's unique "PanelPicking" process.
5. Travel
When it comes to getting to the event, there's a seemingly endless list of websites from which to choose. Different planners recommend different travel companies based on their needs and past experience.
DeSouza is fond of HipMunk, an online travel aggregator similar to Kayak. She's impressed by HipMunk's flight price tracking and alerts. "They also use their analytics to learn more about you as a traveler, so their targeting email blasts are ones you don't want to miss," she advises.
But finding the right travel site is a matter of personal preference, as there are so many out there. (A Google search of "travel sites" yields 1.75 billion results.)
El Gazzar says Tripit is useful "to organize all itineraries and reservations for hotels, flights and car and Hopper [is a great tool] to search for flights."
She also really likes Bradley, an intuitive personal assistant chat app that she calls the wave of the future. It can book restaurant reservations, airline tickets and hotels, and even set up price alerts to inform you when a ticket price has dropped within your budget. Email confirmations go straight to the user's inbox.
Of course, no single app does it all. That's why travel technology company Switchfly developed a white-label enterprise cloud platform.
Their travel redemption solutions allow loyalty program members to redeem points for travel experiences anywhere, anytime. It permits client airlines, hotels and resorts, financial institutions and online travel agencies to provide tailored experiences to their customers.
No travel plan is complete without well-known ridesharing apps such as Uber and Lyft, which directly sync account information to the app so travelers don't have to carry cash to pay for trips, or worry about keeping track of the receipt to expense later. Several rideshare companies including UberEvents offer business versions, so that event hosts can offer their guests safe transportation from the airport or hotel to the event at a discount or at no cost.
Another app is Flywheel, which allows people to hail cabs from their mobile devices.
6. Event App Creation
Once at the event, hosts want to give attendees the ability to navigate, engage and interact. Event apps are now considered a must-have, especially for larger conferences, and they do much more than keep your map and schedule handy.
"I like the capability that an event app brings to the meeting planner and enhances the attendees' experience prior, during and [after the] event," Farinazzo says. "There are many event apps out there with different capabilities and prices. Once a planner decides to create an event app for an event, I highly recommend doing some research and having clear objectives and goals. This will help you to find the best solution."
Farinazzo says her main goals are to enhance the attendee experience by providing an interactive and engaging app while also streamlining the planning process with one integrated platform.
A key feature event apps should have is built-in analytics so that conference planners can gather important data that reflects the success of the event. DoubleDutch, Attendify, EventMobi, QuickMobile, ITM Mobile, Skoop and Bizzabo are just some of the big-name apps that offer this among many other features.
Invaluable feedback isn't only important post-event. Some apps, such as Gather Digital and DoubleDutch, feature pre-event surveys that allow planners to monitor perception shift throughout the event, letting hosts proactively address any issues.
7. Gamification That Provides Data & Fun
Many of today's apps offer some degree of gamification: the ability to take polls and otherwise interact with attendees.
Getting attendees to play games not only provides hosts with a simple way to measure engagement; it allows them to retain information more readily and even promote the event in the process.
DoubleDutch, for instance, allows planners to set up scavenger hunts. Attendees are challenged to complete a series of actions, and are rewarded with "achievements" on their profile, similar to scouts getting badges, thereby creating a fun competition between attendees. Planners can also tie the games to real prizes at the events, such as giveaways.
DoubleDutch also offers the Passport Program, in which planners can check in "items" in the app with corresponding QR codes.
For instance, the items can be exhibitors, sponsors or areas at the event. These special QR code-based check-in objects are hidden in the app, preventing attendees from erroneous check-ins.
Similarly, Swarm app from Foursquare offers a host of gamification options such as live polling, which awards users with leaderboards, badges and other prizes that attendees can keep track of from their phone, or live leaderboards within the conference room.
Attendify offers engaging games, including photo and caption contests, where winners can be offered real or virtual prizes.
EventMobi also suggests offering rewards that recognize performances such as top networks and most popular booths.
There's literally no end to the amount of gaming you can use to engage both attendees and exhibitors. After all, fun shouldn't be what happens only after the event wraps.
8. Registration
"Attendees are always anxious to plan out their experience for onsite," Magyar says. "Whether you manage sign-ups per session during the registration process or have them live in your mobile app, ensure that all of your event technology is updating across all your platforms so that attendees see the most recent information to plan accordingly."
She recommends full-service registration and housing companies such as Experient, which she says "can not only save you hundreds of hours on managing registration, but also provide best practices and enhance the attendee experience." Experient helps planners find the best location for meetings and events that range from having 25 to more than 100,000 attendees.
There also are do-it-yourself tools such as RegOnline, or new startups such as Swoogo, she says. Both allow the user to use templates or customize registration software. Swoogo allows the user to generate reports and interact with registrants. But most importantly, it boasts a simple interface.
RegOnline offers similar services, including hotel and venue sourcing, as well as a payment gateway. Planners can easily manage event registration, event marketing and ROI measurement with data in real time, unlimited custom reports and surveys to gather crucial feedback.
9. Live Streaming
These days, attendees can access events from all over the world without leaving their home or office. Not only are they watching keynotes in real time, but they're also networking with other attendees, participating in polling and scoping out the venue along with everyone physically in attendance.
Options for live-streaming events range from Google Hangouts (free) to more tailored software such as LiveCube, Periscope and Blab.
LiveCube, for instance, offers gaming within its app to engage the audience. Audiences are offered rewards for all sorts of behaviors, including simply attending, which even keeps remote attendees feeling like they're part of the fun.
LiveCube auto-populates schedules and speaker information, and sends links to attendees to participate in event sessions.
Periscope is taking live video to the next level, allowing multiple people around the globe to broadcast live video from their phones, thereby enabling them to share what's happening around them. Users can share with just a few people or the whole world.
Blab, which is still in the beta testing phase, will allow anyone (including planners) to host their own show and broadcast it live.
(For an in-depth look at the roles live streaming and video play in today's meetings and events, see our story on p. 48.)
10. Data, Analytics & Engagement Reporting
These days, most mobile apps will crunch and analyze data for you. And data, of course, is everything. "Folks are living on our apps," Coburn says. "They're sending messages and they're setting up meetings; they're commenting, and that is leaving a data trail. If you look at that data trail on an aggregate basis across the entire event, you can really start to understand the parts of the event that are working and the parts that are not working."
Magyar recommends programs such as InsightXM, that allow planners to plug in data sets and receive feedback on who your audience really is, what they did onsite at the last event and what matters to them. "Armed with this info, you can put together a powerful execution and marketing plan from actual data that drove last year's event," Magyar says.
El Gazzar recommends wearables that act like tiny beacons, transforming visitor badges into "smart" badges. Today's RFID and beacon technology can report back what time attendees arrive and leave, which booths are most attended, which speakers captured the biggest audiences and more. The next step is turning wristbands and badges into invisible devices, so that attendees' experiences are that much more seamless.
Tomorrow's Tech
Whether its saving money and energy or delivering more intelligent feedback about attendees than ever before, technology is a must in the meetings industry. Hotels, resorts and convention centers are hopping on board faster than ever to provide the best experiences possible.
Dependable and lightning-fast Wi-Fi has become the standard for any venue that is considered a top selection for technology meetings, and A/V amenities are being improved every day. Hotels are even beefing up their IT staff. So what's next? Likely, whatever you push for.
---
International Innovators
The United States isn't the only place where tech is key in meeting spaces. Companies around the world are sprucing up convention centers, from state-of-the-art audiovisual tools to event apps.
Canadian-based mobile meeting and event app QuickMobile recently launched Live Insights, an advanced real-time audience response solution that allows presenters to engage with audiences like never before.
Its live-polling feature creates questions on the fly and collects results instantly to measure audiences' understanding of the content. A discussion forum allows attendees to ask questions anonymously while speakers can moderate the conversation.
Meanwhile, Truman Brewery in London is preparing to host in November the Event Tech Awards, which will recognize those pushing the boundaries in innovative event technology.
The awards will be part of the Event Tech Live conference, which aims to connect agencies, brands, organizers, developers, investors and tech providers.
IMEX in Frankfurt held its annual trade show April 19–21, highlighting the buzzworthy sharing economy. IMEX created a series of presentations on the sharing economy that included MeetingRooms.com CEO Caleb Parker; Vizeat.com CEO and co-founder Jean-Michel Petit; Experient Senior Vice President Gary Schirmacher; and Showslice co-founder Damian Oracki.
Down under, Adelaide Convention Centre has launched Australia's largest Google Virtual Tour, while also becoming the first Australian convention center to adopt the technology across the entire building to assist clients in planning their events, according to Alec Gilbert, chief executive of the center.
"Google Maps and Street View are used all around the world, so it makes it easy to access for anyone considering booking, visiting or generally interested in familiarizing themselves with the center," Gilbert says.
The Google Virtual Tour incorporates 316 panoramic photos, built from 3,792 separate images of the expanded center and showcases all 160,000 sq. ft. of the interior over three levels, including external views of North Terrace and the Riverbank precinct.
---
Further Reading: