They're also controversial in many places
Gender-binary bathrooms are getting flushed down the toilet in increasingly more places. The rights of the transgender community to use restrooms that correspond to the gender they identify with is a controversial issue discussed on the news and in politics.
Shows such as Transparent, I Am Cait and I Am Jazz have aided in bringing it to the forefront. Some hotels and event spaces have taken note and are progressively responding by making bathrooms gender neutral so that no one feels excluded.
The convention and visitors bureau of any city plays a vital role in the meeting planning process. Meeting professionals can consult them for proper guidance and to act as a liaison with LGBT organizations.
"We are the eyes and ears of the hospitality community, and are able to speak to what the laws are, not only in our specific destination, but in our state, as well," says James Delmar, national accounts manager of Philadelphia Convention & Visitors Bureau and Advisory Board member of the LGBT Meeting Professionals' Association.
Some places allow transgender individuals to use the binary facility that corresponds to the gender with which they identify. Other locations prohibit this and require people to enter only restrooms that match the gender on their birth certificate.
When renting out a venue for a private function, meeting professionals may opt to temporarily change the bathroom signage for the duration of the event and return the original binary distinction when the event wraps. Delmar says that venues wishing to change bathroom signage can do so for as little as $100. Some places have been creative with wording and illustrations on gender-neutral signs. To convey inclusiveness, some signs jokingly say even aliens are welcome. This is a sensitive issue to the transgender community and can be perceived as offensive.
Critics of this movement have raised safety concerns that predators could take advantage of gender-neutral restrooms to prey on women or children. To quell fear, Delmar said he hasn't heard stories of such things happening. He has witnessed positive results from Philadelphia being such an inclusive city and says it has been able to book three or four of the largest LGBT conventions.
North Carolina Legislation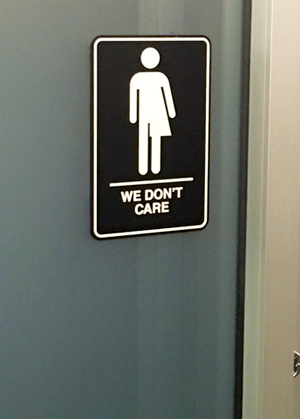 This is a drastic difference from the effect restrictive laws have had on the hospitality industry in North Carolina. The 21c Museum Hotel Durham has taken matters into its own hands by installing "We Don't Care" signage on its single-occupant restrooms.
"Like many businesses across the state of North Carolina, the passage of HB2 had an immediate, negative impact on our business, as many corporations and organizations vowed an economic protest against the state until the bill was rescinded," says Lisa Swanson, director of sales and marketing at 21c Durham. "However, like many of our like-minded corporate citizens, we have been praised by guests and fans for engaging this important topic."
In April 2016, in a one-day special session, the state's legislature passed House Bill 2 (HB2), which prevents transgender individuals from using bathrooms corresponding to the gender they identify with in state schools and government facilities. Additionally, it prevents cities from creating LGBT nondiscrimination ordinances.
The 21c Museum Hotel offers 125 guest rooms and 10,500 sq. ft. of meeting and exhibition space, "Genuine Southern hospitality is at the heart of who we are at 21c, and providing gender-neutral, single-occupant restrooms is an extension of that—creating a place that is safe and welcoming for everyone," Swanson says.
There's an App for That
Looking for a place to relieve yourself? There's an app for that! Refuge Restrooms app is available for download to find a gender-neutral bathroom in your current location.
"One of the biggest battlefields upon which the fight for transgender rights is taking place daily are restrooms," Refuge says on its website. "It seems that every other week a transgender child is made the center of a national news story because they used the restroom assigned to the gender they identify with.
"Obviously, we believe that every transgender person should have the right to use the restroom they want to. However, we also realize that despite legislative victories in recent years regarding restroom usage, many transgender individuals still face both verbal and physical harassment simply for using the restroom."
Overcoming Hurdles
Some cities, municipalities and states with inclusive legislation have another hurdle to get over before putting gender-neutral restrooms in place. Building codes dating back to the 1880s segregated restrooms when women entered the workforce, according to the website Co.Design. This legal complication has stalled changes in some places, but some architects seek work-arounds.
"I genuinely believe that anything can be solved with good design," Maxwell Ng, an architect at DiMella Shaffer and the steering committee chair for Massachusetts Transgender Political Coalition, told Co. Design. "Architects love a good challenge."
"We have the skills as architects to speak to people who work within the city and ask for new solutions, and to show them renderings that demonstrate how simple it could be [to design gender-neutral restrooms]," Ryan Day, a student from Columbia University's Graduate School of Architecture, Planning and Preservation, told Co.Design.
Read more about planning an LGBT-friendly event.