Fort Lauderdale Riverfront Cruises
Fort Lauderdale, too, has morphed, from a beachfront town popular with spring-breakers into a cosmopolitan destination that now attracts international visitors…and meetings.
There's a modern convention center, sleek new hotels and a rapidly growing downtown, filling up with new office towers and residents for an air of a city ready to do business.
"Greater Fort Lauderdale is a slice of paradise, with 3,000 hours of sunshine annually, average temperatures of 77 degrees and 23 miles of beach" says Stacy Ritter, president and CEO of Greater Fort Lauderdale Convention & Visitors Bureau. "But choosing a destination is more than selecting a climate, a building or a city. Yes, we have incredible meeting facilities. Most importantly, though, we deliver a team of seasoned, passionate professionals to help you provide the best experience for your attendees."
The Fort Lauderdale experience helped lead to 15.4 million visitors in 2015, pumping $14.2 billion into the local economy. To answer the demand, Greater Fort Lauderdale/Broward County is investing $704 million in new hotel development, with more than 1,000 new guest rooms entering the market over the next two years. Another $222 million is expected to be invested in improvements and renovations at a dozen hotels.
A new dual-branded Starwood property is coming to downtown Fort Lauderdale in spring 2018. The property will be divided into two hotels: The Dalmar from the Starwood Tribute Portfolio (209 guest rooms) and The Element by Westin (114 guest rooms). It will feature the city's first high-rise rooftop bar and 12,000 sq. ft. of meeting space.
Le Meridien Dania Beach at Fort Lauderdale Airport, formerly Sheraton Fort Lauderdale Airport & Cruise Port Hotel, is undergoing a $30 million renovation and conversion that is expected to be complete in fall 2017. It will have 245 guest rooms, 20,000 sq. ft. of meeting space and two redesigned restaurants.
There's vibrant nightlife, especially on Las Olas Boulevard, lined with prestigious galleries, shops, restaurants and sidewalk cafes, and a people-parade that never ends. Himmarshee Village district is where Fort Lauderdale was first settled in the late 1800s. Once in decline, it's newly restored, showcasing cool restaurants and bars.
Fort Lauderdale, like Miami, offers attendees the chance to take a pre- or post-convention cruise. Port Everglades recently welcomed two new cruise ships and another one's coming online next summer.
Must See
Fort Lauderdale is called the Venice of America, which means any meeting or conference that takes places there should include a boat ride on the New River, Intracoastal Waterway and Port Everglades. Fort Lauderdale Riverfront Cruises offers tours aboard luxury yachts, which explore Millionaire's Row, for example. Anticipation Yacht Charters, which owns Riverfront Cruises, boasts numerous luxury yachts available for corporate events, dinner cruises and cocktail cruises throughout South Florida. Fort Lauderdale Water Taxi is one of the top attractions.
Meeting Hot Spots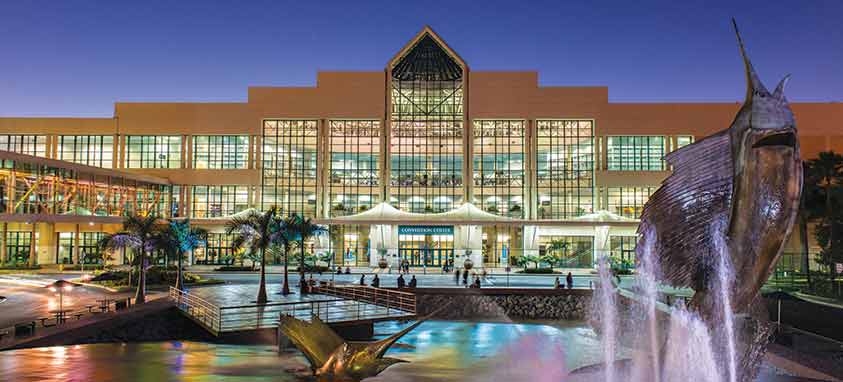 The 600,000-square-foot Greater Fort Lauderdale/Broward County Convention Center has all the modern bells and whistles, as well as huge windows that let in the Florida sunshine. It's the first convention center in Florida to earn LEED certification and the third in the country to achieve LEED Gold certification for an existing facility.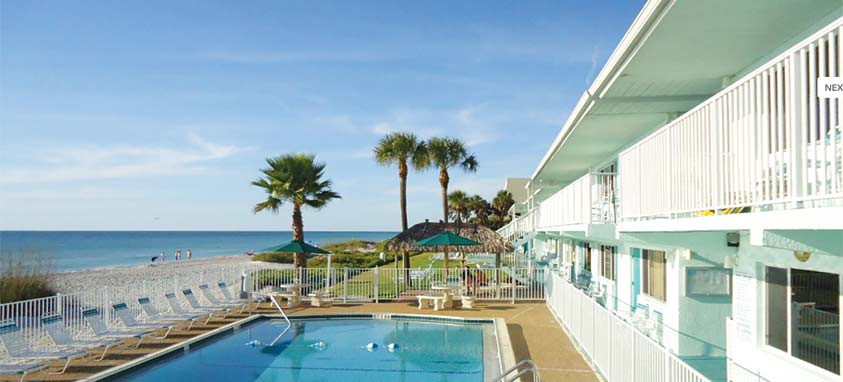 Diplomat Beach Resort in Hollywood was just voted one of Florida's best resorts in 2016 by Conde Nast Traveler readers. It offers 1,000 guest rooms and 209,000 sq. ft. of meeting space, with a full-service spa, pool, golf course, catamaran, boat rentals, fitness center, yoga on the beach and eight eateries and bars.
Fort Lauderdale Marriott Harbor Beach Resort & Spa is a 16-acre, beachfront resort that just completed a $27 million renovation of its 650 guest rooms. It boasts 66,965 sq. ft. of meeting space, a 22,000-square-foot full-service spa, six dining options (including one right on the beach) and a fitness center.