Convention centers are like people—they each have their own personality and they all look a little different. But just like humans, they share similarities, as well. Convention centers all have welcoming conference rooms, well-tailored food service, changeable spaces to cater to all kinds of group needs, and capable, friendly staff who assist with planners' needs.
Meetings have their own personalities, too. Small or large, the bonding experiences they create shape them for the present and the future. Part of discovering the charm of a city and its conference center is getting to know the distinct character these dedicated campuses offer. We want you to meet some of these award-winners, divas, adventurers, revelers, artists, farmers, nightlife lovers and more.
The Fresh Face: Albuquerque Convention Center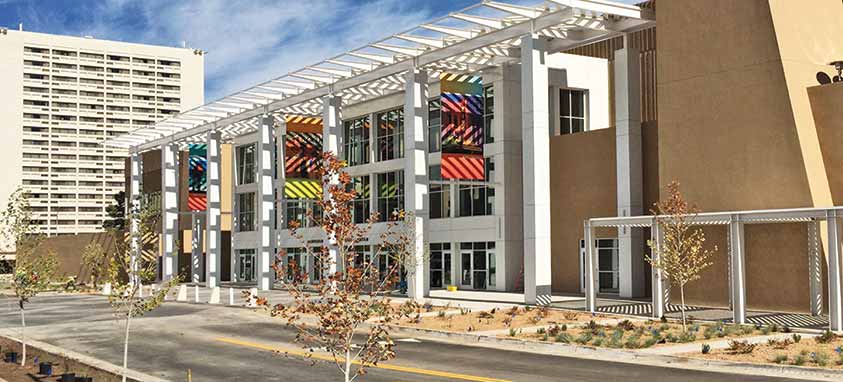 In New Mexico, Native-American culture abounds, drum beats waft in the hills, and dance, spice and color appear everywhere. But the original Albuquerque Convention Center was built in the style of the Brutalist architecture movement popular at the time, so Albuquerque residents began feeling it was high time for something new.
So, a $23 million renovation was completed in October 2014. The new look showcases Albuquerque's history, art, culture and environment, and includes a new ballroom, back-of-the-house improvements, 167,562 sq. ft. of exhibit space, 2,350-seat Kiva Auditorium, 27 meeting rooms and a 31,000-square-foot ballroom.
Groups can devour delicious New Mexican cuisine at Cecilia's Cafe. Tip: When waiters ask if you want red or green, (chilies, the official state question), answer "Christmas" (both), like a true New Mexican.
Walking tours are also a great group option, starting with a tour of Old Town with Southwestern art galleries, ancient adobe structures and the Church of San Felipe de Neri, the city's oldest building. Then stop at Albuquerque Museum of Art and History, and Indian Pueblo Cultural Center. For a different kind of cultural experience, groups love Breaking Bad RV Tours. And yes, it's exactly what it sounds like—a three-hour location tour in the RV, just like the one on the show with the same name.
The Big Daddy: Anaheim Convention Center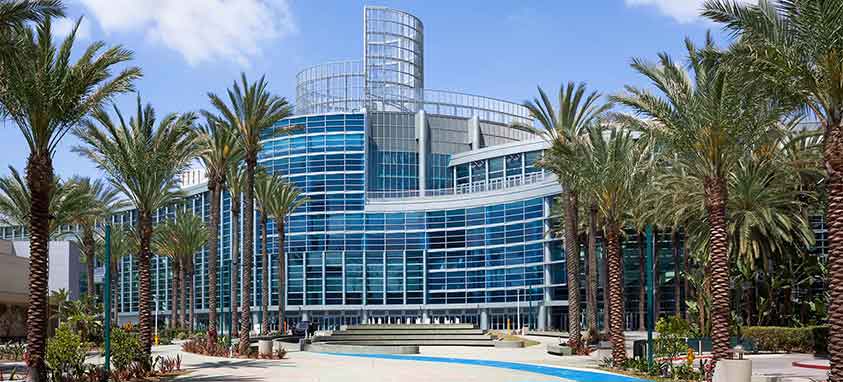 Anaheim Convention Center (ACC) dominates the Pacific. It is the largest convention center on the West Coast, and it's getting bigger: Some 200,000 sq. ft. of additional space will be added in September 2017, creating more options for meetings, exhibits and California dreaming. The ACC is a 1.8 million-square-foot facility with more than 1 million sq. ft. of exhibit space, 200,000 sq. ft. of outdoor event space, a 7,500-seat arena and a 100,000-square-foot, column-free ballroom.
In the convention center area, palm-tree lined plazas and sunny skies surround three world-class hotels with a combined 3,092 rooms and 275,000 sq. ft. of newly renovated function space. ACC is the largest convention center to earn 2016 LEED Gold certification for its environmentally friendly practices. The convention center celebrates its 50th anniversary this year with memories of past show-stopping performances by icons Elvis Presley, Jimi Hendrix, and David Bowie—and who knows what the next half-century will bring?
The Brewer: Boise Centre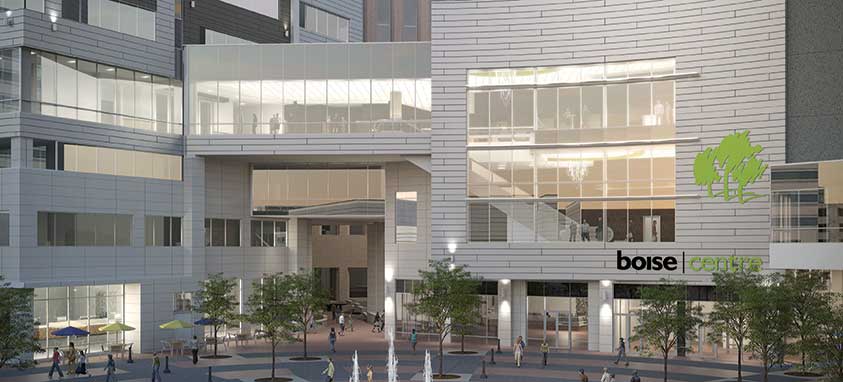 Call it the new Portland, Oregon, or the new Seattle—or just plain Boise. The City of Trees is one of the trendiest destinations in the country. Did someone say beers? Cheers! Boise, Idaho, is also an untapped mecca for the suds-obsessed, so grab a stein and hit one of the 208 breweries along Boise Ale Trail. The 25-mile Boise River Greenbelt makes it fun for groups to bike or hike together.
Idaho's largest convention, meeting and trade-show facility, Boise Centre opened in 1990. Set downtown near Grove Plaza, visitors can stroll to more than 100 restaurants, and sip and savor at the many microbreweries along the way.
Boise Centre expansion is underway, with 36,000 sq. ft. of meeting and event space being added, bringing the new total square footage to 86,000. Eight new meeting rooms, a 14,000-square-foot ballroom and more than 4,000 sq. ft. of column-free, prefunction space are also in the works. Other additions on the agenda include a concourse, which will provide smooth access between the existing Boise Centre and Boise Centre East.
The Night Owl: Calvin L. Rampton Salt Palace Convention Center
"There's no nightlife in Utah," said Golden State Warriors basketball player Matt Barnes about moving on to play the Utah Jazz in the playoffs this year. Predictably, the Internet went crazy, but Scott Beck, president of Visit Salt Lake, jumped on it as an opportunity.
Actually, SLC has been pumping and catering to night owls for a long time. Jazz fans started the hashtag #Nightlife and Beck and his team quickly created the site, There's Nothing to Do in Salt Lake, featuring all the fun things to experience, including 1,700 restaurants and seven microbreweries.
Calvin L. Rampton Salt Palace Convention Center, more commonly known as the Salt Palace, has nearly 700,000 sq. ft. of exhibit and meeting room space; 10 exhibit halls; a gorgeous grand ballroom with dozens of modular meeting rooms, 1,000 underground parking stalls and 40 loading docks; and 515,000 sq. ft. of contiguous exhibit hall space, divisible into nine halls. It's a great choice by day or night.
The Grill Master: Charlotte Convention Center
There is as much dispute over barbecue as there is a passion for it in North Carolina. The state is divided, but Charlotte sticks to its original whole-hog, vinegar-based creation as the oldest, truest and best in the country. Groups should not miss the chance to put on a bib and get messy at one of the many joints in town. Mac's Speed Shop, Midwood Smokehouse and Bubbas Barbecue are among the many finger lickin' options.
Charlotte Convention Center features approximately 550,000 sq. ft. of space, including 280,000 sq. ft. of exhibit space that can be separated into four halls; and 126,500 sq. ft. of flexible meeting space, which includes 37 meetings rooms, the 35,000-square-foot Richardson Ballroom and the 40,000-square-foot Crown Ballroom.
Charlotte Regional Visitors Authority (CRVA) was thrilled to announce a big increase in the Wi-Fi capabilities at the convention center. Some $1.6 million has also been approved to fund upgrades and new design plans for enhancements there over the next few years. Additionally, it's one of the first convention centers in North Carolina to go green. Now that's a reason to celebrate with more barbecue!
The Techie: Colorado Convention Center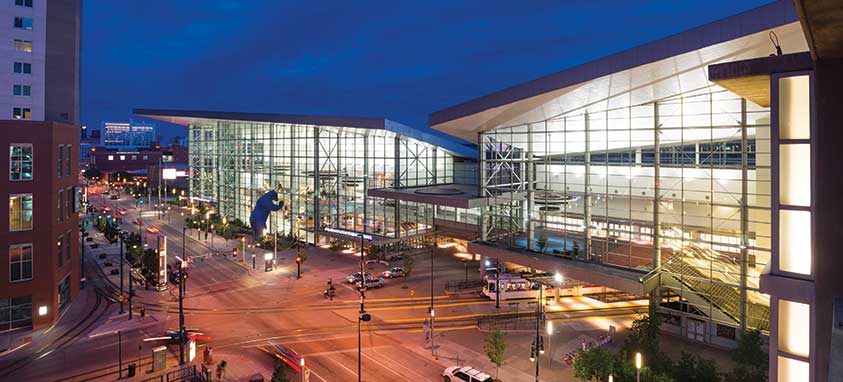 Calling all tech nerds! Colorado Convention Center in Denver received approval for a major expansion in 2015 which, when complete, will produce perhaps the most high-tech, user-friendly meeting and event space in the nation. It will feature 85,000 sq. ft. of new, flexible meeting and ballroom space, as well as more than 100,000 sq. ft. of new service space, including a 50,000-square-foot outdoor terrace on the roof.
Technology improvements to be made will position Colorado Convention Center as a top facility for Wi-Fi and streaming video, and ensure that it will keep pace with current technologies and the changing infrastructure landscape.
Science, art and technology collaborate in an eye-popping installation outside the convention center. A 40-foot-tall blue bear leans against the windows, peering in at all the fun. Next to the bear, fluorescent blue trees are a dynamic art and environmental statement.
"Art is and always has been an extended part of nature, and art can effect social change," says Konstantin Dimopoulos, who created The Blue Trees installation. "The Blue Trees art is ephemeral, as the nontoxic colorant is water-based so the rain will eventually wash it away."
The Cyclist: Georgia World Congress Center
Atlanta Mayor Kasim Reed calls it "a game-changer." It is the Atlanta BeltLine, the proposed 22-mile rail-to-trail path that will connect Atlanta's most historic neighborhoods. The $4 billion infrastructure investment in Atlanta's green future will create or refurbish 1,300 acres of park space, all connected by multiuse paths. Runners, walkers, cyclists and skaters will enjoy safe, well-lit trails to circumnavigate the city.
The BeltLine will connect to the MARTA light rail system in four locations, providing easy car-free access to Downtown and Midtown. Five miles of the BeltLine are open now, with new connectors to the Westside and Eastside attracting plenty of investors in retail, food, drink and shopping.
Just a short ride away is Georgia World Congress Center Authority, which includes the 3.9 million-square-foot convention center and 71,250-seat Georgia Dome, and will soon add the state-of-the-art Mercedes-Benz Stadium. The convention center features 1.4 million sq. ft. of prime exhibit space, 12 exhibit halls, 106 meeting rooms and two grand ballrooms.
The Urban Farmer: Huntington Convention Center of Cleveland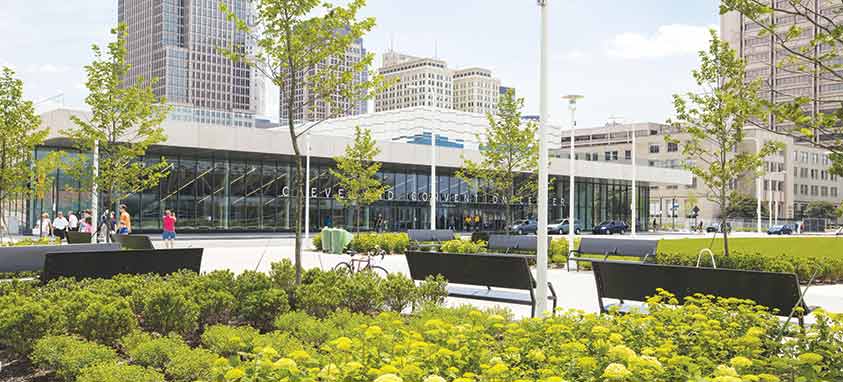 Apiaries, chicken coops and pig pens have become a part of the urban landscape, and nowhere more impressively than in Cleveland. Levy Restaurants caters for Huntington Convention Center of Cleveland, where its innovative farm-to-table program focuses on responsible food and product sourcing.
Levy Restaurants feature 100 percent shell-on, cage-free eggs; seafood purchasing directly aligned with Monterey Bay Aquarium Seafood Watch guidelines; eco-friendly, biodegradable and compostable products; and life-extended and recycled cooking oil.
Groups can meet the farmers at the working farm, which is on the property. Nestled between the railroad tracks and the ballroom sits an acre of sustainability—beehives, chickens, seasonal greens and veggies, and of course, pigs.
The heartbeat of Downtown Cleveland, Huntington Convention Center of Cleveland and Global Center for Health Innovation—which are connected—have nearly 400,000 sq. ft. of flexible exhibit, meeting and event space.
The direct interior access to the 600-room Hilton Cleveland Downtown Hotel is a bonus, and the convention center campus features unique spaces perfect for hosting everything from small executive meetings to large-scale conventions.
The Curator: Long Beach Convention & Entertainment Center
Long Beach is known for its sandy beaches and 345 days of sunshine, but meeting planners also are attracted to its burgeoning museum and art exhibit scene. The Museum of Latin American Art is the only museum of its type in the United States. Long Beach Museum of Art includes the historic Elizabeth Milbank Anderson house.
Pacific Island Ethnic Art Museum highlights arts and crafts of numerous island cultures, and University Art Museum at California State University, Long Beach shows cutting-edge exhibitions of contemporary art. Groups can get in touch with their artistic side, or just allow the talent of others to transform their experience at any of these museums.
Long Beach Convention & Entertainment Center offers more than 400,000 sq. ft. of meeting and exhibit space. It features two VIP lounges, a full-service concierge/restaurant reservation desk, hospitality catering and an onsite audiovisual supplier. The center contains 34 meeting rooms and a grand ballroom, plus three diverse exhibition halls, Long Beach Arena, Beverly O'Neill Theater and Terrace Theater.
Planners should take note of the Pacific Room, a marvel of engineering unlike any other meeting room in the industry. This huge space is accented with warm mood lighting and state-of-the-art sound design. The space can be customized—the ceiling can even be raised or lowered. The sky is truly the limit.
The City Slicker: Los Angeles Convention Center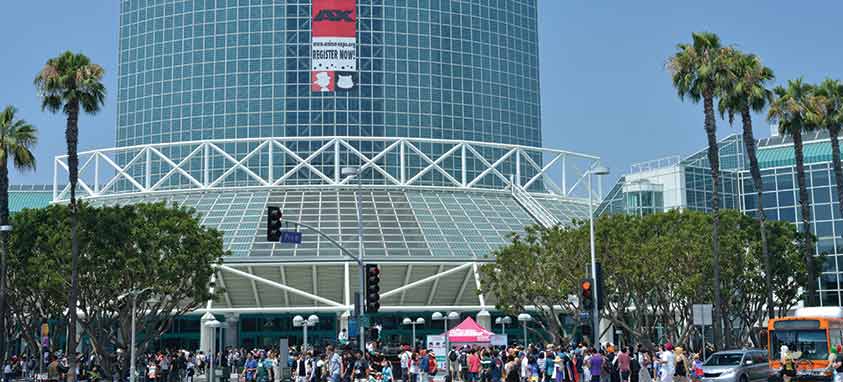 The City of Angels sprawls and shines, attracting more than 47 million visitors in 2016. Los Angeles Convention Center is a fixture in the swirling, dynamic downtown, offering 720,000 sq. ft. of exhibit hall space, 147,000 sq. ft. of meeting space and a newly renovated 299-seat theater, complete with rear-screen projection. The convention center also boasts a full-service business center operated by Image Quest Plus.
Groups attending a meeting at the LACC should focus on exploring the hip and happening downtown city life. A new cultural institution, The Broad, is making a huge splash, thanks to free admission, distinct design and the power of social media.
Attendees can take a walking tour offered by Los Angeles Conservancy to admire the city's vast architectural heritage. Planners should reserve time in DoubleTree by Hilton Hotel Los Angeles Downtown's Kyoto Garden, a peaceful retreat among the skyscrapers.
An official city historical landmark, the downtown library features a lovingly restored art deco facade outside, as well as rows of literature, collections and a fantastic indoor gift shop indoors. Consider the Aloud program at the library for group excursions: The wildly popular program features star-studded author speakers and signings, from Patti Smith to Reza Aslan to Joan Didion.
The Slugger: Mesa Convention Center
All baseball fans must make the pilgrimage at least once to see the boys of summer hit the fields in Mesa. The city, in the Greater Phoenix metro area, is home to two spring training teams—the Chicago Cubs (since the early 1950s), and Oakland Athletics. Spring training is fastball fun in a casual desert atmosphere, and Mesa delivers the perfect pitch. No longer in Phoenix's shadow, the downtown Mesa area has its own personality and provides plenty of reasons to stroll and explore.
Mesa Convention Center is a full-service facility featuring 19,000 sq. ft. of exhibit space and an additional 19,000 sq. ft. of flexible meeting space, with 15 meeting rooms. The adjacent 275-room Phoenix Marriott Mesa Hotel, which will undergo renovation in summer 2017, makes sleeping room accommodations feel like a home run. Rumor has it that major leaguers can often be seen walking around the property.
The Renaissance Reveler: New Orleans Ernest N. Morial Convention Center
New Orleans is no stranger to change and rebirth. It tempts visitors with its French flair and purely Southern charm, while surprising guests with its modernity. Get ready to be seduced by the new—yet still very "N'awlins"—city, which remains a unique destination.
A metamorphosis is on the way. Plans for the exciting transformation of Convention Center Boulevard, which will connect the bustling Warehouse/Arts District with the historic French Quarter, will soon become a reality. A new $65 million park will change the urban environment into a tree-lined pedestrian plaza, bike lanes, moving walkways, fountains, green and water walls, and shaded sitting areas.
Throw some confetti—festivities will be easier to attend, with a more efficient, multimodal transportation hub. And New Orleans Ernest N. Morial Convention Center (MCCNO) has purchased the site of New Orleans Culinary and Hospitality Institute and entered into a 40-year agreement with the institute to operate an educational facility.
Bring on the Second Line parade—MCCNO has 1.1 million sq. ft. of contiguous meeting space plus an additional 3.1 million sq. ft., including 140 meeting rooms; 12 combinable exhibit halls; the 60,300-square-foot, column-free Great Hall; 36,448-square-foot La Nouvelle Orleans Ballroom; and 4,000-seat New Orleans Theater.
The Connector: Ontario Convention Center
"Ontario Convention Center in Southern California has it all: Stay here, go anywhere," says Sue Oxarart, director of marketing. Strategically located without the hassle, attendees have Southern California at their fingertips. Groups can easily connect to the Inland Empire, Orange County and Los Angeles.
The convention center is a sleek, notable venue, frequently used by filmmakers as a location for movies and commercials. Contemporary in design and featuring the latest technology, it boasts more than 225,000 sq. ft. of flexible exhibit, meeting and function space.
Ontario Convention Center provides a full range of technology services, including Wi-Fi, Internet, DS3 and videoconferencing capabilities. Customized menus with a variety of international and specialty cuisine options are available with fresh ingredients, as well as premium meats and seafood.
The Environmentalist: Oregon Convention Center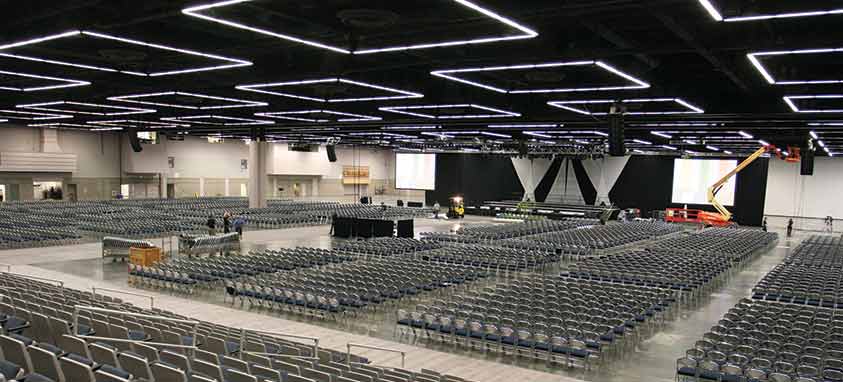 Oregon Convention Center (OCC) in Portland is a leader in the sustainability field, earning LEED Platinum certification in 2014. The OCC has become the pinnacle of green meeting venues through storm-water management efforts, proximity to mass transit (IMAX), keeping the air clean, using green cleaning products, moving smokers farther away from the building and educating others about sustainability,
OCC offers 255,000 sq. ft. of contiguous exhibit space, 50 meeting rooms, two grand ballrooms, full-service catering with a vast and diverse range of culinary options, and an 800-space underground parking garage. "We're striving to be the greenest events facility in the world and the first choice as a venue for green meetings," says Ryan Harvey, sustainability coordinator.
The convention center also features one of the highest-producing solar power arrays ever installed at a U.S. convention center, a laudable achievement, even for a LEED Platinum building.
The Diva: Palm Springs Convention Center
Sun, glamour, over-sized sunglasses and easy living make Palm Springs Hollywood's (and event planners') little darling. Selected as one of the Top 10 U.S. Most Stress-Free Airports by SmarterTravel, Palm Springs International Airport (PSP)is located a little more than a red carpet walk from Palm Springs Convention Center, making attending meetings a breeze.
Palm Springs Convention Center has more than 180,000 sq. ft. of meeting space, plus 410 guest rooms connected to Renaissance Palm Springs Hotel. The "Oscar" goes to its 112,000-square-foot, fully carpeted exhibit hall,
The legendary two-hour rule of old Hollywood put Palm Springs on the map as a perfect getaway. Actors under contract had to be accessible within two hours from the studio, just in case. Several celebrities stayed and became vacation locals, including Dean Martin, Sammy Davis Jr. and Marilyn Monroe.
Meeting planners can dazzle groups by renting out the Frank Sinatra estate, Elvis and Priscilla Presley's Honeymoon Hideaway or the former home of Clark Gable. The city's star keeps rising—just last month, Palm Springs Convention Center was selected as a filming location for the remake of A Star is Born, featuring Bradley Cooper and Lady Gaga.
The Award-Winner: Phoenix Convention Center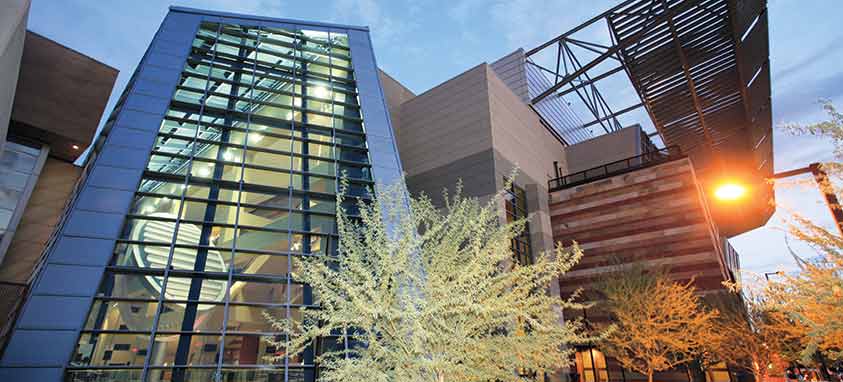 Southwest Alliance for Excellence (SWAE) recognized the Phoenix Convention Center as one of six recipients of its 2016 Performance Excellence Program. The program honors organizations in different industries for excellence in quality, performance and results, and is modeled after the Malcolm Baldrige National Quality Award Program.
"The Phoenix Convention Center is honored and excited about SWAE [Southwest Alliance for Excellence] recognizing our ongoing commitment to excellence," said PCC Director John Chan. "We look forward to working with SWAE, guiding our team to pursue continuous improvement, employee engagement, customer satisfaction and performance outcomes."
The recognition from SWAE was made after PCC completed a comprehensive organizational profile and application involving seven criteria: leadership, strategy, customers, measurement, workforce, operations and results.
That winning ticket means this space is as impressive as it is functional. PCC consists of North and West buildings that are connected in the lower level exhibit hall and via a sky bridge on the upper level. The combined space contains two large ballrooms, 81 meeting rooms and 502,500 sq. ft. of exhibit space.
The standalone South Building contains 18 meeting rooms, a 28,000-square-foot ballroom and two exhibit halls, together measuring 82,000 sq. ft. Meeting rooms, exhibit halls and the ballroom together offer 143,400 sq. ft. of event space.
The Family Guy: Renaissance Schaumberg Convention Center Hotel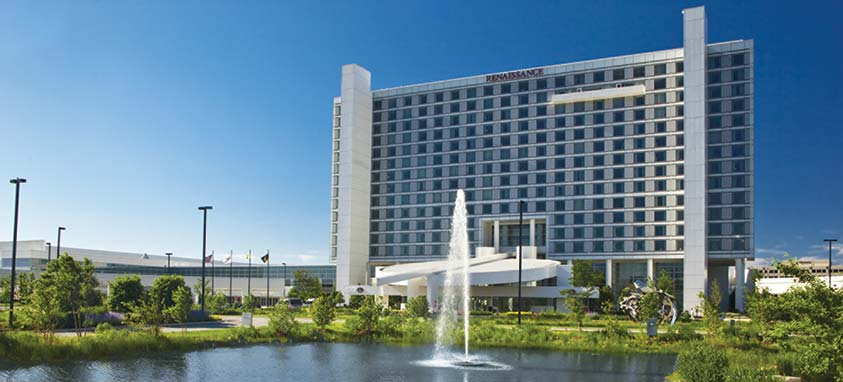 It's sometimes difficult to combine business with family life, but the Chicago Northwest region knows how to marry playtime with work time. A number of communities make up the Chicago Northwest region, which is known for hosting families as well as business travelers.
The towns that make up Chicago Northwest are Arlington Heights, Elk Grove Village, Itasca, Rolling Meadows, Roselle, Schaumburg, Streamwood and Wood Dale, and they all share a love of the multigenerational. Renaissance Schaumburg Convention Center Hotel provides 500 guest rooms and nearly 150,000 sq. ft. of meeting space, including a 27,502-square-foot ballroom.
Event attendees can bring the family along for a few days of Chicago Northwest fun after meetings are over. Popular spots include Downtown Arlington Heights Entertainment District and Metropolis Performing Arts Centre, which features adult, family and children's shows, plus Arlington Heights Historical Museum.
Never underestimate the excitement of knights in armor. Medieval Times Dinner & Tournament in Chicago Northwest is inspiring for all, with royal falcons flying and knights fiercely jousting on horseback. Busse Woods Trail system traverses 3,700 acres and encompasses an 8-mile main loop that circles lakes and meadows. The small herd of resident elk, wandering freely, is sure to impress.
The Pirate: St. Johns County Visitors & Convention Bureau
St. Johns County Visitors & Convention Bureau (VCB)—also known as St. Augustine, Ponte Vedra & The Beaches—wants visitors to feel the boundless charm and relaxing pleasure of this historic area in Florida. St. Augustine, dubbed "our nation's oldest city," is the oldest continuously occupied European settlement in the United States.
Groups can enjoy Colonial architecture, play golf, stroll the beach and dine in sophistication, all while basking in the rich and colorful Spanish and pirate past. The convention center offers 14 meeting rooms and 40,000 sq. ft. of total exhibit space for various meeting needs.
Attendees can explore St. Augustine's old town and lunch at Casa Monica Resort and Spa. The hotel is more than 100 years old and its stunning Moorish architecture evokes luxury, past and present. Attendees play at TPC Sawgrass golf club and can improve their game with a lesson.
Other group bonding activities include "Think Like a Pirate, Command Success," a competitive, interactive business seminar, replete with pirates; the Trolley Tour, where guests are often "kidnapped" by pirates; and sampling fine grog at St. Augustine Distillery (there aren't any pirates, but they would surely approve).
This fall, Lightner Museum will host Dressing Downton, where Highclere Castle's fashion will be on display. This must-see exhibit for Downton Abbey fans runs from Oct. 4, 2017 to Jan. 7, 2018.
The Adventurer: Spokane Convention Center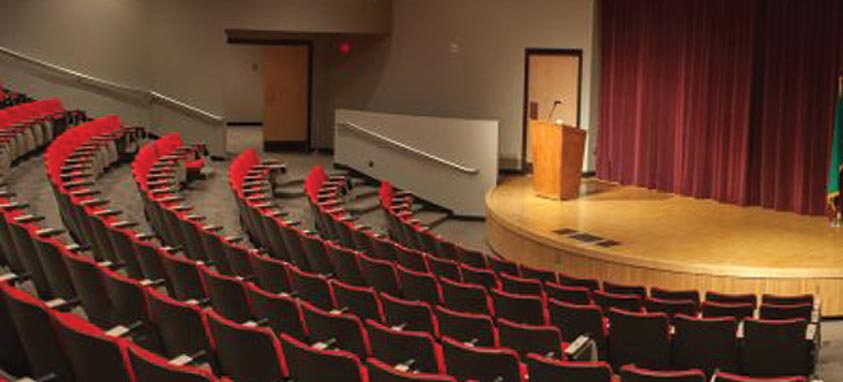 Spokane is a destination city immersed in natural beauty. It offers fresh air, rushing rapids and a lush-green-meets-a-vibrant-city identity—and it's a gateway to the American West. Whitewater rafting, snowboarding on fresh powder, biking the beautiful Centennial Trail and hiking through countless nature preserves all make for adrenaline-filled group bonding. Washington's renowned wine and craft beer are motivation and reward for the rigorous activities.
With the completion of its 2015 expansion, Spokane Convention Center has more than 650,000 sq. ft. of space, including a 120,000-square-foot exhibit hall, three ballrooms and the flexibility to provide 40 breakout spaces. Unique spaces include the intimate 270-seat Conference Theater and a highly appointed executive boardroom, both featuring leading-edge technical capabilities.
INB Performing Arts Center, which is adjacent to Spokane Convention Center, has a 2,700-seat auditorium that offers full technical capabilities for exciting entertainment and keynote speaker sessions.
The Weaver: TD Convention Center
In 1915 the first Southern Textile Exposition took place at Piedmont and Northern Railroad Warehouse, on the 300 block of West Washington Street in Greenville, South Carolina. A few years later, the original Textile Hall opened downtown, as well, and that was the beginning of the convention center now known as TD Convention Center. Today, visitors can experience the subtle hues and vibrant colors of its textile heritage at the property.
TD Convention Center is one of the Southeast's largest and most accommodating facilities. With 280,000 sq. ft. of connected exhibit space and 60,000 sq. ft. of meeting, ballroom and conference space, the newly renovated facility is ready for groups of all sizes.
Downtown Greenville lies just minutes away, so planners can weave in excursions to its charming array of restaurants, art galleries and theaters. Or they can take their groups to the West End district and Liberty Bridge, which spans the scenic Reedy River Falls Historic Park and waterfalls.
Woods and Water: The Woodlands Resort and Conference Center
The Woodlands, Texas, is an inviting spot for ramblers, with some 100 parks featuring more than 200 miles of nature and hiking trails. Throughout The Woodlands, outdoor sculptures provide a cultural pause to the natural forested beauty. Groups feel connected to the earth in this serene, charming town and community. Water beckons, as well, with Riva Row Boat House offering group kayaking outings—a great way to see The Woodlands Waterway from a paddler's point of view.
The Woodlands Resort and Conference Center has 60,000 sq. ft. of space. The Woodlands Waterway Marriott Hotel & Convention Center is located right in town, so groups can enjoy this bustling, pleasant Houston suburb. The Woodlands Waterway Marriott Hotel & Convention Center is located adjacent to Cynthia Woods Mitchell Pavilion, where Jimmy Buffett, Tom Petty, Journey and the Houston Ballet have performed. So, groups can rock out or enjoy classical beauty in movement, depending on their preference.
---
Natalie Compagno is an avid traveler who has written for Huff Post, TravelAge West, Yahoo Travel and more.
---
The Latin Lover: Cartagena de Indias Convention Center
"My father, Roberto Gedeon, was the city mayor when [Cartagena de Indias] Convention Center was built. There was a great debate among citizens due to the modern architectural design and size, even though the building was designed to match in its exterior appeal with the city walls. Many people fought the project," says Sonia Gedeon, communications and public relations advisor for Hotel InterContinental Cartagena de Indias in Colombia.
That's hard to believe when standing in front of the majestic, distinguished building that breathes in the Caribbean breeze as it wafts towards the old city. The stone is the same as the old city walls and the design seems timeless. Now, citizens are proud of the building and event-goers understand they are experiencing a piece of history along with their meetings and events.
The monument feels powerful from afar and up close. Once inside, the well-curated art, including the masterpiece by Alejandro Obregon, arrests the eyes. Larger rooms meld into smaller areas and guests feel the security of the fortress structure as well as the beauty of the sea due to the well-designed windows and open-air balconies.
The convention center is more than just a photographic centerpiece and entryway to the gates of Cartagena: It is also a cutting-edge arena that draws newcomers from around the world. Red Bull Cliff Diving World Series made a huge splash in 2015 and the sixth Summit of the Americas in 2012 was a journalists' feast.
With more than 65,000 sq. ft. of versatile meeting space—all accessible for people with disabilities—the CCCI is ideal for multilateral summits, conferences, exhibitions, weddings, concerts and other international events. An easy gateway from the United States, meeting planners should consider Cartagena as a surprise destination for clients.