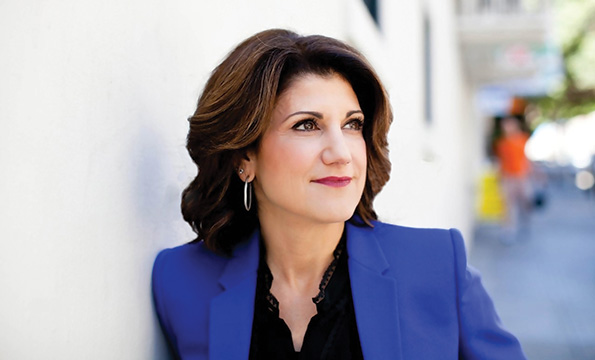 Over two decades, Niki Leondakis watched as her two sisters, both mothers to several children, had to lie to their employers about spending time with their kids. "They would take a sick day when in reality they were chaperoning a field trip," she recalls. "They were being good parents."
It made a big impression on Leondakis, CEO of Commune Hotels & Resorts, a collection of boutique luxury and lifestyle brands including Thompson, Joie de Vivre and Tommie hotels. Leondakis oversees more than 40 properties and 3,500 employees around the globe.
As an employer and a businesswoman, she believes that when people live balanced lives, they're better at work. "When your family is happy, when you're healthy and well, you're in a better place," she says. "You're going to give 115 percent for those seven hours at work, instead of 60 percent over eight to 10 hours."
Leondakis, who does not have children, says this goes beyond parenthood. "When you give permission to people to be their best selves, they will give us more, they'll be more productive and we'll attract better talent."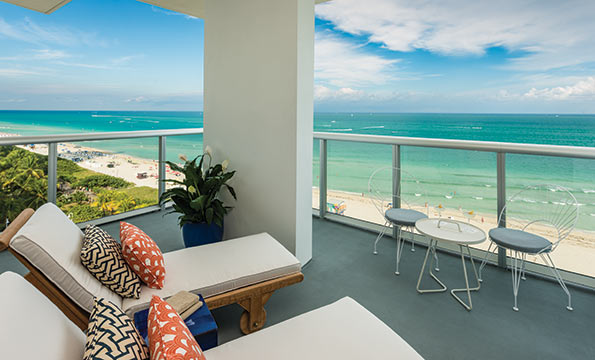 Thompson Miami Beach
Make no mistake: Leondakis has her eye on the bottom line and company growth. Under her direction, Commune (pronounced like the verb) is raking in accolades and expanding its footprint. In March, Thompson Miami Beach was anointed one of the best new hotels in the world by Travel & Leisure, after Thompson Chicago received the same recognition in 2014. Late last year, Conde Nast Traveler readers picked Thompson Chicago as one of the top hotels in the United States; the property had already been named to the magazine's coveted Hot List in May 2014.
More Thompson hotels are set to open in Nashville, Seattle, New York, Chicago, and Cabo San Lucas and Playa del Carmen in Mexico. Joie de Vivre, meanwhile, known for eclectic independent properties that reflect its California roots, announced in January that it would expand to the East Coast with The Hall in Miami Beach and 50 Bowery in New York City. Tommie hotels, the micro-lifestyle, value-conscious brand aimed at millennials, will open two hotels in New York City later this year and next year. And Commune's 2014 partnership with Singapore-based Alila Hotels & Resorts extends the company's reach beyond North America and Europe, into Asia.
Commune's moves are taking place in an increasingly crowded field. In recent months, multiple big hotel chains have jumped into the lifestyle/boutique market, hoping to cash in on customer demands—especially among millennials—for personalized, unique travel and lodging experiences. These include Marriott's Moxy and AC Hotels, Canopy by Hilton, Hyatt Centric, Starwood's Aloft and Element, Carlson Rezidor's Radisson Red and Tryp by Wyndham.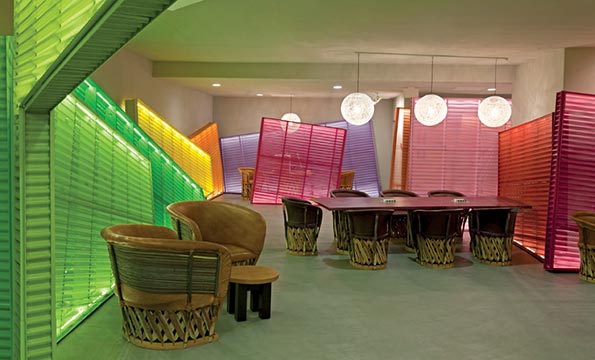 The Saguaro Palm Springs
InterContinental Hotels Group (IHG) became the market leader in December with its $430 million acquisition of boutique Kimpton Hotels, where Leondakis served as president and chief operating officer before taking the helm at Commune.
IHG added Kimpton to its upscale chain Indigo and Even boutique brands. Other lifestyle/boutique hotel operators are also in growth mode, including Virgin Hotels and Sixty Hotels. The rush into Commune territory doesn't worry Leondakis, one of the few women to head a major hotel company. She is confident Commune, which launched in 2011 as a result of the merger of Thompson and Joie de Vivre, has the experience and creative know-how to offer customers something special.
Thompson, for example, attracts "a sophisticated, urban global traveler with a clear sense of what they like," she says. The Joie de Vivre customer appreciates each hotel's differences; "They look forward to discovering [each property's] character, soul and life." And Tommie targets tech-savvy guests who want to "curate their own experience" in sleek micro-hotel rooms or in public spaces meant for connection and interaction.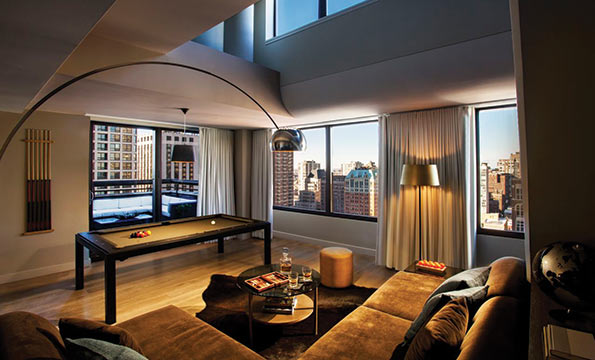 Thompson Chicago
Leondakis says Commune hotels are rooted in authenticity, reflecting their local neighborhoods and serving as community hubs. "What's common to all three brands is our commitment to the guest," she says. "We have a wild passion for creating personal and transformative guest experiences that get executed differently. We have a mania about the guest experience."
Strong words from the deceptively soft-spoken Leondakis. But Commune's success underscores the company's relationship with its various customers, something the mega chains, which for years churned out cookie-cutter properties and experiences, are only testing now.
Leondakis considers group business to be a major focus for Commune, which again offers experiences that the chains cannot. "Across our brands, 10 to 30 percent is group business, and it's increasing every year," she says. "We do small groups in boutique hotels. A 25-person group is lost in big hotels."
Commune has a global sales team that specifically targets groups. "We value our relationships with meeting planners," Leondakis says. "Our global salespeople manage relationships with planners and work with them during good times, as well as when times are not so good."
Working harmoniously with industry partners, creating transformative guest experiences and supporting employees' work-life balance are all a part of Leondakis' understanding of what makes people tick. "I'm a big believer in treating people the way they want to be treated, and eliminating the assumption that you want to be treated the way I want to be treated," she says.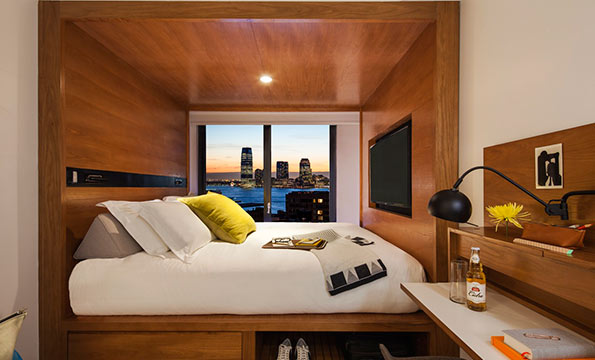 Tommie Hudson Square
Leondakis describes her leadership style as "collaborative, inclusive, a creative partnership. When I see opportunities, or have a vision or idea, I generally create environments for people to come together and ask them 'What do you think? Give me feedback.'"
She loves to ponder the art of influencing behavior—and pushing past boundaries. "How do we inspire people to do things that are really hard, and that they never thought they could do, or to have visions or dreams of themselves they never thought possible?" she asks.
The answers are obvious: In Leondakis' world, everything is possible, for everyone.
---
Niki Leondakis
CEO, Commune Hotels & Resorts
Resides: In San Francisco, where Commune is based. Born and raised in West Springfield, Massachusetts.
Education: B.S., hotel and restaurant management, University of Massachusetts
Career: Started with Marriott; then Ritz-Carlton; then Kimpton, where she worked her way up to president and COO. During her leadership, Kimpton was named one of Fortune Magazine's 100 Best Companies to Work For three times.
Family: Married to Bob Puccini, president and CEO of restaurant development company the Puccini Group.
Causes: Board member and former chair of worldwide Dress for Success, which provides business wardrobes and career assistance to low-income women.
Downtime: When not on the road, she and her husband entertain friends and family at their weekend home in Kenwood, California. She decompresses with Ashtanga yoga and running.