Morean Arts Center
Clearwater, St. Petersburg and Tampa are in the middle of a very exciting metamorphosis.
Tampa used to be a midsized city with a rather unimposing skyline. Now it's a blooming metropolis with new skyscrapers, repurposed classic buildings housing cool bistros, hotels and nightspots, and a bustling downtown. Tying it all together is a new Riverwalk along the Hillsborough River.
Tampa International Airport (TPA) is undergoing a $1 billion expansion that will finish in 2017, with new shops and restaurants, including the only Hard Rock Cafe in an airport. Opening in December 2017 near the airport, a new Marriott will have 175 guest rooms and 2,300 sq. ft. of meeting space. Paramount Hotel, formerly the InterContinental, started a major renovation in November that is upgrading all 323 guest rooms and meeting space. The project will wrap up next summer.
St. Petersburg, too, has been undergoing dramatic change. Once considered a giant retirement community across the bay from Tampa, it's now an exciting city filled with young entrepreneurs and funky restaurants, shops and theaters.
Clearwater beach was named No. 1 in America by TripAdvisor, while St. Pete was named No. 4. In addition, The New York Times listed St. Pete in its ranking of Top 52 Best Places to Visit, noting the explosion of craft breweries and restaurants, and a vibrant arts scene including The Dali Museum.
St. Petersburg and Clearwater are witnessing $2 billion of infrastructure improvement in which 1,000 new hotel rooms came online in 2016 and another 1,000 are due in 2017. Scheduled to open in January is Wyndham Grand Clearwater Beach, with 343 guest rooms and 22,000 sq. ft. of meeting space, including a 10,632-square-foot ballroom. Hyatt Place will open in St. Pete in 2017 with 175 guest rooms and 4,600 sq. ft. of event space.
St. Pete's existing properties are spiffing up. Beach House Suites is a 70-room sister property of the nearby, magnificent Loews Don CeSar on St. Pete Beach. Beach House Suites just completed a $7.8 million upgrade of guest rooms; small meetings at the Don CeSar often house attendees here.
Must See
Morean Arts Center in St. Petersburg will celebrate its 100th birthday next year. It dates to 1917, when it opened as Art Club of St. Petersburg. Besides displaying works by local, regional and international artists, Morean takes a community-oriented approach to art and education, including outreach programs for at-risk youth. The complex features the Chihuly Collection, a permanent exhibit by renowned glass artist Dale Chihuly. There are a variety of private event spaces: Morean Arts Center can host up to 400; Chihuly Collection accommodates 150; Center for Clay holds 175.
Meeting Hot Spots
Tampa Convention Center sits on Hillsborough River, one of the most beautiful spots in the city. It has 600,000 sq. ft. of meeting space, including a 200,000-square-foot exhibition hall, 84,000 sq. ft. of prefunction space, a 36,000-square-foot ballroom and 36 breakout rooms. Amenities include The Sail, Tampa's only 360-degree waterfront bar.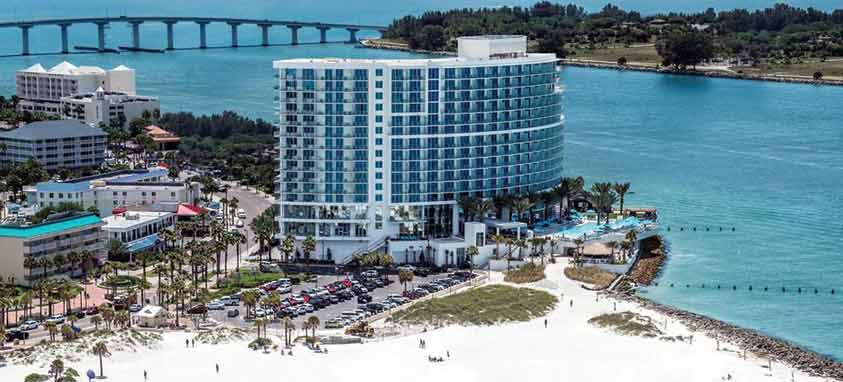 Opal Sands Resort opened earlier this year in Clearwater Beach. It has 230 guest rooms, with large balconies and floor-to-ceiling windows in each room. In addition to 25,000 sq. ft. of meeting space, amenities include a full-service spa, beachside Tiki bar, signature Italian/seafood restaurant and location near Clear Marine Aquarium.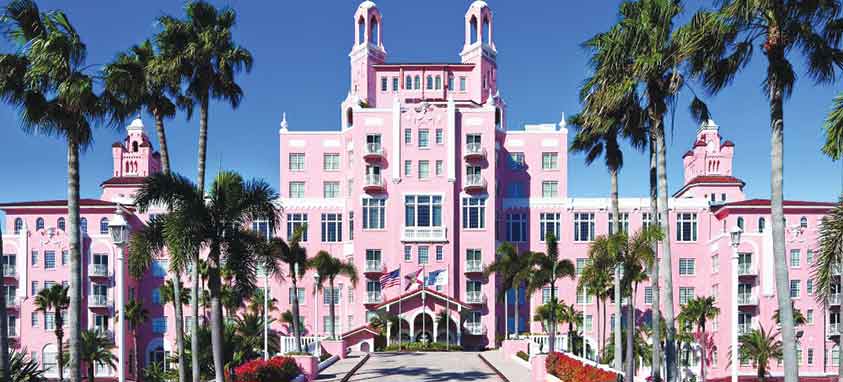 Loews Don CeSar Hotel on St. Pete Beach is fondly called "The Pink Lady" and dates to the Gatsby Era with its opening in 1928. It offers 277 guest rooms and suites, 38,000 sq. ft. of event space, including a conference center on its fifth floor, and a full-service spa. Maritana Grille is noted for fresh seafood.