Citywide conventions bring cities and communities together. They give destinations the chance to dazzle and entertain visitors by showing off their best attributes. Corporations and associations love them because the scale imparts powerful growth opportunities for entire organizations. Cities use them as opportunities to show off their latest achievements, build local pride and boost the economy.
There is no standard definition of a citywide. Seattle, Las Vegas and other big cities regularly host massive events, but smaller cities such as Boise also welcome substantial conventions. Conversely, a mega-mega-event such as the NFL Draft, even in a large city such as Philadelphia, results in a gigantic footprint.
"For us, a citywide is over 600 hotel rooms and over 100,000 sq. ft. of space," says Jeff Blosser, CEO of Washington State Convention Center in Seattle, which hosts about 45 citywides a year—something the entire organization works to place way in advance.
Finding that synergy between group and place is practically an art form. Sometimes it happens through years of building relationships. Sometimes it happens by accident or good fortune. When a city and an organization click, the results are magic. The key is for each party to invest in the other.
"A great citywide event is created from many things," says Mike Armstrong, event director of ReedPop and the man behind Emerald City Comic Con in Seattle. "One is a commitment to local businesses, which creates authenticity. Citywide support on the grassroots level makes for a successful experience for all attendees. "
"The best thing about the city of Seattle has been how invested Visit Seattle and the surrounding businesses have been in helping Emerald City Comic Con grow to the level that it's reached in 15 years," Armstrong says. Examples: a local cafe made an Incredible Hulk shake and another vendor held Nerd Rock Night at famous grunge band venues.
We talked to planners from around the country to find out what special challenges they face when putting on these massive events, and their best ideas for how to succeed. The big takeaway? Every planner we contacted spoke glowingly of the local CVB organizations.
Boise: The Little City That Could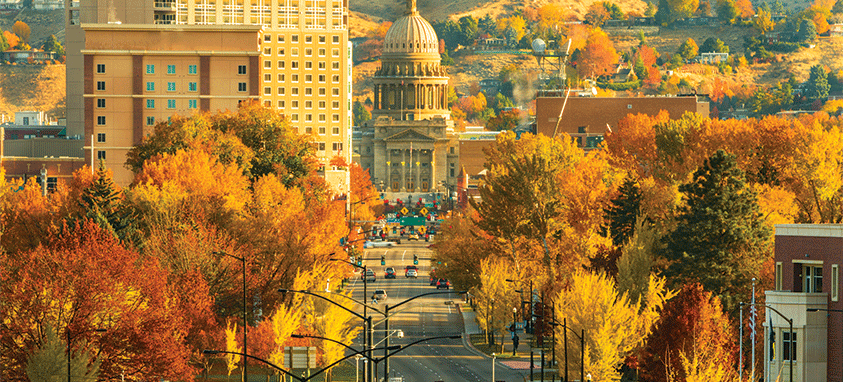 The Council of State and Territorial Epidemiologists was set to head to North Carolina for its annual meeting, but House Bill 2 put the kibosh on that idea. Beverly Christner, senior director of operations, needed a new location to convene 1,500 public health workers and she needed it fast. Enter Boise.
"Boise is a great city," she says. "It's one of my favorite city locations, and it works well with our group because of the walkability factor. There are lots of restaurants, lots of things to do." Although the group took over several area hotels, they set up home base right next to Boise Convention Centre, at The Grove Hotel—a short walk from all the attractions.
The 25-mile greenbelt along the Boise River is a huge selling point for groups. "Our members are in public health, so they're active. They want everything walkable, with downtown-area hotels, restaurants, and activities they can do. It's a great city that meets the needs of our attendees," Christner says.
The attendees looked for any excuse to enjoy the outdoors. They called Shawn Welsh of Boise Bicycle Tours to take advantage of his personalized tours, which mix exercise with a tour of Boise, along with several fascinating historic tidbits. Groups of up to six at a time can visit sites such as Freak Alley, an alleyway street art explosion. Or groups of up to 20 can go for a leisurely ride along the river, followed by a refreshing drink at Payette Brewing, now Idaho's largest brewer.
The group made use of some of Boise's unique features, such as its Basque heritage, holding the opening-night reception at Basque Museum & Cultural Center. "We blocked off the street and had a block party and big pans of paella, and the dancers performed," Christner says. Boise's Basque Block is the epicenter of the largest Basque population outside of Spain, and The Basque Market is a must-visit, with authentic pintxos, wine and cider.
Boise Convention & Visitors Bureau created walking maps with concentric rings, outlining all of the food option for lunch, with precise walking times.
Philadelphia: City of NFL Love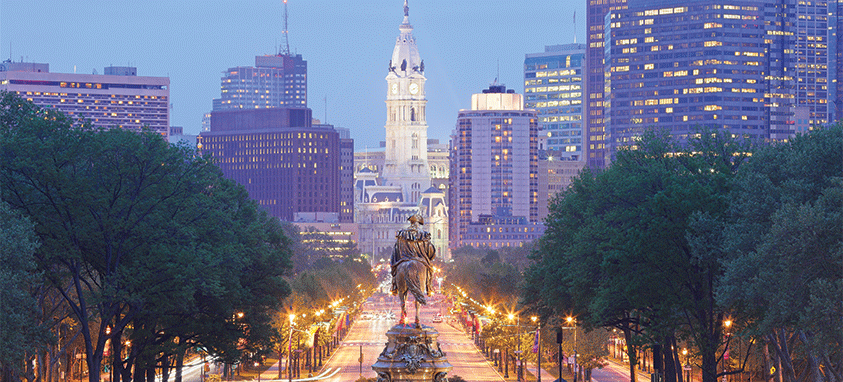 The NFL Draft has become a massive gathering for fan bases from coast to coast. In 2017, the NFL brought the three-day event to Philadelphia for what was the most-attended NFL Draft in history. Draftees and fans came from 42 states. And they came in record numbers—182,058 people attended.
Letting people know that the family-friendly festival of interactive exhibits, immersive games, virtual reality experiences and player autograph sessions were free was one of the challenges facing Larry Needle, executive director of PHL Sports, an offshoot of Philadelphia Convention Center & Visitors Bureau.
"People are still learning about the draft in its new iteration," he says. "We worked very closely with the league to make sure that the message was getting out. Primarily, we were focused on communicating that the draft had something to offer everyone, not just diehard football fans."
Support from locals also exceeded expectations. "We ran a program with local businesses called #DraftDeals that provided an opportunity for local businesses to engage directly with visitors by offering a draft-related deal," Needle says. "We pushed this information out via social media and through our micro-site for the event, which the league also pointed to from their website and their Fan Mobile Pass app."
The NFL Draft Theater was the largest open-air, temporary structure ever built for a unique event. Nearly 5,000 union workers were needed to construct the site. More than 25 volunteers donated 645 hours to the destination marketing cause.
The result? More than 2,300 stories mentioning the city, resulting in 137 million impressions. Some 300 tweets from the volunteers alone reached 4.8 million Twitter users. Tempe University estimated $94.9 million in revenue for the city, including $56.1 million in direct spending. Nearly 4,800 visitors completed the post-event survey, and reviews were spectacular.
Las Vegas: Focus Amid the Glitter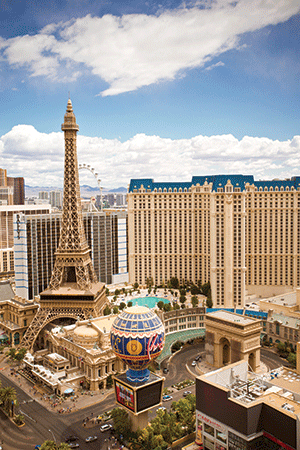 Las Vegas has more hotel rooms than any city on Earth, roughly 170,000 and counting. The city has so much meeting space it expects to hold 49 mega-meetings this year. With so much inventory, how do venues set themselves apart?
"Our ability to handle large special events of 5,000 or more guests is unique in Las Vegas," says Jon Gray, general manager of the Palms Casino Resort on The Strip. "Most events for that many guests are held in typical ballroom space—four walls, carpet and chandeliers. We work beyond ballrooms. We have incorporated nightlife venues, restaurants and even parts of the casino floor in some of our large events to keep the energy flowing and the excitement peaked," he says.
The Palms has always been known for style, but after being purchased by Station Casinos (Red Rock), the look has subtly transformed into a modern artistic sensibility with geometric details. "Once they are in the building, we show all the different ways we can make their event memorable," Gray says. These unique touches include themed suites and rooftop venues with views of The Strip.
In a place such as Las Vegas, how do planners keep attendees from overdoing it and focusing on the task at hand? One emerging trend is booking groups into nongaming hotels, such as the LEED Gold-certified Vdara, or The Strip's only nongaming, nonsmoking hotel, the posh Mandarin Oriental, Las Vegas. These hotels offer a welcome respite and wellness options.
"By focusing on the five key dimensions of wellness, Mandarin Oriental enhances and energizes meetings both in and out of the conference room. Attendees can break into wellness-focused activities centered around nourishment, movement, stillness, connection and well-being through our Mindful Meetings options," says Jennifer Lynn, director of spa and wellness. When the marathon was in town, runners could show their numbers and get additional time for any full-body massage scheduled.
New Orleans: Parades and Beads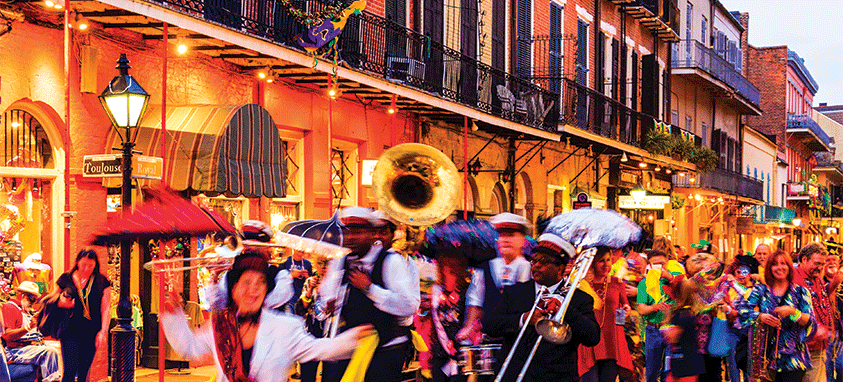 When Veterans of Foreign Wars of the United States meetings take over a city, it typically brings 8,000 to 10,000 attendees. The group's 2017 trip to New Orleans didn't disappoint. It filled in excess of 11,700 room nights.
To accomplish this, Vanessa Kane, manager of meetings and events for VFW, must have an entire staff at her disposal, right? Not really. "Because I'm a one-person department, I depend on the city and New Orleans Convention and Visitors Bureau to be an extension of the staff I don't really have. They're my go-to. When I have a question I can't answer, they're my resource. They are our teammates."
Kane also works with local planners to provide real expertise on the ground. Each year, VFW creates a patriotic celebration for its veterans, and the 2017 edition will be hard to top. "We threw a mini-Mardi Gras parade inside the convention center choreographed by BBC in New Orleans," Kane reports. "People dressed up and threw beads; it was so much fun!"
Kane notes that since her events always take place during July, attendees are eager to extend the trip and experience the city. "It's business, but our organization likes cities where they can also plan a vacation," she says. "It's hard to match the food In New Orleans. You can graze your way around the city; there are so many wonderful restaurants and nightspots. It's on the river. It is steeped in history."
The biggest obstacle this year was that New Orleans was too popular. Past history underestimated the draw of the Big Easy. "We haven't been to New Orleans since 1991," Kane notes, "We ended up with a waiting list of 250 people."
As the convention neared, The Westin New Orleans Canal Place phoned with good news: It would be able to accommodate the entire wait list. When asked if it's better to be good or lucky, Kane quickly answers, "Both!" Keep that in mind the next time you invite 10,000 of your closest friends halfway across the country for a mega-meeting extraordinaire.
Denver: Dynamic Destination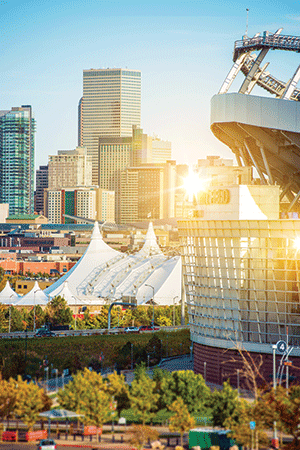 Downtown Denver is a clean, pedestrian-friendly area and its heart is the 16th Street Mall, a mile-long promenade lined with outdoor cafes, restaurants and unique shopping. Located next door is Denver Performing Arts Complex, with live entertainment available nightly.
Denver hosts citywides with ease. Colorado Convention Center accommodates more than 250 events annually and is located within easy walking distance of 8,700 hotel rooms. Opened in 1990, with more than 100 professional meeting planners' input and architects' design savvy, it's a sensible, state-of-the-art facility. A fast train from the airport makes the trip from landing to arriving just 37 minutes—a big draw for this medium-sized, but rapidly growing city. Groups should arrive hungry—300 restaurants are available on foot, as well.
This year, Colorado Ski & Snowboard convention marketed U.S. destination resorts to international visitors in Denver, where they had their choice a plethora of chic new lodging options.
The new and shiny Maven Hotel delivers an industrial hotel experience with a vibrant lobby, showcasing local art and hand-made products. Located in the heart of Lower Downtown (LoDo) on the corner of Wazee and 19th streets, the first Maven Hotel is a cornerstone in Denver's new Dairy Block and mixed-use development. The Maven offers the 2,300-square-foot Windsor Ballroom and prefunction space that can accommodate groups of up to 200 people with hardwood floors and a mixture of exposed brick and wood walls. Other amenities at the hotel include access to the Dairy Block's 4,500-square-foot fitness center, as well as group fitness classes and relaxing spa services at The Oxford Club, Spa & Salon.
Last year saw the birth of Cherry Creek neighborhood's first luxury boutique hotel, Halcyon. It offers 154 guest rooms and 6,500 sq. ft. of modern meeting and banquet space, including a main ballroom.
Portland, Oregon: LEEDing the Way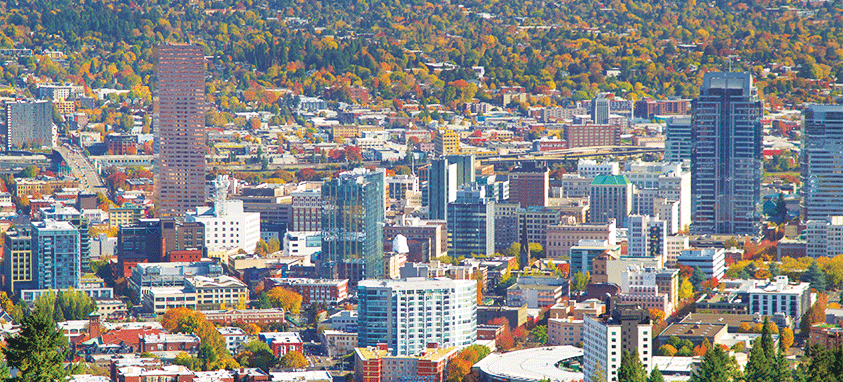 Portland is known, justifiably, as a trend-setting city, and Oregon Convention Center leads the way with sustainability. The largest of its kind in the Pacific Northwest, it strives to be the greenest events facility in the world—and the first choice as a venue for sustainable meetings.
Portland hosts up to 10 citywide events a year (defined as 1,000 rooms occupied at the peak of the event). Looking into the future, Hyatt Regency Portland at the Oregon Convention Center will add 602 guest rooms, bringing the number of beds available to 1,400. This addition, expected in late 2019, will increase convention-related tourism spending to $600 million per year and could result in as many as 10 more citywides a year.
Association of College & Research Libraries' 2015 National Conference in March 2015 was a highlight with 7,575 total room nights. "Our attendees truly loved Portland," says Tory Ondrla, conference manager for the organization.
Complimentary transit passes gave attendees the independence to get around easily and really explore the city. "They loved all the fabulous food options at every price point and the authentic, quirky vibe of the city," Ondrla adds.
From micro-restaurants to tiny-house hotels, Portland offers event-goers fun and "small" things to discover and amuse. Kevin Cavenaugh's Guerrilla Development produces multiple projects that gather micro-restaurants in design-driven, community-centric spaces. The 2/3rds Project in St. Johns recently added 87th and Meatballs, The Sudra and The Garrison to complete the craving options. In Northeast Portland, The Ocean, another grouping of micro-restaurants, was born in a former Dodge auto shop.
Planners can even rent out a tiny-house hotel for an eccentric venue option. Tiny Digs Hotel opened in October 2016 with 13 custom-built tiny houses that are situated around a fire pit, and outdoor art, with seating and twinkling lights.
Miami/Hollywood, Florida: Laid-Back Business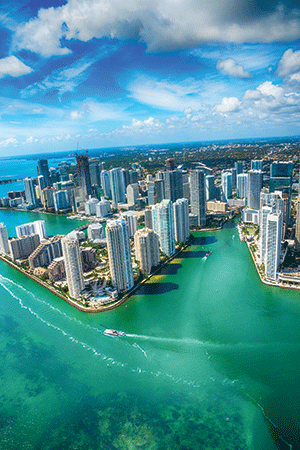 It's not only the sun that's hot in Miami. A recent construction boom has opened up thousands of new guest rooms, including Sheraton Miami Airport Hotel & Executive Meeting Center, with its 405 guest rooms and 17,000 sq. ft. meeting space, near Miami International Airport (MIA).
But sleeping space is not the only hot news. Miami Beach Convention Center will reopen in late 2018 after a $515 million renovation, offering 505,000 sq. ft. of contiguous exhibit space and an outstanding, new 60,000-square-foot ballroom ripe for takeovers. Already planned to begin in April (in the portion of the exhibit hall open during construction) is Emerge Americas, a global technology event focused on connecting people, ideas and innovation. And in October, the 24th Congress of the International Society of Aesthetic Plastic Surgery comes to town.
A half-hour away, up the I-95 Expressway, is Hollywood, Florida. This laid-back oasis offers more than 5,000 hotel rooms and 300,000 sq. ft. of function space. Known for its waterfront views, seaside cafes and many other notable attractions, groups love the walkability and warm ocean breezes that waft in from the tropics.
A larger-than-life, blue flip-flop greets attendees at the door to Margaritaville Hollywood Beach Resort, letting guest know the Jimmy Buffet lifestyle is on tap. In January, SAP Software Solutions wanted that convenient, casual yet still professional service that Margaritaville offers, and so it utilized 130 rooms for three nights for its convention. The group also booked at Diplomat Resort Beach Resort for its 200,000 sq. ft. of newly renovated event space. Both properties focus on indoor-outdoor spaces with infinity pools, cabanas and waterfalls that sparkle year-round. Sandy King, director of executive support for Pike Electric, raves about the destination and the property. "By far, this was the best venue of any we have used before," King says.
Pasadena: The Original Resort Town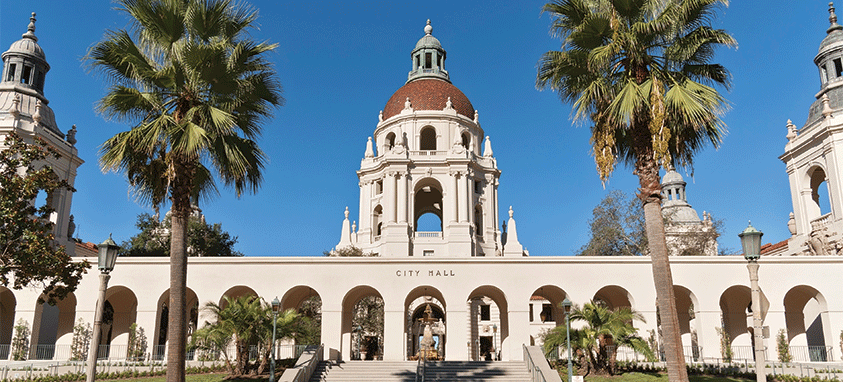 This Southern California hot spot offers easy access to big city amenities, including Los Angeles airports and year-round outdoor-friendly weather, but in a compact, easy-to-navigate, resort setting. That combination drew CETPA, the association for education IT professionals, in November. Over four days, the group leveraged 130,000 sq. ft. of LEED Gold-certified meeting space at Pasadena Conference Center (including a 25,000-square-foot ballroom) with nearby The Westin Pasadena's 5,000-square-foot Fountain Ballroom for a President's Reception and Brookside Golf Course for a fund-raising tournament. Visit Pasadena promotional materials call the convention center "the ideal main stage for your event."
Event planners have access to great academic and cultural resources nearby, including California Institute of Technology (where Steven Hawking is a popular speaker) and ArtCenter College of Design. Also, nearby are Le Condon Bleu College of Culinary Arts, Pasadena Playhouse, Rose Bowl Stadium and USC Pacific Asia Museum.
When attendees took a break from the speakers and classes, they had their pick of 500 restaurants, more restaurants per capita than New York City. Many feature celebrity chefs and rooftop venues perfect for groups. For an excursion, Metro Gold Line can whisk attendees six stops to Union Station in downtown Los Angeles.
The city is home to 2,500 hotel rooms, 1,200 of which are in walking distance of the conference center. This includes Sheraton Pasadena, with 311 guest rooms and 11,523 sq. ft. of meeting space and Hilton Pasadena, which offers 296 guest rooms and 28,000 sq. ft. of meeting space. For something completely different, a short drive to The Langham Huntington, Pasadena's historic Viennese Ballroom and Terrace is the perfect citywide selfie spot.
Greensboro, North Carolina: In the Middle of It All
When bringing people together from far and wide for an annual meeting, location is everything. Last year, a record number of planners discovered Greensboro's 87 hotels and 500 restaurants in North Carolina's heartland. The city offers nearly 10,000 guest rooms citywide, and has blocked off 6,000 at a time for a major event.
Many of the hotels have convenient meeting space on-site, but large groups often anchor at Sheraton Greensboro Hotel at Four Seasons, where a 40,000-square-foot ballroom and 71 meeting spaces await. Next door, Joseph S. Koury Convention Center is 250,000 sq. ft. of possibility. For a really big gathering, Greensboro Coliseum Complex can seat 23,000 and is the ninth-largest indoor arena in the world. As in all other cities, the agency responsible for marketing Greensboro is an invaluable resource. Greensboro Convention and Visitors Bureau offers pre-convention planning, including site inspections, preparation and presentations of competitive bids. It can even help with program assistance, arranging for signage at the airport, sightseeing tours, children's activities, sample itineraries and welcome letters from key officials. A computer database of housing is available for groups using multiple properties.
In August, Market America held the 25th anniversary of its International Convention there. More than 20,000 people converged on Greensboro Coliseum for a reunion that rocked the house.
"A specially designed stage located at the center of the arena brought excitement and intimacy to the event for those on the floor, while offering excellent views to everyone in both levels above" was how the group described the venue. "The setup helped emphasize that Market America truly is a family, sharing in the struggles and triumphs that we celebrate as 25 years of entrepreneurial success."
Phoenix: Big-Meeting Hot Spot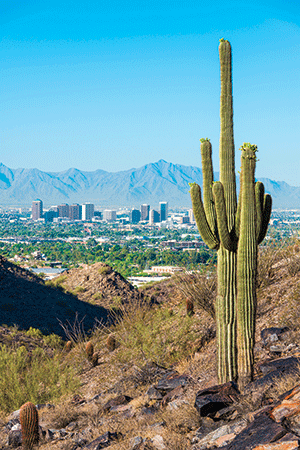 For large groups, size really does matter, especially when it comes to exhibit space. Phoenix boasts more than 3,000 guest rooms with easy access to the 900,000-square-foot Phoenix Convention Center. The main exhibit hall alone is 312,500 sq. ft. of open canvas for creating an experience that excites and relaxes. Talking Stick Arena—the home of the NBA's Phoenix Suns—and Comerica Theater are within five blocks of the convention center. City Scape Phoenix, a recent, $500 million mixed-use project, offers live music venues.
Doug MacKenzie, director of media relations for Visit Phoenix, sees valley-wides as a natural for a place where casual is a way of life and space is abundant.
"Phoenix has a well-earned reputation as a leisure destination, and boasts a strong resort-meetings product," he says. "We are seeing a greater diversification within our convention-business mix, with more corporate groups electing to bring their large conventions to downtown, which has traditionally attracted mostly trade associations and SMERF [social, military, educational, religious, and fraternal] groups."
A building boom in central Phoenix is bringing new culinary and cultural options. Many groups enjoy exploring Roosevelt Row, a walkable, creative district in the urban core that is nationally known for its arts and cultural events, live music, award-winning restaurants, galleries and boutiques.
Groups centered in the transformed downtown area have easy access to a host of dining options via Metro Light Rail and pedal cabs. Renaissance Phoenix Downtown Hotel offers 445 guest rooms and 49,185 sq. ft. of indoor/outdoor meetings pace and Sheraton Grand Phoenix boasts 1,000 guest rooms and 110,000 sq. ft. of meeting space.
In early 2018, The Phoenician in nearby Scottsdale will expand the possibilities when the $40 million Camelback Ballroom Complex debuts with 645 guest rooms, 160,000 sq. ft. of meeting space and a new golf course