Introducing our Kinetic Award winners!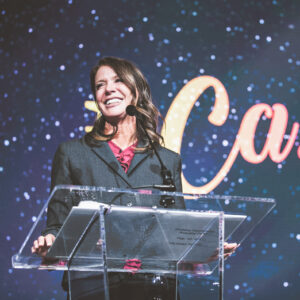 Caroline Beteta
President and CEO, Visit California; Director, California Office of Tourism
Boards: U.S. Travel Association; World Travel & Tourism Council U.S. Department of Commerce Travel and Tourism Advisory Board
Motivation: "To improve the lives of all Californians through travel."
Approach to supercharging experiences: California's coalition of tourism industry partners, led by Visit California have established the state as a leader in the global tourism industry. Visit California's creativity, full embrace of the state's diverse spirit, commitment to sustainable tourism and abundance of riches in visitor experiences have made California the top travel destination in the United States.
As the state emerges from the pandemic, Visit California's highest objective is finding ways to leverage our expertise as a catalyst for inspiring travel through a world-class marketing program that will move the needle and jumpstart California's economy.
A driving focus is Visit California's first-ever foray into the professional meetings and events sector. Visit California will leverage decades of experience inspiring consumers to dream about the Golden State to share the state's amazing breadth of meeting spaces, venues, destinations and attractions with meeting planners and executives across the country and around the world. The same spirit that has made California the country's top tourism destination will also solidify its standing as the world's top spot for meetings and events.
Moment of enlightenment: After the uncertainty and stress of the past two years, it was a truly joyful experience to reopen California in partnership with Gov. Gavin Newsom June 15 at the iconic Ferry Building in San Francisco.
Since then, California travel industry partners have had a few "first meetings back" that truly crystallized how much has been missed over Zoom. First, the California Caucus to kick off U.S. Travel's IPW in Las Vegas, the California Travel Association Summit in Huntington Beach and Visit California's Fall Board Meeting in Half Moon Bay.
Those moments of reconnection allowed us to see all the faces we've missed so much, but also served as a reminder of the importance of in-person meetings and the impact meetings can have on our businesses, relationships and communities. Every appointment, break-out session, reception and press conference felt like a celebration.
After all the sacrifice and hard work the entire travel industry has put in during this historically challenging time, feeling hope for the future is a great reward. Now it's time to convert that enthusiasm into action as Visit California aims to accelerate the recovery of the tourism economy.
Next advance pursuing: California is leading the way in the effort to embrace sustainable tourism practices as the industry emerges from the pandemic as a better version of itself. Clearly, this means finding ways to reduce the impacts tourism has on the environment, but successful destination stewardship is much more than that. It means ensuring tourism is serving its communities in beneficial ways while maintaining the visitor experience at the highest level. Visit California launched a Responsible Travel Code for visitors last year and is leading the way to educate partner destinations on how to tackle these key issues.
Ray Bloom, CMM
Chairman, The IMEX Group
Editor's Note: Ten years ago, Bloom started bringing the industry together in Las Vegas for a combination of hosted buyer and trade show that has become the largest of its kind. This year's event will be a homecoming for meeting professionals everywhere.
Boards: MPI, 1996 – 2002; SITE Foundation, 1993 – 1999 and 2008 – 2014. Meetings Mean Business and Tourism Diversity Matters, current; Destinations International's Global Taskforce.
Motivation: "To unite and champion our mighty, resilient and powerful business events industry."
Approach to supercharging experiences: Since I launched EIBTM in 1986 and subsequently IMEX in Frankfurt (2003) and IMEX America (2011) the core of our approach has been to build partnerships across the industry. This partnership approach is applied to every part of our business—from our suppliers, to our exhibitors and buyers, as well as our industry partners who represent every segment of the global business events industry. This approach has been critical over the past 18 months and together we will re-build and elevate the hospitality and event experience.
Aligned to this is our hosted buyer program, which sits at the heart of our shows, delivering outstanding ROI and ROO for our buyers and exhibitors. It not only ensures that business is truly delivered through each show, but also serves to elevate the experience for our VIP buyers.
Moment of enlightenment: I always enjoy the moment at the very beginning of each show, welcoming the buyers onto the busy show floor ahead of their three days of business and celebrations. It's where the team and I are able to witness months of hard work come together.
I'm proud of our shows' ability to bring the industry together; to support the industry trade associations in raising funds for their foundations and in assisting the industry to develop business opportunities, to move forward on key issues such as sustainability and diversity and to serve as a platform for growth and development.
Never more so than this year at IMEX America. We look forward to giving the global business events community the homecoming it deserves and, as it's the 10th edition of the show, it's set to be a very special reunion.
Next advance pursuing: The team and I remain focused on our mission to unite and advance the meetings industry and will continue to develop both IMEX America and IMEX in Frankfurt in creative ways to support this mission and ensure they remain shows that are well worth attending. In the short term, I'm also looking forward the 20th anniversary of IMEX in Frankfurt in 2022. The team is busy planning some exciting celebrations.
Another breakthrough I'd like to see is Brighton FC enjoying many more seasons in the English Premier League!
Roger Dow 
President and CEO, U.S. Travel Association 
Editor's Note: Dow and his team worked endlessly to advocate for the industry over the last 18 month in an attempt to educate leaders about the impact and importance of a healthy meetings/ hospitality industry.
Boards: ASAE, GWSAE, MPI Foundation, PCMA, Tourism Diversity Matters, RE/MAX International, the Travel Institute, and the U.S. Chamber of Commerce Committee and a hundred others
Motivation: "Millions of Americans' livelihoods depend on a robust travel industry."
Approach to supercharging experiences: We must lead by example. While the domestic leisure travel segment has mostly recovered, business travel remains stagnant: spending on conferences, meetings and trade shows declined a staggering 76 percent in 2020. Zoom was an effective workaround at the start of the pandemic, but it is no substitute for a face-to-face interaction. Business leaders must have the courage and vision to begin planning, hosting and attending safely held in-person professional meetings and events (PMEs) again.
U.S. Travel has led the way in bringing back PMEs by hosting our summer board meeting, ESTO and IPW, the travel industry's premier international travel trade show, in person—with the health and safety of our attendees at the forefront. The sooner that PMEs return, the faster the travel industry will recover from this crisis—and the faster that workers can get back to providing the legendary hospitality that the U.S. travel industry is known for.
Moment of Enlightenment: "Peak meeting nirvana" occurred just a few weeks ago at U.S. Travel's IPW. On the opening day of the event's business appointments, with hundreds of international delegates present, the Biden administration announced the U.S. would reopen to vaccinated international visitors in November.
After more than a year of border restrictions, this was the news we were awaiting. It was critically important for the travel buyers and suppliers who could now make plans for customers to visit the United States once again. The entire tone of IPW shifted from simply grateful to downright jubilant; the energy on the show floor that day was unforgettable.
To see our industry's advocacy and efforts come together in so many meaningful ways, and to share in the excitement and success in-person with the global travel community is hard to describe, but we could see, in real-time, the importance of the work we were all accomplishing.
Next advance pursuing: With our Let's Meet There campaign and Meetings Mean Business Coalition focus, we are advancing several opportunities to accelerate the recovery of business travel and meetings and events. We will provide an agenda of targeted relief priorities to Congress, including extended support for event organizers, hotels, tour operators and other sectors of the industry that are still struggling in an uneven recovery. We also continue to press for congressional action on the Hospitality and Commerce Jobs Recovery Act and Restoring Brand USA Act.
Malvin Gipson
Executive Vice President, Convention Sales, Sports & Services, Memphis Tourism
Editor's Note: Gipson and Memphis Tourism are creating even more reasons to come together safely in a vibrant destination where everyone feels welcome.
Motivation: "The people in the hospitality industry and the Memphis community who depend on the tourism industry motivate me each to do my part to move our industry forward."
Approach to supercharging experiences: Memphis is an exciting destination with history and culture that appeals to all visitors, but our warm and welcoming hospitality amplifies the hospitality experience. We take pride in the services we provide our meeting planners; from the contracting process to the execution of the event, we're there for our clients every step of the way.
Moment of enlightenment: Memphis Tourism just finished a $200 million Convention Center Modernization and recently hosted the AutoZone National Sales meeting in the newly renovated Renasant Convention Center. Many years of planning and hard work went into the transformation of the convention center, and it was a fulfilling moment to witness this event take place.
Next advance pursuing: There's been a lot of growth in Memphis over the last few years that's continued throughout the pandemic. From our hew hotels to the new Renasant Convention Center, Memphis is on the move and I'm excited and eager to share with the world what's new in the bluff city.
Leonard Hoops, MBA
President and CEO, Visit Indy
Editor's Note: Hoops and Visit Indy showed that gatherings could happen safely by hosting sporting events as early as summer 2020. If other groups can see the protocols working, they can do it, too.
Boards: PCMA, U.S. Travel Association, Destinations International Foundation, Capital Improvement Board of Marion County, Indy Chamber, Indiana Sports Corp., Downtown Indy, Greater Indianapolis Progress Committee, Conner Prairie Museum, Indiana Protection & Advocacy Services Commission, 2022 College Football Playoff Championship Game, 2024 NBA All-Star Game
Motivation: "Dorene, Cannon and Avalon Hoops (my family)."
Approach to supercharging experiences: When I moved to Indiana, I quickly learned that "Hoosier Hospitality" is a real thing. People hold doors open when you're 50 feet away, strangers smile at you on the sidewalk, and even our hotels are more likely to work together than compete against each other. Honestly, it was a little weird at first, but I got used to it. So, the hospitality experience was pre-supercharged here.
One other thing we do extremely well is constantly enhancing and reinventing the visitor experience for big events, be they Super Bowls, NCAA Final Fours, Olympic trials, MPI WEC or others. Often what is first created in Indy becomes standard practice down the road in other cities.
Moment of enlightenment: Not a designation I am worthy of, frankly, but being named an "Indiana Living Legend" in 2018 by the Indiana Historical Society for (among other things): Leading Visit Indy to all-time tourism and convention sales results; Visit Indy earning a "Best Places to Work" designation (now six years in a row); establishing Indy's first "Destination Vision" (which has since become DV 2.3), along with an ongoing steering committee to manage it; and aggressively opposing (and ultimately helping amend) the state's proposed Religious Freedom Restoration Act (RFRA) legislation.
More recently, being part of the team that safely brought live events back to our convention center in summer 2020 and working with the NCAA, Indiana Sports Corp., and our state and city to host the entire NCAA Men's Basketball tournament (all the rounds) in Indy while still in the midst of a pandemic in spring 2021.
Next advance pursuing: Phase VI expansion of the Indiana Convention Center (with new HQ hotel), building-out our regional White River Vision and, in general, making Indy a must-visit destination.
Jack Johnson
Executive Director, Destinations International Foundation
Editor's Note: Johnson and Destinations International worked collaboratively with other industry associations to lead the education campaign to share the pain all stakeholders in the live-events space were feeling and advocate for effective solutions.
Motivation: "The belief I can make a difference in this industry."
Approach to supercharging experiences: First, we listen to what our members are talking about throughout the year, what concerns them, what they have questions about, what they like and don't like—and we keep notes. We use that intelligence to design and program meetings and events. Frankly, we always have enough ideas from members to fill a five-day event.
Second, we sweat the small stuff. The small things done right make a better event. Lunch is always more than 60 minutes and never programed; meetings don't start until 9 a.m., and we try to end at 4:30 p.m.; opening parties are about networking, closing parties are about celebrating; breakfast always has eggs, bacon and waffles, coffee bars always have alternative milks; networking is a priority, and one-on-one time is available to help solve member problems.
Third, every meeting has a session with what we call the "cocktail party story," a story that attendees will repeat to friends and co-workers (or at a cocktail party) when they return home.
And, finally, we work with the local destination organization because they know all the great local venues, thought leaders, and can help us build everyone who touches the event in the destination into one team.
Moment of enlightenment: Our Advocacy Summit in Madison, Wisconsin, in November 2019. It was a smaller destination than we normally would have used, with less airlift than we usually like, but it worked. Discover Madison was truly a partner in helping us plan the event. They were amazing in helping us build a campaign about why you should want to come to Madison and then helping us build a strong meeting with tons of local volunteers welcoming us.
We set a record for attendance and revenues: It turned out Madison was on plenty of folks' bucket list, and even though it did snow a little, everything worked. Also, we did four rounds of 25-minute breakouts that were programed by our sponsors (instead of a trade show or scheduled meetings). All we required was that they show how their product could be used for advocacy, present a case study using a destination and have the destination organization there to help tell the story. The level of financial support for the event decided how many sessions sponsors could have. We were very transparent with the attendees about what we were doing, and the response was very positive.
Next advance pursuing: On the thought-leadership side: fully exploring the concept of values being the foundation of everything at a destination organization. On the meeting side: my Great White Whale is finding that secret sauce where the program is so strong, the event so fun, the take-aways so important, and the final event so "must be there" that no one leaves early.
Kelly Saling
Senior Vice President and Chief Sales Officer, Visit Seattle
Editor's Note: Saling and Visit Seattle are investing in the future of the meetings industry in the region by continuing to add advanced resources for meeting profs.
Motivation: People. It's the lady on the plane that gave up her seat so new parents could sit together with their infant. And my four-year-old cracking me up with his big stories. My best friend from college checking in on me, the neighbor who makes the painted rocks for the kids to find, a former colleague texting me industry memes, and really, my team – who shows up every single day with a sense of sense of gratitude, grit, and commitment.
Approach to supercharging experiences: Michelle Mason, new CEO of ASAE, has been speaking about Conscious Inclusion. It's a perfect way to articulate so much. Including the big thinking and critical action that is hyper-focused on scenarios where everyone benefits. Shaping culture where reason rules. Where deliberate action drives away the concept of winners—which means losers. Afterall, hospitality, at its core, is not just about saying yes. It's about taking care, and generosity. It's embracing and ultimately serving people.
Moment of enlightenment: Seattle hosted Maritz' NEXT& program in August 2021 and it was near-utopia. With 500 attendees, at the time, it was the largest business meeting downtown since February 2020. The program was brilliant, the energy was palpable, and the 'peopling' was magical. The cherry on top was that there was not a single case of COVID reported after the program.
It was a shining example of true collaboration between all parties. Intermediaries, end user customers, Destination Management Companies, hotels and Destination Marketing Organizations. Maritz used the word eco-system in a way that had more meaning than ever before. An environment where one does not function properly without the others in an interconnected system.
Next advance pursuing: Recharging to give my team the energy and enthusiasm they deserve. We're all a bit fatigued, but finding a way to see the light, and more importantly, be the light, is the energy needed. We've got so much good going on in Seattle and a lot to be excited about. We have four different near or over one billion-dollar projects currently under construction in our city!
Soon we'll be opening our second convention center building, the Summit, so we have two buildings in the heart of our downtown. The city of Seattle is rebuilding Seattle's central waterfront to be completed in 2024 and better connect downtown with 20 acres of new public space. We have a new International Arrivals Facility at SEA airport opening late this fall, and we're just days away from opening Climate Pledge Arena, the first net zero certified arena in the world.