Gaming properties offer attractive options for groups all under one roof
Only a special destination could make a Silicon Valley-based organization spurn the sleek, tech-savvy meeting venues of San Francisco and San Jose for the comparatively remote town of Lincoln, California, 150 miles to the northeast. Thunder Valley Casino Resort does just that. For the past five years, Northern California Golf Representatives Association has held its trade shows at the tribal casino property.
"Their level of service is extraordinary, and everything is under one roof," explains Emmy Moore-Minister, show producer for the golf merchandise organization. "The value is important to us, and we were looking for an experience where people could come to our show and stay overnight if they wanted, and not be driving back and forth. The 'one-stop shop' just works out for us."
With 14 bars and restaurants, a 5,000-seat outdoor amphitheater, a spa and pool area, and about 20,000 sq. ft. of meeting space—not to mention a planned expansion in room inventory—Thunder Valley Casino Resort is just one gaming property that has evolved beyond craps and slot machines to attract meetings business to complement weekend guests.
"We're a destination, not just a casino," says Lisa Wilson, director of hotel operations for Thunder Valley, which is operated by the United Auburn Tribe. "Your attendees really get to know each other, and form friendships and bonds—and that does nothing but build business."
Across the nation, gaming companies are building hotels with meeting space. Monarch Casino Black Hawk, roughly 40 miles west of Denver, is adding a 23-story hotel tower with approximately 500 guest rooms and suites. In Southern California, Soboba Casino is relocating to a site 85 miles east of Los Angeles—and constructing a 200-room hotel with a 15,000-square-foot conference center. Meanwhile in Illinois, legislation is advancing that would allow the development of six new casinos, including one in Chicago.
While some meeting planners have shied away from properties with casinos (in part because of concern that attendees would stray), that mindset has shifted.
"Because of the proliferation of gaming, for most groups, the stigma no longer is an issue," says Jim Wood, president and CEO of Meet AC, an organization that works to support the meetings business in Atlantic City, New Jersey. "For convention planners, there's value savings when they choose a gaming property, and it's a great opportunity to take advantage of built-in entertainment and restaurant options."
With the right mix of convenience, value and fun in a single location, a gaming property might be just what your next meeting group is looking for. Here's a look at some of the available options.
Atlantic City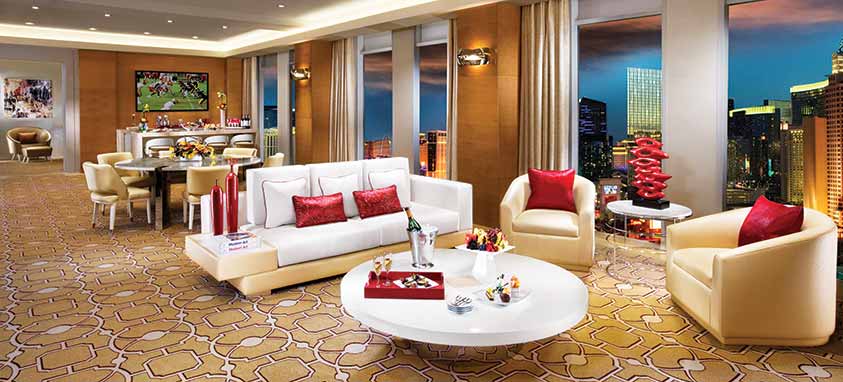 Tropicana Casino & Resort Atlantic City
Located 120 miles south of New York City and 60 miles east of Philadelphia, Atlantic City is a natural choice for business groups from the northeast and mid-Atlantic regions. AC (as it is known) has more than 16,000 hotel rooms, eight major casino hotels, and plenty of options for groups of all sizes—not to mention the 500,000-square-foot Atlantic City Convention Center.
"We're seeing growth year over year in the meetings market, and we've seen casinos add meeting space for mid-week conventions," Wood says. "We've got a tremendous convention center, an outlet shopping mall, world-class entertainers and hot nightclubs—all next to one of the best beaches in America."
AC is continually evolving. Hard Rock International has purchased Trump Taj Mahal, and expects to open the property in spring 2018. Meanwhile, Borgata Hotel Casino & Spa is adding a new $11 million conference center with 18,000 sq. ft. of meeting space to complement restaurants by Michael Symon and Bobby Flay, two spas, 2,800 guest rooms and other perks.
"What is great about Borgata is everything can be experienced under one roof," says Mark Vanderwielen, vice president of hotel and property operations. Groups holding events at Borgata for the first time experience a 10 to 15 percent increase in attendee and exhibitor turnout compared to previous events, Vanderwielen says.
Harrah's Resort Atlantic City invested more than $250 million in its massive, newly constructed Harrah's Waterfront Conference Center (with two 50,000-square-foot ballrooms) to go along with its 2,500 guest rooms. Tropicana Casino & Resort Atlantic City recently finalized a $50 million renovation that brought room upgrades and expansion.
And with 483 rooms, the historic Claridge Hotel, home to the city's only rooftop bar, offers 100,000 sq. ft. of meeting space, including a recently renovated ballroom.
Atlantic City is not the only gaming area on the East Coast, of course. One of the largest tribal gaming properties in the nation is Foxwoods Resort Casino in Ledyard, Connecticut, which has 2,230 guest rooms as well as event venues including the 1,400-seat Fox Theater and 4,000-seat Grand Theater. Mohegan Sun in Uncasville, Connecticut, has begun construction on a new $80 million, 240,000-square-foot Exposition & Convention Center, slated to open in summer 2018.
Las Vegas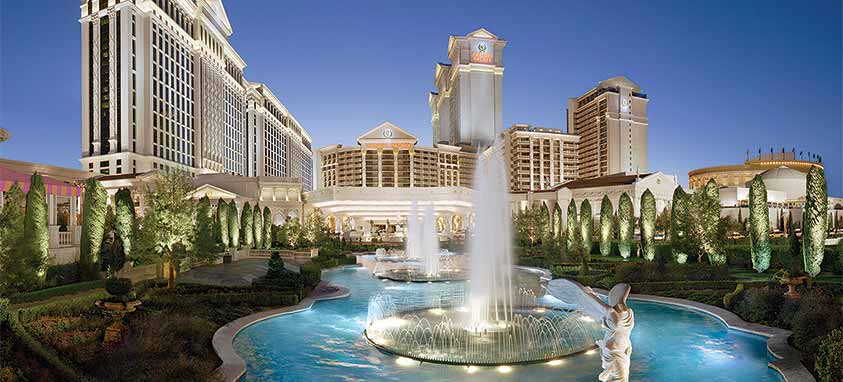 Caesars Palace, Las Vegas
No place embodies the constant evolution of gaming properties more than Las Vegas, where hotels are continually built, renovated and replaced in an eternal effort to keep up with the Joneses. The recipe seems to be working: Las Vegas attracted a staggering 42.9 million visitors in 2016 alone—including 6.3 million business travelers.
"If you're away from here for a year, things will have changed," says Chris Meyer, vice president of global business sales for Las Vegas Convention and Visitors Authority (LVCVA). "We're always asking, 'What's the next cool thing? What can we offer to customers?' Whether it's the latest in cuisine or more natural lighting in meeting spaces, we listen to what our clients want and evolve our marketplace to [accommodate] that."Caesars Entertainment, which operates multiple properties on and near The Strip, is upgrading more than 4,800 of its Las Vegas hotel rooms, while also continually evolving its shows, restaurants and other features. For example, The Who has announced a residency, to start in late July, at the Colosseum at Caesars Palace, Las Vegas.
The company continues to bring in new chefs and retailers to developments such as Linq, home of the world's largest Ferris wheel, while adding attractions including a zipline between the two towers at Rio Las Vegas.
Station Casinos maintains a collection of 10 distinct Las Vegas hotel and casino properties. The vast portfolio provides more than 4,000 affordable hotel rooms at properties such as Palms Casino Resort and Red Rock Casino Resort & Spa.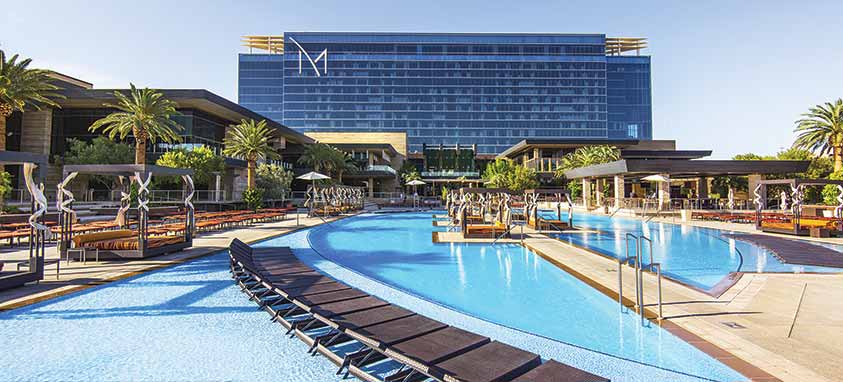 M Resort Spa Casino, Las Vegas
At M Resort Spa Casino, the 92,000 sq. ft. of flexible event space includes a new addition. M Pavilion offers 25,000 sq. ft. of pillar-free space perfect for hosting nontraditional, large-scale events. The resort also boasts an expansive pool, a casino flooded with natural light and 390 guest rooms.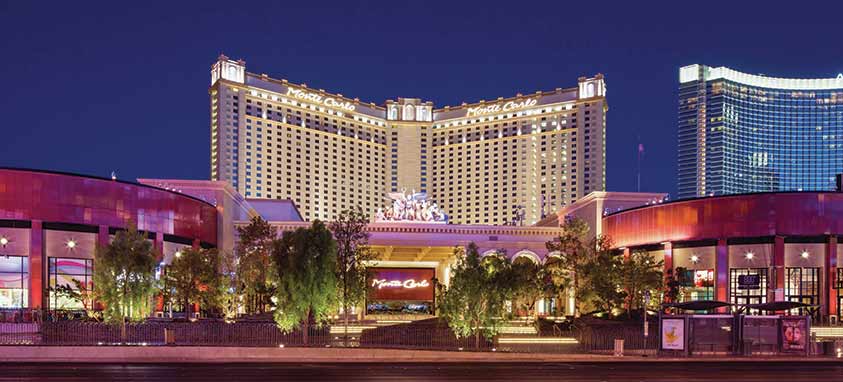 Monte Carlo Las Vegas Resort and Casino
Other new opportunities for planners include the 5,000-seat Park Theater at Monte Carlo Las Vegas Resort and Casino, operated by MGM Resorts International; the brand-new, Asian-themed Lucky Dragon hotel; and The Venetian Las Vegas' new co-working space, designed in partnership with Zappos.
For group or spouse activities, the myriad options include a new "locked room" experience called Escapology; Speed Vegas, a racetrack where attendees can ride Lamborghinis and other dream cars; and Sundance Helicopters, which offers multiple tours to help guests see the Grand Canyon, Vegas Strip and other attractions from on high.
"Fun activities are all part of our brand of adult freedom," Meyer says. "The energy of a gaming property allows attendees to continue the networking a lot longer than if they were going to a standard property. People love coming to our destination, and they are more engaged in their meetings."
Reno & Tahoe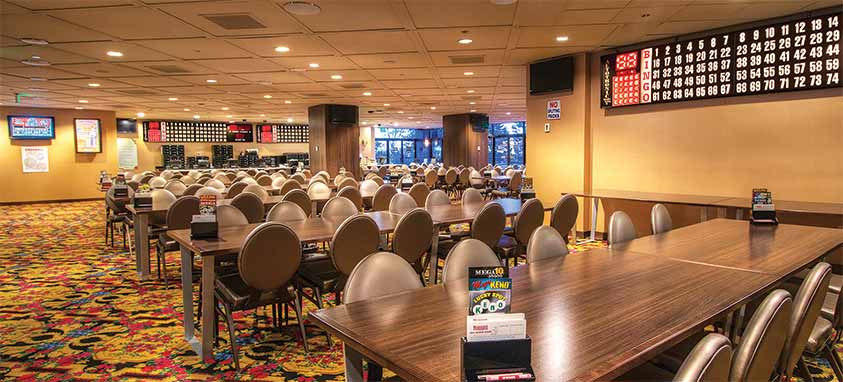 Bingo Hall at Nugget Casino Resort, Sparks, Nevada
In Northern Nevada, the Reno/Lake Tahoe region has grown in recent years as major technology companies including Tesla, Microsoft and Amazon have opened facilities.
"Northern Nevada has had between 400 and 500 new companies move to our region in just the last few years," says Phil DeLone, president and CEO of Reno-Sparks Convention and Visitors Authority. "The destination offers the right combination of outdoor recreation, attractive meeting venues, resorts and facilities unmatched in other destinations. Lake Tahoe is only 30 minutes away. We have the highest concentration of ski resorts in North America. We have over 30 golf courses within a short drive of the resorts in the city. And you can go from one end of town to the other in less than 10 minutes."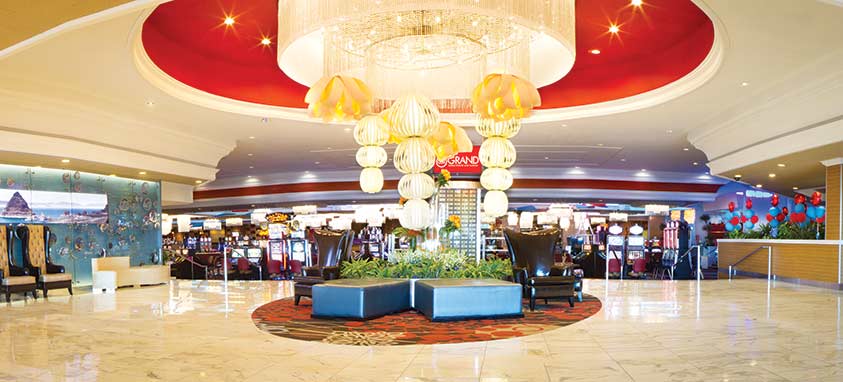 Grand Sierra Resort and Casino, Reno
Grand Sierra Resort and Casino, with nearly 2,000 guest rooms and 200,000 sq. ft. of meeting space, has spent millions of dollars on renovations and upgrades. Nugget Casino Resort in the adjacent city of Sparks is undergoing a $25 million renovation of its guest rooms and 110,000 sq. ft. of meeting space. Renaissance Reno Downtown Hotel, a new nongaming property with more than 200 guest rooms, opened in April and includes an indoor bocce court, among other features.
"The Nevada gaming industry is very competitive, and as income levels have improved, companies are reinvesting in their properties to keep them vibrant and fresh," DeLone says. "A lot of these facilities are completely self-contained, so meeting attendees do not wander off."
Other Leading Properties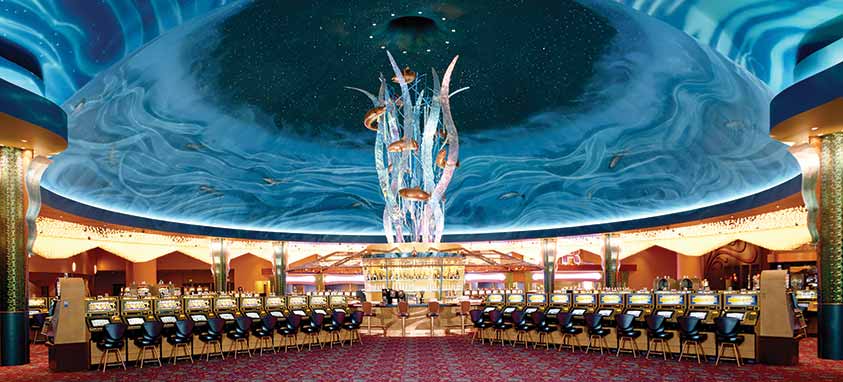 Tulalip Resort Casino, Washington
Beyond Nevada, planners will find a growing number of casino properties well-suited for hosting groups. In New Mexico, for example, Inn of the Mountain Gods Resort & Casino offers 273 guest rooms and 40,000 sq. ft. of event and meeting facilities. In addition to its casino, the property offers horseback riding, hiking, fishing, paddle boating, kayaking, clay range activities, ziplining and skiing.
In the Pacific Northwest, the Tulalip Resort Casino, located about 45 minutes north of Seattle, recently completed a $15 million renovation that included upgrades of 360 guest rooms, with the addition of Bluetooth media hubs and other amenities. Farther to the east, Coeur d'Alene Casino Resort Hotel in Idaho has undergone no fewer than six expansions since its founding in 1993; the property now has 300 luxury hotel rooms and a conference area spanning more than 40,000 sq. ft.
The Oenida Indian Nation operates Upstate New York's Turning Stone Resort and Casino, located about 30 miles east of Syracuse, New York. The property's 125,000 sq. ft. of flexible event space can accommodate groups of up to 2,000. The recently updated gaming floor offers a state-of-the-art casino experience, while Skana spa offers treatments inspired by Native American culture.
Eight properties spread across Oklahoma comprise the portfolio of Choctaw Casinos & Resorts. The AAA Four Diamond entertainment destination Choctaw Casino Resort–Durant, 95 miles north of Dallas, contains a conference center and a 100,000-square-foot grand theater. Other group properties include casino resorts in Grant and Pocola.
No matter where you end up putting your chips on the table, be sure to work with the local convention and visitors bureau, as it can help to answer questions related to transportation, spouse activities and accommodations.
"Convention authorities are a tremendous resource tool for any meeting planner," DeLone says. "They help make the complicated job of securing the right meeting destination easy and quick, and can help guide meeting planners to the products that best fit their needs."
---
Chuck Kapelke is a professional writer, video producer and longtime contributor to Smart Meetings magazine.
---
Quick Stops
Gaming properties do not have to be used for overnight meetings: They also accommodate single-day events.
For example, First United Bank & Trust, based in Oakland, Maryland, holds its one-day quarterly meetings at Rocky Gap Casino Resort, near Cumberland, Maryland.
Sure, Rocky Gap has plenty of amenities for overnight guests, including a comedy club, a spa and an indoor pool, as well as the only Jack Nicklaus Signature Golf Course in Maryland. But for the managers at First United, the property is ideal because of its location—between the bank's branches.
"It does have a beautiful golf course and a spa, but we generally come and do our business during the day, then go home at night," says Philip Rodeheaver, market area president at First United. "They have all the technology and food service we need."
First United works closely with the property's meetings team to secure the best price possible, taking advantage of midweek and off-season rates whenever available.
"There's value there," Rodeheaver says. "Their sales team has been very accommodating to us. The service is good, the rooms are as they should be and they're always taking care of us throughout the meeting."
Getting Into the Game
Most meetings held at gaming properties do not actively encourage attendees to gamble in the casino, as that tends to happen organically during off-hours. But there are ways to utilize the casino to give your meeting a unique twist.
One option is to arrange a slot contest. The casino will reserve a section of slot machines for your attendees to play during a certain period of time. Whoever gets the most points during that time wins a prize.
Another idea is to ask the casino to arrange for a dealer to provide lessons for attendees or spouses. Unsurprisingly, casinos are happy to help newcomers, and a group lesson can be a fun, pressure-free way to get into the game.
Many casinos can also arrange rewards cards for your group's members, allowing them to earn drinks, food and show tickets as they play. And some properties will give free-play vouchers to visitors to encourage them to visit the gaming floor.
If attendees haven't set foot in a casino in a while, they will be surprised by how different they feel. While smoking is still allowed in many casinos, the ventilation in new properties tends to be vastly improved, and the sounds of clinking coins have largely faded, thanks to the advent of digital slot machine payouts.
"Many casino floors are changing from a dark area to one with more natural light being incorporated into their designs," says Chris Meyer, vice president of global business sales at Las Vegas Convention and Visitors Authority. "The newer properties are really trying to have a welcoming vibe."