Yacht-based Cannes celebrations 'wow' clients
Editor's Note: Events have the power to bring the world closer together. To find out how a two-person marketing team wowed 500 current and prospective clients with world-class experiences in seven floating venues, Smart Meetings interviewed Som Puangladda, vice president of global marketing for ad tech company GumGum, which uses artificial intelligence to unlock value in web images and videos.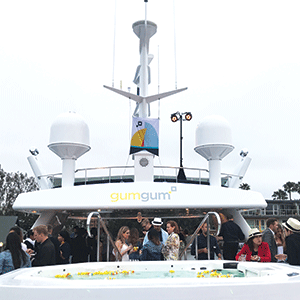 Business Goal: Bringing Cannes to You was a strategic sales event that started two years ago to create excitement for those who could not go to the prestigious Cannes Lion International Festival of Creativity. The luxury experiences on a trio of yachts were used to connect with clients and generate press and an awareness. The second year, the event blossomed to include 500 people on seven yachts over two days in locations as remote as London, New York City and Marina del Rey, California.
Challenges: The goal, as with any event, was to make sure the client felt the event was flawless, even though the marketing team couldn't be in all locations. Communication across time zones and cities was a logistical challenge as the team worked with local sales representatives to try to solve problems on the fly. The team also wanted to ensure that each group had the same experience level while customizing the event for the destination.
Solution: The tone was set by sending "messages in a bottle" to client desks instead of traditional invitations. Attendees then went online to register using the Splash database platform so that on site, the regional team could use mobile check-in on iPads to streamline boarding and have all the information about who attended integrated into Salesforce. That way, attendees were able to quickly join the group and get a drink without waiting in long lines at the dock. "It was a big jump from paper and pen that would be crumpled and water damaged," Puangladda said. "Although we had that as a backup, as well."
Focal Point: The entire event was French-themed, with gourmet cuisine, Champagne and fedoras for everyone. The team built on the experience of the first year and turned posting hash-tagged photos from the event into a contest, with the winner going to Paris. "We realized people were having so much fun the first year that they didn't post, so we created a semi-organic way to encourage sharing, and it worked," Puangladda said.
Measure of Success: In addition to the number of posts, the team sent out a recap video from the event, including drone footage of the lighted yachts, and asked for feedback. It was all positive. The team was then able to track sales that came from the event in a custom dashboard that allows it to be more strategic about who to invite to other events.
Lessons Learned: "Every year have to 'up' our branding and the experience to stay ahead of competition," Puangladda said. This year, they plan to double in size again. However, she is considering bringing in reinforcements for logistics and to manually set up so the salespeople on site can focus on having meaningful conversations with guests.