How all-inclusives have morphed into being 'right here, right now'
Travel has never been just about getting from point A to B, but today more than ever it's about why Point B is worth the effort. Gen Z-ers and millennials want connection with the destination, with stories to bring back home and social media moments to share with their worlds. Baby boomers want much the same but with minimal—or at least mindful—wear and tear.
Travelers of all ages increasingly want reassurance that their presence will do no harm, and better still, will help lift up the places they visit.
And you meeting professionals? You want to fulfill the travel dreams of your groups, no matter their demographic mix, yet at the same have firm cost control, no unwanted surprises and maximum flexibility to make tweaks as necessary.
So, how best to get what you need and give your groups what they want? From the wings of travel's stage, a new leading player has entered the spotlight.
Today's all-inclusives.
Once seen as the worst sort of all-you-can-eat buffet of travel, all-inclusives are now adapting to be unique experiences that reflect the authenticity of the destination—but without the hassle.
A Covid Boost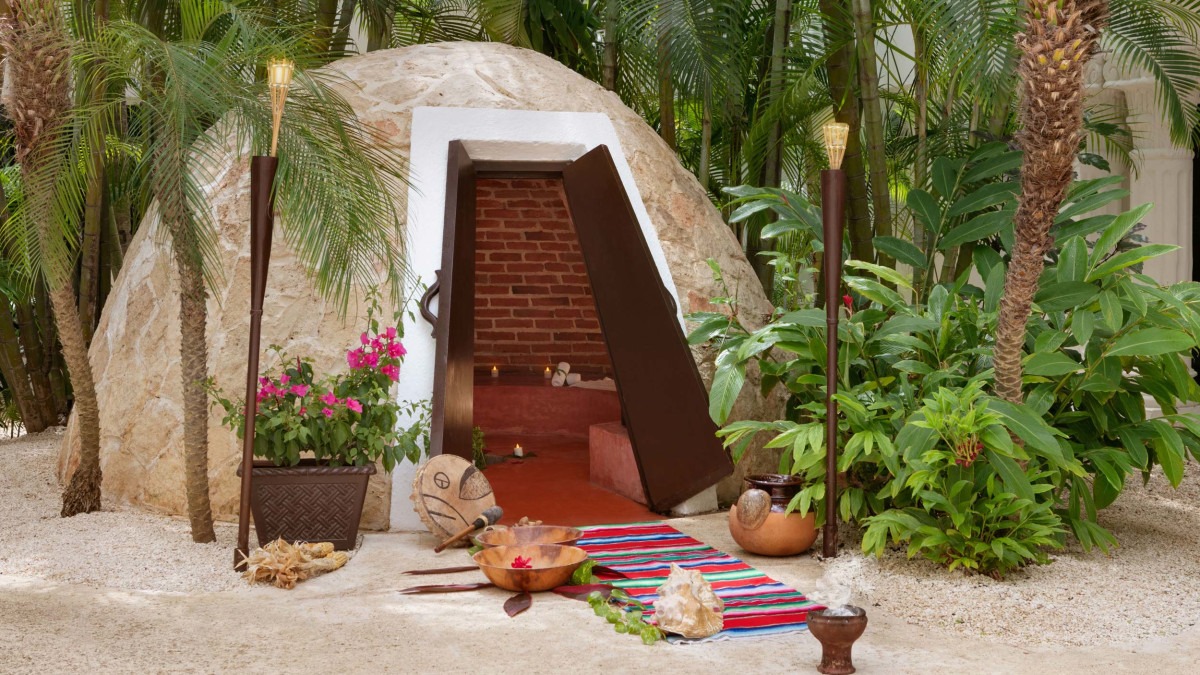 Covid-19 was a game changer in so many ways, but to all-inclusives the virus was something of a booster. When groups again began to dip their toes into the travel pond, the appeal of these self-contained resorts in splendid locations increased. The reason was simple: Because of their very insularity, they can offer groups a well-rounded experience within the confines of the property, with no need for transport to, or potential exposure at, other locations.
"I have found several brands that have really stepped up in the face of Covid and offer such enticing concessions, it's almost impossible to say no," says Chuck Czaplewski, vice president and account executive at Creative Group, a leading incentives company. "For example, some properties include no-charge Covid testing to return to the U.S. Others guarantee accommodations and F&B should an attendee contract Covid while on site. Some even offer complimentary future travel, should their current trip be cut short due to Covid."
Read More: What Keeps Attendees Safe in a Pandemic and What Doesn't
Czaplewski continues: "Not all of my clients are a good fit for an all-inclusive resort, but those that are, and that use the inclusions to their advantage, can really save some hard dollars. If you like to dine off-property or hold evening F&B events at off-property venues, then an all-inclusive resort isn't a great option for you—you're already paying for the F&B, entertainment, etc. in the higher room rate. But if you can appreciate dining in the high-end, a la carte restaurants that the nicer all-inclusive resorts offer, you'll be saving a lot compared to buying separate F&B events at a non-all-inclusive property.
"Generally speaking, they're just such a great value that for most of my clients and prospects, it's a very logical choice."
The major hospitality companies are increasingly bullish on this lodging category. Marriott International  says it plans to have 33 all-inclusives in its portfolio by 2025. Two years ago, Hyatt Hotels acquired Apple Leisure Group and its 100 all-inclusive global properties. In Mexico and in other Caribbean locations like the Dominican Republic, the family leisure market dominates, but groups figure in the business strategy of many properties as well.
Another big player determined to grow in this space is Hilton Hotels & Resorts, especially with its Ziva and Zilara brands—the latter is adult-only but both welcome groups. "Travel managers and event planners have their eyes on all-inclusive offerings, and so do we," in the words of Colette Baruth, vice president and commercial director for All-Inclusive Commercial Services at Hilton. "We've been investing—in a big way—in meeting and event space within our all-inclusive portfolio."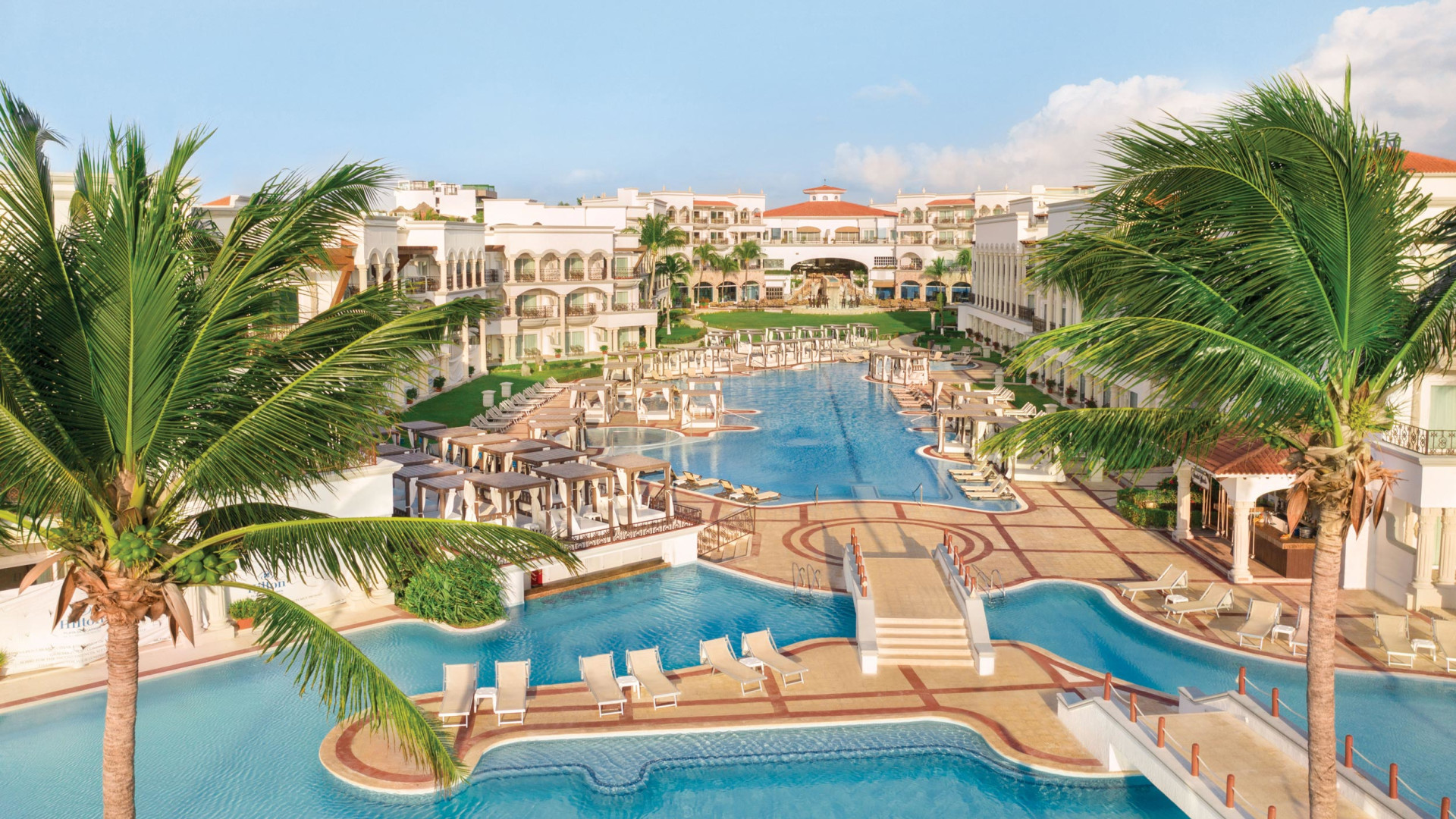 Baruth says Hilton recently conducted a survey of U.S. adults, and 85 percent of respondents agreed booking an all-inclusive resort is the best way to reduce the stress of travel planning. "As it relates to group bookings, our all-inclusive portfolio allows travel managers and event planners to worry less about the logistics of getting together a large group and focus more on the agenda and subject matter of the gathering itself. Working with an all-inclusive resort for your event creates a fluid experience so that no one has to worry about details like restaurant reservations—all they have to do is show up and enjoy."
Alfonso Jarquin, general manager at Hilton Playa del Carmen, An All-Inclusive Resort, just south of Cancun, Mexico, points to the breadth and variety of F&B choices and activities like mixology classes at properties such as his, all of which are included in the base price. "And I can't say enough about our amazing entertainment," he adds. "It's unique to all-inclusive resorts, and Hilton Playa del Carmen does an incredible job offering theme nights—from Silent Night, to Rock Party, to Masquerade Party, to Karaoke and so many others. At non-all-inclusive resorts, all these experiences come with an additional charge."
"In a Hilton survey, 85% said all-inclusives are the best way to reduce the stress of travel planning."
Even the concept of all-inclusiveness itself has flexibility. At Casa Marina Key West, Curio Collection by Hilton, in Florida, over 11,000 sq. ft. of indoor meeting space and the largest private beach in Key West come with all-inclusive F&B packages for groups of 20-200 ranging from bar only to two meals plus bar.
Beyond the Tropics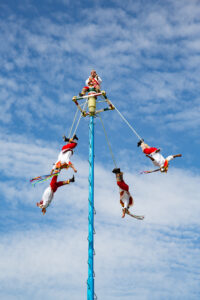 Many all-inclusives have doubled down on appealing to groups by encompassing group activities into their one-price-fits-all packaging and investing in more meeting spaces—for example, just down the road from Playa del Carmen, in burgeoning Tulum, Hilton Tulum Riviera Maya All-Inclusive Resort has the largest meeting space in Tulum and one of the biggest in the region, with a 55,000-square-foot convention center and 400-seat auditorium.
At the same time, these resorts have also worked to make their experiences more authentic to their settings and tied to their local communities. At the new Hotel Xcaret Arte in Riviera Maya, Mexico, for instance, nine renowned Mexican chefs have each designed tasting menus based on the country's regional cuisines, and the property's buildings, or "casas," are each themed to one of the country's artistic strengths, such as pottery, weaving and painting. Two convention centers, charmingly named Frida and Diego, offer 11,525 and 26,199 sq. ft., respectively.
We tend to think of all-inclusives in tropical settings like Mexico and the Caribbean, but the category's sense of place is expanding. You can't get much further away from margarita lessons and limbo beach parties than southwestern Utah. That's where the all-inclusive Red Mountain Resort builds its experience around adventure trips to nearby Zion National Park, boot camps, bird watching and other team-building activities. Some of the meeting space, which ranges up to almost 10,000 sq. ft., offers aromatherapy for weary muscles along with state-of-the-art A/V.
And at Miraval Arizona Resort & Spa in Tucson, this Hyatt-owned property with several meeting rooms ranging in size up to 1,700 sq. ft. leads with all-inclusive group packages that combine experiencing the surrounding natural beauty on hikes and mountain bikes with wellness activities like yoga and meditation. Hilton's Baruth sees the growing appeal of wellness as an all-inclusive offering too.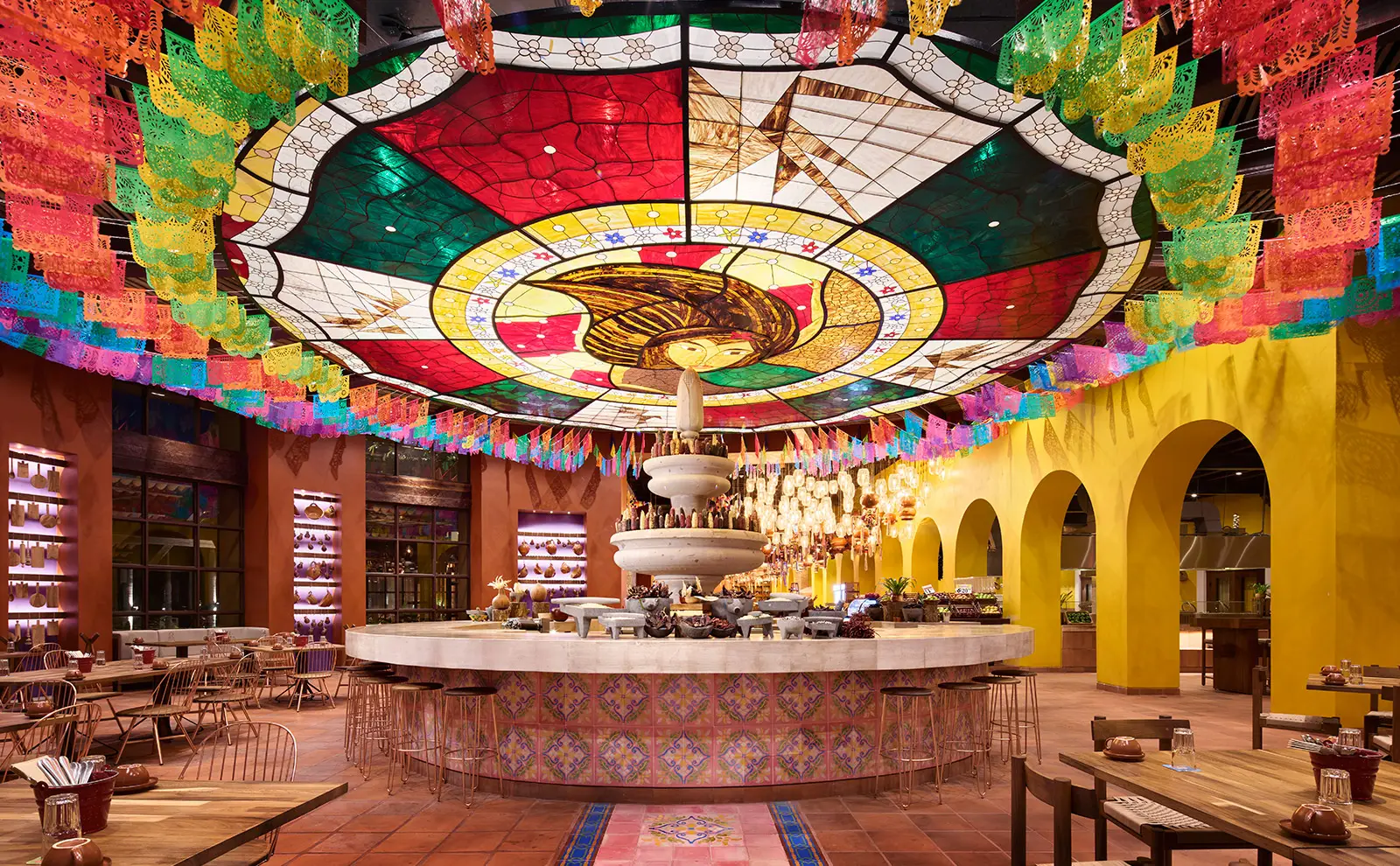 "Our customers are heavily taking sustainability and wellness offerings into consideration when booking meetings and events," she says. "As we anticipate this to be a continued priority, Hilton is relaunching our Meet with Purpose program to focus on three new pillars—Gather, Nourish and Impact. The program allows meeting planners to easily integrate healthy, sustainable and locally sourced menus into their meeting agenda, in addition to social impact opportunities and sustainable elements to help offset carbon footprints and sustain personal wellness."
For meeting professionals, the set price and centralized focus of an all-inclusive property frees up bandwidth for other aspects of program planning. And with an ever-broadening span of settings and experiences offered on an all-inclusive basis, planners have more options than ever before to match their groups with the types of experience they seek.
"We tend to think of all-inclusives in tropical settings, but the category's sense of place is expanding."
As Baruth notes, "Travel itself is seen as a different type of entertainment. In fact, a recent travel survey says 71% would skip concerts and movies to spend that money on travel. They want to connect and create shareable moments for social media. For all-inclusive resorts, they're looking for a personalized approach and want to build relationships with people on property to get that local touch that always enriches a hotel stay."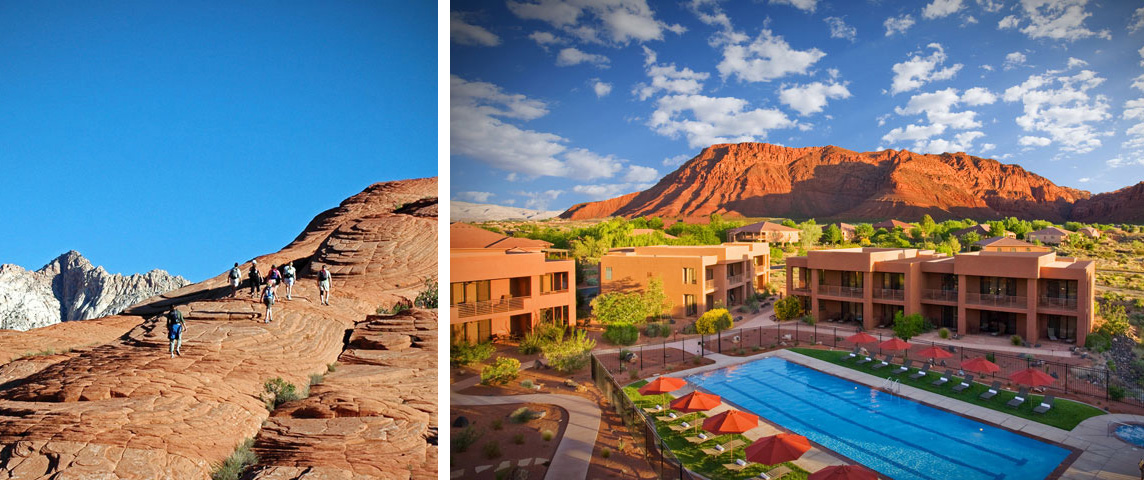 All-inclusives Afloat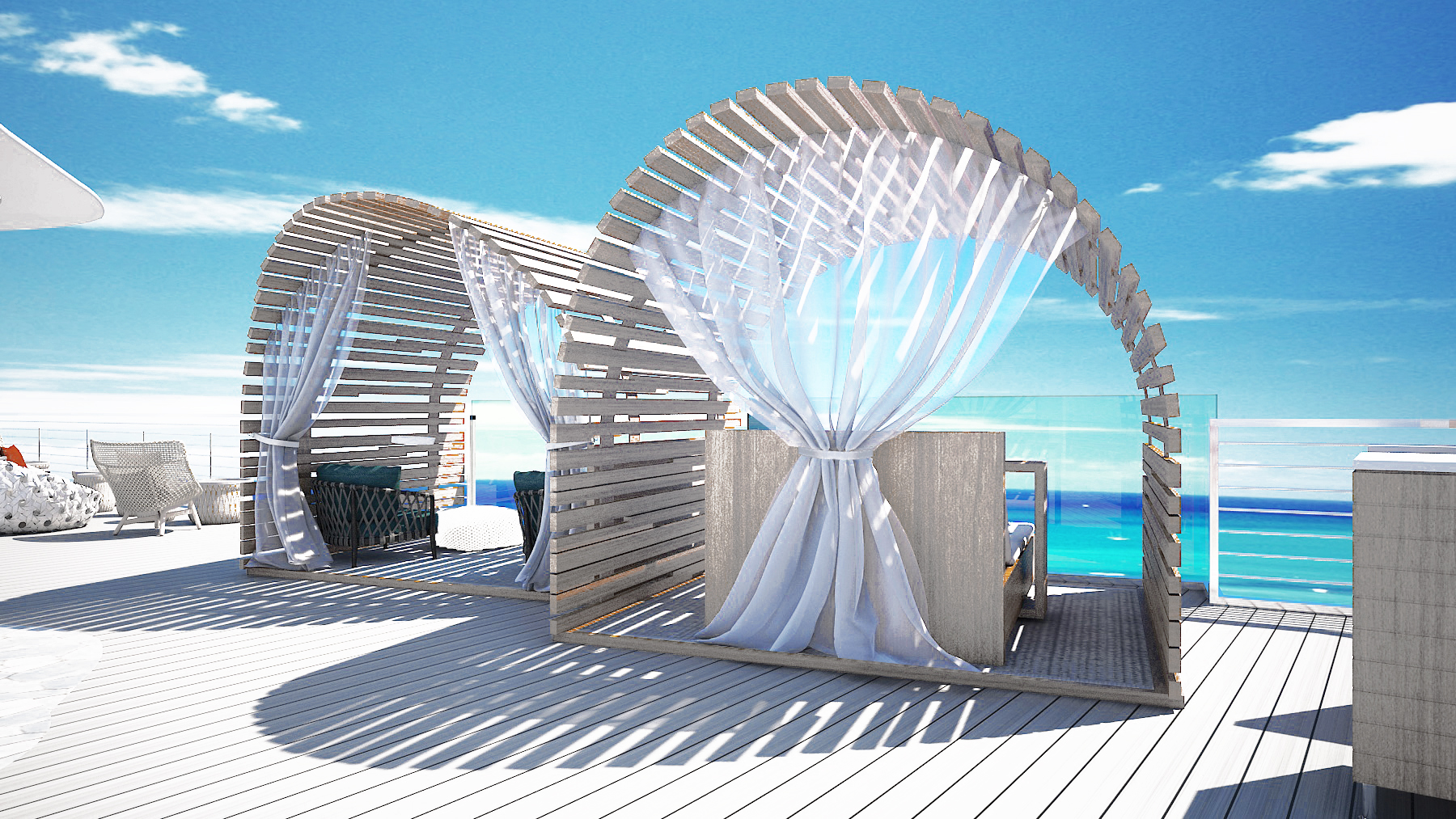 Perhaps there's no sense of place more omnipresent than on a cruise ship. It wasn't long ago that cruising seemed dead in the water, but with the return to F2F and new health protocols and procedures, this popular version of all-inclusive travel is back at high tide.
Dondra Ritzenthaler, senior vice president of sales, trade support & service for the Americas at Celebrity Cruises describes what she's seeing. "MICE business is definitely coming back. What is so encouraging now, with our own new Health at Sea policy and the Centers for Disease Control lifting its risk advisory for cruise travel, we're seeing large groups, charters, company meetings—and not just in groups of 10, but also in sizes like 200 and 600. Not just for '22 but for 2023, as well."
Like all-inclusives on land, the value proposition at sea is the obvious appeal for planners. The base price for the room block is higher, but it includes so much more. "When you're going to a hotel, they charge you on an incremental basis. On our ships we don't do that," as Ritzenthaler puts it.
She says meeting professionals are now making new health and hygiene requests. "They've always asked for an outdoor cocktail party, and they still are—but not because of Covid but because it's so wonderful. What they're asking for now feels very much like what they were asking for pre-pandemic." At the same time, her ships have made their own changes, like eliminating buffets for casual dining, touchless entry into staterooms and online check-in.
She also calls out another big selling point. "I travel quite a bit, and I have been to so many hotels, not only in the U.S. but also Canada, where so many of their bars and other facilities are not open yet.  At Celebrity Cruises, we are 100 percent open. Our team-building activities are all available. Sushi making, wine tasting, learning how to DJ. They're all available." By September, she says, all 15 Celebrity ships will be back in the water with 100 percent crew. "We have no staffing issues," she proclaims. "It's our culture really. Our crew wanted to come back so badly."
Groups are increasingly important in the business model for companies like Celebrity. Ritzenthaler says groups and large meetings have grown over recent years by more than 20 percent. "We have beautiful meeting space, with capacities like 1,200-1,300 in our theaters. 150-200 in conference rooms. New 'always included pricing' covers everything from A/V and meeting space to Wi-Fi, tips and drink packages.
"There are no surprises. No additive costs. No nickel and dining," she says.
This article appears in the July 2022 issue. You can subscribe to the magazine here.