Congresswoman representing Nevada's First District; professor emeritus at University of Nevada, Las Vegas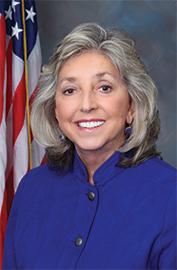 How have you been influenced by your family's involvement in Georgia politics?
Growing up in a politically active family instilled in me a respect for public service, a desire to give back to my community and sensitivity for those less fortunate than myself. It also led me to attend the College of William and Mary, where Thomas Jefferson and other founding fathers went to school, and to study American government as a major.
How have you balanced your roles in state and U.S. government with your role as a professor at University of Nevada, Las Vegas?
For 20 years, I was in the Nevada State Senate, which only met for 120 days every other spring. This allowed me to continue teaching at UNLV. Currently, I am professor emeritus and often give guest lectures in college classes. I also encourage students to serve as interns in my congressional office, which I consider a learning/teaching opportunity, and I am still actively engaged in research and publication. I strongly believe that my political experience made me a better teacher and my academic experience makes me a better legislator.
What did you learn about the travel industry in the Nevada State Senate that has provided key insights for you as a member of the House Transportation and Infrastructure Committee and the Congressional Travel and Tourism Caucus?
The Nevada Senate Judiciary Committee, which I either chaired or served as ranking member for most of my tenure, was directly responsible for all gaming oversight in Nevada. By ensuring that gaming—the engine of our economy which is so closely tied to tourism—remains respected, legitimate and ethical, we guaranteed that visitors would be treated fairly, would have faith in the integrity of the industry and would want to return again and again. I also strongly supported funding for the Las Vegas Convention and Visitors Authority, which is critical to attracting business travelers from around the world, and constantly fought to bring our fair share of infrastructure dollars to Southern Nevada.
Please describe Brand USA and tell us why it's important.
Brand USA is the first nationally coordinated marketing effort to inform and entice more international travelers to visit the United States. Funded by private contributions from the industry, not taxpayer dollars, ads feature highlights of our exciting cities, family attractions and majestic natural wonders. In the last two years, Brand USA has attracted more than 2 million incremental international visitors who spent $6.5 billion in hotels, restaurants, casinos, museums and parks. That spending supported more than 53,000 new jobs across the country.
---
---

After serving in Congress from 2009 to 2011, you were not initially re-elected. But you persevered and then returned to Congress two years later. What did you learn about yourself before you were
re-elected?
Along with 63 of my House Democratic colleagues, I lost in the 2010 election. I returned to teaching and was appointed to the national Civil Rights Commission by Sen. Harry Reid. When Nevada got an additional congressional seat in 2012 and the new lines were drawn, I found myself in a district that was better suited for me—it was more Democratic and more ethnically diverse. It also included the university, the arts district and much of the area I had represented in the State Senate. I didn't move, but the lines did. I love representing District One, which includes McCarran International Airport, the fabulous Las Vegas Strip, Down Town Glitter Gulch, Chinatown, the Hispanic Eastside and the Arts District. Las Vegas is a spectacular place to visit, with some of the world's best hotels and restaurants, quality shopping and amazing entertainment. We say if it is happening in Nevada, it's happening #OnlyInDistrict1.
Have you always been passionate about tourism and travel or is it a byproduct of you representing Nevada, a state that relies on this industry?
Since I was little, I have always enjoyed traveling. My family took many cross-country driving trips visiting national parks and out-of-the-way places. My father also ran a small motor court in Tifton, Georgia, so tourism was a part of our daily lives growing up. As an adult, I have lived and traveled in Europe and Latin America and have roots in Greece, where I love to visit. Not only is travel personally rewarding and educational, but I have learned as a policymaker what a significant role tourism plays in our economy—creating jobs, fostering innovation, growing businesses and generating revenue.
What's your fondest memory from an event you attended in Las Vegas?
I'll never forget seeing Frank Sinatra perform at Caesar's, running into Telly "Who loves you, baby" Savalas shooting craps at the Tropicana, or riding the world's tallest observation wheel at The Linq for the first time and looking out over the fabulous Las Vegas Strip and all of District One.
---
Hometown: Las Vegas
Education: A.B., College of William & Mary (1970); M.A., University of Georgia (1973); Ph.D., Florida State University (1976)
Career: Nevada's First District (2013–present); Third Congressional District (2009–11); U.S. Civil Rights Commission (2010–11); Nevada State Senate (1988–2008); University of Nevada, Las Vegas, political science department (1977–2013)
---
Further Reading