Group Experiential Learning, sailing in the San Francisco Bay
Foster camaraderie and solve problems with team-building experiences
Effective corporate meetings allow participants to share not just key information, but also individual perspectives based on each person's experiences inside and outside their work. The result is more than simply learning and a batch of new ideas. Attendees gain improved understanding, camaraderie and trust between each other, which brings about better business performances.
To maximize these meeting benefits, planners can incorporate a team-building component into the itinerary. The goal could be as simple as getting far-flung employees to become better acquainted with each other, or as complex as overcoming a specific business challenge or repairing a dysfunctional dynamic between colleagues that's keeping the firm from reaching its business goals. It is essential for meeting leaders and planners to recognize what they want to achieve with a team-building activity, and to match the activity and post-activity group discussions to that goal.
These days, the variety of team-building activities available to meeting groups is enormous. Here are nine examples that have proven to be interesting and effective.
Food for Thought
Sitting down to share a meal can be a powerful bonding experience for any group, but when participants prepare the meal together, the benefits become even greater. Many hotels and resorts offer culinary team-building programs.
One property that has it down to a science is the 2,004-room Marriott Orlando World Center. With its large team of chefs and mixologists ready to assist, the hotel hosts groups of up to 50 in one of its restaurants during off hours—or a few thousand people in its ballroom—to prepare part or all of a meal and then come together to enjoy the results.
"Planners rarely come to us and specifically say, 'We want a culinary event,'" notes Gary Dybul, Marriott Orlando World Center's director of sales and marketing. "What they ask for is a team-building possibility that's fun, different than their everyday interactions and a bit educational. So with smaller meetings, we'll have them break into teams to prepare each course of a meal under a chef's guidance. With large meetings, we'll bring equipment into the ballroom to have a chili cook-off, cupcake wars or a cocktail competition."
The teams can be deliberately constructed to maximize cross-departmental bonding, or randomly assembled to promote networking and camaraderie.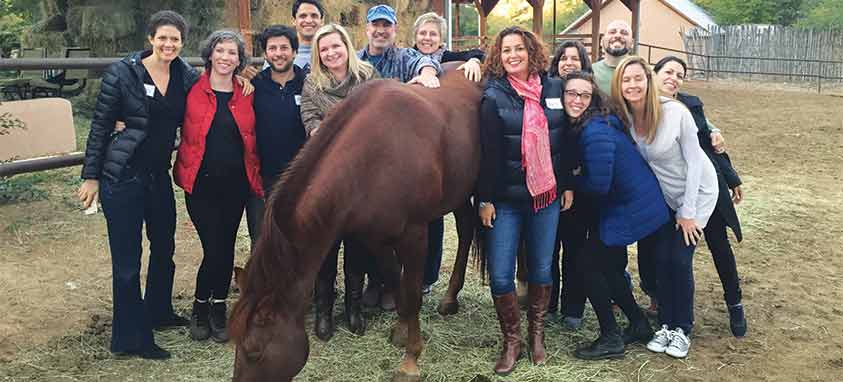 Axialent Equus Leadership Retreat, Santa Fe, New Mexico
Horse Sense
In Santa Fe, destination management companies will often use the striking natural landscape and the unique art and food cultures as a central aspect of scavenger hunts and culinary team-building events.
Ten minutes outside downtown Santa Fe, Equus, an organizational- and leadership-development firm run by former corporate executive Kelly Wendorf, has a horse farm where groups can observe the behavior of equine herds and understand how this 55-million-year-old species has perfected its group behavior not just to survive, but to thrive.
Business groups can work with a facilitator on their own team dynamic based on herd principles—and then test the team's proficiency during interactions with the highly perceptive horses.
"Horses have a fluid hierarchy based on the strengths of every member, and those can change from moment to moment," Wendorf says. "They can read each other's physical cues, which is essential to strong communication and team functionality." As a result, "one horse does not have control in all situations."
Corporate teams learn that "leadership is not about job title or description. It is a shared responsibility that depends on circumstances and individuals' strengths," Wendorf says.
When teams are able to work together in such a way, there is an openness and trust among members that the horses—given their enormous nervous systems—can sense. So groups can move from the meeting room to the arena to see if the horses find their improved dynamic to be authentic.
"If a team comes in as congruent, collaborative and trustworthy, the horses are biologically wired to connect with that and will allow themselves to be led around by the team," Wendorf explains. Participants fearful of horses aren't required to enter the arena, though many do warm up to the experience after a few minutes of observing the horses' gentle nature.
Wendorf has access to herds in the San Francisco Bay Area, as well as in Connecticut. Another firm that conducts similar programs is Berkshire HorseWorks in Richmond, Massachusetts, a one-hour drive from Albany, New York and Springfield, Massachusetts.
In the heart of Jackson Hole, Wyoming, explore Spring Creek Ranch's 1,000-acre property on horseback. Your team will be part of the American West with wildlife biologist-led activities on the trail. For an epic adventure, planners can bring groups together under the stars with their "Into the Wild" overnight pack trip. Spring Creek Ranch, which boasts spectacular views of the Teton Mountain Range, also has 3,200 sq. ft. of meeting space.
Management, Marketing & Sails
"A sailboat simply will not go where you want it to go unless the person at the helm and the people tending the sails are communicating with each other properly and acting in concert," says Jay Palace, founder of the team-building firm Group Experiential Learning (GEL). In just about any destination where there is a sailing school or sailboat rentals, GEL facilitators can come in to run a half- or full-day program aimed at improving team dynamics or enhancing leadership development.
The activity takes place in protected waters that provide a sufficient breeze. "Almost all our program participants have never sailed before, and we've had both kids and senior citizens as participants," Palace says. "You don't have to be physically strong to play a role on a sailboat, even if you're adjusting the sails."
Each boat can hold up to six participants plus a facilitator—but groups of up to 50 people can engage in a multiboat team exercise that requires mutual strategizing, cooperation and communication to succeed. Each boat crew chooses individual roles—one person steers and one person calls out instructions and communicates with other boats via radio, while others manage the sails and provide the information necessary for navigating—participants then take their sailing lesson, followed by a test run. Roles can change based on test-run results, and during lunch, people from all boats have similar role-share performance ideas.
In the afternoon, the grand challenge begins: All boats must cross the finish line in a certain order, and in the shortest time possible between the first and last boat. "We only teach them to sail; we don't help them with the strategy," Palace says.
The result: "People see each other's operating styles on a level playing field, and then we debrief participants back on land so they see how the experience relates to their work environment," he says.
Experiential Challenges
"Lehigh Valley, Pennsylvania, offers planners endless possibilities for team building," says Suzanne K. Stianche, national sales manager for Discover Lehigh Valley. "Whether you have a few hours, multiple days or are looking for a customizable program, it's easy to find options for your group. Our free services include distribution of RFPs, site inspection arrangements, support for site selection and so much more."
In Lehigh Valley, Dutch Springs is a 100-acre property with a 50-acre lake that hosts corporate groups that can choose from what co-owner Jane Wells Schooley calls "land, water and sky" team-building activities. "Team building has a purpose that the client defines, and then we create experiential exercises that are done across particular courses to match their objectives," she says.
One of those courses is on the lake. For adventurous groups, there's an inflatable iceberg that requires strategy and coordination to get one or more team members to climb to the top. There are also kayak and paddleboard challenges. The "challenge by choice" concept means that people who aren't comfortable doing physical tasks still play a role by providing information or otherwise supporting their colleagues. "Each person decides how much they want to take on, but they can't opt out completely," Wells Schooley notes.
On land, she and other facilitators from her firm, Northstar Team Development, oversee obstacle courses that groups must traverse while achieving an objective. It can be as simple as holding a marble on a spoon as they try to find the shortest path around the obstacles—but dropping the marble means the team must go backward before continuing.
"We discuss what the marble represents at their workplace, what the consequences are of setbacks and how people react to them," she says. "We expose the dynamic and get participants to think more broadly about their work processes and interactions."
Many of these exercises can also be done in a hotel ballroom. Northstar often coordinates this for groups meeting in nearby Allentown and Bethlehem, or in Philadelphia.
Then there's the high-ropes course that requires participants to wear harnesses. But no matter the course a group chooses, "all are designed to raise each participant's awareness of how everyone can contribute in the big picture," says Wells Schooley. "It's an experience where everyone is equal, so young employees aren't afraid to speak up. They have access to the same information as everyone else, and there is no single correct answer for solving each challenge."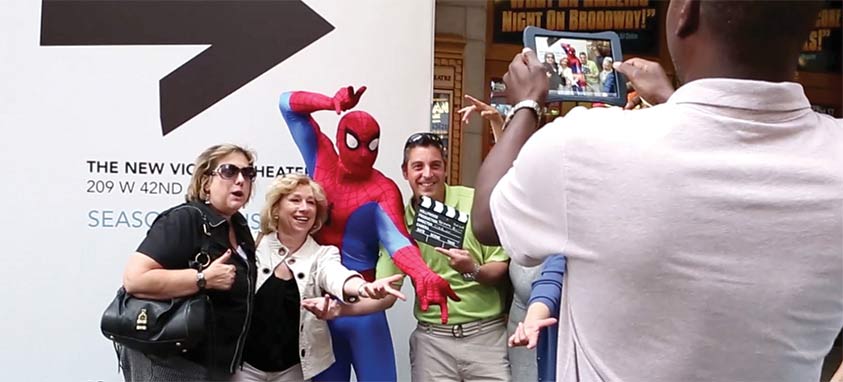 Celebrity Scavenger Hunt offered by Best Corporate Events LLC and SmartHunts
High-Tech Hunting & Building
Using a scavenger hunt for team building isn't a unique concept, but the newest innovation in this activity comes from a collaborative effort between Best Corporate Events LLC and SmartHunts, both run by CEO Scott Flynn. In just about any city in North America, groups of 10 to 2,000 attendees can engage in high-tech hunts that use Apple iPads along with SmartHunts apps. The result is an exercise where groups have at their disposal not just a GPS locator, but also audio and video clues, plus a live video connection to facilitators who provide guidance as necessary and monitor each team's progress around the city. The latest incarnation of SmartHunts even incorporates drones.
There are 12 different types of hunts, with the most popular being the Foodie SmartHunt where groups must get themselves to five different restaurants to sample the fare, get the next clue or solve a problem.
"The iPad generates photos and even video snippets all throughout the hunt, and by the time the groups return for their evening reception, the photos and movies are set to music and ready to be seen by the entire group," Flynn says. The firm even has a private YouTube channel so attendees can watch their team's video and slideshow in the future. Organizations ranging from KPMG to the Association of Destination Management Executives have used SmartHunts at their events.
There is another application of the iPads and SmartHunts apps: a bicycle build-off where teams answer questions or complete challenges and are rewarded with parts to construct a bicycle. This can be done in a hotel ballroom; the bicycles are then donated to local children's charities.
Group painting, Bottle & Bottega
Seeing the Big Picture
A hot trend in many social circles is to have a "painting party," where each participant paints an individual picture from a model or landscape on display at the front of the room, often while sampling different wine-and-cheese pairings. The trend works well for corporate team-building purposes, too.
Bottle & Bottega is a company with 19 art studios across the country that can each hold more than 100 people; facilitators will also travel nationally to work with groups of up to 300 people at a meeting site. "Based on a planner's goals, we develop an art concept and creative process to match" so that attendees can create a graphic representation of the meeting's key takeaways, according to CEO Nancy Bigley.
The planner chooses whether participants will paint individual canvases they can take home or work together to create a mural that will go back to the office. The final product can also be photographed, with copies sent to far-flung attendees. For murals, groups break into teams of no more than 15 people plus an artist, and attendees brainstorm imagery that represents the meeting's themes. Teams can collaborate to ensure that each panel of the mural will work with adjacent panels.
"You don't know what the ultimate reveal will look like until we finally piece it all together," Begley says. "People are almost always shocked at how well it turns out." It serves as a both a reminder of the meeting and a motivator for future business challenges.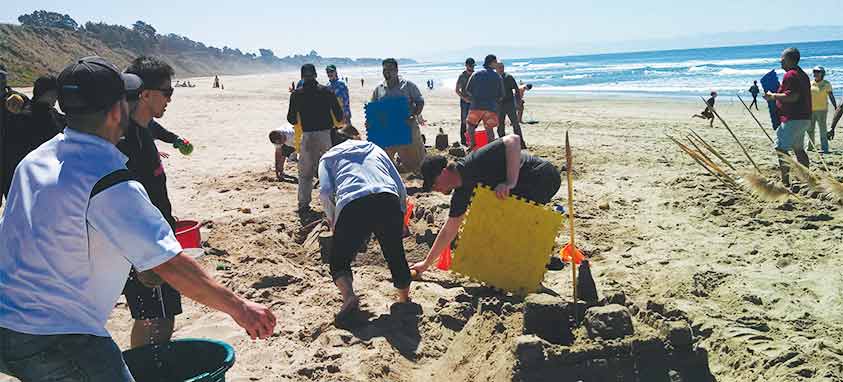 Sand Castle Wars, Corporate Games Inc.
Sand Castles With Staying Power
Some people might think that meetings held in beach destinations can't be strongly focused on business goals. On the contrary, the beach itself can be used to reinforce a meeting's benefits. Corporate Games Inc. in Pleasanton, California, sends facilitators around the world to run outdoor team activities such as building weight-bearing bridges and two-person boats crafted from household materials.
Another activity that's become popular among both intact teams and cross-departmental collaborations is sand-castle wars. Using moistened sand, driftwood and other materials, teams of six to eight people must build a two-foot-tall castle sporting turrets, a draw- bridge and a moat in a given time frame. When that's done, teams take turns trying to knock down the other castles with squirt guns and sponge balls. Each team must choose a design for its castle, and then how to best use its allotted budget: purchase lots of materials and tools, or purchase more weaponry?
"This activity has been very popular at tech company meetings because the young attendees blow off some steam between sessions," says Cynthia Shon, founder of Corporate Games Inc. "Corporate groups with varying demographics often find that their most junior people come up with the ideas that get executed. So, there's strategy, planning and consensus-building happening outside the group's traditional hierarchy, followed by some physical fun."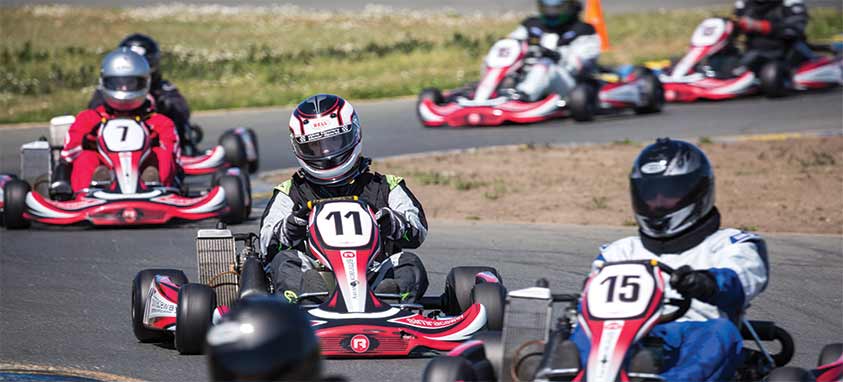 Simraceway Performance Driving Center, Sonoma, California
Race to the Finish
An exciting way to get your group in gear is to take them to a racetrack. For more than four decades, Bob Bondurant School of High Performance Driving has been teaching thrill-seekers how to drive like the pros. The elite racing school, located outside of Phoenix in Chandler, Arizona, is set on 60 acres. With a variety of racing courses, they can put together programs ranging from four hours to four days. Attendees can do some laps in classic race cars such as the Chevy Camaro or Corvette, Cadillac CTS, Formula Mazda or even a Chevy Tahoe law enforcement vehicle.
Simraceway Performance Driving Center offers an adrenaline rush and wine-country experience just 45 minutes from San Francisco, in Sonoma. Laura Rateaver, senior director of operations, says there are lots of options for team building, including the use of the center's fleet that can be driven on Sonoma Raceway or taken out for group cruises to the coast for lunch. The center is located across from Ram's Gate Winery, so groups can conveniently have lunch or a reception at a vineyard after a few hours racing around.
Simraceway Performance Driving Center can accommodate groups of four to 400, and will customize its curriculum to meet the goals of any meeting, incentive program, client entertainment or team-building event. Its private events range in duration from two-hour autocross competitions to multiday product launches. Speed racers drive Formula 3-derived race cars and 125cc racing karts, but the Audi high-performance sports cars are the most popular.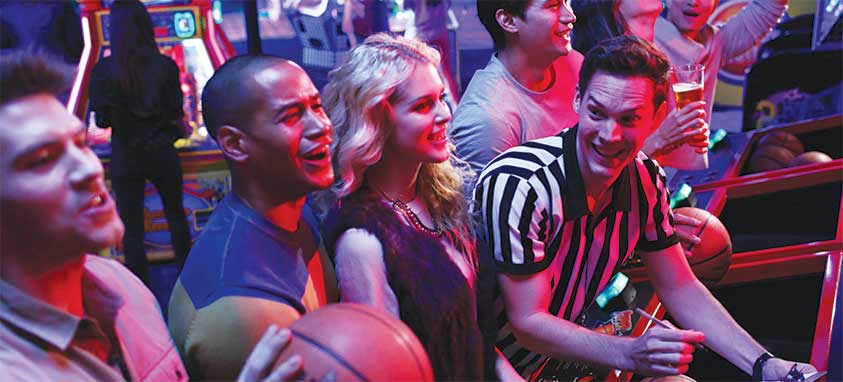 Dave & Busters
Let Us Entertain You
Dave & Busters has more than 80 locations across the country, and is the perfect venue for your next event. Founded by two young entrepreneurs in 1982, it is a video arcade and restaurant chain featuring state-of-the-art games, crowd-pleasing F&B and sports beamed out on massive screens. For fun-filled meetings, planners can choose private event spaces or complete buyouts.
With prearranged activities and customized offerings, Dave & Busters promises to bring your team together like never before.
In its Company Challenge, attendees compete at arcade games, build camaraderie and foster communication. In Ultimate Quest, teams race against the clock, interacting with staff and each other, in a scavenger hunt that culminates in creating and delivering a team cheer. Mad Dash requires participants to complete three missions on tight deadlines, thereby testing leadership skills and problem-solving abilities. In D&B Scenes, teams play Midway games to earn tickets, cashing them in for trinkets that they then use to act out a scene. This funny and creative assignment builds camaraderie, communication and collaboration.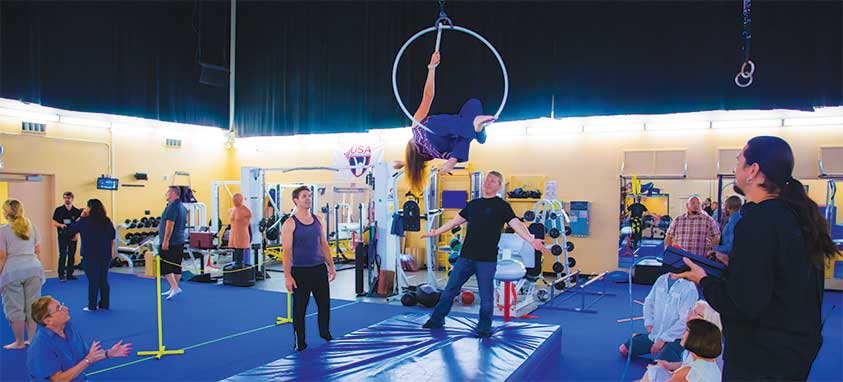 Spark program, Cirque du Soleil
Another entertaining way to stimulate fresh insights and esprit de corps is through Cirque du Soleil's Spark program. For more than two decades, Cirque du Soleil has enthralled audiences with magical theatrical extravaganzas that fuse dazzling acrobatics with music, staging and special effects. Now planners can give groups an inside glimpse into the workings of Cirque du Soleil.
Spark sessions are held in locations where Cirque du Soleil presents ongoing shows: Las Vegas, Orlando and Riviera Maya in Mexico. Sessions can last two hours or a full day and can incorporate themed cocktails or special memorabilia.
"We custom design each session to build learning experiences that center on your brand mantra and help your team reach its goals," says Jay Guilford, program manager. "Our expert instructors integrate your specific team-building or educational objectives into carefully selected physical and creative challenges drawn from our shows."
A wide variety of clients, including many Fortune 500 companies, are drawing wows with this unique experience. Planners can take attendees behind the scenes in a theater and arrange private discussions, demonstrations or classes with its artists. One program will have your group audition for roles, and then stage an actual performance complete with choreography, costumes and makeup.
To learn more about Spark sessions, attend Smart Meetings' events in Los Angeles on April 13. Smart Meetings and Cirque du Soleil are partnering to help meeting professionals expand their insights when it comes to team building.
---
Rob Carey is a business journalist and principal of Meetings & Hospitality Insight, a content marketing firm for the group-business market.