Innovation and infrastructure spark inspiration
There's always a buzz in the San Francisco Bay Area, but things get even busier in the fall when mega events take center stage. Salesforce's 13th annual Dreamforce, the biggest tech event in the world, took place Sept. 15–18, drawing an estimated 150,000 delegates from 78 countries.
San Francisco also hosted Oracle OpenWorld Oct. 25–29, bringing in 60,000 attendees from 145 countries. Down Highway 101 in San Jose, QuickBooks Connect conference, sponsored by Intuit Inc., took over San Jose Convention Center Nov. 2–4. It featured celebrity speakers such as Oprah Winfrey, Brian Grazer and Jessica Alba, in addition to 4,500 entrepreneurs and small-business owners seeking inspiration.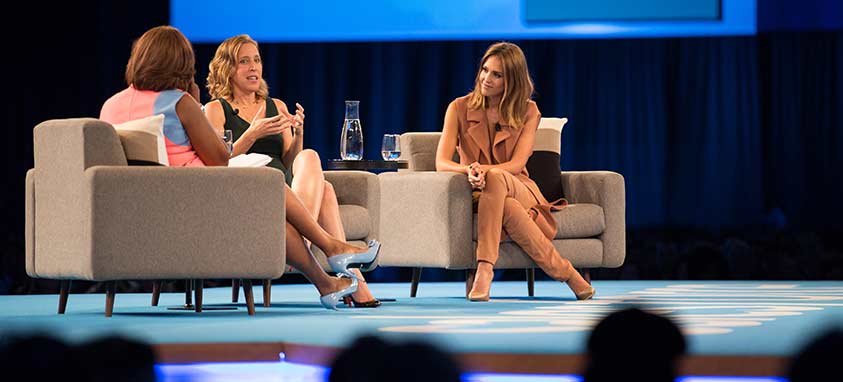 Jessica Alba, Dreamforce, San Francisco
Tech-centric vibes and vibrant infrastructure are definitely fueling successful mega events these days, especially when it comes to citywides.
"San Francisco is not out of the box—it's practically a box-free environment," says John Reyes, executive vice president and chief sales officer of San Francisco Travel's convention sales and services division. "San Francisco is a place for innovation and disruption, from the 1849 Gold Rush to today's technology revolution. Salesforce and Oracle demand an environment where disruption and innovation are a part of the DNA, not only of the destination but also of the people who live here."
From New York City to Washington, D.C., to Anaheim, California, mega events and citywides are critical economic drivers to their regions. Smart Meetings has identified seven key citywide destinations sure to excite attendees and make conventions meaningful and memorable experiences.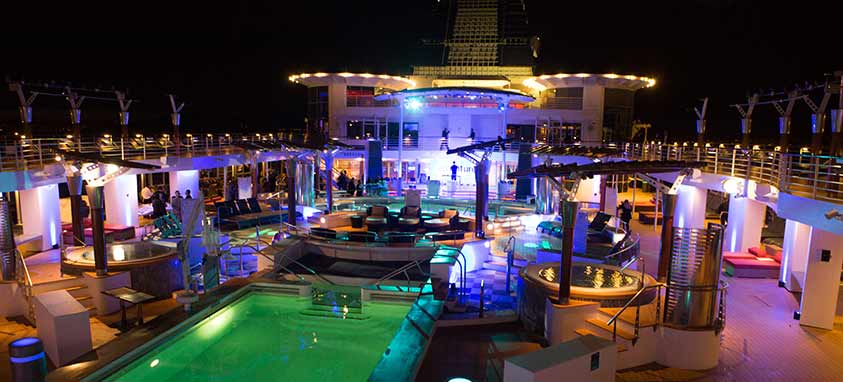 Dream Boat, San Francisco
San Francisco
Speaking of innovation and thinking outside the box, Salesforce brought in the Celebrity Cruises ship, Infinity, to provide extra lodging for attendees during its annual convention in September. Nicknamed Dream Boat, the ship provided lodging for 1,100 attendees. The vessel dominated the waterfront skyline and served as a reminder that San Francisco is a city of unlimited amenities.
Another cool feature of Dreamforce was that a street was closed to create an outdoor area called Dream Park, which was adjacent to Moscone Center, where the convention was headquartered, along with eight hotels. Pier 70 was used for a benefit concert that raised money for the University of California San Francisco (UCSF) Benioff Children's Hospitals. Expected to generate $10 million, the concert featured Foo Fighters, The Killers and Gary Clark Jr.
Moscone is undergoing a $500 million expansion that will create more than 500,000 sq. ft. of contiguous space for exhibitions and meetings. Expected to be complete in 2018, the North and South buildings will combine to offer a new 50,000-square-foot column-free ballroom, 108,000 sq. ft. of vibrant prefunction space with sensational views of the city and a 20,000-square-foot terrace for receptions.
"Moscone Center is located in a true urban environment," Reyes says. "Convention attendees immediately experience the local vibe of the city's energy, diversity of restaurants, hip people, and unique neighborhoods and attractions."
MPI World Education Congress also took advantage of San Francisco's venue variety Aug. 1–4. In addition to offering general sessions and breakouts at Moscone, an opening night party was held at Pier 48 near AT&T Park, home of Major League Baseball's San Francisco Giants. The closing gala was staged outdoors in front of San Francisco City Hall, with musical performances, a Chinese dragon and dancers, and even a Ferris wheel.
"Each citywide has its own unique differences and planning process. Dreamforce and Oracle are different in that they are done at a much larger scale than most other citywides. From turning Moscone Center into a thriving knowledge campus to bringing in Dream Boat, Dreamforce and Oracle challenge the possibilities in San Francisco and make them into realities that work."
–John Reyes, executive vice president and chief sales officer of San Francisco Travel
San Jose, California
For the second consecutive year, Intuit Inc. held its QuickBooks Connect conference at San Jose Convention Center. San Jose has a convention center campus that includes San Jose Marriott, Hilton San Jose and Hyatt Place San Jose/Downtown. Other properties used during the QuickBooks conference were The Westin San Jose, Fairmont San Jose, Ramada San Jose Downtown and Arena Hotel.
Located a block from the Tech Museum of Innovation, the convention center hosted well-known, thought-provoking speakers, dozens of breakout sessions, an exhibit hall and more during the conference. The event was designed for those who form the QuickBooks ecosystem—entrepreneurs, small business owners, accountants and developers from around the world—to get connected, educated and inspired.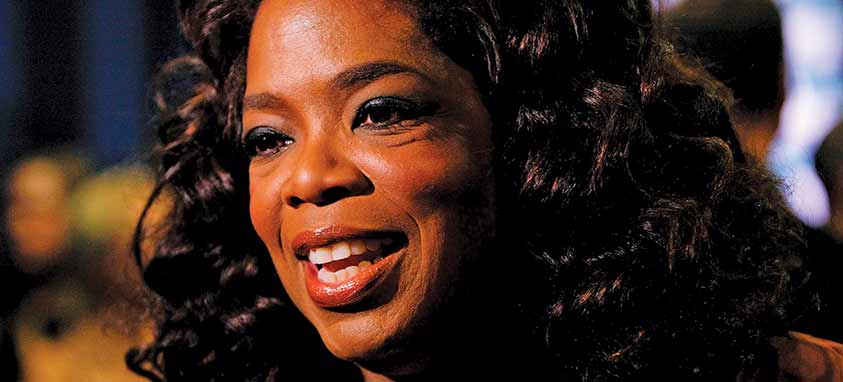 Oprah Winfrey spoke during Quickbooks Connect, San Jose
The convention center, which completed a $130 million renovation two years ago, has 550,000 sq. ft. of event space, including 125,000 sq. ft. that was added in 2013. Idea Tree, a public art installation in front of the convention center, serves as an iconic, artistic, interactive and technology-driven element to remind attendees they're in the heart of Silicon Valley. Near the convention center, the Marriott, Hilton and Hyatt Place combine to offer 1,097 guest rooms and 81,330 sq. ft. of meeting space.
"Team San Jose is a one-stop shop for meetings and conventions. Our pedestrian-friendly downtown makes it easy for guests to go from seminars to hotels, restaurants and attractions. Our partnerships with hoteliers, tech arts, cultural organizations, plus labor, streamline all processes for meeting planners."
–Laura Chmielewski, vice president of marketing and communications for Team San Jose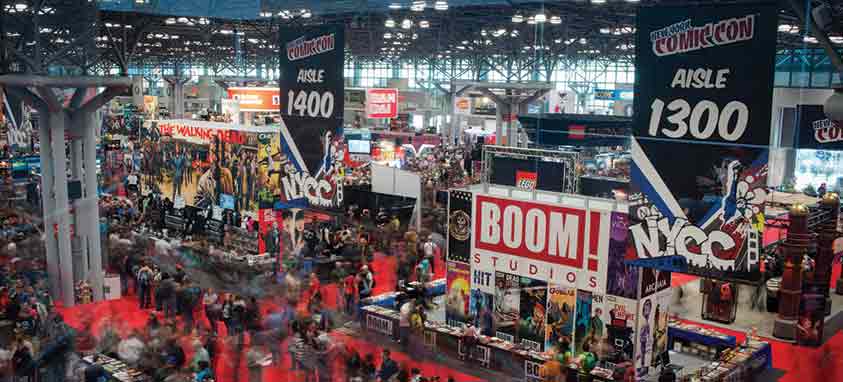 New York Comic Con, Jacob K. Javits Convention Center, New York City
New York City
It's more convenient than ever to meet at Jacob K. Javits Convention Center following the opening in September of a new subway line. The first addition to New York City's subway system in 26 years includes a stop next to Javits.
Javits features 840,000 sq. ft. of exhibition space, 102 meeting rooms and four banquet halls. In May, Javits launched a state-of-the-art free Wi-Fi service throughout the facility that is enhanced by more than 700 wireless access points.
"With the installation of our new technology system, the Javits Center is wired for success like never before," says Alan Steel, president and CEO of New York Convention Center Operating Corporation. "For any convention center to succeed today, it must have superior technology to accommodate the countless wireless transactions of data and dollars during an event, and our advanced infrastructure can do just that."
Another exciting offering at Javits is its 6.75-acre green roof that has become a bird sanctuary. It's the only green roof in New York City that is known to be used by nesting herring gulls. At least 11 bird species and more than 500 birds were observed during a study last year. The roof installation was part of Javits' comprehensive renovation that was completed in 2014.
In October, the annual New York Comic Con/New York Super Week drew 167,000 attendees. Comic Con was held at Javits, while Super Week used venues throughout the city including Hammerstein Ballroom and Discovery Times Square.
The Licensing Executives Society also visited New York City in October, accounting for 1,500 attendees. The host hotel was New York Marriott Marquis, which features 100,000 sq. ft. of event space including a 29,000-square-foot ballroom and 1,966 guest rooms. Among the properties that were used during the Licensing Executives Society convention were Etcetera Etcetera and Kellari Taverna for offsite dinners and Hudson Terrace for a reception. Attendees also indulged in activities such as strolling down Wall Street and enjoying Broadway shows.
"With new transportation options, hotel development, blockbuster attractions and more in all five boroughs, New York City is more accessible than ever before to those planning and attending citywide conventions."
–Jerry Cito, NYC & Company senior vice president of convention development
Phoenix
The American Public Works Association met at Phoenix Convention Center Aug. 28−Sept. 2, drawing more than 5,000 attendees. The walkable downtown includes Hyatt Regency Phoenix, Renaissance Phoenix Downtown Hotel and Sheraton Phoenix Downtown Hotel, where delegates stayed.
The downtown area has been completely transformed, featuring lots of dining and entertainment options that are easily accessible thanks to the Metro Light Rail and pedal cabs. Popular with locals as well as leisure and business travelers, downtown Phoenix showcases an urban core that is defined by dynamic neighborhoods and districts. For example, Historic Grand Avenue features cafes, galleries and nightspots.
Among the districts that are primed for attendees to explore is Roosevelt Row, designated by the American Planning Association as one of the Great Places in America. Heritage Square is famous for Victorian architecture and is home to two James Beard Award-winning chefs, an English pub, an outdoor event space and Arizona Science Center.
The Warehouse District, a collection of industrial buildings that once housed Arizona's citrus and cotton markets during the early 20th century, has evolved into a popular place for offsite events, with concert venues such as The Pressroom, art spaces such as Bentley Gallery and eclectic nightspots including The Duce, which has multiple bars and a boxing ring.
CityScape Phoenix, a $500 million mixed-use project completed in 2012, offers lots of live-music venues. Within a five-block radius of the convention center, entertainment venues include Talking Stick Arena, home to the NBA Phoenix Suns, and the 5,000-seat Comerica Theater.
"Phoenix has a well-earned reputation as a leisure destination, and boasts a strong resort-meetings product. We are seeing greater diversification within our convention-business mix, with more corporate groups electing to bring their large conventions to downtown [which has traditionally attracted mostly trade associations and SMERF groups]."
–Scott Dunn, senior director of marketing and communications for Visit Phoenix
Anaheim, California
The American Association of Physicists in Medicine drew 4,287 attendees to its 57th annual meeting and exhibition convention July 12−16 at Anaheim Convention Center and Anaheim Marriott.
"The Anaheim Convention Center campus was designed with meeting professionals and attendee experience in mind, which is why Anaheim is the obvious choice for your next citywide," says Junior Tauvaa, senior vice president of sales and services for Visit Anaheim. "With four airports close by and a drive market of 20 million, access for attendees is easy. We have more than 8,000 hotel rooms a short walk away from the convention center campus and are competitively priced to meet a variety of budgets. Of course, you can't beat the weather here. With 320 days of sunshine per year, you will be basking in the success of your next citywide meeting in Anaheim."
LEED certified Anaheim Convention Center broke ground on a significant expansion in April that is expected to be complete in 2017. The pro-ject will feature a new $180 million glass building with 200,000 sq. ft. of event space. The convention center is already one of the largest in the United States, with 1.6 million sq. ft.
The convention center's Grand Plaza is frequently used for special events. During the American Association of Physicists in Medicine conference, guests enjoyed the palm-tree-lined space, with a dozen local food trucks providing dinner. The event also featured lawn games and live music by the Surftones.
Anaheim Marriott, adjacent to the convention center, has 1,030 guest rooms and 100,000 sq. ft. of event space. During the American Association of Physicists in Medicine conference, attendees also stayed at Hilton Anaheim, Sheraton Park Hotel at the Anaheim Resort, Courtyard Anaheim Resort/Convention Center, DoubleTree Suites by Hilton Hotel Anaheim Resort−Convention Center, The Anabella Hotel and Clarion Hotel Anaheim Resort.
"We like Anaheim because the convention center space stacks up right over the exhibit hall. It could not be any easier in terms of flow. The hotel package is compact as well, with easy walkability. The Grand Plaza offers perfect space for our members to connect face to face. They enjoyed sitting outside under the palm trees between sessions."
–Karen MacFarland, CMP, senior meetings and programs manager for American Association of Physicists in Medicine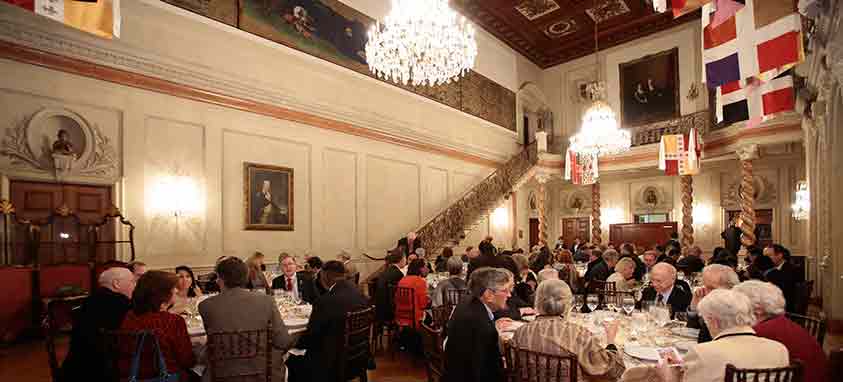 Anderson House, Washington, D.C.
Washington, D.C.
The American Academy of Neurology (AAN) gathered in the nation's capital April 18−25, meeting at Walter E. Washington Convention Center. The event drew 13,583 attendees, requiring the use of 38 different hotels.
Among the hotels where delegates stayed and attended meetings are Marriott Marquis Washington, DC, Renaissance Washington DC Downtown Hotel and Grand Hyatt Washington. LEED Silver Marriott Marquis is a key newcomer to the D.C. events scene, opening in 2014 with 105,000 sq. ft. of meeting space, including a 30,600-square-foot ballroom, and 1,175 guest rooms.
The convention center, which opened in 2003, boasts 703,000 sq. ft. of exhibition space, 198,000 sq. ft. of flexible meeting space and 77 breakout rooms. Attendees will be impressed with the venue's $4 million art collection. With a Metrorail stop at the convention center, it's easy for attendees to get to an event there from anywhere in the region.
During the AAN convention, the Leadership Dinner took place at Anderson House, headquarters of The Society of the Cincinnati and an American Revolution museum. The American Brain Foundation Major Donor Event was held at Long View Gallery, the largest contemporary art gallery in the city.
"D.C. is an unforgettable place for meetings, with everything from event spaces featuring city views to expansive convention space. Our team can help customize every detail of your meeting and take full advantage of what the city has to offer. We make it easy for attendees to explore our iconic and free attractions, as well as D.C.'s neighborhoods, hidden gems and dining scene."
–Melissa Riley, vice president of convention sales and services for Destination DC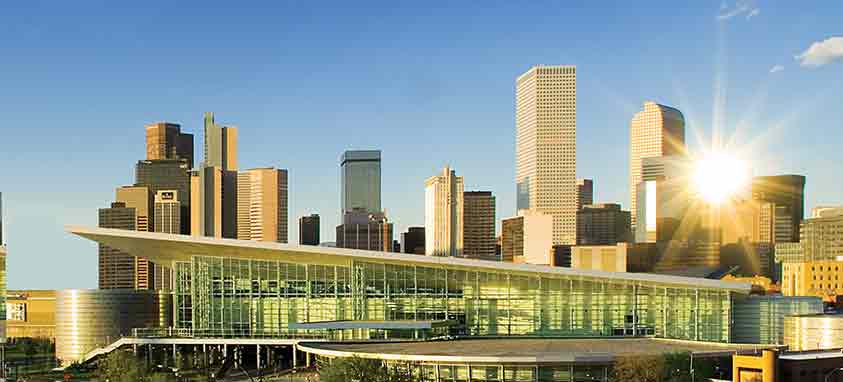 Colorado Convention Center, Denver
Denver
Denver meetings and events got a big boost on election day last month when voters overwhelmingly approved funding to expand Colorado Convention Center. The special initiative also calls for construction of the National Western Center, which will host entertainment events and include educational facilities.
Expansion and upgrades to the convention center include 85,000 sq. ft. of new flexible meeting space and 120,000 sq. ft. of new prefunction and service space, including a 50,000-square-foot outdoor terrace on the convention center roof. The prefunction and outdoor event spaces will have spectacular views of the Rocky Mountains and Denver skyline. Technology will include increased capacity for Wi-Fi and streaming video.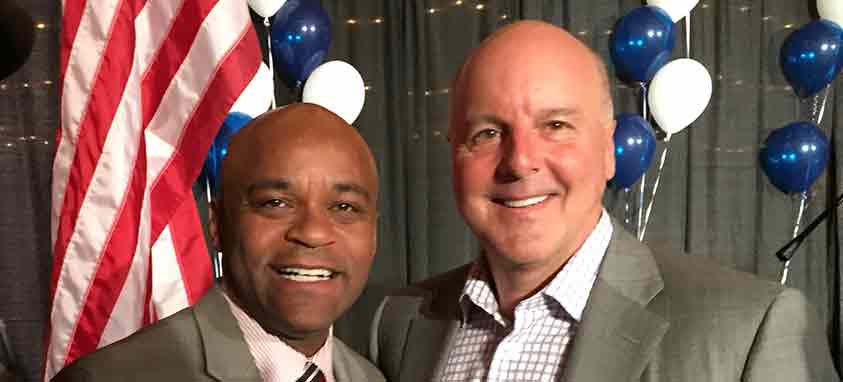 Denver Mayor Michael B. Hancock and Visit Denver President and CEO Richard Scharf
The convention center turned 25 in June. It generates more than $500 million in annual economic impact, totaling more than $4.8 billion since the center was expanded in 2004. Among the groups to visit the convention center this year was the American Academy of Family Physicians. Drawing 10,000 attendees Oct. 1−3, the event took over downtown and tapped into lodging at 22 different hotels.
Downtown improvements complement the convention center. More than 3,000 hotel rooms will soon be available within one block of the convention center. By the end of 2016, city officials expect 10,000 hotel rooms to be within walking distance to the convention center.
"We're thrilled to have the support of the people of Denver behind our city's convention and tourism industry."
–Richard Scharf, president and CEO of Visit Denver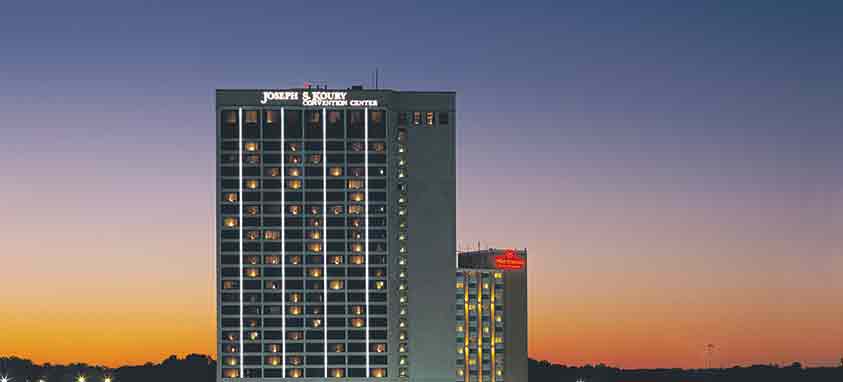 Alternative Meeting Cities & Venues
There's no better way to connect with millennial attendees than to hold an event in an alternative destination where outdoor opportunities abound, nightlife features live music and craft brew, and locally sourced food provide an immersive taste of the meeting city.
Portland, Oregon, has all of those trendy options, plus Oregon Convention Center. You want green? Arrive by light rail to the LEED Platinum facility, which offers 255,000 sq. ft. of contiguous exhibit space, 50 meeting rooms, and ballrooms that measure 34,200 sq. ft. and 25,200 sq. ft. Regardless of the age of attendees, everyone will appreciate the convention center's $2 million in artwork and many more pieces strategically placed throughout downtown.
The LEED Gold Austin Convention Center in the capital city of Texas is another green venue in a cool destination that is quite millennial-friendly. Among the events annually held at the convention center is South by Southwest (SXSW), a series of four festivals and conferences that takes place in March. SXSW draws 100,000 a year to the downtown facility near historic Sixth Street. The convention center features 881,400 sq. ft. of space, including a 40,501-square-foot ballroom.
Boise Centre is the largest convention center in Idaho and plays a pivotal role in the region as host of events, trade shows and entertainment. The venue is undergoing a major expansion, adding 36,000 sq. ft. to increase its event space to 86,000 sq. ft. A new 14,000-square-foot ballroom is expected to open in the third quarter of 2016. As a gathering spot for the entire region, Boise Centre attracted groups such as Idaho 2015 Bench Bar Conference and Idaho Coalition Against Sexual & Domestic Violence in the fall.
"If you haven't been to Boise lately, you are missing out on one of the most vibrant cities in the western United States," says Mary-Michael Rodgers, communications manager for Boise Centre. "Boise offers the culture, entertainment and amenities of a large urban area in a place that feels inviting to visitors. You will be pleasantly surprised by all that Boise has to offer: a walkable, compact downtown filled with shops, dining, brewpubs, nightlife and culture, all with a fun and hip vibe."
Albuquerque Convention & Visitors Bureau (ACVB) is feeling pretty darn good about the future, as evidenced by bookings in the 2015 fiscal year that ended in June. According to Dale Lockett, president and CEO of ACVB, the destination management organization experienced its highest bookings in the past eight years for meetings at Albuquerque Convention Center and the most citywide conventions booked in seven years.
ACVB has booked more than 223,000 future hotel room nights, with an estimated $103 million in direct spending for Albuquerque. Much of the success stems from the convention center's $23 million renovation completed last year. The ballrooms got a major facelift, and there's facility-wide free Wi-Fi and state-of-the-art LED lighting.
Future citywides coming to Albuquerque include Western Association of Veterans Education Specialists' 2016 WAVES Convention (1,000 attendees), National Association of Orthopedic Nurses' 2018 Annual Congress (1,100 attendees) and Society for American Archaeology's 2019 Annual Meeting (2,000 attendees).
Greensboro, North Carolina, also benefits from having stellar convention and event space, serving as a regional hub for sporting events, concerts and trade shows. Greensboro Coliseum Complex features the 23,500-seat Coliseum Arena, where The Avett Brothers will be performing on New Year's Eve. The complex also includes the Special Events Center, an auditorium and a theater, giving planners a lot of variety and flexibility.
A mile away, Joseph S. Koury Convention Center (pictured) has 250,000 sq. ft. of meeting and banquet space, including a 40,000-square-foot ballroom. With room for up to 6,000 attendees, along with free Wi-Fi and a renovation this year, the convention center is a key venue promoted by Greensboro Area Convention & Visitors Bureau. The convention center is connected to the 985-room Sheraton Greensboro at Four Seasons.
Stellar Conference Hotels
Wynn Las Vegas and Encore are two luxurious and convenient resort hotels for attendees meeting at Sands Expo and Convention Center. The two Wynn properties combine to offer 4,750 guest rooms. Wynn Las Vegas, which hosted the first Democratic presidential debate in October, features 200,000 sq. ft. meeting space, including a pair of column-free ballrooms. Encore has 60,000 sq. ft.
Another convenient convention hotel with personality is Hutton Hotel (pictured), close to Music City Center in Nashville, Tennessee. Featuring a modern, boutique vibe, Hutton offers 247 guest rooms and suites. There's 13,600 sq. ft. of meeting space, including a 7,000-square-foot ballroom with 14-foot-tall windows.
The National Conference Center in Leesburg, Virginia, is just 12 miles from Washington Dulles International Airport (IAD). Regarded as one of the largest and most comprehensive conference centers in the nation, it offers 917 guest rooms and 250,000 sq. ft. of meeting and event space. Its specialty is government meetings, including training and professional development.
Great Wolf Resorts have become very popular with attendees traveling with family, thanks to the properties' water parks and recreational offerings. Boosting its collection of lodges and water parks to 14, Great Wolf will open new properties in Garden Grove, California, (603 guest rooms) in March and Colorado Springs (311 guest rooms) late next year.
In the capital city of Mexico, InterContinental Presidente Mexico City and InterContinental Santa Fe Mexico are strategically located near convention centers and have their own meeting space. The 661-room InterContinental Presidente is located in the Polanco district, near popular Chapultepec Park. (The park is referred to as the "lung of the city.") The Polanco area is also popular because of its proximity to Centro Banamex convention center. The 136-room InterContinental Sante Fe is located in Mexico City's newest corporate neighborhood and close to Expo Bancomer Santa Fe.
Lanyon is a Dream Partner for Citywides
With an ability to process more than 5,000 registrations per hour and keep track of thousands of session check-ins and leads scanned for sponsors, Lanyon is known for its industry-leading cloud-based software that manages meetings, especially mega-events. There's no better example of Lanyon's capabilities than the role it played during Salesforce's annual Dreamforce convention in San Francisco Sept. 15−18.
Dreamforce had more than 170,000 registered attendees, and it was Lanyon's job to help each one easily pursue content and experiences through its events platform, in addition to keeping data secure. Providing seamless performances and experiences for attendees, Lanyon set up 219 check-in registration stations located within five venues on the San Francisco Dreamforce campus. This included stations throughout Moscone Center and nearby convention hotels.
"It was nearly perfect," says David Bonnette, CEO of Lanyon. "It was extraordinary. It's a privilege that the largest software conference in the world relies on Lanyon software."
Lanyon, which also handled event management for Dreamforce in 2014, stands out based on three key principals, according to Bonnette.
–Prescriptive: "We know how to do these conferences pretty well."
–Predictable: "Conference methodology is as good as it has ever been."
–Products: "We're putting more into the software and taking more out of the services."
Continuing to be a big player in the meetings and events industry, Lanyon became the first software company to join the Meetings Mean Business board of directors earlier this year.
"We think there is tremendous opportunity for software to drive increased efficiencies and business intelligence," Bonnette says. "Meetings, events and travel are being consolidated in order to make planners' lives easier and provide transparency of spend and opportunities to save across an organization. We are thrilled to partner with other industry leaders to effect position change and advocate for the meetings industry.