With its pleasant climate, first-class convention centers, plethora of hotels and burgeoning food scene, it's no wonder Greater Phoenix is a darling of meeting planners.  The region boasts a wide variety of great indoor and outdoor venues in which to host events.  Here are 11 unique ideas for planners orchestrating events in the Phoenix/Mesa area: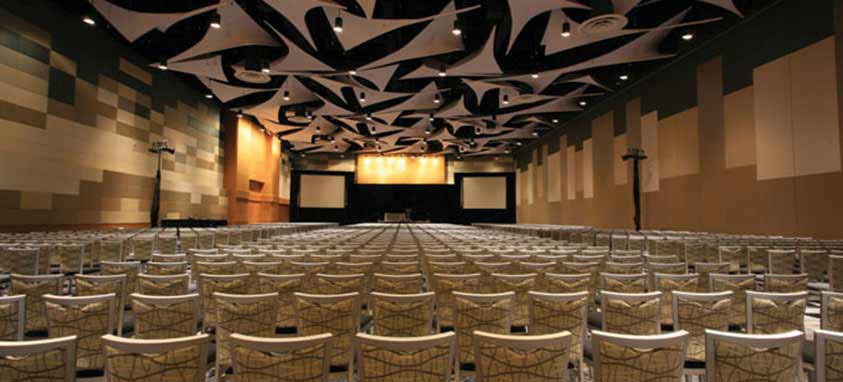 Courtesy Phoenix Convention Center, North Ballroom at Phoenix Convention Center

The Phoenix Convention Center could double as an art museum. Interesting murals, sculptures and art installations permeate the three-building campus, which boasts a total of almost 900,000 sq. ft. of meeting and exhibition space. The colors and textures of the newly expanded convention center were inspired by the Grand Canyon. The North Ballroom is a particularly elegant space that features whimsical ceiling kites that ripple and flow like the desert wind.  The light colored kites are set against a dark blue ceiling, representing the night sky. Small lights provide the sensation of stars. The flexible meeting space has a total capacity of 45,600 sq. ft.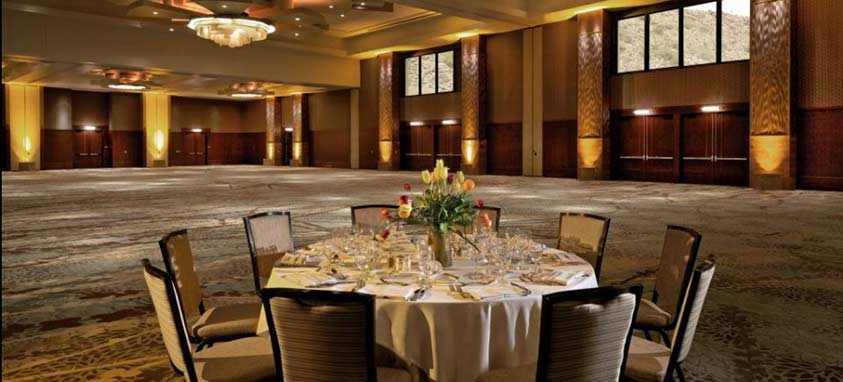 Courtesy of Phoenician, Camelback Ballroom at the Phoenician
The Phoenician is a Five Diamond luxury resort spread over 250-acres, featuring 160,000 sq. ft.  of interior and exterior meeting space.  Whether organizing an intimate meeting, corporate conference, annual convention or gala celebration, planners will find a variety of great venues at the Scottsdale property.  Of particular note is Camelback Ballroom, which has high windows that offer a glimpse of majestic Camelback Mountain. Gazing out the windows, sharp-eyed attendees may spot a saguaro cactus, spreading its long arms towards the sky. Inside, the 15,000-square-foot ballroom can be subdivided into seven separate function spaces, and is complemented by a veranda for outdoor breakout sessions and receptions.
Tomaso's in central Phoenix has been voted Best Italian Restaurant in the Valley for 38 consecutive years. Diners can enjoy large portions of regional Italian cuisine from Chef Tomaso Maggiore in a country Tuscan atmosphere. Service is stellar. Planners can buy out some, or all, of the restaurant.  The main dining room, featuring original oil paintings by Aldo Longo, seats 120. The Sarina Room, which has a drop down projection screen and wireless Internet, seats 55. The casual and intimate Garden Room seats 20 and can be used for cocktail receptions. The semi-private Cove seats 22.
Hot Air Balloon Breakfast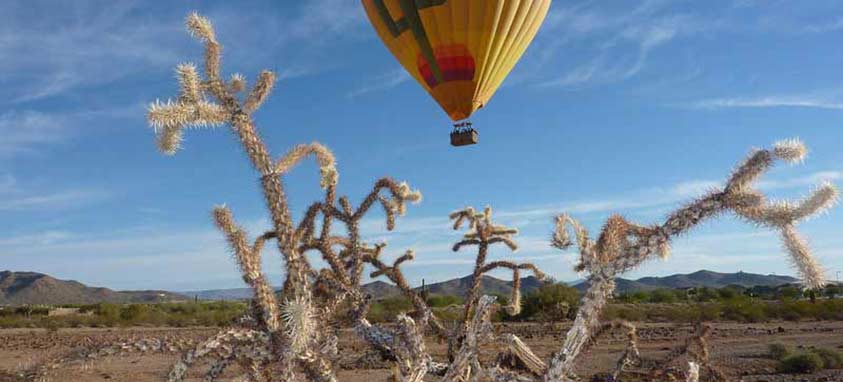 Photo Courtesy of Hot Air Expeditions, Ballooning over the Sonora Desert

Wow executives on a corporate retreat, or reward staff members who have won incentive trips, with an unforgettable experience by arranging for them to soar 6,000 feet above the Sonora Desert at sunrise in a hot air balloon. Hot Air Expeditions is one of many tour companies in the Phoenix region offering the unique experience. Participants will get to view the rugged desert terrain and dry mountain ranges from a whole new perspective. Traveling at speeds of five to six miles per hour, riders will feel virtually no sensation of motion because they are flying with the wind. When the pilot gently lands the 1,200-lb. wicker basket, the ground crew will scramble to assemble and serve a continental breakfast, complete with champagne. Hot Air Expeditions can accommodate up to 100 riders at a time, in a variety of colorful balloons.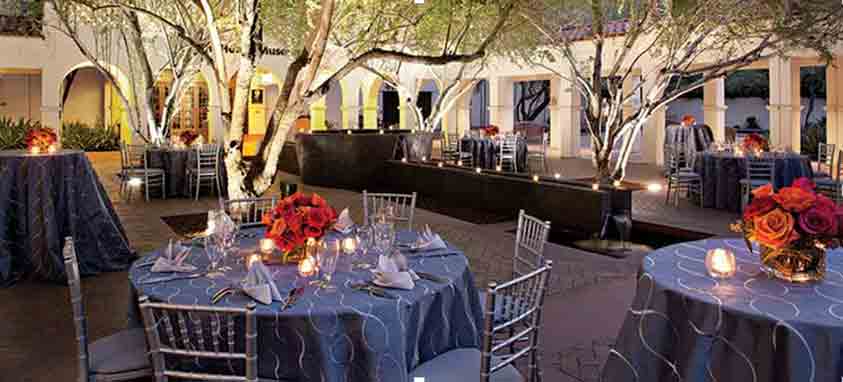 Courtesy of Heard Museum, Central Courtyard

The Heard Museum is conveniently located on the light rail line that runs through Phoenix and Mesa. The elegant museum features Spanish Colonial architecture, lush lawns and a variety of shaded courtyards. Many of the exhibit galleries and outdoor courtyards can be bought out for meetings and events. Of particular note is the 5,000-square-foot Central Courtyard, which is surrounded by arched walkways and boasts striking water features. It seats 300 for banquets and can accommodate 500 for cocktail receptions. The museum features rotating exhibits and has one of the best permanent collections of Native American artifacts in the world. Traditional and contemporary art and sculpture from the Southwest abounds. Air conditioned meeting rooms are equipped with state-of-the-art AV equipment, and Native American artists, dancers and musicians can be hired to perform or demonstrate their crafts.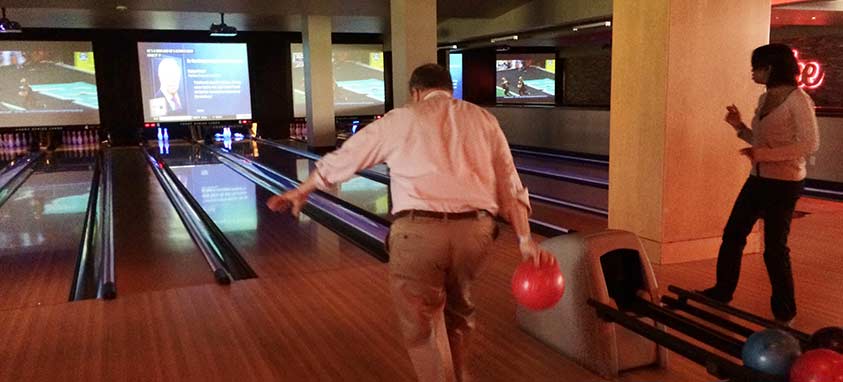 Photo by Susan Jacobs, Ace bowler Doug MacKenzie of Visit Phoenix
Planners seeking a fun and relaxing group activity when meetings wind down in the evening need look no further than Lucky Strike Phoenix. The hip, modern facility will bowl your group over! Your meeting attendees can eat, drink and roll strikes in this clean, well-equipped bowling alley/nightclub. For an added touch, put your corporate logo on the big television screens that hang over each of the 12 high-tech lanes. The 18,000-square-foot venue features comfortable couches, billiard tables and arcade games, in addition to two bars. Divide your group into teams and stage a bowling competition, complete with bowling shirts or prizes.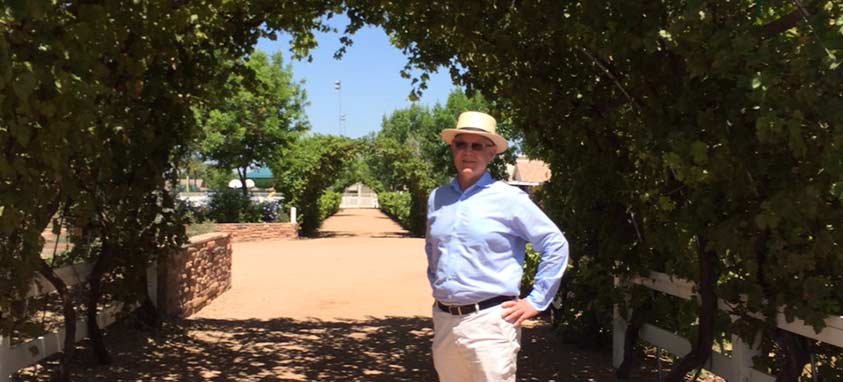 Photo by Susan Jacobs, Joe Johnston of Agritopia
Agritopia is a unique urban farming community located in Gilbert, Arizona, on what used to be the Johnston family farm. Four generations of Johnstons still live there. Visionary Joe Johnston has transformed the land into a neighborly collective model that harks back to simpler times. Meeting groups are invited to tour the property and enjoy an elegant farm-to-table dinner in the orchard. Joe (or another member of the community) can lecture about sustainable agriculture or landscape design. The pedestrian-friendly community was purposely designed to connect homes, gardens and people. They grow organic fruit, vegetables and herbs, and raise livestock, on 160 acres. Produce is sold on an honor system at the Farm Stand. Residents live in single family homes (there are 452 of them), or in Generations, a new, 117-unit assisted and independent senior living center.  Agritopia has two restaurants: The Coffee Shop sells award-winning cupcakes; Joe's Farm Grill, a retro eatery (with famous bathrooms) utilizes Agritopia's produce and has been featured on "Diners, Drive-Ins and Dives." Plans are underway to add a small winery, and a brewery with a beer garden.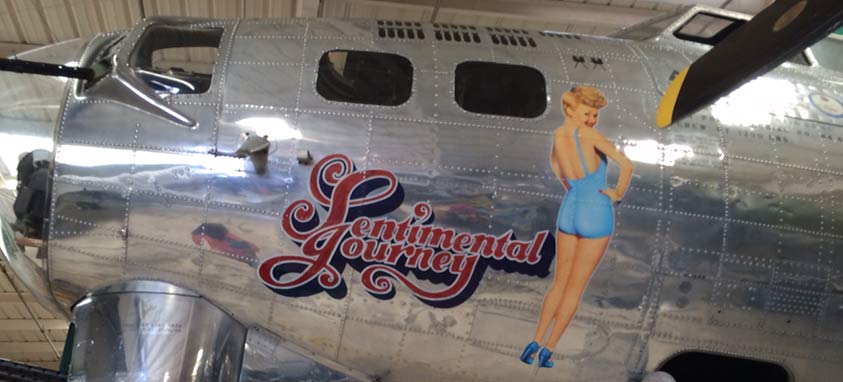 Photo by Susan Jacobs, Commemorative Air Force Museum Arizona Wing
Mesa, Arizona has a rich aviation history. Interested individuals can learn more about it at the Commemorative Air Force Museum Arizona Wing, which opened in 1978. The museum houses approximately 30 rare, restored aircraft from WWI through the Vietnam War. The piece de resistance is a B-17 bomber from WWII. Of 12,731 built, only 7 are still in flying condition. If the budget allows, planners can fulfill bucket-list dreams to fly on a B-17, or any of the other working aircraft the museum has available. Planners can also buy out the 28,000-square-foot indoor hangar space (with or without planes) for casual or black-tie events. It can accommodate up to 1,500 guests. Some organizations have staged trade shows inside the facility, which features a sophisticated lighting system. Outdoors, there is an additional 60,000 sq. ft. of usable space.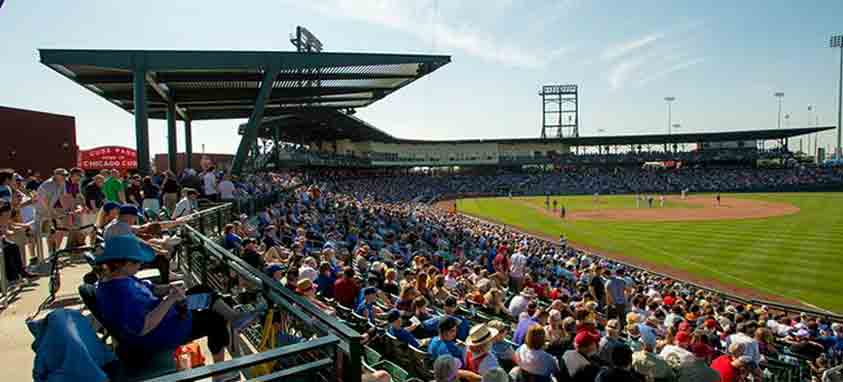 Courtesy Visit Mesa, Sloan Park, Chicago Cubs spring training facility
Spring training baseball is a big draw in Mesa. The Sheraton Mesa Hotel at Wrigleyville West is a player, giving visitors a bird's-eye view of Sloan Park, the Chicago Cubs' spring training stadium. The new hotel , which opened April 15, has 180 guest rooms and 37,000 sq. ft. of meeting space, including a 12,000-square-foot ballroom. Sports-themed venues at the property include Stats Sports Grill, Legends fine dining, Curves bar and the On Deck lounge. The conveniently-located property is minutes from Mesa Convention Center and Mesa Arts Center, and is within walking distance of the Mesa Riverview shopping and entertainment complex. It is less than 8 miles from Phoenix Sky Harbor International Airport (PHX).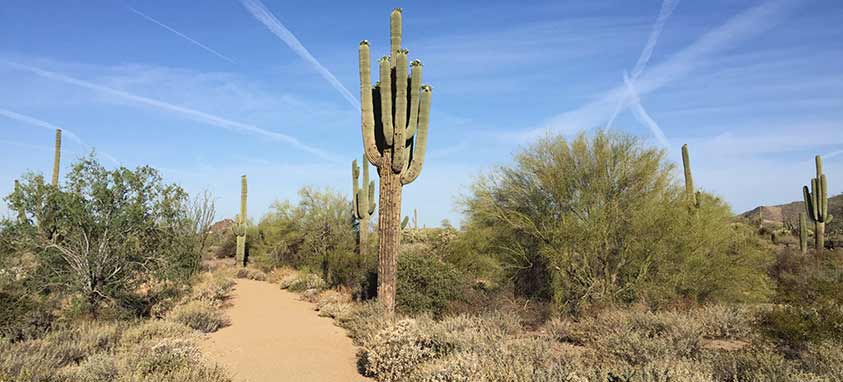 Photo by Michelle Streeter, Usery Mountain Park
No trip to Arizona is complete without the opportunity to experience some its spectacular scenery. The state's most famous natural wonder is the Grand Canyon, but there are plenty of other smaller venues where planners and their groups can admire Arizona's natural beauty. Usuary Mountain Regional Park in Mesa is one such place. The sparsely populated park, which is affiliated with the Maricopa County Parks and Recreation Department, features miles of pristine hiking trails.  Planners can work with park rangers to coordinate early morning hikes where attendees can take in breathtaking vistas. They can also arrange for full moon hikes or evening flashlight walks. Thrill the more adventurous with a guided scorpion hunt. Rangers are available to lecture on topics such as bald eagles or native plants of the Sonora desert.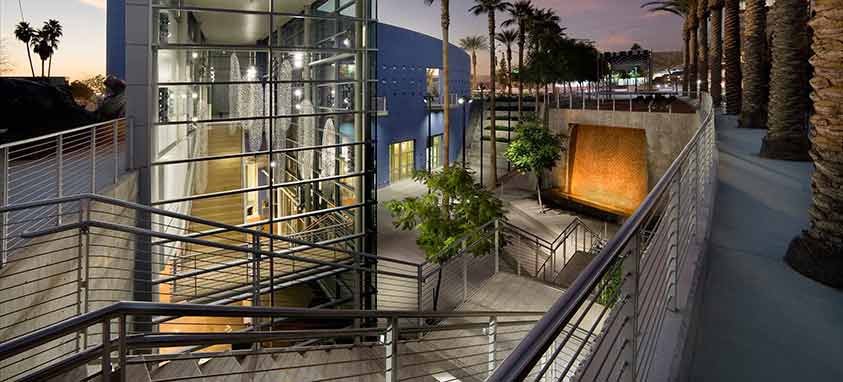 Courtesy Mesa Arts Center, Mesa Arts Center
The modern and immaculate Mesa Arts Center, which opened 10 years ago, is the largest arts and cultural complex in the Southwest.  The 212,755 sq. ft. facility features performing and visual arts shows and exhibitions in a variety of indoor and outdoor venues that can be bought out. A central gathering space for students, artists and patrons, visitors can enjoy rotating exhibits and colorful, accessible permanent artwork. The expansive campus includes four theaters, numerous galleries and exhibition spaces, art studios and state-of-the art classrooms where members of the community can study with art masters in a variety of disciplines.  There are many options for planners interested in staging spectacular events at the impressive Mesa Arts Center.