Bird's-eye view of Columbus, Ohio
Emerging destinations for event planners to explore
This year's selection of 11 emerging U.S. cities consists of premium destinations for hosting business meetings, corporate events and association gatherings. From Northern California to the Colorado Rockies, from the Midwest to New England, and from the Southeast to the Lone Star state, today's professional event planners have a variety of choices.
Each city is becoming more popular as a destination for business travelers. All have expanding downtown convention centers and hotels that offer plenty of meeting space for large-scale events and intimate strategy sessions.
A few emerging cities are havens for event planners in search of serene settings, where guests can enjoy local sites and absorb the surrounding landscapes—when they aren't conducting business meetings. Other selections sit within major metropolitan areas, where global commerce is prospering, international airports are accessible and public transportation is readily available.
---
---
All of this year's selections have luxury hotels, superb restaurants and local attractions that reflect the culture, ambience and flavors of the region, enticing visitors to stay an extra day and leave with fond memories of a productive business trip.
Atlanta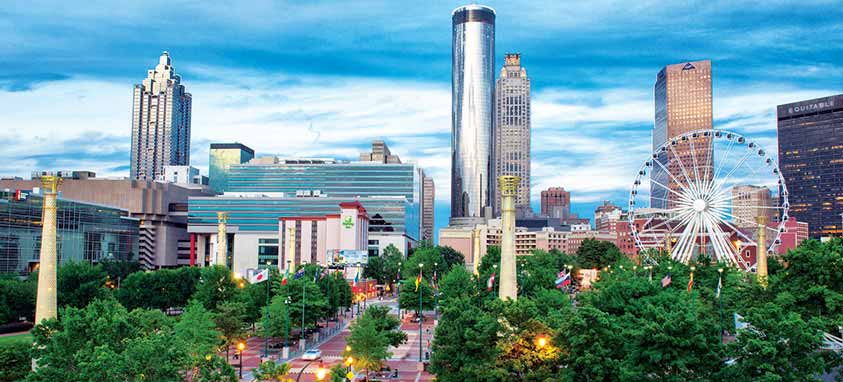 Centennial Olympic Park, Atlanta
With a population of nearly 5.8 million, Atlanta offers many of the advantages of a metropolis without the millions of logistical headaches that accompany most mega-cities. It's accessible through Hartsfield-Jackson Atlanta International Airport (ATL), which services 80 percent of the U.S. population. MARTA, Atlanta's public-rail system, connects all four of the city's main districts, making it easy for business travelers to get to places such as Centennial Olympic Park (pictured).
A handful of big companies have headquarters in Atlanta, including Delta Airlines, Home Depot, The Coca-Cola Co., and Cable News Network (CNN). The combination of robust businesses, accessible air-travel and convenient public transportation makes Atlanta a top destination for event planners. Add a prospering hotel industry (see the Greater Atlanta story, p. 123), vibrant culture, music and arts scene, and it's perfect for hosting meetings.
"Atlanta does a great job of combining the charm of the South with the excitement of a city," says Mark Vaughan, executive vice president and chief sales officer for the Atlanta Convention & Visitors Bureau. "The city takes pride in its hospitality and makes a name for itself attracting a large international community. This is reflected in the city's diverse restaurants, world-class attractions and global companies."
Atlanta has hundreds of restaurants, ranging from hole-in-the-wall barbecue joints to exotic, five-star bistros. The newest craze is food halls, where diners can sample a variety of local cuisines in casual urban settings. Sweet Auburn Curb Market, downtown, is Atlanta's oldest public market. Krog Street Market offers everything from fresh pastries and Asian-style dumplings to Georgia barbecue. Ponce City Market offers a variety of Southern bites and global cuisines.
Cambridge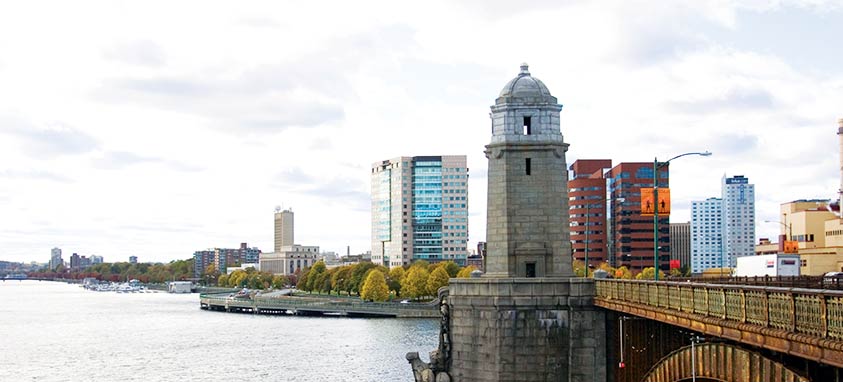 Longfellow Bridge and Charles River,Cambridge, Massachusetts
Cambridge, Massachusetts, is easy to get to—and even easier to get into. Located across from Boston, along the Charles River (pictured), Cambridge is accessible by way of Logan International Airport (BOS). Boasting nonstop service to 53 international and 75 domestic destinations, Logan connects to Cambridge via the Ted Williams Tunnel. A dedicated bus system connects air travelers to Boston's South Station, which offers direct routes to Cambridge's five underground stations.
With students and professors—and visiting parents—the city's energy level is off the charts. Restaurants are plentiful in Cambridge. They range from traditional New England fare served at Legal Sea Foods (Kendall Square) to Bambara Kitchen & Bar in East Cambridge, where ethnic dishes abound. Other local favorites are Craigie on Main (Central Square); Shepard and Christopher's (Porter Square); Catalyst (Kendall Square); Oleana (Inman Square); and Benedetto and Harvest (Harvard Square).
Event planners searching for excursions can start with guided tours of Harvard University. There's also Harvard Art Museums, Harvard Museums of Science & Culture and Harvard Museum of Natural History. Charles Riverboat Company has chartered cruises available for groups. Longfellow House–Washington's Headquarters is a popular attraction, and within walking distance of most Cambridge hotels.
For event planners searching for meeting space, there's Royal Sonesta Hotel Boston–Cambridge, with 400 guest rooms and 19,000 sq. ft. of meeting space; Hyatt Regency Cambridge, with 470 guest rooms and 25,000 sq. ft. of meeting space; The Charles Hotel, with 249 guest rooms and 18,000 sq. ft. of meeting space; and Boston Marriott Cambridge, with 421 guest rooms and 12,896 sq. ft. of meeting space.
Columbus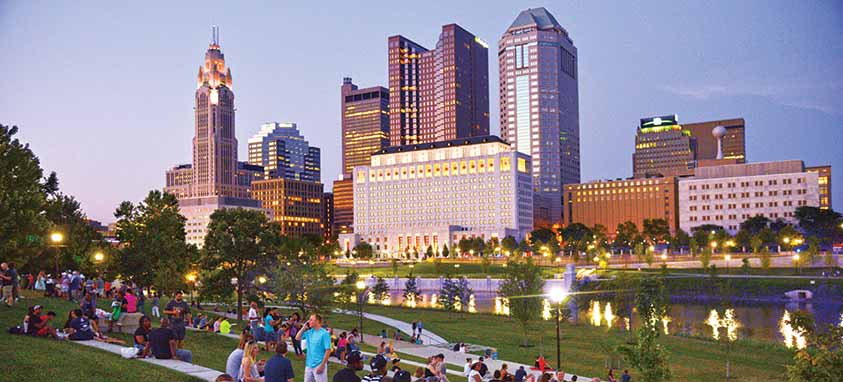 Scioto Mile, Columbus, Ohio
The capital of Ohio is full of surprises. The nation's 15th-largest city is a hip destination for fashion designers. It is home to the Ohio State Buckeyes and is recognized as one of the top sports towns in America. It's situated along the confluence of major rivers and has some of the best walking and running trails in the world. It attracts college students, lawmakers, motorcycle enthusiasts, tourists and LBGTQ residents.
The city is approximately 10 minutes from John Glenn Columbus International Airport (CMH), which offers 150 departures to 34 destinations. Business travelers can take the AirConnect express bus directly to downtown hotels and Greater Columbus Convention Center. A $125 million expansion is scheduled for summer completion and will provide 36,000 sq. ft. of exhibit space, and more than 10,000 sq. ft. of two-level meeting space. (See the Ohio and Indiana story on p. 136.)
Columbus earned a perfect score for the third year in a row from Human Rights Campaign's Municipal Equality Index, which examines municipal laws, policies and services, and rates them based on inclusiveness.
The city has an array of museums, zoos, botanical gardens, microbreweries and restaurants. Major attractions include Scioto Mile (pictured), a 175-acre parkway that offers spectacular riverfront paths for runners, cyclists and walkers to explore. The Brewery District features Columbus' growing thirst for premium, home-brewed beers.
The historic German Village is only a short (free) ride on the city's CBUS, to and from University District. Other offerings include Shadowbox Live, touted as America's largest theater company; Columbus Zoo and Aquarium; Franklin Park Conservatory and Botanical Gardens; and Jack Nicklaus Museum. For offsite events, meeting planners can book Watershed Distillery, a local distiller of spirits with a restaurant and seating for up to 50 guests.
Denver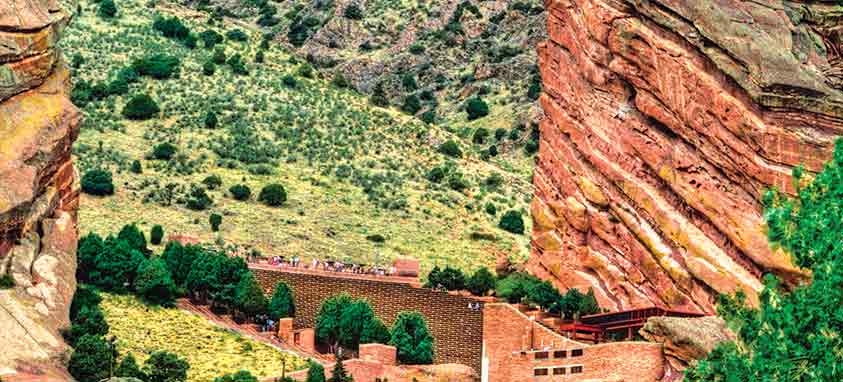 Red Rocks Park and Amphitheatre, Morrison, Colorado
A vibrant downtown FAB scene and nearly 10,000 hotel rooms, with Colorado's Rocky Mountains as a backdrop, helped Denver emerge as a key destination for event planners.
Denver International Airport (DEN) is a primary draw for business travelers. It handles more than 53 million passengers each year, making it the fifth-busiest U.S. airport. The University of Colorado A Line connects air travelers to Denver Union Station in the city center, where light rail and traditional Amtrak trains transport visitors and commuters quickly and affordably.
Denver boasts 300 days of sunshine; but it's the city's thriving, entrepreneurial culture and art scene that attracts many visitors. Two years ago, residents approved expansion of Colorado Convention Center. It will add to the current 85,000 sq. ft.; the addition of 100,000 sq. ft. of new prefunction and service space will also include a 50,000-square-foot outdoor terrace to be located on the rooftop of the city's existing convention center.
"Denver is an outdoor city with spectacular views of the Rocky Mountains," says Rachel Benedick, vice president of sales and services for Visit Denver, the city's convention and visitors bureau. "Visitors can enjoy the Mile High City's farm-to-table cuisine, local breweries serving craft beer and unique live venues like the famous Red Rocks Park and Amphitheatre (pictured). Denver also features a laid-back, walkable city center."
More than 220 restaurants opened last year in Denver, voted by Zagat as the third Hottest Food City in 2016. Fruition Restaurant and Acorn are two of the most popular. Today's gastro pubs and food hall trends are big in Denver, particularly in the Rino Art District, where River North chefs, bakers, artists and brewers converge with locals and guests.
Durham
American Tobacco Campus, Durham, North Carolina
Business travelers thrive on Durham, North Carolina's innovative spirit. They aren't alone. From university students and researchers to entrepreneurs and local artisans, Durham attracts talent. Part of the Raleigh-Durham-Chapel Hill Research Triangle, the area boasts more than 2 million residents and is headquarters to numerous high-tech firms.
Durham is popular among event planners searching for a medium-size city with a small-town vibe. There are more than 8,000 hotel guest rooms throughout Durham. The city is recognized for its Native-American culture and African-American history. Durham Convention & Visitors Bureau recommends visiting American Tobacco Campus (pictured), home to Durham Bulls Athletic Park, Durham Performing Arts Center and Bay 7, formerly a tobacco warehouse that touts 10,000 sq. ft. of flexible space for offsite functions. For major events, Durham Convention Center offers 33,000 sq. ft. of multipurpose space. Part of Durham Civic Center Complex, the convention center has a 15,000-square-foot ballroom, an 11,500-square-foot ballroom and 3,800 sq. ft. of meeting rooms.
Durham Marriott City Center, near the convention center, has 189 guest rooms, a restaurant and a 24-hour fitness center. Washington Duke Inn & Golf Club overlooks Duke University Golf Course. It has 271 guest rooms, 25,000 sq. ft. of event space and 20 meeting rooms. The 21c Museum Hotel–Durham provides 125 guest rooms, a spa and a fitness center, as well as 10,500 sq. ft. of art-filled meeting and event space.
Must-see attractions include Sarah P. Duke Gardens and Nasher Museum of Art at Duke University, which houses magnificent historic and modern artworks, and international exhibits. Among Durham's dining selections, Mez near Research Triangle, Nana's and Parizade near Duke University and Mateo in downtown Durham are popular.
Fort Worth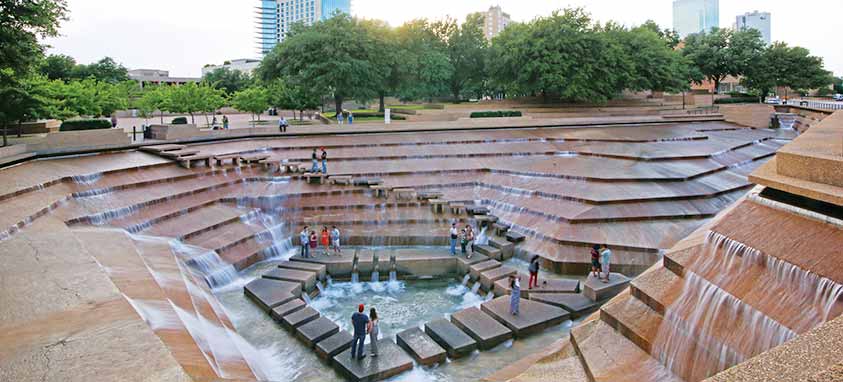 Fort Worth Water Gardens, Texas
Among the five most-populated U.S. metropolitan areas, Fort Worth, Texas, is coming into its own as a standout city for event planners—separate from Dallas and Arlington.
With its proximity to Dallas Fort Worth International Airport (DFW), it's no surprise that American Airlines calls the city home. The combination of easy airport access, major businesses and a growing cultural scene draw attention to the city's biggest lures for event planners—lots of luxury hotels and Fort Worth Convention Center, with more than 250,000 sq. ft. of exhibit space, an impressive 28,160-square-foot ballroom and 60,000 sq. ft. of meeting space.
Omni Fort Worth Hotel overlooks the city's convention center, but offers plenty of event space as well—68,000 sq. ft. In addition to 614 guest rooms, the luxury hotel has a fitness center, rooftop pool, full-service spa, and Bob's Steak & Chop House.
The Worthington Renaissance Fort Worth Hotel is located near Sundance Square, dozens of shopping boutiques and restaurants. The luxury hotel has its own restaurant, 504 guest rooms, and 53,172 sq. ft. of event space. Sheraton Fort Worth Downtown Hotel sits across from Fort Worth Water Gardens (pictured). The newly renovated property has 429 guest rooms and its own restaurant. The Sheraton is less than a block from the city's convention center and offers 22,000 sq. ft. of total indoor space.
Boasting 294 guest rooms, Hilton Fort Worth is a historic landmark—the scene of President John F. Kennedy's final public address in 1963. Located in the Cultural District (home to Will Rogers Memorial Center) and near the Fort Worth Stockyards, the hotel offers 25,000 sq. ft. of event space.
Greenville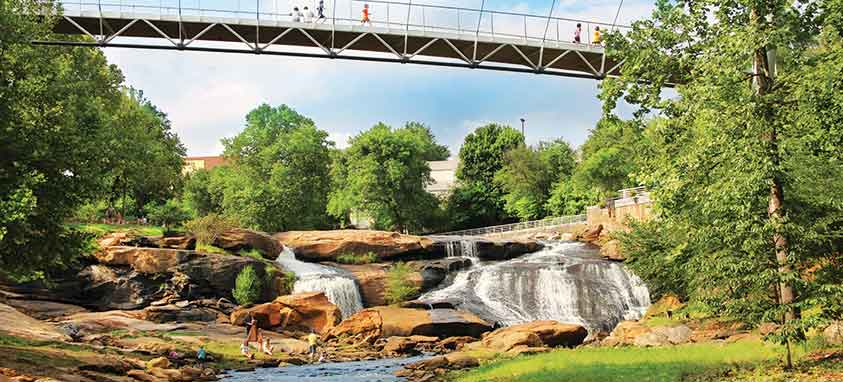 Liberty Bridge at Falls Park on the Reedy, Greenville, South Carolina
Surrounded by the Blue Ridge Mountains, Greenville, South Carolina, is a plush enclave with historic houses, covered porches, expansive lawns and drooping shade trees. Downtown Greenville is growing without being overcrowded, making it an ideal destination for event planners.
TD Convention Center recently completed a $20 million enhancement, bringing its exhibit space to 280,000 sq. ft. and meeting space to 60,000 sq. ft. Greenville has plenty of hotels, and more than 9,000 guest rooms. Downtown Hyatt Regency Greenville has 327 guest rooms and 36,000 sq. ft. of event space, with 17 meeting rooms. The Westin Poinsett, Greenville sits near hundreds of shops, restaurants and attractions. It has 200 guest rooms and 11,322 sq. ft. of event space. Embassy Suites by Hilton Greenville Downtown Riverplace is close to shops, restaurants and bars. It has 156 guest rooms and 7,467 sq. ft. of meeting space.
For offsite events, Fluor Field is a baseball park modeled after Boston's Fenway. Event planners can rent 8,000 sq. ft. of meeting space there, and catch the minor-league Drive play baseball. The Huguenot Loft is a converted textile mill with 8,400 sq. ft. of event space, onsite food prep and river views. Esteemed Clemson University offers meeting planners 8,500 sq. ft. of event space at Greenville One, complete with rooftop reception terrace.
Local attractions include The Peace Center, Liberty Bridge at Falls Park on the Reedy River (pictured), GHS Swamp Rabbit Trail and Bon Secours Wellness Arena. In addition to museums, theaters and shopping boutiques, Greenville boasts more than 600 restaurants. Up on the Roof offers small-plate Southern options, handcrafted cocktails and river views. Soby's New South Cuisine has a rooftop patio that accommodates up to 100. Halls Chophouse does premium steaks; it's located along the river and has three private rooms for groups.
Jacksonville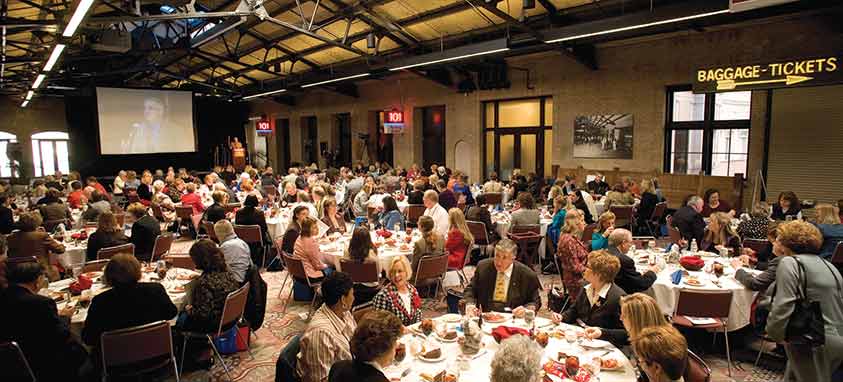 Prime F. Osborn III Convention Center, Jacksonville, Florida
Once a well-kept secret, Jacksonville is now a well-known destination for business travelers. Florida's northeast port city is the largest metropolis in the contiguous United States—incorporating 1,100 miles of shoreline.
With more than 900,000 residents, Jacksonville is the nation's 12th most populated city. It boasts 80,000 acres of parks and trails. The city's Northbank Riverwalk public redevelopment project continues to expand, as well. The two-mile greenway connects downtown with historic Riverside & Avondale. It's expected to include a marina and pathway, connecting the downtown shipyards, 32-acre Metropolitan Park, and EverBank Field, where the NFL Jaguars play.
Hyatt Regency Jacksonville Riverfront stands out for its downtown location. It has 951 guest rooms and 116,000 sq. ft. of event space and 41 meeting rooms, with the largest offering 27,984 sq. ft. Omni Jacksonville Hotel, located along the St. Johns River, has 354 guest rooms, 14,000 sq. ft. of event space and 15 meeting rooms.
DoubleTree by Hilton Jacksonville Riverfront has 292 guest rooms, a fitness studio, large pool overlooking the river, and Ruth's Chris Steak House. It also has, 12,000 sq. ft. of event space and 15 meeting rooms, with the largest providing 4,661 sq. ft.
Located along the edge of the Atlantic, One Ocean Resort and Spa has pristine beachfront access, 193 guest rooms, 10,500 sq. ft. of event space and 10 meeting rooms.
For meeting planners, Prime F. Osborn III Convention Center (pictured) is centrally located and offers 275,000 sq. ft. of indoor/outdoor event space. For offsite gatherings and dining, Intuition Ale Works—one of the city's many breweries—has a tap room, rooftop bar and Black Sheep restaurant. Other top restaurants include The Candy Apple Cafe and Cocktails, downtown; Bistro AIX in the historic San Marco neighborhood; Eleven South in Jacksonville Beach; and Sliders Seafood Grille in Neptune Beach.
Oakland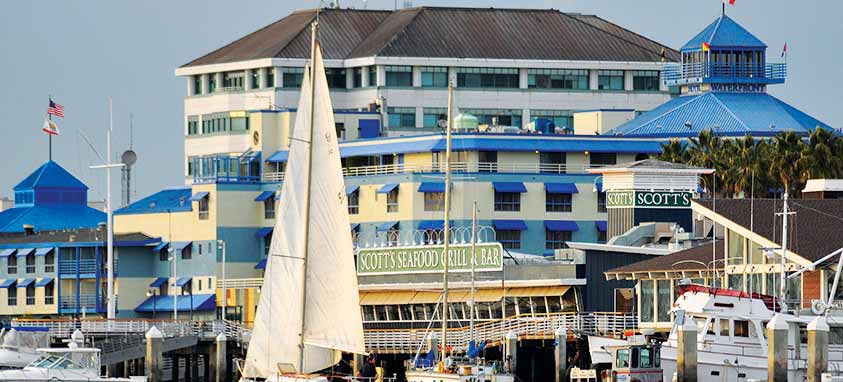 Jack London Square, Oakland, California
One of the most diverse and industrious venues in the United States, Oakland, California, is a city in motion. Some of the largest international cargo ships on the planet visit the port city daily. It's close to San Francisco (across the bay), Fremont (Tesla and other high-tech companies reside there), San Jose and Silicon Valley (about 45 minutes south), and the North Bay area (yacht harbors and wineries).
With the University of California, Berkeley nestled in the foothills above Oakland, the city enjoys a reputation as a progressive place, where change comes rapidly—and sometimes radically. Home to Kaiser Permanente health care, Oakland is undergoing an economic transformation that's attracting global business travelers. For event planners eyeing the city as a meeting destination, several hotels are either opening or under construction.
Oakland Marriott City Center has 500 guest rooms, 85,125 sq. ft. of meeting space and 36 event rooms, with the largest offering 7,900 sq. ft. Claremont Club & Spa–a Fairmont Hotel in Berkeley, with 22 acres of landscaped gardens, has 276 guest rooms and 20,000 sq. ft. of meeting space. Hilton Oakland Airport is a new hotel with contemporary architectural styling, 360 guest rooms and 16,000 sq. ft. of meeting space.
Oakland International Airport (OAK), San Francisco International Airport (SFO) and Norman Y. Mineta San Jose International Airport (SJC) are close. Top attractions are African American Museum and Library at Oakland, Lake Merritt, Oakland Zoo, Oakland Museum of California and Jack London Square (pictured). Sports venues include Oakland Coliseum, home of the Athletics, and Oracle Arena, where the Golden State Warriors play. Some leading restaurants are Calavera, a Mexican kitchen and agave bar; Haven, serving authentic, urban barbecue; Lake Chalet, offering seafood on the waterfront; Lungomare, featuring local fresh ingredients; and Pican, serving eclectic options.
Reno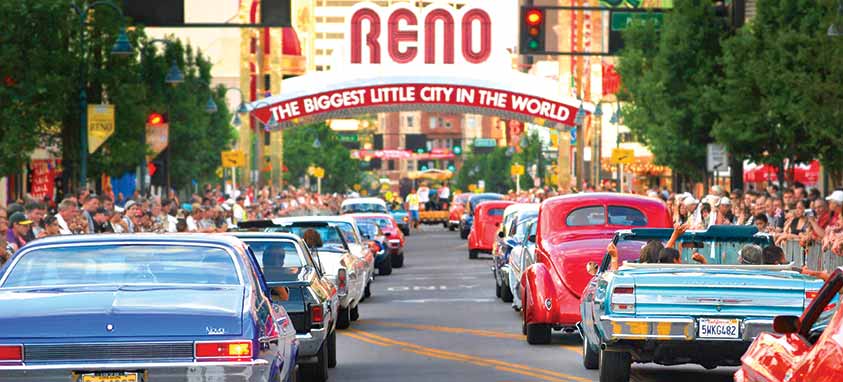 Hot August Nights, Sparks, Nevada
Astute city planners must have had meetings in mind as far back as 100 years ago, when the acclaimed rodeo emerged in Reno, Nevada. Everything imaginable is within 10 minutes of downtown hotels, including air travel. Reno-Tahoe International Airport (RNO) is less than 10 miles away. In addition to casinos, Reno has great restaurants, bars, breweries and large hotels for business travelers.
"You can hold your meeting, relax at a great spa, and have lunches and dinners at different restaurants for three days, and never leave your hotel," says Mike Larragueta, vice president of sales for Reno-Sparks Convention and Visitors Authority. "You can take group tours on a paddle-wheeler across Lake Tahoe, visit the nationally accredited Nevada Museum of Art, or kayak down the Truckee River."
Other excursions include National Championship Air Races and Hot August Nights (pictured), the world's largest, free hot-air balloon festival. Reno is warm in the summer, with an estimated 300 days of sunshine. In the winter, snow blankets the surrounding Sierra Mountains. In addition to snow skiing, there's water skiing and boating; hiking, biking, fishing, horseback riding and white-water rafting. For golfers, the Reno-Sparks area boasts 50 courses.
Grand Sierra Resort and Casino has 1,990 guest rooms, with 200,000 sq. ft. of event space. Nugget Casino Resort offers 1,600 guest rooms and 110,000 sq. ft. of event space. Peppermill Resort Spa Casino has 1,623 guest rooms, with 106,000 sq. ft. of event space. Silver Legacy Resort Casino–Reno provides 1,710 guest rooms and 73,587 sq. ft. of event space. Atlantis Casino Resort Spa–Reno has 824 guest rooms and 50,000 sq. ft. of event space.
Reno-Sparks restaurant recommendations include Campo, Centro, Louis' Basque Corner, and Wild River Grille. Among local microbreweries, Brasserie Saint James and The Depot are good bets.
Tampa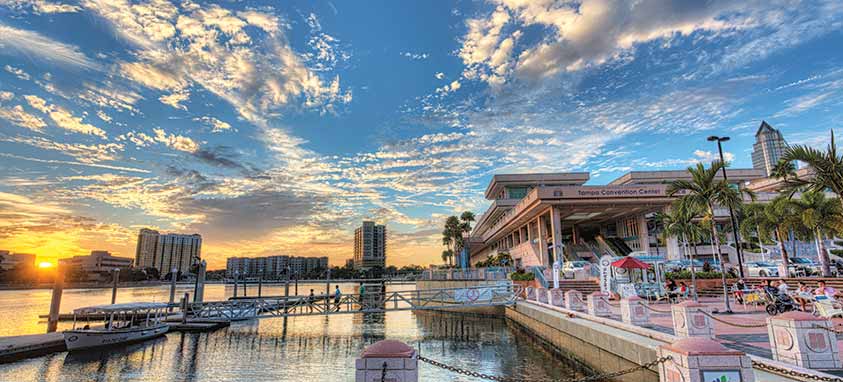 Tampa Convention Center, Florida
A rich Spanish heritage influenced by Native American Seminoles, Cuban and Latin American immigrants, and early pioneers from the 1800s make Tampa, Florida, a history-lover's paradise. With a population of more than 369,000, Tampa is also a modern city that attracts business travelers in search of tropical foliage and year-round warm weather.
The city's prized-attraction is Tampa Riverwalk, a 2.4-mile thoroughfare along Hillsborough River, where walkers, runners, cyclists and nature gazers roam. Other attractions include Tampa Museum of Art, Busch Gardens theme park, Lowry Park Zoo and must-see Florida Aquarium. Downtown Tampa offers numerous landmark buildings, such as El Centro Espanol de Tampa, an early-1900s social club; and Henry B. Plant Museum, a 1890s Victorian-era railroad hotel. Both buildings are national landmarks, with tours available.
Tampa International Airport (TPA) is 6 miles from downtown, where Tampa Convention Center (pictured) sits along the waterfront, offering 600,000 sq. ft. of event space, including 36 meeting rooms. The city has plenty of large hotels for event planners. Tampa Waterside Hotel & Marina provides 719 guest rooms, 43,229 sq. ft. of meeting space and 20 event rooms, with the largest holding 2,000. Hilton Tampa Downtown has 521 guest rooms, 30,000 sq. ft. of event space, a 14,000-square-foot ballroom and a banquet facility for 1,500. Saddlebrook Resort offers 540 guest rooms, 95,000 sq. ft. of event space, multiple conference centers and dozens of meeting facilities. Grand Hyatt Tampa Bay in Tampa city has 422 guest rooms and offers 22,000 sq. ft. of event space.
Tampa—where the Cuban sandwich was invented—offers a variety of cuisines. In addition to Americana and Southern-style cooking, Cuban, Latin American, Mediterranean, and Colombian restaurants are popular. Noted Tampa establishments include Columbia Restaurant, Mise en Place, Ulele and Bern's Steak House.