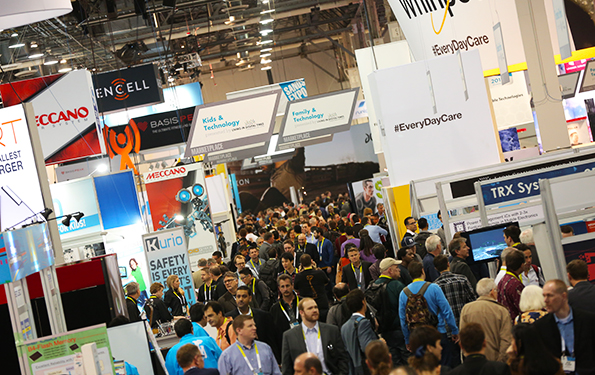 Photo Courtesy of Consumer Electronics Association (CEA)
Bendable smart phones,clothing that thinks and automobiles that drive themselves are some of the highlights on display at the 2015 International Consumer Electronics Show, in Las Vegas January 6-9. While many of the products are prototypes that have not yet hit the marketplace, they offer a glimpse into what consumers can look forward to in the not-too-distant future.
More than 3,600 exhibitors are wowing the 150,000+ attendees with hundreds of innovative devices. Several products will interest event professionals who travel frequently. Those seeking a super skinny tablet will love Dell's paper-thin Venue 8 7000, which measures just 6 mm. For presentations, Epson's Cinema 600 is a compact digital projector that can scale up its display to 25 times larger than a 60-inch TV screen. For printing on-the-go there is ZUtA, a portable, pocket-sized unit that connects to a smartphone and runs across any size paper. Speaking of running, what event planner wouldn't want Rocketskates when racing through a busy airport? The strap-on, motorized roller skates are now in production following a successful Kickstarter campaign.
Bluetooth is everywhere. Noke, a sturdy Bluetooth-enabled padlock that protects property without the hassle of keys or combinations, will begin shipping in April. GemPhones, which designs earphone jewelry, is releasing Bluetooth jewelry that vibrates when wearers receive a call. Wearable technology portends to be huge. Tiny sensors embedded into athletic shirts or socks can track movement and act as electronic fitness coaches. T-shirts can monitor blood pressure, and baby clothing can help reduce the incidence of Sudden Infant Death Syndrome. A host of gadgets will monitor/manage health conditions such as asthma and diabetes; the wearable Thync device claims to alter mood.
Homes will become increasingly Jetson-like—featuring app-connected door locks, webcam-enabled doorbells, speakers that suspend in the air and TVs that pause when one leaves the room. Cars are part of the futuristic trend: The Mercedes' shiny silver F 015 concept vehicle drives itself, features four seats that swivel lounge-style so occupants can chat with each other, or interact with computer screens mounted on the windows.