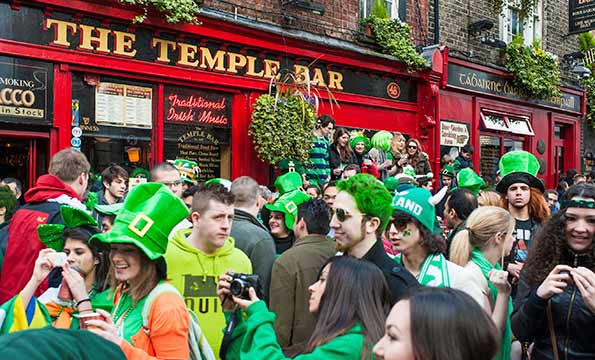 Staying on this side of the pond might be your best bet this St. Patrick's Day. Hotel rates in Dublin will be at their steepest on Mar. 17, a new survey from cheaprooms.co.uk shows. For the small pool of vacancies left, revelers can expect to pay at least 154 percent more than regular rates.
Some places are charging a lot more, such as the Maldron Hotel Parnell Square—a three-star property close to popular O'Connell Street. Rates are as high as $380 for a double room, which is up 400 percent from the usual going rates. However, the sharpest hike in prices goes to the Paramount Hotel. The boutique property in the famous Temple Bar district is charging $530 for a twin room—a price up by more than 600 percent. Travelers who want to save some green will have to settle for budget lodgings around $160 a night.
Boston—America's Irish city—offers more reasonable rates closer to home. The four-star XV Beacon is running a week-long exclusive "Luck o' the Irish" package beginning on St. Patrick's Day. Visitors can expect 17 percent off the $375 nightly room rate. During the promotion, onsite restaurant, Mooo, will serve up Irish cocktails and breakfasts.