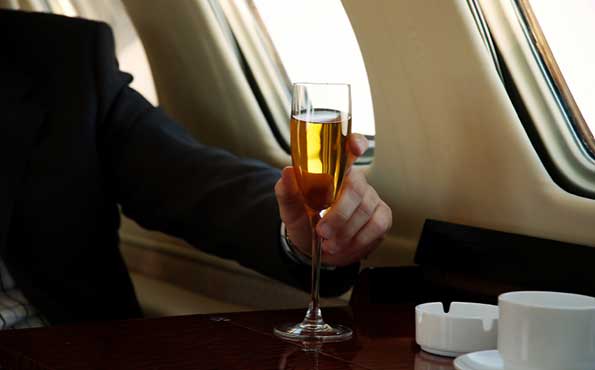 The alcoholic drink cart on most planes used to offer slim pickings—a smattering of beers, some mediocre wine, and a paltry selection of spirits and mixers. Today, travelers that want to whet their whistles are pleasantly surprised to discover craft brews, small-batch bourbon and fancy drinks that rival anything they'd find in a bar. It seems that the cocktail revolution that has swept through bars and restaurants is also occurring 35,000 feet up in the air.
Virgin America is serving up cucumber vodka mojitos, while Delta just introduced Jack and Joes, which are made with Jack Daniels, Bailey's Irish Cream and hot or iced coffee. Alaska Air is featuring craft spirits from small distilleries in the Pacific Northwest, while other airlines are offering high quality Bulleit bourbon and Avion tequila—for a premium price.
Flight attendants point out that there are some challenges to creating cocktails in the air. A primary problem is that there is not a lot of room for airline mixologists to muddle mint leaves or use cocktail shakers in the narrow confines of an airplane aisle. In response, some airlines are asking customers to become bartenders. For example, passengers who order a Moscow mule on Alaska Air flights will receive the ingredients—vodka, ginger ale and lime wedges—and a link to the recipe, posted on their website.
Some airlines are adding technology to the cabin cocktail experience. Virgin America, Norwegian and Air New Zealand encourage passengers to order alcoholic beverages via the inflight entertainment systems. Virgin America is emphasizing the social aspect of drinking by allowing passengers to use the system to buy a drink for another passenger, and follow that up with a seat-to-seat chat function.