Looking for a way to elevate your next group gathering? Take it out of the convention center and move it to the spa, where unconventional spaces, gorgeous gardens, spacious lounge areas, a serene ambience and wellness-inspired activities and food make for an exceptionally productive and memorable event.
The Spaces
Countless properties have exquisite spas, and some encourage groups to utilize spa spaces for events and functions.Take Laniwai Spa at Aulani, A Disney Resort & Spa in Kapolei, Hawaii.Along with 15 treatment rooms, a salon, steam rooms and saunas, the spa features the 5,000-square-foot Kula Wai outdoor hydrotherapy garden, which is especially captivating at night when the trees are hung with lanterns."You could never re-create this space in a ballroom," says George Aguel, senior vice president of the Walt Disney Company. "It features colorful pools, dramatic lighting, a reflexology path and more, all underneath flowering plumeria trees. It creates a completely different kind of relaxing environment."
Indeed, spa gardens can create a truly magical setting for events. The Self- Centered Garden at Eau Spa at The Ritz-Carlton, Palm Beach in Florida is an outdoor oasis featuring dipping pools, hanging chairs and cozy cabanas that can be closed for private events and group buyouts. With networking encouraged, groups can discard the notion of having to communicate via quiet spa voices."There is no need to turn off your cell phones or to use inside voices," says Spa Director Catherine Warren."Your group is encouraged to laugh and play. It is unique, revolutionary and not your usual luxury spa—we have unlimited mini cupcakes and Champagne." (For more on Palm Beach hotels and meeting sites, turn to pg. 154.)
For indoor-outdoor appeal, the spa at JW Marriott Desert Springs Resort & Spa in Palm Desert, Calif., is also an intriguing option. The large coed lounge, which opens up into a spacious terrace area and saltwater pool, has been used for a variety of events, says Spa Director Dawn Ferraro. Guests enter through the main spa double-glass doors, and from there are guided to the coed lounge for passed appetizers and mingling. "Flowing out to the pool area, we have beautiful lighting, tables, music, bars, more food and entertainment," she says. "An event in a spa space such as this creates a memory the guests will not soon forget. The outdoor air is fresh, the weather is beautiful and the scenery is breathtaking."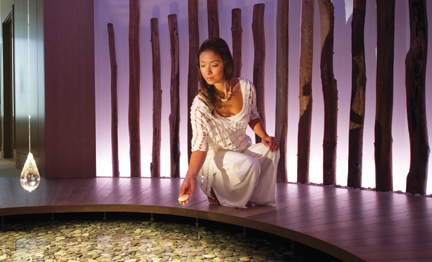 Aulani, A Disney Resort & Spa
Meet & Eat Well
Along with a setting considerably more interesting than a traditional breakout room at a conference center or hotel, a spa-centric event can add a wellness component that includes healthy dining. The spa at Ojai Valley Inn & Spa in California features a courtyard and pool adjacent to Cafe Verde, which offers such healthy fare as fresh fruit or vegetable smoothies, protein drinks and local fruit and produce, all of which can be incorporated into an event. At Spa Shiki at The Lodge of Four Seasons in Lake Ozark, Mo., culinary offerings include a variety of delicious entrees high in protein, low in fat and under 475 calories."By choosing healthy food and drinks for their events, planners can really fuel productivity, fortifying attendees with what they need to keep them on task and charged," says Spa Director Ann Brown.
Disney's Aguel agrees. "The spa experience is about health, wellness and balance," he says, noting that healthy dining during events complements that philosophy by supplying attendees with the right fuel for the business at hand."We want to provide a great culinary experience that adds to the overall meeting while it readies attendees for the next experience, whether the focus is on important business issues or the restorative powers of relaxation," he adds.
Feel-Good Amenities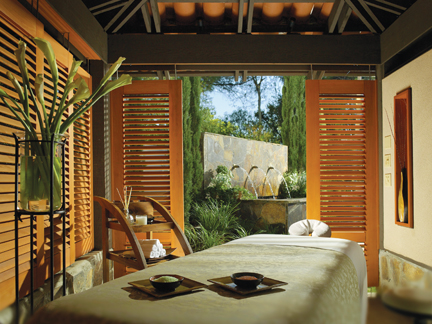 Rancho Bernardo Inn
Perhaps the most appealing aspect of hosting an event at a spa is the potential for mini-services, a treat for attendees hoping to decelerate after a long day of business. The spa at Rancho Bernardo Inn in San Diego includes a garden with a waterfall, a whirlpool, a lounge area and six outdoor temperature-controlled casitas ideal for treatments during an event. "Our spa has been incorporated into many corporate events," says the facility's director, Michelle Schlekewey. "Groups have rented out the garden and casitas and participated in our mini Made Fresh Daily treatments, which utilize fresh seasonal ingredients. At each casita, we set up a small station with a treatment and a complimentary beverage and snack.Guests mixed and mingled and circled around to all the stations."
Brown says the most popular group activity at Spa Shiki is the Wellness Sampler, during which guests enjoy scaled-down versions of treatments such as reflexology, facial peels and paraffin hand dips. At the JW in Palm Desert, popular mini-treatments include the Calm Mind service, which involves inhalation of a mild essential oil and a hand massage, and the Red Carpet Quick Eye Lift, featuring a microcurrent device called NuFace to quickly minimize fine lines and wrinkles and provide "instant results that wow every guest," Ferraro says. Participants at a group function at Aulani's spa garden were treated to mini-massages and pampering foot treatments in between valuable networking, Champagne-sipping and nibbling on bite-size decadent desserts under the lantern-lit plumerias.
Business Benefits
Beyond beauty and wellness, the sheer business-building benefits are perhaps the greatest advantage a spa event can provide. "The spa is an ideal setting for a corporate group to venture out from the boardroom," says Schlekewey."In a beautiful and relaxed setting, it can be much easier to retain knowledge and keep focused. Productivity levels stay up when attendees get a break from traditional indoor meetings."
Adds Gloria Ah Sam, director at Spa Ojai, "The spa environment allows people to be comfortable. Attendees relax, unwind and connect. Then, anything and everything is possible."
Julie Keller Callaghan is editor-in-chief of American Spa, an award-winning magazine that reports on the national and international spa marketplace.