Meeting Professionals International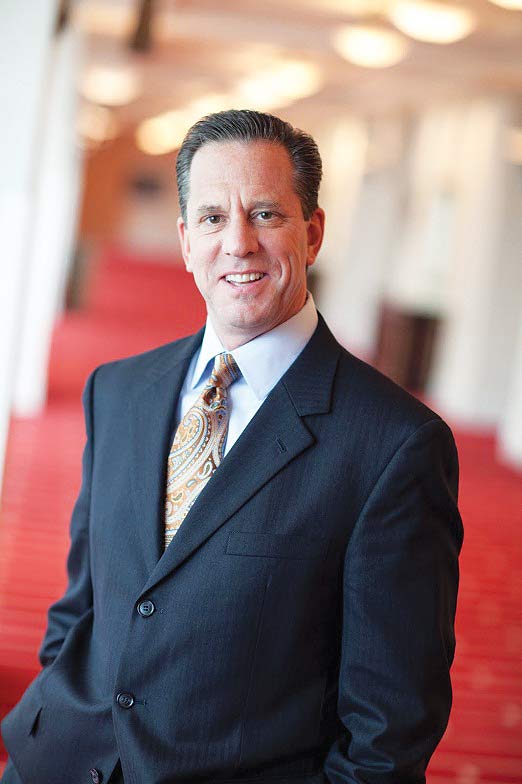 (MPI) released the names of its annual RISE (Recognizing Industry Success and Excellence) Awards today. The recipients will be honored at a luncheon on Aug. 3 during MPI's World Education Congress (WEC) in San Francisco.
David Peckinpaugh, president of Maritz Travel Company, will receive the RISE Award for Meeting Industry Leadership for his global impact on the meeting and event industry. The co-chair of the Meetings Mean Business Coalition has worked to unite the industry in order to show the value of meetings.
Peckinpaugh (pictured) has been at the forefront in the fight to end human trafficking, and as a result, Maritz Travel became one of the first travel companies to partner with ECPAT International, signing ECPAT-USA's Tourism Child-Protection Code of Conduct. He currently serves on the board and executive committee for the US Travel Association, and is an advisory board member for Tourism Vancouver, Delta Airlines, Taj Hotels, Social Tables, Saint Louis University's Hospitality Program and the Destination Marketing Association International (DMAI).
Other meeting industry leaders who will be honored include Kinga Socko of Poland, who will receive the Young Professional award for her significant role in the development of the Poland Meetings and Events Industry Report, which is used to prepare national and city budgets and influences business tourism in Poland. She also played a key part in the country's DMAI accreditation process, which has resulted in Poland becoming one of only three European destinations that is fully accredited. Socko is a member of the MPI Poland Club and most recently served as a project manager for the 2015 MPI European Meetings & Events Conference (EMEC) organizing committee.
Tara Liaschenko, CMM, of St. Petersburg, Florida, will receive the Member of the Year award for her volunteer leadership with the MPI Tampa Bay Area Chapter as well as other MPI chapters. She previously served as chapter president and currently serves as a member on the global MPI WEC Proposal Review Task Force. She promotes future growth of the industry, providing internships to local students and those from her alma mater, Stephens College, as well as by underwriting scholarships for two students to become MPI members each year.
The RISE Award for Community Achievement in Knowledge and Ideas will be presented to the Meeting Industry Council of Colorado (MIC) for its MIC Educational Conference and Tradeshow. The event is instrumental in creating a unified marketplace for the Rocky Mountain region. MIC also helped to inspire Meetings Week in the Rocky Mountain area, which is held the week of the conference, bringing together additional industry events throughout the region.
The award for Community Achievement in Marketplace Excellence will be presented to the MPI Potomac Chapter for its annual Flipped Marketplace program, which is held at their Mid-Atlantic Conference and Expo (MACE). The program utilizes the reverse tradeshow format to match planners to the appropriate meeting suppliers and helps create additional membership opportunities generating engagement from non-members throughout the region.
The award for Organizational Achievement will be presented to the Builders Association of the Twin Cities for its meetings and events strategy. The Builders Association of the Twin Cities has reduced the number of member events by 85 percent, while increasing overall attendance and the perceived value of sponsorship as well as instilled a deeper sense of unity among members.
"On behalf of the global MPI community, I would like to express our sincerest congratulations to this year's group of RISE Awards recipients," said Paul Van Deventer, president and CEO of MPI. "These leaders represent the best and brightest of our industry and are selected for their outstanding achievements and measurable contributions. It will truly be an honor to recognize each recipient during the annual awards presentation at WEC 2015 in San Francisco this August."
This year's RISE Award luncheon and presentations will take place at 1 p.m. on Aug. 3 as part of MPI's WEC event at Moscone Center in San Francisco. For more information on the convention, visit www.mpiweb.org/wec15.