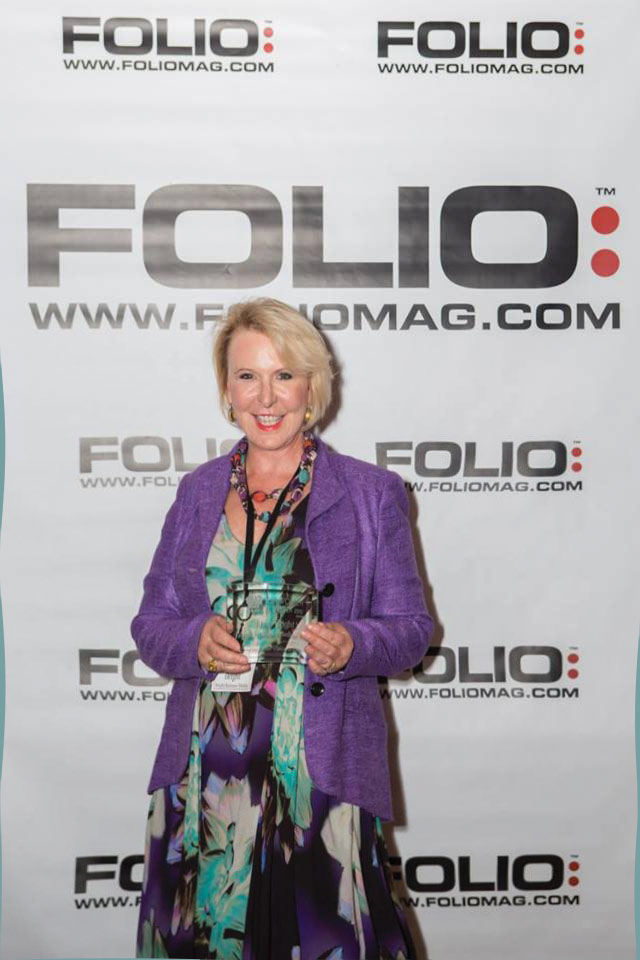 On a summer-like day in New York City at the Grand Hyatt earlier this week, I had mixed feelings as I sat as an honoree at Folio's Top Women in Media Awards. While I was thrilled to be surrounded by esteemed trailblazers, I was a little disappointed that women in media, especially women at the top, are so extremely rare.
I was not the only honoree who was wondering how long it was going to take for things to change. There were a lot of comments about how media-award ballrooms are always full of men, with at best two women, and how we need to break glass ceilings for other women coming up.
I have many thoughts about this, being the only woman in so many arenas I've participated in, from sports to business. First, I must say I really can't believe this is still going on. When I started, it was typical that I was the only woman.
But second, I experienced an indescribable camaraderie with my peers, which gives me hope and pushes me to continue to be a bridge for women, especially women in media and the meetings industry. I saw the scale tip ever so slightly, thanks to those inspiring women who are making a lasting impact on their brands, organizations and markets.
The keynote speaker during Folio's award luncheon was Judy Robinett, author of How to Be a Power Connector. I totally agree with Judy's networking philosophy: Network to the third degree. This happens when you know somebody who knows somebody who can introduce you to somebody who can help you, say, start your own business.
Judy reminded us that we also need to ask people for help. Your biggest networking circle will be less than 50 people, so identify those individuals and let the networking begin.
These practical guidelines were reinforced throughout the awards banquet. From the minute I got there, people were shaking hands, and congratulating each other in the elevator. Everyone was very friendly. I felt like it was a very supportive group—that we were all from the same tribe.
Speaking of tribe, I really enjoyed the women I got to know at my table. Sara Wyant of Agri-Pulse has a great story, which shares a common theme with my own: a woman-owned media company filling a need in a niche market and kicking her competitors' butts.
Sara, who started Agri-Pulse Communications in 2004, is the woman behind the leading communications company serving agriculture and rural policy, with more than 5,000 paid subscribers. Her Washington, D.C.-based staff goes head to head with major media companies.
It was also special to rub shoulders with Ellen Levine, who has had a distinguished career as editorial director for Hearst Magazines. Among her successful launches are O, The Oprah Magazine; Food Network Magazine; HGTV Magazine; and Dr. Oz The Good Life. Ellen is used to media attention, making publishing history in 1994 when she became the first woman to be named editor-in-chief of Good Housekeeping, which dates to 1885.
Lisa Stone, who was among the entrepreneurs honored during the Folio awards, is chief community officer for SheKnows Media. Frustrated that all the bloggers were men, Lisa co-founded BlogHer in 2005, helping create a cross-platform media network for women. Just as Lisa's frustrations about the lack of women with a social media voice led to the creation of her communications company, my own journey led to the founding of Smart Meetings—which I like to think has also made a positive difference in the meetings industry.
So rather than rush away after I took the stage for my award, I slowed down to enjoy the moment. Being in the moment is a key aspect of networking. You never know who someone knows, what you may have in common with that person you meet in a hallway and what you may learn by networking with your contemporaries.
Bright Networking Tips
–You have to be friendly the minute you hit the door, looking warm and approachable. (Use your time in the elevator wisely, as well.)
–Make sure you're informed about the event you're attending. Who are the other attendees? Who is sitting at my table? Will there be photos to be used later? Can I meet the keynote speaker?
–Ask questions of the people at your table or those you're standing next to in line for a cocktail.
–Avoid pulling out your phone unless shooting a photo to post to social media. Every second counts when there are networking opportunities.
–Stay until the end of your event. Last woman standing seals the deal.
---

Marin Bright is CEO and founder of Bright Business Media, LLC, which publishes Smart Meetings magazine. She was honored in June during Folio's Top Women in Media Awards as a corporate visionary. Read her new leadership column online and in print.