Attendees returning this week from ASAE's Experience Design Project (XDP) at Gaylord National Resort and Convention Center in Maryland brought with them lots of ideas for leveraging the power of play and personalization in creating agendas. The experimental program prioritized modeling new ways of making attendees the center of attention. From Stanford University improvisation professor Dan Klein to UnMarketing President Scott Stratten and Broadway actor Alton White, humor and flexible thinking were intertwined.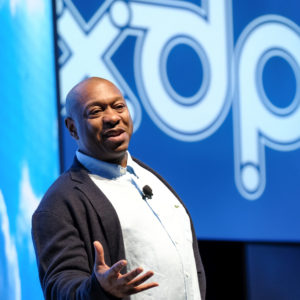 "The importance of play comes down to neuroplasticity—the behavioral flexibility and growth potential of the brain," explained Rhonda Payne, ASAE Chief Learning Officer. Different types of play (there are seven kinds) stimulate our brains in healthy ways, improving cognition and memory. Play trains our brains for adapting to the unexpected. A balanced lifestyle with enough play, social connection and downtime is vital for human health, and its vital to the work association leaders and event strategists do every day, she concluded.
More: Brain Health Isn't Just in Your Head
From self-defense classes to self-selected #myxdp experience agendas along three tracks—community, experience and strategy—the two-day event tried to offer something that would appeal to everyone. This was particularly important as, once again, attendees had the opportunity of naming their own price of admission after seeing how much value was delivered. While it is too early to know what people will ultimately decide it is worth, following are nine ideas worth stealing.
1. Listen to Your Audience
Collect feedback and make adjustments in real time. This can be done in the form of surveys or personal phone calls. "Always design with your audience in mind," said Krista LeZotte, associate director of meetings operations and special events. Balanced agendas allowed ASAE to meet the immediate needs of attendees. By including white space, downtime, ASAE made it possible for those who are not extroverts to escape the crowd for a little bit of one-on-one or alone time.
2. Really Partner
Talk to sponsors about how they can be integrated into the event with things such as tours and content, rather than simply standing behind a booth. Partners are not just walking checkbooks.
3. Use "Don't-Make-Me-Think" Design
"Remove as much friction as possible," said Amy Ledoux, senior vice president of meetings and expositions. This requires extreme communication (err on the side of providing too much detail in the form of clear signage about where to go for everything from coffee to sessions and verbal instructions about the agenda). Answering these nagging logistical questions before they come up will give attendees clear heads to absorb the lessons of the event, she said.
4. Model Creativity
Every event faces challenges. Whether it is a speaker going AWOL or running out of space, you can turn that problem into a teaching moment by innovating on the spot. Set up a group discussion in a hallway or landing and you have a fun pop-up space. Call on an attendee to lead the discussion and you have a meaningful session. Problem solved.
5. Celebrate Engagement
Encourage your audience to actively participate by incentivizing action," said Ledoux. ASAE held a drawing for luggage in exchange for crowdsourced ideas and it worked. Badge stickers and other special recognition can make attendees feel special and encourage others to step up.
6. Start a Conversation
Once someone registers, that should be the beginning of a meaningful relationship. An intentional engagement plan with weekly emails and social media exchanges can heighten the sense of anticipation. To make it even more fun, provide attendees with a buddy code so they can bring a friend.
7. Make Programs Meaningful
If you are going to kill a tree to create a printed program, include valuable information people will want to keep and refer to later, rather than tossing in the recycling bin on their way out of the convention center. Include exercises, places for notes and inspirational posters. That way the event lives beyond the closing session.
8. Plan for Surprises
Not everything has to be announced in advance, says LeZotte. Announcing additions to the schedule at the event keeps things fresh. Apps make pushing that information out easier. Prizes can also add to the sense of delight.
More: Columbus Announces Surprises for ASAE Attendees
9. Make it Fun
The event ended with FriYay Experience featuring Nina West from RuPaul's Drag Race. By not taking themselves too seriously, it freed up time to get to the important business of delivering a great event.