The first-ever Together Women Achieve meeting started with a hug. As attendees filed into The Village in the Financial District of San Francisco on Thursday, they were welcomed warmly and ushered to a swag buffet, where they picked their own gift bag items, just as they would soon be choosing their own agenda and action items.
"This is all about identifying real problems and solutions by harnessing the wisdom in the room," said Liz Lathan, co-founder of Haute Rock Creative, which produced the event for Dell. "This is not about xylophone-shaming people into sitting in an audience when they are in the middle of making a connection with someone—after all, that is the reason we meet."
Wisdom of Crowds
Once settled with coffee and croissants, everyone was armed with oversized sticky notes and sharpies and put to work listing the challenges they face as women in the tech industry.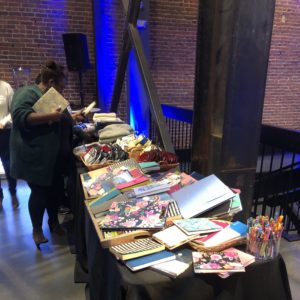 Dell sponsored the event because it is having trouble recruiting women for top boards. The unconference format, which Haute Rock Creative has been finetuning in Austin, Texas, and Las Vegas seemed a perfect fit for the brainstorming needed for this stubborn problem.
And, oh my, did these women come up with a list of items they wanted to talk about. With a DJ spinning Diana Ross anthems in the background, suggested workshop topics ranged from "building passion and confidence" to "negotiating remote executive careers" and "making money from a side hustle." There were also requests for guidance on "how to have hard conversations" and "how to inspire by being happy."
Related: The Smart Woman's Guide
Once topics were grouped, workshop facilitators—Lisa Martin from SiliconAngle, career development author Rashim Mogha, engineering entrepreneur Giselle Valenzuela Aldridge and AI engineer Cheryl Adams—led the women in the conversations. But the participants were the stars as they debated next steps and shared their experiences—and, in some cases, frustrations—in growing their careers.
Strong Finish
The event ended with a unique kind of networking reception: one that opened the microphone to all the event attendees to publicly state what they loved and what they would change about the event for next time. Having the participants provide live, public, helpful feedback is so much more empowering to the attendees and more valuable to the conference creators than a post-event survey. As Lathan explained, that is the power of letting people choose how they want to use their time and expertise.